Abstract
Postoperative visual function is a major concern in transsphenoidal surgery (TSS). Although several reports have demonstrated the importance of visual evoked potential (VEP) monitoring during TSS, the usefulness of VEP monitoring have been controversial because of its reproducibility. Efficacy of VEP was analyzed in 20 consecutive cases of patients who underwent endoscopic endonasal TSS surgery. We adapted a high-power light-emitting diode stimulator with electroretinography using venous anesthesia. In addition, we used black shield patch and braided codes to obtain reproducible VEP amplitudes. Stable and reproducible VEP waveforms were obtained in 38 of 39 eyes (97.4%) before surgery. Fifteen eyes had deteriorated VEP amplitude during operation, and nine eyes had improved VEP amplitude at the end of surgery, and six eyes had not improved VEP amplitude. But no postoperative visual impairment was observed in all cases by temporary halting the surgical manipulation when the VEP was deteriorated. In conclusion, VEP monitoring could be a warning sign to avoid postoperative visual dysfunction. We recommend VEP as a routine monitoring in TSS.
This is a preview of subscription content, log in to check access.
Access options
Buy single article
Instant access to the full article PDF.
US$ 39.95
Price includes VAT for USA
Subscribe to journal
Immediate online access to all issues from 2019. Subscription will auto renew annually.
US$ 99
This is the net price. Taxes to be calculated in checkout.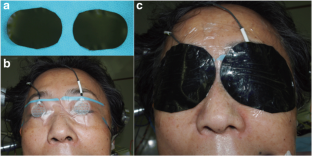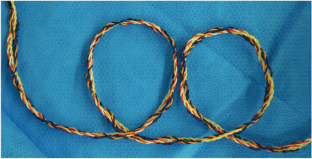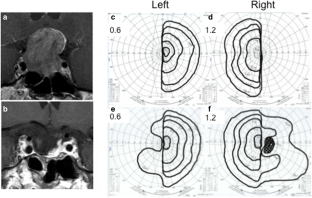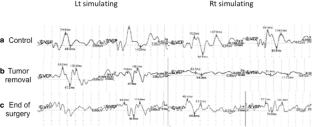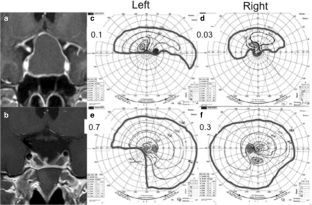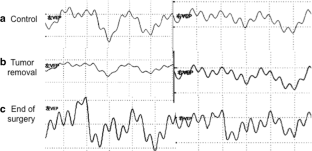 References
1.

Wright JE, Arden G, Jones BR (1973) Continuous monitoring of the visually evoked response during intra-orbital surgery. Trans Ophthal Soc UK 93:311–314

2.

Sasaki T, Itakura T, Suzuki K, Kasuya H, Munakata R, Muramatsu H, Ichikawa T, Sato T, Endo Y, Sakuma J, Matsumoto M (2010) Intraoperative monitoring of visual evoked potential: introduction of a clinically useful method. J Neurosurg 112(2):273–284

3.

Chung SB et al (2012) Intraoperative visual evoked potential has no association with postoperative visual outcomes in transsphenoidal surgery. Acta Neurochir (Wien) 154(8):1505–1510

4.

Kodama K et al (2010) Standard and limitation of intraoperative monitoring of the visual evoked potential. Acta Neurochir (Wien) 152(4):643–648

5.

Cedzich G et al (1998) Factors that limit the use of flash visual evoked potentials for surgical monitoring. Electroencephalogr Clin Neurophysiol 71(2):142–145

6.

Glass PS et al (1997) Bispectral analysis measures sedation and memory effects of propofol, midazolam, isoflurane and alfentanil in healthy volunteers. Anesthesiology 86(4):836–847

7.

Kamio Y et al (2014) Usefulness of intraoperative monitoring of visual evoked potentials in Transsphenoidal surgery. Neurol Med Chir 54(8):606–611

8.

Onishi S et al (1999) "Electromagnetic induction characteristics of twisting pairs" Technical Report of IEICE. EMCJ 99–8
Acknowledgements
The authors are grateful to Mr. Shoto Yamada (Division of Clinical Engineering, Sapporo Medical University Hospital) for their technical support and observation of VEP changes during surgery. Their sincere cooperation has guaranteed the safety of our surgery.
Ethics declarations
Conflicts of interest
The authors declare that they have no conflict of interest.
Ethical approval
This study was approved by the Institutional Review Board of Sapporo Medical University.
Informed consent
Written informed consent was obtained from each patient in accordance with the local ethical guidelines.
About this article
Cite this article
Toyama, K., Wanibuchi, M., Honma, T. et al. Effectiveness of intraoperative visual evoked potential in avoiding visual deterioration during endonasal transsphenoidal surgery for pituitary tumors. Neurosurg Rev 43, 177–183 (2020). https://doi.org/10.1007/s10143-018-1024-3
Received:

Revised:

Accepted:

Published:

Issue Date:
Keywords
VEP

Parasellar tumor

Visual function