Abstract
The early identification and optimized treatment of wound dehiscence are a complex issue, with implications on the patient's clinical and psychological postoperative recovery and on healthcare system costs. The most widely accepted treatment is surgical debridement (also called "wash out"), performed in theater under general anesthesia (GA), followed by either wide-spectrum or targeted antibiotic therapy. Although usually effective, in some cases, such a strategy may be insufficient (generally ill, aged, or immunocompromised patients; poor tissue conditions). Moreover, open revision may still fail, requiring further surgery and, therefore, increasing patients' discomfort. Our objective was to compare the effectiveness, costs, and patients' satisfaction of conventional surgical revision with those of bedside wound dehiscence repair. In 8 years' time, we performed wound debridement in 130 patients. Two groups of patients were identified. Group A (66 subjects) underwent conventional revision under GA in theater; group B (64 cases) was treated under local anesthesia in a protected environment on the ward given their absolute refusal to receive further surgery under GA. Several variables—including length and costs of hospital stay, antibiotic treatment modalities, and success and resurgery rates—were compared. Permanent wound healing was observed within 2 weeks in 59 and 55 patients in groups A and B, respectively. Significantly reduced costs, shorter antibiotic courses, and similar success rates and satisfaction levels were observed in group B compared with group A. In our experience, the bedside treatment of wound dehiscence proved to be safe, effective, and well-tolerated.
This is a preview of subscription content, log in to check access.
Access options
Buy single article
Instant access to the full article PDF.
US$ 39.95
Price includes VAT for USA
Subscribe to journal
Immediate online access to all issues from 2019. Subscription will auto renew annually.
US$ 99
This is the net price. Taxes to be calculated in checkout.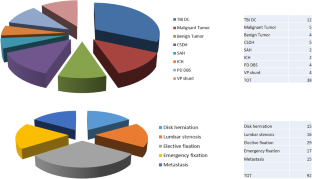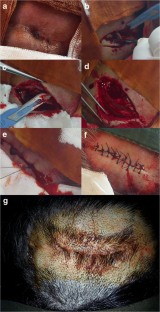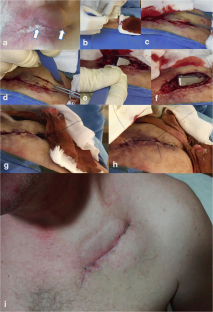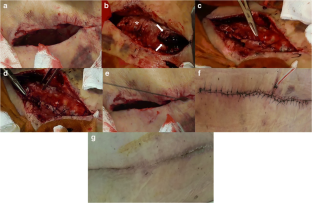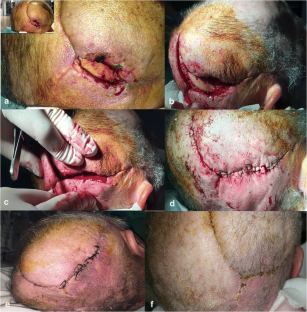 References
1.

Krishnan KG, Müller A, Hong B, Potapov AA, Schackert G, Seifert V, Krauss JK (2012) Complex wound-healing problems in neurosurgical patients: risk factors, grading and treatment strategy. Acta Neurochir (Wien) Mar 154(3):541–554. https://doi.org/10.1007/s00701-011-1221-0

2.

Singh K, Samartzis D, Heller JG, An HS, Vaccaro AR (2006) The management of complex soft-tissue defects after spinal instrumentation. J Bone Joint Surg Br 88(1):8–15

3.

Bohl DD, Shen MR, Mayo BC, Massel DH, Long WW, Modi KD, Basques BA, Singh K (2016) Malnutrition predicts infectious and wound complications following posterior lumbar spinal fusion. Spine 41:1693–1699. https://doi.org/10.1097/BRS.0000000000001591

4.

Piper KF, Tomlinson SB, Santangelo G, Van Galen J, DeAndrea-Lazarus I, Towner J, Kimmell KT, Silberstein H, Vates GE (2017) Risk factors for wound complications following spine surgery. Surg Neurol Int 8:269. https://doi.org/10.4103/sni.sni_306_17

5.

Sandy-Hodgetts K, Carville K, Leslie GD (2015) Determining risk factors for surgical wound dehiscence: a literature review. Int Wound J 12:265–275. https://doi.org/10.1111/iwj.12088

6.

Di Rienzo A, Pangrazi PP, Riccio M, Colasanti R, Ghetti I, Iacoangeli M (2016) Skin flap complications after decompressive craniectomy and cranioplasty: proposal of classification and treatment options. Surg Neurol Int 7:S737–S745. https://doi.org/10.4103/2152-7806.193724

7.

Sambri A, Gasbarrini A, Cialdella S, De Iaco P, Boriani S (2017) Pedicled omental flaps in the treatment of complex spinal wounds after en-bloc resection of spine tumors. JPRAS 70(9):1267–1271. https://doi.org/10.1016/j.bjps.2017.06.011

8.

Ahmed O, Storey CM, Zhang S, Chelly MR, Yeoh MS, Nanda A (2015) Vacuum-assisted closure of necrotic and infected cranial wound with loss of dura mater: a technical note. Surg Neurol Int 6:11. https://doi.org/10.4103/2152-7806.149846

9.

Ploumis A, Mehbod AA, Dressel TD, Dykes DC, Transfeldt EE, Lonstein JE (2008) Therapy of spinal wound infections using vacuum-assisted wound closure: risk factors leading to resistance to treatment. J Spinal Disord Tech 21:320–323. https://doi.org/10.1097/BSD.0b013e318141f99d

10.

Labler L, Keel M, Trentz O, Heinzelmann M (2006) Wound conditioning by vacuum assisted closure (V.A.C.) in postoperative infections after dorsal spine surgery. Eur Spine J 15:1388–1396. https://doi.org/10.1007/s00586-006-0164-2

11.

Fenoy AJ, Simpson RK (2012) Management of device-related wound complications in deep brain stimulation surgery. J Neurosurg 116:1324–1332. https://doi.org/10.3171/2012.1.JNS111798
Ethics declarations
All procedures performed in studies involving human participants were in accordance with the ethical standards of the institutional and/or national research committee and with the 1964 Helsinki Declaration and its later amendments or comparable ethical standards.
Ethical approval
All aspects of this retrospective study were approved by the local ethics committee, and for this type of study, formal consent is not required.
Conflict of interest
The authors declare that they have no conflict of interest.
Electronic supplementary material
About this article
Cite this article
Di Rienzo, A., Colasanti, R., Liverotti, V. et al. On-ward surgical management of wound dehiscence: report of a single neurosurgical center experience and comparison of safety and effectiveness with conventional treatment. Neurosurg Rev 43, 131–140 (2020). https://doi.org/10.1007/s10143-018-1022-5
Received:

Revised:

Accepted:

Published:

Issue Date:
Keywords
Cranial

Dehiscence

Outpatient

Spine

Surgical

Wound