Abstract
Meningioma arising in the inner third of the sphenoidal wing has been well recognized since the origin of neurosurgery, yet it still poses a formidable challenge for the surgeon. Treatment strategies can be optimized through a tailored approach to surgical timing and use of a non-surgical armamentarium. The aim of this study was to evaluate the long-term effect of different strategies on progression-free survival and overall survival. We examined the clinical records of brain tumor patients to assess determinants for surgery (extent of tumor removal, postoperative complications) and for progression-free survival and overall survival in relation to timing of surgery eventually followed by stereotactic radiosurgery (SRS). The records of 60 patients were retrospectively reviewed, from preoperative assessment to a median follow-up of 104 months. All were symptomatic with prevalently visual symptoms (42.2%), large tumors (median diameter 3.44 cm), extension into the cavernous sinus (38.3%), and severe vascular involvement of one or more encased or narrowed vessels (50%). Subtotal removal was achieved in 40% of cases, mainly determined by cavernous sinus and vascular involvement; neurological complications occurred in 18.3% (persistent in 6.7% due to oculomotor and vascular injury). The overall rate of symptom improvement was 32.3% at 3 months and 49.5% at 12 months. Radiological monitoring prevented clinical progression; tumor progression occurred in 11.7% of cases. There were significant differences in progression-free survival between patients with (median 46 months) and those without (median 104 months) recurrence (p = 0.002): 12.5% after total removal, 6.2% after subtotal removal and adjuvant SRS, and 28.5% after subtotal removal and observation. The related Kaplan-Meier survival curve showed no significant difference between the three strategies. Further, disease progression after recurrence was noted in 28.6% of cases, but overall survival was not influenced by either tumor recurrence or type of treatment. Treatment failure was recorded in four cases (6.7%): one perioperative death and three later on. Surgery is the mainstay for the treatment of symptomatic meningioma and to restore neurological function; however, resectability is limited by vascular and cavernous sinus involvement. Careful postoperative monitoring prevented clinical progression and adjuvant or adjunctive SRS proved effective in tumor control. A low surgical complication rate and excellent long-term outcomes were achieved with this strategy.
This is a preview of subscription content, log in to check access.
Access options
Buy single article
Instant access to the full article PDF.
US$ 39.95
Price includes VAT for USA
Subscribe to journal
Immediate online access to all issues from 2019. Subscription will auto renew annually.
US$ 99
This is the net price. Taxes to be calculated in checkout.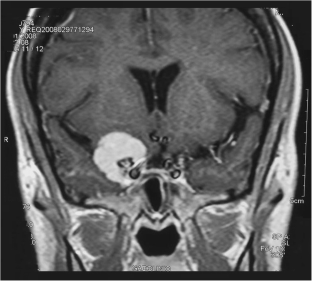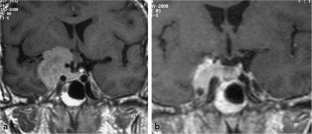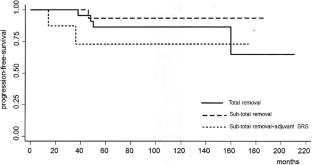 References
1.

Al-Mefty O (1990) Clinoidal meningiomas. J Neurosurg 73:840–849

2.

Mathiesen T, Lindquist C, Kihlstrom L, Karlsson B (1996) Recurrence of cranial base meningiomas. Neurosurgery 39:2–7; discussion 8–9

3.

Metellus P KS, Kapoor S, Weiss S, Rigamonti D.(2007) Cavernous sinus meningiomas: treatment strategy in the stereotactic irradiation era. A review. Neurosurg Q.226–234

4.

Nanda A, Konar SK, Maiti TK, Bir SC, Guthikonda B (2016) Stratification of predictive factors to assess resectability and surgical outcome in clinoidal meningioma. Clin Neurol Neurosurg 142:31–37

5.

Abdel-Aziz KM, Froelich SC, Dagnew E, Jean W, Breneman JC, Zuccarello M et al (2004) Large sphenoid wing meningiomas involving the cavernous sinus: conservative surgical strategies for better functional outcomes. Neurosurgery 54:1375–1383; discussion 1383–1374

6.

Lee JH, Jeun SS, Evans J, Kosmorsky G (2001) Surgical management of clinoidal meningiomas. Neurosurgery 48:1012–1019; discussion 1019–1021

7.

Lee JH, Sade B, Park BJ (2006) A surgical technique for the removal of clinoidal meningiomas. Neurosurgery 59:ONS108–ONS114; discussion ONS108–114

8.

Russell SM, Benjamin V (2008) Medial sphenoid ridge meningiomas: classification, microsurgical anatomy, operative nuances, and long-term surgical outcome in 35 consecutive patients. Neurosurgery 62:1169–1181

9.

Tobias S, Kim CH, Kosmorsky G, Lee JH (2003) Management of surgical clinoidal meningiomas. Neurosurg Focus 14:e5

10.

Louis DN, Ohgaki H, Wiestler OD, Cavenee WK, Burger PC, Jouvet A, Scheithauer BW, Kleihues P (2007) The 2007 WHO classification of tumours of the central nervous system. Acta Neuropathol 114:97–109

11.

Therasse P, Arbuck SG, Eisenhauer EA, Wanders J, Kaplan RS, Rubinstein L, Verweij J, van Glabbeke M, van Oosterom AT, Christian MC, Gwyther SG (2000) New guidelines to evaluate the response to treatment in solid tumors. European Organization for Research and Treatment of Cancer, National Cancer Institute of the United States, National Cancer Institute of Canada. J Natl Cancer Inst 92:205–216

12.

Nakamura M, Roser F, Jacobs C, Vorkapic P, Samii M (2006) Medial sphenoid wing meningiomas: clinical outcome and recurrence rate. Neurosurgery 58:626–639, discussion 626–639

13.

De Jesus O, Sekhar LN, Parikh HK, Wright DC, Wagner DP (1996) Long-term follow-up of patients with meningiomas involving the cavernous sinus: recurrence, progression, and quality of life. Neurosurgery 39:915–919; discussion 919–920

14.

Hasegawa T, Kida Y, Yoshimoto M, Koike J, Iizuka H, Ishii D (2007) Long-term outcomes of Gamma Knife surgery for cavernous sinus meningioma. J Neurosurg 107:745–751

15.

Klinger DR, Flores BC, Lewis JJ, Barnett SL (2013) The treatment of cavernous sinus meningiomas: evolution of a modern approach. Neurosurg Focus 35:E8

16.

Sindou M, Wydh E, Jouanneau E, Nebbal M, Lieutaud T (2007) Long-term follow-up of meningiomas of the cavernous sinus after surgical treatment alone. J Neurosurg 107:937–944

17.

Bassiouni H, Asgari S, Sandalcioglu IE, Seifert V, Stolke D, Marquardt G (2009) Anterior clinoidal meningiomas: functional outcome after microsurgical resection in a consecutive series of 106 patients. Clinical article. J Neurosurg 111:1078–1090

18.

Pamir MN, Belirgen M, Ozduman K, Kilic T, Ozek M (2008) Anterior clinoidal meningiomas: analysis of 43 consecutive surgically treated cases. Acta Neurochir (Wien) 150:625–635; discussion 635–626

19.

Cui H, Wang Y, Yin YH, Fei ZM, Luo QZ, Jiang JY (2007) Surgical management of anterior clinoidal meningiomas: a 26-case report. Surg Neurol 68(Suppl 2):S6–S10; discussion S10

20.

Goel A, Gupta S, Desai K (2000) New grading system to predict resectability of anterior clinoid meningiomas. Neurol Med Chir (Tokyo) 40:610–616; discussion 616–617

21.

Puzzilli F RA, Mastronardi L, Agrillo A, Ferrante L. (1999) Anterior clinoidal meningiomas: report of a series of 33 patients operated on through the pterional approach. Neuro Oncol. :188–195

22.

Hirsch WL, Sekhar LN, Lanzino G, Pomonis S, Sen CN (1993) Meningiomas involving the cavernous sinus: value of imaging for predicting surgical complications. AJR Am J Roentgenol 160:1083–1088

23.

Behari S, Giri PJ, Shukla D, Jain VK, Banerji D (2008) Surgical strategies for giant medial sphenoid wing meningiomas: a new scoring system for predicting extent of resection. Acta Neurochir (Wien) 150:865–877; discussion 877

24.

Spektor S, Dotan S, Mizrahi CJ (2013) Safety of drilling for clinoidectomy and optic canal unroofing in anterior skull base surgery. Acta Neurochir 155:1017–1024

25.

Attia M, Umansky F, Paldor I, Dotan S, Shoshan Y, Spektor S (2012) Giant anterior clinoidal meningiomas: surgical technique and outcomes. J Neurosurg 117:654–665

26.

Liu DY, Yuan XR, Liu Q, Jiang XJ, Jiang WX, Peng ZF, Ding XP, Luo DW, Yuan J (2012) Large medial sphenoid wing meningiomas: long-term outcome and correlation with tumor size after microsurgical treatment in 127 consecutive cases. Turk Neurosurg 22:547–557

27.

Risi P, Uske A, de Tribolet N (1994) Meningiomas involving the anterior clinoid process. Br J Neurosurg 8:295–305

28.

Czernicki T KP, Nowak A, Marchel A. (2015) Results of surgical treatment of anterior clinoidal meningiomas – our experiences. . Neurol Neurochir Pol.:29–35

29.

Lehmberg J, Krieg SM, Mueller B, Meyer B (2013) Impact of anterior clinoidectomy on visual function after resection of meningiomas in and around the optic canal. Acta Neurochir 155:1293–1299

30.

Mariniello G, de Divitiis O, Seneca V, Maiuri F (2012) Classical pterional compared to the extended skull base approach for the removal of clinoidal meningiomas. J Clin Neurosci 19:1646–1650

31.

Taha AN, Erkmen K, Dunn IF, Pravdenkova S, Al-Mefty O (2011) Meningiomas involving the optic canal: pattern of involvement and implications for surgical technique. Neurosurg Focus 30:E12

32.

Yoshimoto K, Nakamizo A, Sasaki T (2013) Surgical techniques for the dissection of encased perforators in giant clinoidal meningiomas. Acta Neurochir 155:1409–1412

33.

Yang J, Ma SC, Liu YH, Wei L, Zhang CY, Qi JF, Yu CJ (2013) Large and giant medial sphenoid wing meningiomas involving vascular structures: clinical features and management experience in 53 patients. Chin Med J 126:4470–4476

34.

O'Sullivan MG, van Loveren HR, Tew JM Jr (1997) The surgical resectability of meningiomas of the cavernous sinus. Neurosurgery 40:238–244; discussion 245–237

35.

Margalit NS, Lesser JB, Moche J, Sen C (2003) Meningiomas involving the optic nerve: technical aspects and outcomes for a series of 50 patients. Neurosurgery 53:523–532; discussion 532–523

36.

Yonekawa Y, Ogata N, Imhof HG, Olivecrona M, Strommer K, Kwak TE, Roth P, Groscurth P (1997) Selective extradural anterior clinoidectomy for supra- and parasellar processes. Technical note J Neurosurg 87:636–642

37.

Chaichana KL, Jackson C, Patel A, Miller NR, Subramanian P, Lim M, Gallia G, Olivi A, Weingart J, Brem H, Quiñones-Hinojosa A (2012) Predictors of visual outcome following surgical resection of medial sphenoid wing meningiomas. J Neurol Surg B Skull Base 73:321–326

38.

Dufour H MX, Métellus P, Régis J, Chinot O, Grisoli F. (2001) Long-term tumor control and functional outcome in patients with cavernous sinus meningiomas treated by radiotherapy with or without previous surgery: is there an alternative to aggressive tumor removal? Neurosurgery:285–296,

39.

Duma CM LL, Kondziolka D, Harsh GR, Flickinger JC : (1993) Stereotactic radiosurgery of cavernous sinus meningiomas as an addition or alternative to microsurgery. Neurosurgery :699–704–695

40.

Liscak R, Simonova G, Vymazal J, Janouskova L, Vladyka V (1999) Gamma knife radiosurgery of meningiomas in the cavernous sinus region. Acta Neurochir 141:473–480

41.

Nicolato A, Foroni R, Alessandrini F, Bricolo A, Gerosa M (2002) Radiosurgical treatment of cavernous sinus meningiomas: experience with 122 treated patients. Neurosurgery 51:1153–1159; discussion 1159–1161

42.

Brell M, Villa S, Teixidor P, Lucas A, Ferran E, Marin S et al (2006) Fractionated stereotactic radiotherapy in the treatment of exclusive cavernous sinus meningioma: functional outcome, local control, and tolerance. Surg Neurol 65:28–33; discussion 33–24
Ethics declarations
• The authors declare that they have no conflict of interest.
• All procedures performed in studies involving human participants were in accordance with the ethical standards of the institutional and/or national research committee and with the 1964 Helsinki Declaration and its later amendments or comparable ethical standards.
• For this type of study, formal consent is not required.
About this article
Cite this article
Talacchi, A., Hasanbelliu, A., D'Amico, A. et al. Long-term follow-up after surgical removal of meningioma of the inner third of the sphenoidal wing: outcome determinants and different strategies. Neurosurg Rev 43, 109–117 (2020). https://doi.org/10.1007/s10143-018-1018-1
Received:

Revised:

Accepted:

Published:

Issue Date:
Keywords
Meningioma

Skull base

Surgical treatment

Stereotactic radiosurgery

Long-term outcome