Abstract
In clipping surgery for aneurysmal subarachnoid hemorrhage (aSAH), critical steps include clot removal and dissection of aneurysms without premature rupture or brain injuries. To pursue this goal, a piezo actuator-driven pulsed water jet (ADPJ) system was introduced in this study. This study included 42 patients, who suffered aSAH and underwent clipping surgery. Eleven patients underwent surgery with the assistance of the ADPJ system (ADPJ group). In the other 31 patients, surgery was performed without the ADPJ system (Control group). The ADPJ system was used for clot removal and aneurysmal dissection. The clinical impact of the ADPJ system was judged by comparing the rate of premature rupture, degree of clot removal, and clinical outcomes. Intraoperatively, a premature rupture was encountered in 18.2 and 25.8% of cases in the ADPJ and control groups, respectively. Although the differences were not statistically significant, intraoperative observation suggested that the ADPJ system was effective in clot removal and dissection of aneurysms in a safe manner. Computed tomography scans indicated the achievement of higher degrees of clot removal, especially when the ADPJ system was used for cases with preoperative clot volumes of more than 25 ml (p = 0.047, Mann–Whitney U test). Clinical outcomes, including incidence of postoperative brain injury or symptomatic vasospasm, were similar in both groups. We described our preliminary surgical results using the ADPJ system for aSAH. Although further study is needed, the ADPJ system was considered a safe and effective tool for clot removal and dissection of aneurysms.
This is a preview of subscription content, log in to check access.
Access options
Buy single article
Instant unlimited access to the full article PDF.
US$ 39.95
Price includes VAT for USA
Subscribe to journal
Immediate online access to all issues from 2019. Subscription will auto renew annually.
US$ 99
This is the net price. Taxes to be calculated in checkout.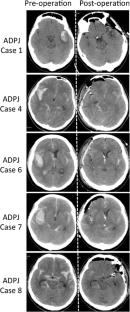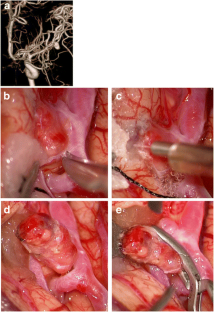 References
1.

Brilstra EH, Rinkel GJ, van der Graaf Y, van Rooij WJ, Algra A (1999) Treatment of intracranial aneurysms by embolization with coils: a systematic review. Stroke; a journal of cerebral circulation 30:470–476

2.

Connolly ES Jr, Rabinstein AA, Carhuapoma JR, Derdeyn CP, Dion J, Higashida RT, Hoh BL, Kirkness CJ, Naidech AM, Ogilvy CS, Patel AB, Thompson BG, Vespa P, American Heart Association Stroke C, Council on Cardiovascular R, Intervention, Council on Cardiovascular N, Council on Cardiovascular S, Anesthesia, Council on Clinical C (2012) Guidelines for the management of aneurysmal subarachnoid hemorrhage: a guideline for healthcare professionals from the American Heart Association/american Stroke Association. Stroke; a journal of cerebral circulation 43:1711–1737

3.

Endo T, Nakagawa A, Fujimura M, Sonoda Y, Shimizu H, Tominaga T (2014) Usefulness of pulsed water jet in dissecting sphenoid ridge meningioma while preserving arteries. No shinkei geka Neurological surgery 42:1019–1025

4.

Endo T, Takahashi Y, Nakagawa A, Niizuma K, Fujimura M, Tominaga T (2015) Use of actuator-driven pulsed water jet in brain and spinal cord cavernous malformations resection. Neurosurgery 11(Suppl 3):394–403

5.

Fisher CM, Kistler JP, Davis JM (1980) Relation of cerebral vasospasm to subarachnoid hemorrhage visualized by computerized tomographic scanning. Neurosurgery 6:1–9

6.

Friedman JA, Goerss SJ, Meyer FB, Piepgras DG, Pichelmann MA, McIver JI, Toussaint LG 3rd, McClelland RL, Nichols DA, Atkinson JL, Wijdicks EF (2002) Volumetric quantification of Fisher grade 3 aneurysmal subarachnoid hemorrhage: a novel method to predict symptomatic vasospasm on admission computerized tomography scans. J Neurosurg 97:401–407

7.

Fukuda H, Hayashi K, Moriya T, Nakashita S, Lo BW, Yamagata S (2015) Intrasylvian hematoma caused by ruptured middle cerebral artery aneurysms predicts recovery from poor-grade subarachnoid hemorrhage. J Neurosurg 1–7

8.

Hernesniemi J, Niemela M (2010) Clipping of a ruptured aneurysm with clot removal in one session: still gold standard of treatment. World neurosurgery 74:579–580

9.

Hosoda K, Fujita S, Kawaguchi T, Shose Y, Hamano S, Iwakura M (1999) Effect of clot removal and surgical manipulation on regional cerebral blood flow and delayed vasospasm in early aneurysm surgery for subarachnoid hemorrhage. Surg Neurol 51:81–88

10.

Houkin K, Kuroda S, Takahashi A, Takikawa S, Ishikawa T, Yoshimoto T, Itamato K (1999) Intra-operative premature rupture of the cerebral aneurysms. Analysis of the causes and management. Acta Neurochir 141:1255–1263

11.

Hunt WE, Kosnik EJ (1974) Timing and perioperative care in intracranial aneurysm surgery. Clin Neurosurg 21:79–89

12.

Inagawa T, Yamamoto M, Kamiya K (1990) Effect of clot removal on cerebral vasospasm. J Neurosurg 72:224–230

13.

Kawaguchi T, Nakagawa A, Endo T, Fujimura M, Sonoda Y, Tominaga T (2016) Ventricle wall dissection and vascular preservation with the pulsed water jet device: novel tissue dissector for flexible neuroendoscopic surgery. J Neurosurg 124:817–822

14.

Keiner D, Gaab MR, Backhaus V, Piek J, Oertel J (2010) Water jet dissection in neurosurgery: an update after 208 procedures with special reference to surgical technique and complications. Neurosurgery 67:342–354

15.

Lawton MT (2010) Seven aneurysms: tenets and techniques for clipping. Thieme, New York

16.

Mizoi K, Yoshimoto T (1993) Permissible temporary occlusion time in aneurysm surgery as evaluated by evoked potential monitoring. Neurosurgery 33:434–440

17.

Mizukami M, Kawase T, Usami T, Tazawa T (1982) Prevention of vasospasm by early operation with removal of subarachnoid blood. Neurosurgery 10:301–307

18.

Molyneux A, Kerr R, Stratton I, Sandercock P, Clarke M, Shrimpton J, Holman R, International Subarachnoid Aneurysm Trial Collaborative G (2002) International subarachnoid aneurysm trial (ISAT) of neurosurgical clipping versus endovascular coiling in 2143 patients with ruptured intracranial aneurysms: a randomised trial. Lancet 360:1267–1274

19.

Murayama Y, Nien YL, Duckwiler G, Gobin YP, Jahan R, Frazee J, Martin N, Vinuela F (2003) Guglielmi detachable coil embolization of cerebral aneurysms: 11 years' experience. J Neurosurg 98:959–966

20.

Mutoh T, Ishikawa T, Moroi J, Suzuki A, Yasui N (2010) Impact of early surgical evacuation of sylvian hematoma on clinical course and outcome after subarachnoid hemorrhage. Neurol Med Chir 50:200–208

21.

Nagy L, Ishii K, Karatas A, Shen H, Vajda J, Niemela M, Jaaskelainen J, Hernesniemi J, Toth S (2006) Water dissection technique of Toth for opening neurosurgical cleavage planes. Surg Neurol 65:38–41

22.

Nakagawa A, Hirano T, Jokura H, Uenohara H, Ohki T, Hashimoto T, Menezes V, Sato Y, Kusaka Y, Ohyama H, Saito T, Takayama K, Shirane R, Tominaga T (2004) Pulsed holmium: yttrium-aluminum-garnet laser-induced liquid jet as a novel dissection device in neuroendoscopic surgery. J Neurosurg 101:145–150

23.

Nakagawa A, Kumabe T, Kanamori M, Saito R, Hirano T, Takayama K, Tominaga T (2008) Clinical application of pulsed laser-induced liquid jet: preliminary report in glioma surgery. No shinkei geka Neurological surgery 36:1005–1010

24.

Ogawa Y, Nakagawa A, Takayama K, Tominaga T (2011) Pulsed laser-induced liquid jet for skull base tumor removal with vascular preservation through the transsphenoidal approach: a clinical investigation. Acta Neurochir 153:823–830

25.

Ogawa Y, Nakagawa A, Washio T, Arafune T, Tominaga T (2013) Tissue dissection before direct manipulation to the pathology with pulsed laser-induced liquid jet system in skull base surgery—preservation of fine vessels and maintained optic nerve function. Acta Neurochir 155:1879–1886

26.

Ogilvy CS, Carter BS, Kaplan S, Rich C, Crowell RM (1996) Temporary vessel occlusion for aneurysm surgery: risk factors for stroke in patients protected by induced hypothermia and hypertension and intravenous mannitol administration. J Neurosurg 84:785–791

27.

Penchev RD, Losanoff JE, Kjossev KT (1999) Reconstructive renal surgery using a water jet. J Urol 162:772–774

28.

Piek J, Oertel J, Gaab MR (2002) Waterjet dissection in neurosurgical procedures: clinical results in 35 patients. J Neurosurg 96:690–696

29.

Regli L, Dehdashti AR, Uske A, de Tribolet N (2002) Endovascular coiling compared with surgical clipping for the treatment of unruptured middle cerebral artery aneurysms: an update. Acta Neurochir Suppl 82:41–46

30.

Reilly C, Amidei C, Tolentino J, Jahromi BS, Macdonald RL (2004) Clot volume and clearance rate as independent predictors of vasospasm after aneurysmal subarachnoid hemorrhage. J Neurosurg 101:255–261

31.

Rinne J, Hernesniemi J, Niskanen M, Vapalahti M (1996) Analysis of 561 patients with 690 middle cerebral artery aneurysms: anatomic and clinical features as correlated to management outcome. Neurosurgery 38:2–11

32.

Samson D, Batjer HH, Bowman G, Mootz L, Krippner WJ Jr, Meyer YJ, Allen BC (1994) A clinical study of the parameters and effects of temporary arterial occlusion in the management of intracranial aneurysms. Neurosurgery 34:22–29

33.

Seto T, Yamamoto H, Takayama K, Nakagawa A, Tominaga T (2011) Characteristics of an actuator-driven pulsed water jet generator to dissecting soft tissue. The Review of scientific instruments 82:055105

34.

Shirao S, Yoneda H, Ishihara H, Harada K, Ueda K, Sano Y, Kudomi S, Hayashi Y, Shigeeda T, Nakano K, Nomura S, Fujii M, Kato S, Suzuki M (2011) Fate of clots in patients with subarachnoid hemorrhage after different surgical treatment modality: a comparison between surgical clipping and Guglielmi detachable coil embolization. Neurosurgery 68:966–973

35.

Sillero Rde O, Sillero Filho VJ, Freire Sde B, Sillero VJ (2007) Early surgery for ruptured cerebral aneurysms: technical note. Arq Neuropsiquiatr 65:1249–1251

36.

Sloan MA, Haley EC Jr, Kassell NF, Henry ML, Stewart SR, Beskin RR, Sevilla EA, Torner JC (1989) Sensitivity and specificity of transcranial Doppler ultrasonography in the diagnosis of vasospasm following subarachnoid hemorrhage. Neurology 39:1514–1518

37.

Smith ER, Carter BS, Ogilvy CS (2002) Proposed use of prophylactic decompressive craniectomy in poor-grade aneurysmal subarachnoid hemorrhage patients presenting with associated large sylvian hematomas. Neurosurgery 51:117–124

38.

Stapleton CJ, Walcott BP, Fusco MR, Butler WE, Thomas AJ, Ogilvy CS (2015) Surgical management of ruptured middle cerebral artery aneurysms with large intraparenchymal or sylvian fissure hematomas. Neurosurgery 76:258–264

39.

Su CC, Saito K, Nakagawa A, Endo T, Suzuki Y, Shirane R (2002) Clinical outcome following ultra-early operation for patients with intracerebral hematoma from aneurysm rupture—focussing on the massive intra-sylvian type of subarachnoid hemorrhage. Acta Neurochir Suppl 82:65–69

40.

Suzuki J, Yoshimoto T, Kayama T (1984) Surgical treatment of middle cerebral artery aneurysms. J Neurosurg 61:17–23

41.

Taylor CJ, Robertson F, Brealey D, O'Shea F, Stephen T, Brew S, Grieve JP, Smith M, Appleby I (2011) Outcome in poor grade subarachnoid hemorrhage patients treated with acute endovascular coiling of aneurysms and aggressive intensive care. Neurocrit Care 14:341–347

42.

Toth S, Vajda J, Pasztor E, Toth Z (1987) Separation of the tumor and brain surface by "water jet" in cases of meningiomas. J Neuro-Oncol 5:117–124

43.

Une Y, Uchino J, Shimamura T, Kamiyama T, Saiki I (1996) Water jet scalpel for liver resection in hepatocellular carcinoma with or without cirrhosis. Int Surg 81:45–48

44.

Yamada M, Nakano T, Sato C, Nakagawa A, Fujishima F, Kawagishi N, Nakanishi C, Sakurai T, Miyata G, Tominaga T, Ohuchi N (2014) The dissection profile and mechanism of tissue-selective dissection of the piezo actuator-driven pulsed water jet as a surgical instrument: laboratory investigation using swine liver. European surgical research Europaische chirurgische Forschung Recherches chirurgicales europeennes 53:61–72
Acknowledgments
The authors appreciate the assistance of Teruko Sueta and Nobuko Hashimoto from the Center for Laboratory Animal Research, Tohoku University for technical assistance. The authors thank Mr. Takeshi Seto, and Mr. Yasuyoshi Hama for preparing surgical instruments. The authors thank Ms. Asaka Ishigamori for administrative assistance. The authors thank Mr. Tomohiro Chiba for quantitative analyses of the blood volume in preoperative and postoperative CT scans. The authors would like to thank Enago (www.enago.jp) for the English review.
Ethics declarations
Conflicts of interest
Nakagawa and Tominaga received research funding support from Seiko Epson Co., Ltd. under a collaborative research contract with Tohoku University, otherwise none were reported.
Financial support and industry affiliations
This work was supported in part by the Translational Research Network Program from the Japanese Ministry of Education, Culture, Sports, Science, and Technology (MEXT), Grand-in Aid for Scientific Research (C) (26462196/26462197/24592049/26461297/15K10353), Grand-in Aid for Scientific Research (A)(15H01707), (B) (26282116/15H04945). The piezo actuator-driven pulsed water jet system was supplied by Seiko EPSON Corporation as part of a collaborative research contract with Tohoku University.
Ethical approval
All procedures performed in studies involving human participants were in accordance with the ethical standards of the institutional and/or national research committee and with the 1964 Helsinki Declaration and its later amendments or comparable ethical standards.
Informed consent
Informed consent was obtained from all individual participants included in the study.
Electronic supplementary material
Case 7. Intraoperative video of a right middle cerebral artery aneurysm. With the use of the actuator-driven pulsed water jet (ADPJ) system, a thick subarachnoid hemorrhage was removed. Note that veins or small arteries were not damaged when the water jet directly hit these vessels. Middle cerebral arteries were observed. (MP4 16,297 kb)
Case 4. Intraoperative video of a right middle cerebral artery aneurysm. As the aneurysm was identified, pulsed water jet traced the contours of the aneurysm. Following aneurysmal exposure with the aid of the actuator-driven pulsed water jet system, a permanent clip was safely applied. (MP4 14,000 kb)
Case 10. Intraoperative video of an anterior communicating artery aneurysm approached through right frontotemporal craniotomy. During the use of the actuator-driven pulsed water jet system, premature rupture was encountered. Minor leakage occurred from a dome of the aneurysm embedded in the right frontal lobe. After exposure, a permanent clip was safely applied. (MP4 20,845 kb)
Case 7. Intraoperative video of a right middle cerebral artery aneurysm. With the use of the actuator-driven pulsed water jet (ADPJ) system, a thick subarachnoid hemorrhage was removed. Note that veins or small arteries were not damaged when the water jet directly hit these vessels. Middle cerebral arteries were observed. (MP4 16,297 kb)
Case 4. Intraoperative video of a right middle cerebral artery aneurysm. As the aneurysm was identified, pulsed water jet traced the contours of the aneurysm. Following aneurysmal exposure with the aid of the actuator-driven pulsed water jet system, a permanent clip was safely applied. (MP4 14,000 kb)
Case 10. Intraoperative video of an anterior communicating artery aneurysm approached through right frontotemporal craniotomy. During the use of the actuator-driven pulsed water jet system, premature rupture was encountered. Minor leakage occurred from a dome of the aneurysm embedded in the right frontal lobe. After exposure, a permanent clip was safely applied. (MP4 20,845 kb)
About this article
Cite this article
Endo, H., Endo, T., Nakagawa, A. et al. Application of actuator-driven pulsed water jet in aneurysmal subarachnoid hemorrhage surgery: its effectiveness for dissection around ruptured aneurysmal walls and subarachnoid clot removal. Neurosurg Rev 40, 485–493 (2017) doi:10.1007/s10143-016-0809-5
Received:

Revised:

Accepted:

Published:

Issue Date:
Keywords
Subarachnoid hemorrhage

Cerebral aneurysms

Pulsed water jet

Clot removal

Sylvian hematoma