Abstract
A retrocerebellar arachnoid cyst causing syringomyelia is extremely rare without tonsillar herniation. The authors present a 44-year-old woman with symptoms of foramen magnum compression and syringomyelia. Magnetic resonance imaging demonstrated a large retrocerebellar arachnoid cyst with a large cervicothoracic syrinx but no signs of tonsillar herniation or hydrocephalus. The patient underwent a foramen magnum decompression with C1 laminectomy, microsurgical fenestration of the cyst, and duraplasty. After successful reconstruction of CSF flow, the patient experienced a relief of symptoms and a significant reduction of the syrinx. The intraoperative findings support the theory of a piston mechanism in the development of syringomyelia. Additional arachnoidal adhesions may also obstruct the CSF flow around the craniocervical junction. We recommend the surgical treatment should consist of an adequate decompression of the foramen magnum, wide microsurgical arachnoidal debridement, and duraplasty with autologous grafts sutured in a watertight way.
This is a preview of subscription content, log in to check access.
Access options
Buy single article
Instant unlimited access to the full article PDF.
US$ 39.95
Price includes VAT for USA
Subscribe to journal
Immediate online access to all issues from 2019. Subscription will auto renew annually.
US$ 99
This is the net price. Taxes to be calculated in checkout.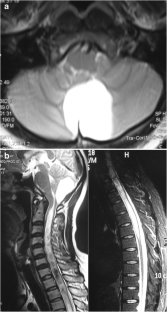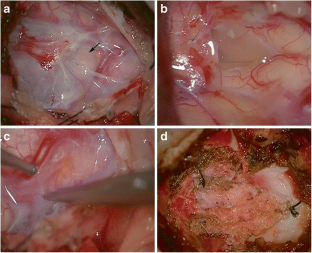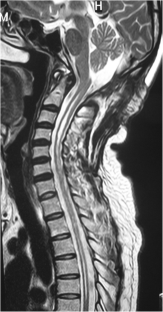 References
1.

Apok V, Constantini S, Roth J (2012) Microsurgical fenestration of retrocerebellar cysts as a treatment for syringomyelia. Childs Nerv Syst 28:653–656

2.

Arai H, Sato K (1991) Posterior fossa cysts: clinical, neuroradiological and surgical features. Childs Nerv Syst 7:156–164

3.

Arunkumar MJ, Korah I, Chandy MJ (1998) Dynamic CSF flow study in the pathophysiology of syringomyelia associated with arachnoid cysts of the posterior fossa. Br J Neurosurg 12:33–36

4.

Banna M (1988) Syringomyelia in association with posterior fossa cysts. AJNR Am J Neuroradiol 9:867–873

5.

Bauer AM, Mueller DM, Oro JJ (2005) Arachnoid cyst resulting in tonsillar herniation and syringomyelia in a patient with achondroplasia. Case report. Neurosurg Focus 19, E14

6.

Conti C, Lunardi P, Bozzao A, Liccardo G, Fraioli B (2003) Syringomyelia associated with hydrocephalus and Blake's pouch cyst: case report. Spine (Phila Pa 1976) 28:E279–E283

7.

Duddy JC, Allcutt D, Crimmins D, O'Brien D, O'Brien DF, Rawluk D, Sattar MT, Young S, Caird J (2014) Foramen magnum decompression for Chiari I malformation: a procedure not to be underestimated. Br J Neurosurg 28:330–334

8.

Ellenbogen RG, Armonda RA, Shaw DW, Winn HR (2000) Toward a rational treatment of Chiari I malformation and syringomyelia. Neurosurg Focus 8, E6

9.

Filippi R, Schwarz M, Voth D, Reisch R, Grunert P, Perneczky A (2001) Bovine pericardium for duraplasty: clinical results in 32 patients. Neurosurg Rev 24:103–107

10.

Galarza M, Lopez-Guerrero AL, Martinez-Lage JF (2010) Posterior fossa arachnoid cysts and cerebellar tonsillar descent: short review. Neurosurg Rev 33:305–314, discussion 314

11.

Gardner WJ, Angel J (1958) The mechanism of syringomyelia and its surgical correction. Clin Neurosurg 6:131–140

12.

Heiss JD, Snyder K, Peterson MM, Patronas NJ, Butman JA, Smith RK, Devroom HL, Sansur CA, Eskioglu E, Kammerer WA, Oldfield EH (2012) Pathophysiology of primary spinal syringomyelia. J Neurosurg Spine 17:367–380

13.

Hirano T, Kawamura T, Itoh J, Kanayama S (1999) A rare case of trapped fourth ventricle: an unique symptom appeared after fourth ventriculo-peritoneal shunting. No To Shinkei 51:247–251

14.

Huang H, Li Y, Xu K, Qu L, Yu J (2011) Foramen magnum arachnoid cyst induces compression of the spinal cord and syringomyelia: case report and literature review. Int J Med Sci 8:345–350

15.

Jain R, Sawlani V, Phadke R, Kumar R (2000) Retrocerebellar arachnoid cyst with syringomyelia: a case report. Neurol India 48:81–83

16.

Joshi VP, Valsangkar A, Nivargi S, Vora N, Dekhne A, Agrawal A (2013) Giant posterior fossa arachnoid cyst causing tonsillar herniation and cervical syringomyelia. J Craniovertebr Junction Spine 4:43–45

17.

Kiran NA, Kasliwal MK, Suri A, Mahapatra AK (2010) Giant posterior fossa arachnoid cyst associated with syringomyelia. Clin Neurol Neurosurg 112:454–455

18.

Malliti M, Page P, Gury C, Chomette E, Nataf F, Roux FX (2004) Comparison of deep wound infection rates using a synthetic dural substitute (neuro-patch) or pericranium graft for dural closure: a clinical review of 1 year. Neurosurgery 54:599–603, discussion 603–594

19.

Marin SA, Skinner CR, Da Silva VF (2010) Posterior fossa arachnoid cyst associated with Chiari I and syringomyelia. Can J Neurol Sci 37:273–275

20.

Martinez-Lage JF, Ruiz-Espejo A, Guillen-Navarro E, Almagro MJ (2008) Posterior fossa arachnoid cyst, tonsillar herniation, and syringomyelia in trichorhinophalangeal syndrome Type I. J Neurosurg 109:746–750

21.

Milhorat TH (2000) Classification of syringomyelia. Neurosurg Focus 8, E1

22.

Nomura S, Akimura T, Imoto H, Nishizaki T, Suzuki M (2002) Endoscopic fenestration of posterior fossa arachnoid cyst for the treatment of presyrinx myelopathy--case report. Neurol Med Chir (Tokyo) 42:452–454

23.

Oldfield EH, Muraszko K, Shawker TH, Patronas NJ (1994) Pathophysiology of syringomyelia associated with Chiari I malformation of the cerebellar tonsils. Implications for diagnosis and treatment. J Neurosurg 80:3–15

24.

Pang D, Zwienenberg-Lee M, Smith M, Zovickian J (2005) Progressive cranial nerve palsy following shunt placement in an isolated fourth ventricle: case report. J Neurosurg 102:326–331

25.

Shinoda S, Tanaka K, Kawaguchi K (1998) A huge retrocerebellar arachnoid cyst with syringomyelia: case report. No Shinkei Geka 26:363–367

26.

Siccardi D, Ventimiglia A (1995) Fibrotic-haemorrhagic reaction to synthetic dural substitute. Acta Neurochir (Wien) 132:148–149

27.

Thakar S, Dadlani R, Tawari M, Hegde AS (2013) Atypical cerebellar slump syndrome and external hydrocephalus following craniocervical decompression for Chiari I malformation: case report. Neurol Med Chir (Tokyo)

28.

Thompson D, Taylor W, Hayward R (1994) Haemorrhage associated with silastic dural substitute. J Neurol Neurosurg Psychiatry 57:646–648

29.

Tokime T, Okamoto S, Yamagata S, Konishi T (1997) Syringomyelia associated with a posterior fossa cyst. Illustration of two cases. J Neurosurg 86:907
Acknowledgments
The authors thank Stephan Emich, neurosurgeon at the Christian Doppler Klinik of Paracelsus Medical Private University, for his professional suggestions with respect to the case study and language review. The authors also thank Miss Wenzhuo Fu for her editing of the figures and surgical video.
Ethics declarations
Conflict of interests
All authors declare that they have no any conflict of interests.
Funds
None.
Additional information
Comments
Marcelo Galarza, Murcia, Spain
The case is interesting because it concerns cervicomedullary and posterior fossa spinal CSF circulation. As the authors state, decompressing the occipito-cervical junction, without treating the posterior fossa pathology, in this case, a relatively small retrocerebellar arachnoid cyst, would have been inadequate, not to say incomplete.
Caveats concerning this report are the risk to generalize such an approach for all retrocerebellar arachnoid cysts. The eloquence of clinical symptoms and the imaging findings should be the main herald for posterior craniocervical surgery. I am wondering what would have happened if the case had been treated as a straight forward Chiari malformation case.
In any event, the imaging and clinical outcome reported in this particular case were good, so we congratulate the authors for their approach.
H. Selim Karabekir, Izmir, Turkey
As mentioned in the case report of Sun et al., syringomyelia has been associated with many cerebral, cerebellar, and spinal lesions. In the literature, most causes of syringomyelia (Chiari malformations, posterior fossa tumors, or cysts) are the obstruction of CSF flow at the level of the foramen magnum and the outlet of the fourth ventricle. As defined by the Sun et al. study, arachnoid cysts are generally congenital lesions and seen in 1 % of intracranial mass lesions, and 10 % of them take place at the posterior fossa. The pathophysiological origin of syringomyelia remains controversial, and there are various hypotheses related with the syringomyelia formation caused by arachnoid cysts. In the case of Sun et al., the patient underwent a decompression of the foramen magnum, microsurgical fenestration of the cyst, and duraplasty. They applied wide microsurgical fenestration of the cysts and adequate exploration as necessary. This is a good case report and review of the literature and successful surgical approach.
Electronic supplementary material
Below is the link to the electronic supplementary material.
Video that demonstrates the surgical procedure, 4 min, 160 MB (MP4 64 mb)
Video that demonstrates the surgical procedure, 4 min, 160 MB (MP4 64 mb)
About this article
Cite this article
Sun, L., Emich, S., Fu, W. et al. Retrocerebellar arachnoid cyst resulting in syringomyelia in a patient without tonsillar herniation: successful surgical treatment with reconstruction of CSF flow in the foramen magnum region. Neurosurg Rev 39, 341–347 (2016). https://doi.org/10.1007/s10143-015-0680-9
Received:

Revised:

Accepted:

Published:

Issue Date:
Keywords
Arachnoid cyst

Cerebrospinal fluid circulation

Foramen magnum

Posterior fossa

Microsurgical fenestration

Syringomyelia