Abstract
The aim of this study was to assess the efficacy and safety of surgical embolectomy for internal carotid artery terminus (ICA-T) occlusion. Twenty-five consecutive patients with acute ischemic stroke attributed to embolic ICA-T occlusion who underwent surgical embolectomy were retrospectively reviewed. Twenty-four patients were examined based on magnetic resonance imaging, with one patient included based on a computed tomography scan. Recanalization rate, recanalization time, complications, National Institutes of Health Stroke Scale (NIHSS) score improvement at 1 month, and modified Rankin Scale (mRS) at 3 months were evaluated. Final recanalization status was Thrombolysis in Myocardial Infarction (TIMI) 3 in 24 patients (96 %). Median recanalization time from symptom onset and from start of surgery was 281 and 79 min, respectively. Two patients (8 %) had major hemorrhagic complications related to surgery. Seventeen patients (68 %) demonstrated NIHSS score improvement of more than 10 points at 1 month. At 3 months, eight patients (32 %) were mRS 0–2, five patients (20 %) were mRS 3, and three patients (12 %) had died. Surgical embolectomy for ICA-T occlusion demonstrated a high complete recanalization rate and should be reconsidered as an additional therapeutic strategy to overcome this devastating situation.
This is a preview of subscription content, log in to check access.
Access options
Buy single article
Instant unlimited access to the full article PDF.
US$ 39.95
Price includes VAT for USA
Subscribe to journal
Immediate online access to all issues from 2019. Subscription will auto renew annually.
US$ 99
This is the net price. Taxes to be calculated in checkout.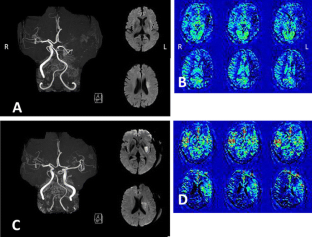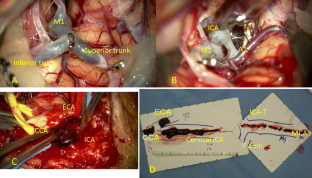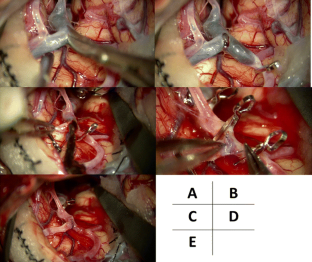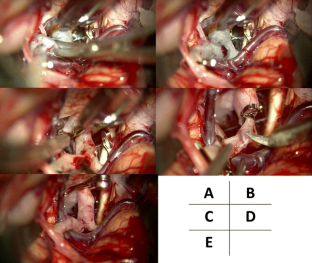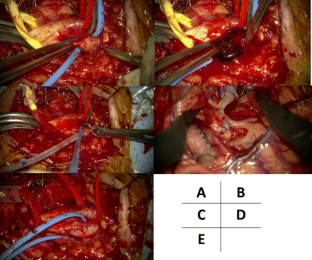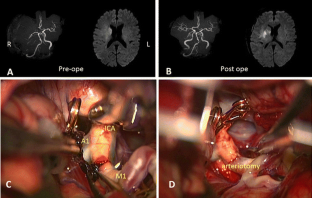 Abbreviations
CEA:

Carotid endarterectomy

DSA:

Digital subtraction angiography

DWI:

Diffusion-weighted imaging

ICA-T:

Internal carotid artery terminus

MCA:

Middle cerebral artery

MRA:

Magnetic resonance angiography

mRS:

Modified Rankin Scale

NIHSS:

National Institutes of Health Stroke Scale

TIMI:

Thrombolysis in Myocardial Infarction

tPA:

Tissue plasminogen activator
References
1.

Bhatia R, Hill MD, Shobha N, Menon B, Bal S, Kochar P, Watson T, Goyal M, Demchuk AM (2010) Low rates of acute recanalization with intravenous recombinant tissue plasminogen activator in ischemic stroke. Real-world experience and a call for action. Stroke 41:2254–2258

2.

Fischer U, Mono ML, Schroth G, Jung S, Mordasini P, El-Koussy M, Weck A, Brekenfeld C, Findling O, Galimanis A, Heldner MR, Arnold M, Mattle HP, Gralla J (2013) Endovascular therapy in 201 patients with acute symptomatic occlusion of the internal carotid artery. Eur J Neurol 20:1017–1024

3.

Hasegawa H, Inoue T, Tamura A, Saito I (2015) Emergent intracranial surgical embolectomy in conjunction with carotid endarterectomy for acute internal carotid artery terminus embolic occlusion and tandem occlusion of the cervical carotid artery due to plaque rupture. J Neurosurg 122: 939–47

4.

Horiuchi T, Nitta J, Sakai K, Tanaka Y, Hongo K (2007) Emergency embolectomy for treatment of acute middle cerebral artery occlusion. J Neurosurg 106:257–26

5.

Inoue T, Tamura A, Tsutsumi K, Saito I, Saito N (2013) Surgical embolectomy for large vessel occlusion of anterior circulation. Br J Neurosurg 27:783–790

6.

Inoue T, Tamura A, Tsutsumi K, Saito I, Saito N (2014) Response to "Role of surgical versus endovascular embolectomy for the treatment of acute large vessel occlusion". Br J Neurosurg 28:431–432

7.

Lansberg MG, Thijs VN, Bammer R, Olivot JM, Marks MP, Wechsler LR, Kemp S, Albers GW (2008) The MRA-DWI mismatch identifies patients with stroke who are likely to benefit from reperfusion. Stroke 39:2491–2496

8.

Lin R, Vora N, Zaidi S, Aleu A, Jankowitz B, Thomas A, Gupta R, Horowitz M, Kim S, Reddy V, Hammer M, Uchino K, Lawrence R, Wechsler R, Jovin T (2009) Mechanical approaches combined with intraarterial pharmacological therapy are associated with higher recanalization rates than either intervention alone in revascularization of acute carotid terminus occlusion. Stroke 40:2092–2097

9.

Meyer FB, Piepgras DG, Sundt TM, Yanagihara T (1985) Emergency embolectomy for acute occlusion of the middle cerebral artery. J Neurosurg 62:639–647

10.

Mokin M, Kass-Hout T, Kass-Hout O, Dumont TM, Kan P, Snyder KV, Hopkins LN, Siddiqui AH, Levy EI (2012) Intravenous thrombolysis and endovascular therapy for acute ischemic stroke with internal carotid artery occlusion: a systematic review off clinical outcomes. Stroke 43:2362–2368

11.

Nogueira RG, Lutsep HL, Gupta R, Jovin TG, Albers GW, Walker GA, Liebeskind DS, Smith WS (2012) Trevo versus Merci retrievers for thrombectomy revascularization of large vessel occlusions in acute ischemic stroke (TREVO 2): a randomized trial. Lancet 380:1231–1240

12.

Park J, Hwang YH, Kim Y (2009) Extended supercilliary approach for middle cerebral artery embolectomy after unsuccessful endovascular recanalization therapy: technical note. Neurosurgery 65:1191–1194

13.

Rha JH, Saver JL (2007) The impact of recanalization on ischemic stroke outcome. A meta-analysis. Stroke 38:967–973

14.

Saqqur M, Uchino K, Demchuk AM, Molina CA, Garami Z, Calleja S, Akhtar N, Orouk FO, Salam A, Shuaib A, Alexandrov AV (2007) Site of arterial occlusion identified by transcranial Doppler predicts the response to intravenous thrombolysis for stroke. Stroke 38:948–954
Conflict of interest
The authors declare that they have no competing interests.
Electronic supplementary material
Below is the link to the electronic supplementary material.
Intraoperative video of patient no. 20 (WMV 23,327 kb)
Intraoperative video of patient no. 20 (WMV 23,327 kb)
Intraoperative video of patient no. 10 (WMV 1880 kb)
Intraoperative video of patient no. 10 (WMV 1880 kb)
Intaroperative video of patient no. 5 (WMV 6841 kb)
Intaroperative video of patient no. 5 (WMV 6841 kb)
About this article
Cite this article
Inoue, T., Tamura, A., Tsutsumi, K. et al. Surgical embolectomy for internal carotid artery terminus occlusion. Neurosurg Rev 38, 661–669 (2015). https://doi.org/10.1007/s10143-015-0640-4
Received:

Revised:

Accepted:

Published:

Issue Date:
Keywords
Carotid terminus

Diffusion-weighted imaging

Surgical embolectomy

Magnetic resonance angiography