Abstract
Pituitary surgery exemplifies the continuous refinement of surgical techniques. The transsphenoidal approach is the approach of choice to treat most pituitary adenomas. We report here, as a technical note, an operative nuance that represents an encompassment of various technical steps that we utilize in our current surgery, including the corroboration of navigation system on a free head with combined use of endoscope and microscope techniques.
This is a preview of subscription content, log in to check access.
We're sorry, something doesn't seem to be working properly.
Please try refreshing the page. If that doesn't work, please contact support so we can address the problem.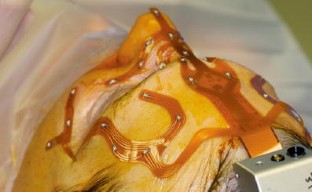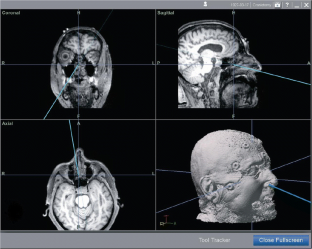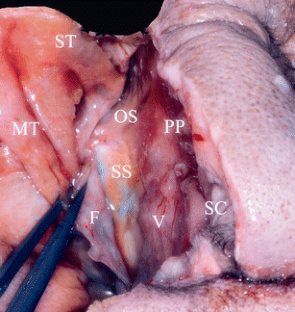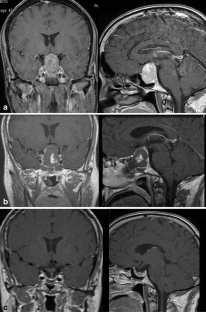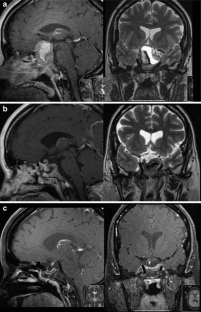 References
1.

Apuzzo ML, Heifetz MD, Weiss MH, Kurze T (1977) Neurosurgical endoscopy using the side-viewing telescope. J Neurosurg 46:398–400

2.

Barrow DL, Tindall GT (1990) Loss of vision after transsphenoidal surgery. Neurosurgery 27:60–68

3.

Batay F, Vural E, Karasu A, Al-Mefty O (2002) Comparison of the exposure obtained by endoscope and microscope in the extended trans-sphenoidal approach. Skull Base 12:119–124

4.

Bushe KA, Halves E (1978) Modifizierte technik bei transnasaler operation der hypophysengeschwulste. Acta Neurochir 41(1–3):163–175

5.

Cappabianca P, Cavallo LM, de Divitiis E (2004) Endoscopic endonasal transsphenoidal surgery. Neurosurgery 55:933–940

6.

Catapano D, Sloffer CA, Frank G, Pasquini E, D'Angelo VA, Lanzino G (2006) Comparison between the microscope and endoscope in the direct endonasal extended transsphenoidal approach: anatomical study. J Neurosurg 104(3):419–425

7.

Ciric I, Rosenblatt S, Zhao J (2002) Transsphenoidal microsurgery. Neurosurgery 51:161–169

8.

Couldwell WT (2004) Transsphenoidal and transcranial surgery for pituitary adenomas. J Neurooncol 69(1–3):237–256

9.

Cushing H (1912) Transsphenoidal methods of access. In: Cushing H (ed) The Pituitary Body and its Disorders: Clinical States Produced by Disorders of the Hypophysis Cerebri. JB Lippincott, Philadelphia, pp 296–303

10.

Elias WJ, Laws ER Jr (2000) Transsphenoidal approaches to lesions of the sella. In: Schmidek HH (ed) Operative Neurosurgical Techniques: Indications, Methods and Results. WB Saunders, Philadelphia, pp 373–384

11.

Fatemi N, Dusick JR, de Paiva Neto MA, Kelly DF (2008) The endonasal microscopic approach for pituitary adenomas and other parasellar tumors: a 10-year experience. Neurosurgery 63(4 Suppl 2):244–256

12.

Griffith HB, Veerapen R (1987) A direct transnasal approach to the sphenoid sinus. Technical note. J Neurosurg 66:140–142

13.

Guiot G, Bouche J, Hertzog E, Vourc'h G, Hardy J (1963) Hypophysectomy by trans-sphenoidal route. Ann Radiol (Paris) 6:187–192

14.

Hardy J (1962) Excision of pituitary adenomas by trans-sphenoidal approach. Union Med Can 91:933–945

15.

Jane JA Jr, Han J, Prevedello DM, Jagannathan J, Dumont AS, Laws ER Jr (2005) Perspectives on endoscopic transsphenoidal surgery. Neurosurg Focus 19(6):E2

16.

Jane JA Jr, Thapar K, Kaptain GJ, Maartens N, Laws ER Jr (2002) Pituitary surgery: transsphenoidal approach. Neurosurgery 51:435–442

17.

Jho HD (1999) Endoscopic pituitary surgery. Pituitary 2:139–154

18.

Krisht AF (2006) Transsphenoidal approach and its variants. In: Sekhar LN, Fessler RG (eds) Atlas of Neurosurgical Techniques: Brain. Thieme, New York, pp 654–660

19.

Liu JK, Das K, Weiss MH, Laws ER Jr, Couldwell WT (2001) The history and evolution of transsphenoidal surgery. J Neurosurg 95(6):1083–1096

20.

Liu JK, Weiss MH, Couldwell WT (2003) Surgical approaches to pituitary tumors. Neurosurg Clin N Am 14:93–107

21.

Nejadkazem M, Samii A, Fahlbusch R, Bidadi S (2008) A simplified direct endonasal approach for transsphenoidal surgery. Minim Invasive Neurosurg 51(5):272–274

22.

Sanai N, Quinones-Hinojosa A, Narvid J, Kunwar S (2008) Safety and efficacy of the direct endonasal transsphenoidal approach for challenging sellar tumors. J Neurooncol 87(3):317–325

23.

Sheehan MT, Atkinson JL, Kasperbauer JL, Erickson BJ, Nippoldt TB (1999) Preliminary comparison of the endoscopic transnasal vs the sublabial transseptal approach for clinically nonfunctioning pituitary macroadenomas. Mayo Clin Proc 74:661–670

24.

Snyderman C, Kassam A, Carrau R, Mintz A, Gardner P, Prevedello DM (2007) Acquisition of surgical skills for endonasal skull base surgery: a training program. Laryngoscope 117(4):699–705

25.

Swearingen B (2006) Transsphenoidal approach to pituitary tumors. In: Schmidek HH, Roberts DW (eds) Operative Neurosurgical Techniques: Indications, Methods, and Results, vol 1. Elsevier, Philadelphia, pp 321–331

26.

Teo C, Nakaji P (2004) Neuro-oncologic applications of endoscopy. Neurosurg Clin N Am 15(1):89–103

27.

Wilson WR, Laws ER Jr (1992) Transnasal septal displacement approach for secondary transsphenoidal pituitary surgery. Laryngoscope 102:951–953

28.

Yaniv E, Rappaport ZH (1997) Endoscopic transseptal transsphenoidal surgery for pituitary tumors. Neurosurgery 40(5):944–946

29.

Wilson CB (1979) Neurosurgical management of large and invasive pituitary tumors. In: Tindall GT, Collins WF (eds) Clinical Management of Pituitary Disorders. Raven, New York, pp 335–342
Additional information
Comments
Nicholas C. Bambakidis, Cleveland, USA
This is an important and timely review of endonasal surgical approaches for pituitary tumors. While endoscopic approaches are increasingly utilized and have certain advantages, the addition of microscopic techniques enhances the surgical view and is advantageous in combination. Though much emphasis has been placed recently on entirely endoscopic approaches, it cannot be ignored that there are also drawbacks to isolated use of the endoscope, particularly the loss of depth perception. We wholeheartedly agree with the author's comments and technical points and utilize their recommendations in our own practice.
Comments
Miguel A. Arraez, Malaga, Spain
This article from Al-Mefty and colleagues has the interest of pointing out the usefulness of combining the approaches that neurosurgeons can use nowadays for pituitary tumor resection: endoscopic and microscopic techniques. Although endoscope is very promising, the view is still limited when compared with the microscope because of the lack of 3D view and, to a lesser degree, the barrel effect among other drawbacks. On the other hand, it is noteworthy that the microsurgical approach is a very simple procedure, good enough to solve many pituitary cases in which there is no need for the additional improvement in view that the endoscope offers (invasive cases). The combination of both techniques adds the less invasive endoscopic approach to the sphenoidal sinus to the simplicity of the microsurgical tumor resection. This procedure is also very appropriate to overcome the learning curve in endoscopy necessary for endoscopic resection of more complex skull base cases. Thus, the technique would start with the less risky part and less familial anatomy for the neurosurgeon (endonasal approach to the sphenoidal sinus through the nostril) and progressively more advanced endoscopic steps can be assumed to deal with the sella and tumor anatomy. Regarding the use of neuronavigation, it is definitely useful in reoperation procedures and invasive cases. For standard cases, the endoscopic technique easily allows just to enter the sphenoidal sinus, getting orientated inside as the sella turcica is usually very well seen, and it is anatomically recognized without the need of additional aid. Finally, in the combined endoscopic-microsurgical approach, when the endoscope is used for a better visualization inside the sella, it is important to remember that the nasal speculum should be removed to increase the angle of mobility and maneuverability of the endoscope and instruments, which are otherwise limited.
Comments
Luciano Mastronardi, Rome, Italy
This is a short but very nice overview of combined transsphenoidal microscopic and endoscopic approach for pituitary tumors. Even if the endoscopic transnasal approach is widely used in the majority of neurosurgical divisions, according to Al-Mefty and colleagues the combination with microsurgical technique and neuronavigation seems to make this procedure safer and more effective, with the best possible 3D view.
I completely agree with the authors that the combination of microscopic view with new technologies, endoscope and free head navigation, will transform the surgery of pituitary tumors in a relatively easier procedure for neurosurgeons less experienced in this field.
Electronic supplementary material
Below is the link to the electronic supplementary material.
About this article
Cite this article
Al-Mefty, O., Pravdenkova, S. & Gragnaniello, C. A technical note on endonasal combined microscopic endoscopic with free head navigation technique of removal of pituitary adenomas. Neurosurg Rev 33, 243–249 (2010). https://doi.org/10.1007/s10143-010-0241-1
Received:

Revised:

Accepted:

Published:

Issue Date:
Keywords
Transsphenoidal surgery

Sellar tumors

Pituitary adenoma

Surgical technique

Microsurgery

Endonasal endoscopy

Neuronavigation

Minimal invasive surgery