Abstract
Non-small cell lung cancer (NSCLC) represents for approximately 85% of all lung cancers, which is the most common cancer worldwide. Tumor-associated macrophages (TAM) are crucial for tumor progression, which was widely believed to be mediated by long non-coding RNAs (LncRNAs). We aimed to explore the effect of one LncRNA, GNAS-AS1, in TAM-associated NSCLC progression. Relative mRNA levels were determined by qRT-PCR. Western blot and ELISA were used to detect protein levels. Proliferation in vitro was assessed by MTT and clone formation assays. Migration and invasion of cell lines were evaluated by transwell-based assays. Interaction between molecules was detected by luciferase report assay. GNAS-AS1 expression was dramatically enhanced in TAM, NSCLC cell lines, and clinical tumor tissues, and negatively correlated with overall survival of NSCLC patients. GNAS-AS1 promoted macrophage M2 polarization and NSCLC cell progression via directly inhibiting miR-4319, which could target N-terminal EF-hand calcium binding protein 3 (NECAB3) to inhibit its expression. GNAS-AS1/miR-4319/NECAB3 axis promotes tumor progression of NSCLC by altering macrophage polarization. This novel mechanism may provide potential strategy for NSCLC treatment.
This is a preview of subscription content, log in to check access.
Access options
Buy single article
Instant unlimited access to the full article PDF.
US$ 39.95
Price includes VAT for USA
Subscribe to journal
Immediate online access to all issues from 2019. Subscription will auto renew annually.
US$ 99
This is the net price. Taxes to be calculated in checkout.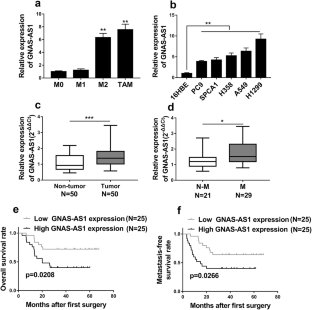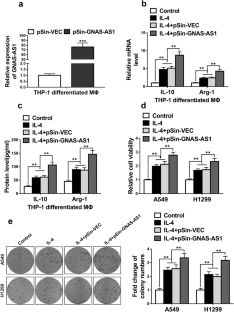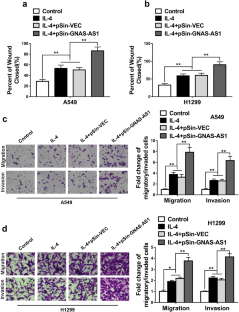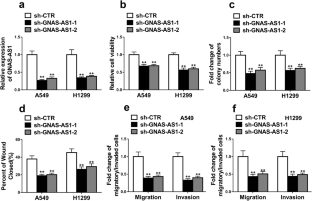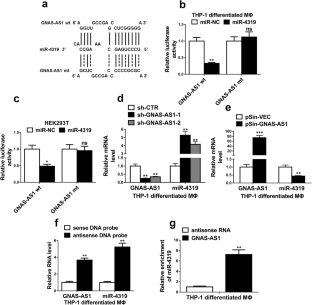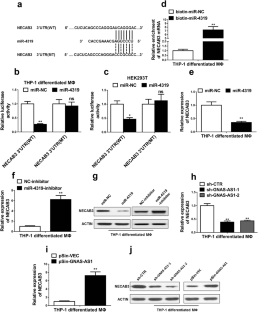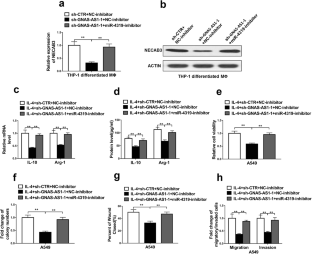 References
Archer K, Broskova Z, Bayoumi AS, Teoh JP, Davila A, Tang Y, Su H, Kim IM (2015) Long non-coding RNAs as master regulators in cardiovascular diseases. Int J Mol Sci 16:23651–23667. https://doi.org/10.3390/ijms161023651

Gutschner T, Diederichs S (2012) The hallmarks of cancer: a long non-coding RNA point of view. RNA Biol 9:703–719. https://doi.org/10.4161/rna.20481

Huang JK, Ma L, Song WH, Lu BY, Huang YB, Dong HM, Ma XK, Zhu ZZ, Zhou R (2017) LncRNA-MALAT1 promotes angiogenesis of thyroid cancer by modulating tumor-associated macrophage FGF2 protein secretion. J Cell Biochem 118:4821–4830. https://doi.org/10.1002/jcb.26153

Kogita A, Togashi Y, Hayashi H, Sogabe S, Terashima M, De Velasco MA, Sakai K, Fujita Y, Tomida S, Takeyama Y, Okuno K, Nakagawa K, Nishio K (2014) Hypoxia induces resistance to ALK inhibitors in the H3122 non-small cell lung cancer cell line with an ALK rearrangement via epithelial-mesenchymal transition. Int J Oncol 45:1430–1436. https://doi.org/10.3892/ijo.2014.2574

Lee J, Jung JH, Chae YS, Park HY, Kim WW, Lee SJ, Jeong JH, Kang SH (2016) Long noncoding RNA snaR regulates proliferation, migration and invasion of triple-negative breast cancer cells. Anticancer Res 36:6289–6295. https://doi.org/10.21873/anticanres.11224

Lee J, Park HY, Kim WW, Lee SJ, Jeong JH, Kang SH, Jung JH, Chae YS (2017) Biological function of long noncoding RNA snaR in HER2-positive breast cancer cells. Tumour Biol 39. https://doi.org/10.1177/1010428317707374

Leung AW, de Silva T, Bally MB, Lockwood WW (2016) Synthetic lethality in lung cancer and translation to clinical therapies. Mol Cancer 15:61. https://doi.org/10.1186/s12943-016-0546-y

Li CG, Huang XE, Xu L, Li Y, Lu YY (2012) Clinical application of serum tumor associated material (TAM) from non-small cell lung cancer patients. Asian Pac J Cancer Prev 13:301–304

Luo Y, Zhou H, Krueger J, Kaplan C, Lee SH, Dolman C, Markowitz D, Wu W, Liu C, Reisfeld RA, Xiang R (2006) Targeting tumor-associated macrophages as a novel strategy against breast cancer. J Clin Invest 116:2132–2141. https://doi.org/10.1172/jci27648

Mantovani A, Sozzani S, Locati M, Allavena P, Sica A (2002) Macrophage polarization: tumor-associated macrophages as a paradigm for polarized M2 mononuclear phagocytes. Trends Immunol 23:549–555

Martinez FO, Gordon S (2014) The M1 and M2 paradigm of macrophage activation: time for reassessment. F1000Prime Rep 6:13. https://doi.org/10.12703/P6-13

Mei J, Xiao Z, Guo C, Pu Q, Ma L, Liu C, Lin F, Liao H, You Z, Liu L (2016) Prognostic impact of tumor-associated macrophage infiltration in non-small cell lung cancer: a systemic review and meta-analysis. Oncotarget 7:34217–34228. https://doi.org/10.18632/oncotarget.9079

Mercer TR, Dinger ME, Mattick JS (2009) Long non-coding RNAs: insights into functions. Nat Rev Genet 10:155–159. https://doi.org/10.1038/nrg2521

Molina JR, Yang P, Cassivi SD, Schild SE, Adjei AA (2008) Non-small cell lung cancer: epidemiology, risk factors, treatment, and survivorship. Mayo Clin Proc 83:584–594. https://doi.org/10.4065/83.5.584

Nakaoka HJ, Hara T, Yoshino S, Kanamori A, Matsui Y, Shimamura T, Sato H, Murakami Y, Seiki M, Sakamoto T (2016) NECAB3 promotes activation of hypoxia-inducible factor-1 during normoxia and enhances tumourigenicity of cancer cells. Sci Rep 6:22784. https://doi.org/10.1038/srep22784

Noy R, Pollard JW (2014) Tumor-associated macrophages: from mechanisms to therapy. Immunity 41:49–61. https://doi.org/10.1016/j.immuni.2014.06.010

Park S, Lee M, Chun CH, Jin EJ (2017) The lncRNA, Nespas, is associated with osteoarthritis progression and serves as a potential new prognostic biomarker. Cartilage:148–156. https://doi.org/10.1177/1947603517725566

Piccoli MT, Gupta SK, Thum T (2015) Noncoding RNAs as regulators of cardiomyocyte proliferation and death. J Mol Cell Cardiol 89:59–67. https://doi.org/10.1016/j.yjmcc.2015.02.002

Quinn JJ, Chang HY (2016) Unique features of long non-coding RNA biogenesis and function. Nat Rev Genet 17:47–62. https://doi.org/10.1038/nrg.2015.10

Ries CH, Cannarile MA, Hoves S, Benz J, Wartha K, Runza V, Rey-Giraud F, Pradel LP, Feuerhake F, Klaman I, Jones T, Jucknischke U, Scheiblich S, Kaluza K, Gorr IH, Walz A, Abiraj K, Cassier PA, Sica A, Gomez-Roca C, de Visser KE, Italiano A, Le Tourneau C, Delord JP, Levitsky H, Blay JY, Ruttinger D (2014) Targeting tumor-associated macrophages with anti-CSF-1R antibody reveals a strategy for cancer therapy. Cancer Cell 25:846–859. https://doi.org/10.1016/j.ccr.2014.05.016

Rochtus A, Martin-Trujillo A, Izzi B, Elli F, Garin I, Linglart A, Mantovani G, Perez de Nanclares G, Thiele S, Decallonne B, Van Geet C, Monk D, Freson K (2016) Genome-wide DNA methylation analysis of pseudohypoparathyroidism patients with GNAS imprinting defects. Clin Epigenetics 8:10. https://doi.org/10.1186/s13148-016-0175-8

Sica A, Bronte V (2007) Altered macrophage differentiation and immune dysfunction in tumor development. J Clin Invest 117:1155–1166. https://doi.org/10.1172/jci31422

Sica A, Schioppa T, Mantovani A, Allavena P (2006) Tumour-associated macrophages are a distinct M2 polarised population promoting tumour progression: potential targets of anti-cancer therapy. Eur J Cancer 42:717–727. https://doi.org/10.1016/j.ejca.2006.01.003

Siegel RL, Miller KD, Jemal A (2018) Cancer statistics, 2018. CA Cancer J Clin 68:7–30. https://doi.org/10.3322/caac.21442

Solinas G, Germano G, Mantovani A, Allavena P (2009) Tumor-associated macrophages (TAM) as major players of the cancer-related inflammation. J Leukoc Biol 86:1065–1073. https://doi.org/10.1189/jlb.0609385

Temel JS, Greer JA, Muzikansky A, Gallagher ER, Admane S, Jackson VA, Dahlin CM, Blinderman CD, Jacobsen J, Pirl WF, Billings JA, Lynch TJ (2010) Early palliative care for patients with metastatic non-small-cell lung cancer. N Engl J Med 363:733–742. https://doi.org/10.1056/NEJMoa1000678

Verdecchia A, Francisci S, Brenner H, Gatta G, Micheli A, Mangone L, Kunkler I (2007) Recent cancer survival in Europe: a 2000-02 period analysis of EUROCARE-4 data. Lancet Oncol 8:784–796. https://doi.org/10.1016/s1470-2045(07)70246-2

Wang R, Zhang J, Chen S, Lu M, Luo X, Yao S, Liu S, Qin Y, Chen H (2011) Tumor-associated macrophages provide a suitable microenvironment for non-small lung cancer invasion and progression. Lung Cancer 74:188–196. https://doi.org/10.1016/j.lungcan.2011.04.009

Whiteside TL (2008) The tumor microenvironment and its role in promoting tumor growth. Oncogene 27:5904–5912. https://doi.org/10.1038/onc.2008.271

Zhang S, Che D, Yang F, Chi C, Meng H, Shen J, Qi L, Liu F, Lv L, Li Y, Meng Q, Liu J, Shang L, Yu Y (2017) Tumor-associated macrophages promote tumor metastasis via the TGF-beta/SOX9 axis in non-small cell lung cancer. Oncotarget 8:99801–99815. https://doi.org/10.18632/oncotarget.21068

Zhou YX, Zhao W, Mao LW, Wang YL, Xia LQ, Cao M, Shen J, Chen J (2018) Long non-coding RNA NIFK-AS1 inhibits M2 polarization of macrophages in endometrial cancer through targeting miR-146a. Int J Biochem Cell Biol 104:25–33. https://doi.org/10.1016/j.biocel.2018.08.017
Ethics declarations
Competing interests
The authors declare that they have no competing interests.
Additional information
Publisher's note
Springer Nature remains neutral with regard to jurisdictional claims in published maps and institutional affiliations.
Electronic supplementary material
About this article
Cite this article
Li, Z., Feng, C., Guo, J. et al. GNAS-AS1/miR-4319/NECAB3 axis promotes migration and invasion of non-small cell lung cancer cells by altering macrophage polarization. Funct Integr Genomics 20, 17–28 (2020) doi:10.1007/s10142-019-00696-x
Received:

Revised:

Accepted:

Published:

Issue Date:
Keywords
GNAS-AS1

miR-4319

NECAB3

TAM

NSCLC