Abstract
Although conventional radiographic cystography has been traditionally considered the reference standard in detecting bladder injuries, computed tomography (CT) cystography has become the initial imaging method of choice in the acute setting. CT cystography has been shown to provide comparable accuracy as conventional cystography, and can be easily performed in conjunction with trauma CT surveys in patients with suspected bladder injuries. Despite increasing enthusiasm toward CT cystography in dealing with patients with suspected bladder injuries, there is little information in this regard in the literature. This article aims to discuss the role of CT cystography in the evaluation of bladder injuries.
Access options
Buy single article
Instant access to the full article PDF.
US$ 39.95
Tax calculation will be finalised during checkout.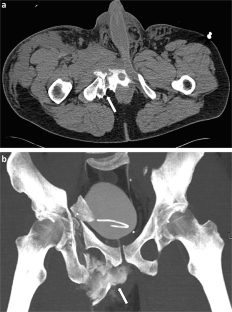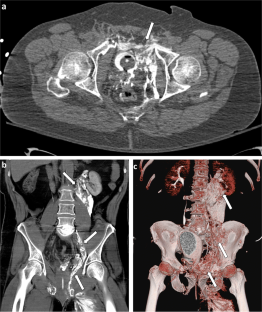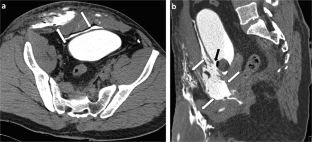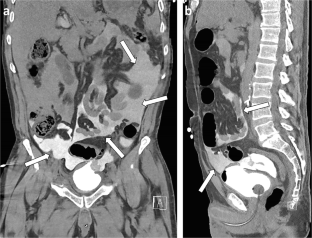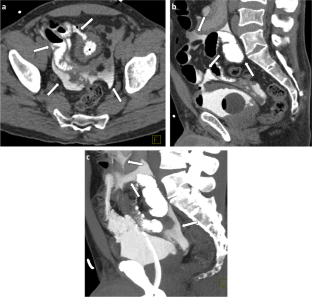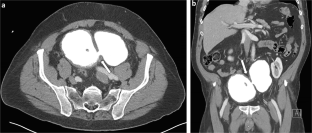 References
1.

Phillips B, Holzmer S, Turco L, Mirzaie M, Mause E, Mause A, Person A, Leslie SW, Cornell DL, Wagner M, Bertellotti R, Asensio JA (2017) Trauma to the bladder and ureter: a review of diagnosis, management, and prognosis. Eur J Trauma Emerg Surg 43(6):763–773. https://doi.org/10.1007/s00068-017-0817-3

2.

Mahat Y, Leong JY, Chung PH (2019) A contemporary review of adult bladder trauma. J Inj Violence Res 11(2):101–106. https://doi.org/10.5249/jivr.v11i2.1069

3.

Esparaz AM, Pearl JA, Herts BR, LeBlanc J, Kapoor B (2015) Iatrogenic urinary tract injuries: etiology, diagnosis, and management. Semin Interv Radiol 32(2):195–208. https://doi.org/10.1055/s-0035-1549378

4.

Haroon SA, Rahimi H, Merritt A, Baghdanian A, Baghdanian A, LeBedis CA (2019) Computed tomography (CT) in the evaluation of bladder and ureteral trauma: indications, technique, and diagnosis. Abdom Radiol (NY). https://doi.org/10.1007/s00261-019-02161-6

5.

Bryk DJ, Zhao LC (2016) Guideline of guidelines: a review of urological trauma guidelines. BJU Int 117(2):226–234. https://doi.org/10.1111/bju.13040

6.

Pereira BM, de Campos CC, Calderan TR, Reis LO, Fraga GP (2013) Bladder injuries after external trauma: 20 years experience report in a population-based cross-sectional view. World J Urol 31(4):913–917. https://doi.org/10.1007/s00345-012-0871-8

7.

Dane B, Baxter AB, Bernstein MP (2017) Imaging genitourinary trauma. Radiol Clin N Am 55(2):321–335. https://doi.org/10.1016/j.rcl.2016.10.007

8.

Guttmann I, Kerr HA (2013) Blunt bladder injury. Clin Sports Med 32(2):239–246. https://doi.org/10.1016/j.csm.2012.12.006

9.

Matlock KA, Tyroch AH, Kronfol ZN, McLean SF, Pirela-Cruz MA (2013) Blunt traumatic bladder rupture: a 10-year perspective. Am Surg 79(6):589–593

10.

Harrahill M (2004) Bladder trauma: a review. J Emerg Nurs: JEN : official publication of the Emergency Department Nurses Association 30(3):287–288. https://doi.org/10.1016/j.jen.2004.03.009

11.

Carroll PR, McAninch JW (1984) Major bladder trauma: mechanisms of injury and a unified method of diagnosis and repair. J Urol 132(2):254–257

12.

Cass AS (1989) Diagnostic studies in bladder rupture. Indications and techniques. Urol Clin North Am 16(2):267–273

13.

Gomez RG, Ceballos L, Coburn M, Corriere JN Jr, Dixon CM, Lobel B, McAninch J (2004) Consensus statement on bladder injuries. BJU Int 94(1):27–32. https://doi.org/10.1111/j.1464-410X.2004.04896.x

14.

Hanno PM, Wein AJ, Malkowicz SB (2007) Penn clinical manual of urology. Saunders/Elsevier, Philadelphia

15.

Corriere JN Jr, Sandler CM (2006) Diagnosis and management of bladder injuries. The Urologic clinics of North America 33(1):67–71, vi. https://doi.org/10.1016/j.ucl.2005.10.003

16.

Palmer JK, Benson GS, Corriere JN Jr (1983) Diagnosis and initial management of urological injuries associated with 200 consecutive pelvic fractures. J Urol 130(4):712–714

17.

Corriere JN Jr, Sandler CM (1988) Mechanisms of injury, patterns of extravasation and management of extraperitoneal bladder rupture due to blunt trauma. J Urol 139(1):43–44

18.

Armenakas NA, Pareek G, Fracchia JA (2004) Iatrogenic bladder perforations: longterm followup of 65 patients. J Am Coll Surg 198(1):78–82. https://doi.org/10.1016/j.jamcollsurg.2003.08.022

19.

Siow A, Nikam YA, Ng C, Su MC (2007) Urological complications of laparoscopic hysterectomy: a four-year review at KK Women's and Children's Hospital, Singapore. Singap Med J 48(3):217–221

20.

Gilmour DT, Dwyer PL, Carey MP (1999) Lower urinary tract injury during gynecologic surgery and its detection by intraoperative cystoscopy. Obstet Gynecol 94(5 Pt 2):883–889. https://doi.org/10.1016/s0029-7844(99)00456-1

21.

Paspulati RM, Dalal TA (2010) Imaging of complications following gynecologic surgery. Radiographics 30(3):625–642. https://doi.org/10.1148/rg.303095129

22.

Summerton DJ, Kitrey ND, Lumen N, Serafetinidis E, Djakovic N, European Association of U (2012) EAU guidelines on iatrogenic trauma. Eur Urol 62(4):628–639. https://doi.org/10.1016/j.eururo.2012.05.058

23.

Golan S, Baniel J, Lask D, Livne PM, Yossepowitch O (2011) Transurethral resection of bladder tumour complicated by perforation requiring open surgical repair - clinical characteristics and oncological outcomes. BJU Int 107(7):1065–1068. https://doi.org/10.1111/j.1464-410X.2010.09696.x

24.

Ostrzenski A, Ostrzenska KM (1998) Bladder injury during laparoscopic surgery. Obstet Gynecol Surv 53(3):175–180

25.

Gross JS, Rotenberg S, Horrow MM (2014) Resident and fellow education feature bladder injury: types, mechanisms, and diagnostic imaging. Radiographics : a review publication of the Radiological Society of North America, Inc 34(3):802–803. https://doi.org/10.1148/rg.343140022

26.

Morey AF, Iverson AJ, Swan A, Harmon WJ, Spore SS, Bhayani S, Brandes SB (2001) Bladder rupture after blunt trauma: guidelines for diagnostic imaging. J Trauma 51(4):683–686

27.

Traxer O, Pasqui F, Gattegno B, Pearle MS (2004) Technique and complications of transurethral surgery for bladder tumours. BJU Int 94(4):492–496. https://doi.org/10.1111/j.1464-410X.2004.04990.x

28.

Corriere JN Jr, Sandler CM (1999) Bladder rupture from external trauma: diagnosis and management. World J Urol 17(2):84–89

29.

Horstman WG, McClennan BL, Heiken JP (1991) Comparison of computed tomography and conventional cystography for detection of traumatic bladder rupture. Urol Radiol 12(4):188–193

30.

Sivit CJ, Cutting JP, Eichelberger MR (1995) CT diagnosis and localization of rupture of the bladder in children with blunt abdominal trauma: significance of contrast material extravasation in the pelvis. AJR Am J Roentgenol 164(5):1243–1246. https://doi.org/10.2214/ajr.164.5.7717239

31.

Mee SL, McAninch JW, Federle MP (1987) Computerized tomography in bladder rupture: diagnostic limitations. J Urol 137(2):207–209

32.

Haas CA, Brown SL, Spirnak JP (1999) Limitations of routine spiral computerized tomography in the evaluation of bladder trauma. J Urol 162(1):51–52. https://doi.org/10.1097/00005392-199907000-00013

33.

Peng MY, Parisky YR, Cornwell EE 3rd, Radin R, Bragin S (1999) CT cystography versus conventional cystography in evaluation of bladder injury. AJR Am J Roentgenol 173(5):1269–1272. https://doi.org/10.2214/ajr.173.5.10541103

34.

Chan DP, Abujudeh HH, Cushing GL Jr, Novelline RA (2006) CT cystography with multiplanar reformation for suspected bladder rupture: experience in 234 cases. AJR Am J Roentgenol 187(5):1296–1302. https://doi.org/10.2214/AJR.05.0971

35.

Kane NM, Francis IR, Ellis JH (1989) The value of CT in the detection of bladder and posterior urethral injuries. AJR Am J Roentgenol 153(6):1243–1246. https://doi.org/10.2214/ajr.153.6.1243

36.

Hsieh CH, Chen RJ, Fang JF, Lin BC, Hsu YP, Kao JL, Kao YC, Yu PC, Kang SC (2002) Diagnosis and management of bladder injury by trauma surgeons. Am J Surg 184(2):143–147

37.

Gross JA, Lehnert BE, Linnau KF, Voelzke BB, Sandstrom CK (2015) Imaging of urinary system trauma. Radiol Clin N Am 53(4):773–788, ix. https://doi.org/10.1016/j.rcl.2015.02.005

38.

Morey AF, Brandes S, Dugi DD 3rd, Armstrong JH, Breyer BN, Broghammer JA, Erickson BA, Holzbeierlein J, Hudak SJ, Pruitt JH, Reston JT, Santucci RA, Smith TG 3rd, Wessells H, American Urological A (2014) Urotrauma: AUA guideline. J Urol 192(2):327–335. https://doi.org/10.1016/j.juro.2014.05.004

39.

Vaccaro JP, Brody JM (2000) CT cystography in the evaluation of major bladder trauma. Radiographics 20(5):1373–1381. https://doi.org/10.1148/radiographics.20.5.g00se111373

40.

Quagliano PV, Delair SM, Malhotra AK (2006) Diagnosis of blunt bladder injury: a prospective comparative study of computed tomography cystography and conventional retrograde cystography. J Trauma 61(2):410–421; discussion 421-412. https://doi.org/10.1097/01.ta.0000229940.36556.bf

41.

Lis LE, Cohen AJ (1990) CT cystography in the evaluation of bladder trauma. J Comput Assist Tomogr 14(3):386–389

42.

Myers JB, Taylor MB, Brant WO, Lowrance W, Wallis MC, Presson AP, Morris SE, Nirula R, Stevens MH (2013) Process improvement in trauma: traumatic bladder injuries and compliance with recommended imaging evaluation. J Trauma Acute Care Surg 74(1):264–269. https://doi.org/10.1097/TA.0b013e318270df2b

43.

Tonolini M, Bianco R (2012) Multidetector CT cystography for imaging colovesical fistulas and iatrogenic bladder leaks. Insights Into Imaging 3(2):181–187. https://doi.org/10.1007/s13244-011-0145-9

44.

Deck AJ, Shaves S, Talner L, Porter JR (2000) Computerized tomography cystography for the diagnosis of traumatic bladder rupture. J Urol 164(1):43–46

45.

Alperin M, Mantia-Smaldone G, Sagan ER (2009) Conservative management of postoperatively diagnosed cystotomy. Urology 73(5):1163 e1117–1163 e1169. https://doi.org/10.1016/j.urology.2008.03.047

46.

Morgan DE, Nallamala LK, Kenney PJ, Mayo MS, Rue LW 3rd (2000) CT cystography: radiographic and clinical predictors of bladder rupture. AJR Am J Roentgenol 174(1):89–95. https://doi.org/10.2214/ajr.174.1.1740089

47.

Gayer G, Zissin R, Apter S, Garniek A, Ramon J, Kots E, Hertz M (2002) Urinomas caused by ureteral injuries: CT appearance. Abdom Imaging 27(1):88–92

48.

Novelline RA, Rhea JT, Bell T (1999) Helical CT of abdominal trauma. Radiol Clin N Am 37(3):591–612 vi-vii

49.

Power N, Ryan S, Hamilton P (2004) Computed tomographic cystography in bladder trauma: pictorial essay. Can Assoc Radiol J = Journal l'Association canadienne des radiologistes 55(5):304–308

50.

Rajiah P, Banerjee B (2008) Surgical radiology: clinical cases. PasTest, Cheshire
Ethics declarations
Conflict of interest
The authors declare that they have no conflict of interest.
Additional information
Publisher's note
Springer Nature remains neutral with regard to jurisdictional claims in published maps and institutional affiliations.
About this article
Cite this article
Fouladi, D.F., Shayesteh, S., Fishman, E.K. et al. Imaging of urinary bladder injury: the role of CT cystography. Emerg Radiol 27, 87–95 (2020). https://doi.org/10.1007/s10140-019-01739-3
Received:

Accepted:

Published:

Issue Date:
Keywords
Urinary bladder

Trauma

CT cystography