Abstract
Adult intussusception (AI) is a rare entity with an organic lesion within the intussusception in 70–90% of the cases. Intussusception is classified according to location, etiology, and to the presence or not of a lead point. We illustrate several causes of AI with a variety of radiological findings on plain film, ultrasonography, computed tomography, magnetic resonance, and endoscopy seen at our institution. Imaging plays a major role in their diagnosis and in determining the appropriate treatment.
This is a preview of subscription content, log in to check access.
Access options
Buy single article
Instant unlimited access to the full article PDF.
US$ 39.95
Price includes VAT for USA
Subscribe to journal
Immediate online access to all issues from 2019. Subscription will auto renew annually.
US$ 99
This is the net price. Taxes to be calculated in checkout.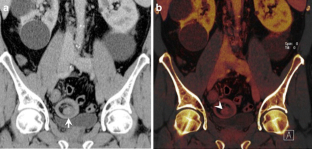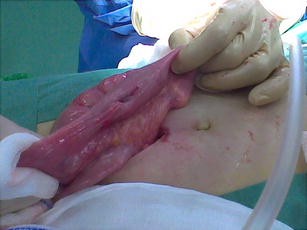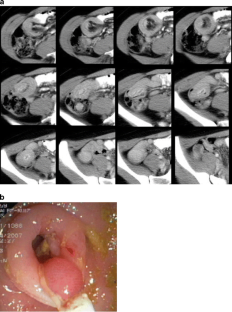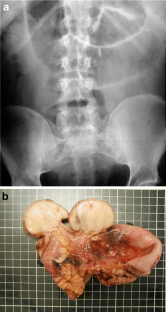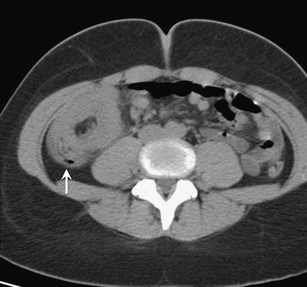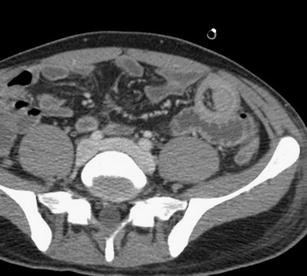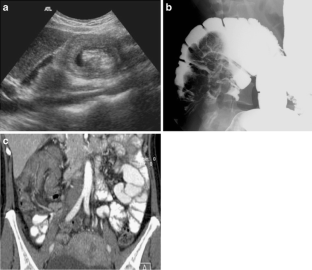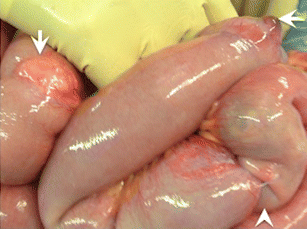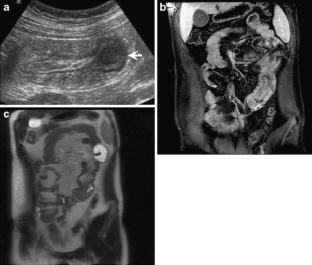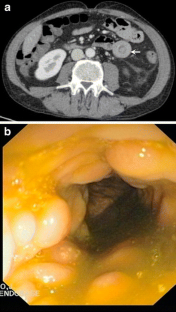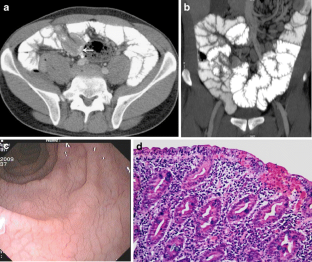 References
1.

Azar T, Berger DL (1997) Adult intussusception. Ann Surg 226:134–138

2.

Agha FP (1986) Intussusception in adults. AJR Am J Roentgenol 146:527–531

3.

Eisen LK, Cunningham JD, Aufses AH Jr (1999) Intussusception in adults: institutional review. J Am Coll Surg 188:390–395

4.

Gayer G, Zissin R, Apter S, Papa M, Hertz M (2002) Pictorial review: adult intussusception—a CT diagnosis. Br J Radiol 75:185–190

5.

Begos DG, Sandor A, Modlin IM (1997) The diagnosis and management of adult intussusception. Am J Surg 173(2):88–94

6.

Gayer G, Apter S, Hofmann C et al (1998) Intussusception in adults: CT diagnosis. Clin Radiol 53:53–57

7.

Byrne AT, Goeghegan T, Govender P, Lyburn ID, Colhoun E, Torreggiani WC (2005) The imaging of intussusception. Clin Radiol 60:39–46

8.

Wiot JF, Spitz HB (1970) Small bowel intussusception demonstrated by oral barium. Radiology 97:361–366

9.

Shah RJ, Shaw SA, Marroquin S (2003) Adult intussusception as a cause of abdominal symptoms: a case report and review of literature. Emerg Radiol 10:53–56

10.

Holt S, Samuel E (1978) Multiple concentric ring sign in the ultrasonographic diagnosis of the intussusception. Gastrointest Radiol 3:307–309

11.

Weissberg DL, Sheible W, Leopold GR (1977) Ultrasonic appearance of adult intussusception. Radiology 124:791–792

12.

Kim YH, Blake MA, Harisinghani MG et al (2006) Adult intestinal intussusception: CT appearances and identification of a causative lead point. Radiographics 26:733–744

13.

Park SB, Ha HK, Kim AY (2007) The diagnostic role of abdominal CT imaging findings in adult intussusception: focused on the vascular compromise. Eur J Radiol 62:406–415

14.

Choi SH, Han JK, Kim SH (2004) Intussusception in adult: from stomach to rectum. AJR Am J Roentgenol 183:691–698

15.

Warshauer DM, Lee JK (1999) Adult intussusception detected at CT or MR imaging: clinical-imaging correlation. Radiology 212:853–860

16.

Marcos HB, Semelka RC, Worawattanakul S (1997) Adult intussusception: demonstration by current MR techniques. Magn Reson Imag 15:1095–1098

17.

Marinis A, Yiallourou A, Samanides L et al (2009) Intussusception of the bowel in adults: a review. World J Gastroenterol 15(4):407–411

18.

Haas EM, Etter EL, Ellis S, Taylor TV (2003) Adult intussusception. Am J Surg 86:75–76

19.

Daneman A, Alton D (1996) Intussusception: issues and controversies related to diagnosis and reduction. Radiol Clin North Am 34(4):743–756

20.

Zubaidi A, Al-Saif F, Silverman R (2006) Adult intussusception: a retrospective review. Dis Colon Rectum 49:1546–1551

21.

Thurley PD, Halliday KE, Somers JM, Al-Daraji WI, Ilyas M, Broderick NJ (2009) Radiological features of Meckel's diverticulum and its complications. Clin Radiol 64(2):109–118

22.

Konstantakos AK (2004) Meckel's diverticulum-induced ileocolonic intussusception. Am J Surg 187(4):557–558

23.

Agrons GA, Corse WR, Markowitz RI, Suarez ES, Perry DR (1996) Gastrointestinal manifestations of cystic fibrosis: radiologic-pathologic correlation. Radiographics 16:871–893

24.

Robertson MB, Choe KA, Joseph PM (2006) Review of the abdominal manifestations of cystic fibrosis in the adult patient. Radiographics 26(3):679–690, Review

25.

Holsclaw DH, Rockmans C, Shwachman MD (1971) Intussusception in patients with cystic fibrosis. Pediatrics 48:51–58

26.

Pomerantz B, Anupindi S, Wales PW, Doody DP, Masiakos PT (2007) Radiographic reduction of intussusception in patients with cystic fibrosis. Pediatr Surg Int 23(8):763–765

27.

Schreibman IR, Baker M, Amos C, McGarrity T (2005) The hamartomatous polyposis syndromes: a clinical and molecular review. Am J Gastroenterol 100:476–490

28.

Spigelman AD, Phillips RKS (1994) Peutz–Jeghers syndrome. In: Phillips RKS, Spigelman AD, Thomson JPS (eds) Familial adenomatous polyposis and other polyposis syndromes. Edward Arnold, London, pp 188–202

29.

Rufener SL, Koujok K, McKenna BJ, Walsh M (2008) Small bowel intussusception secondary to Peutz–Jeghers polyp. RadioGraphics 28:284–288

30.

Cunningham JD, Vine AJ, Karch L, Aisenberg J (1998) The role of laparoscopy in the management of intussusception in the Peutz–Jeghers syndrome: case report and review of the literature. Surg Laparosc Endosc 8(1):17–20

31.

Shih LN, Chang SL, Chuang SM, Kuo CF (1997) Inflammatory fibroid polyp of the jejunum causing intussusception. Am J Gastroenterol 92:162–164

32.

Ali J, Qi W, Hanna SS, Huang S-N (1992) Clinical presentations of gastrointestinal inflammatory fibroid polyps. Can J Surg 35:194–198

33.

De La Plaza R, Pıcarda AL, Cuberes R et al (1999) Inflammatory fibroid polyps of the large intestine. Dig Dis Sci 44:1810–1816

34.

Suen KC, Burton JD (1979) The spectrum of eosinophilic infiltration of the gastrointestinal tract and its relationship to other disorders of angiitis and granulomatosis. Hum Pathol 10:31–43

35.

Harned RK, Buck JL, Shekitka KM (1992) Inflammatory fibroid polyps of the gastrointestinal tract: radiologic evaluation. Radiology 182:863–866

36.

Oyen TL, Wolthuis AM, Tollens T, Aelvoet C, Vanrijikel P (2007) Ileo-ileal intussusception secondary to a lipoma: a literature review. Acta Chir Belg 107:60–63

37.

Ross GJ, Amilineni V (2000) Case 26: jejunojejunal intussusception secondary to lipoma. Radiology 216:727–730

38.

Meshikhes AW, Al-Momen SA, Al Talaq FT, Al-Jaroof AH (2005) Adult intussusception caused by a lipoma in the small bowel: report of a case. Surg Today 35(2):161–165

39.

Uysal S, Tunçbilek I, Gökharman D, Kacar M et al (2006) Visualization of fat in the intussusception: lipoma or mesenteric adipose tissue? Eur J Radiol 57:81–83

40.

Chaar CI, Wexelman B, Zuckerman K, Longo W (2009) Intussusception of the appendix: comprehensive review of the literature. Am J Surg 198(1):122–128

41.

Tavakkoli H, Sadrkabir SM, Mahzouni P (2007) Colonoscopic diagnosis of appendiceal intussusception in a patient with intermittent abdominal pain: a case report. World J Gastroenterol 13(31):4274–4277

42.

Silverman PM, Hayes WS, Cooper C (1990) Ileocolic intussusception in AIDS abdominal case of the day. AJR Am J Roentgenol 154:1325–1330

43.

Komadina R, Smrikolj V (1998) Intussusception after blunt abdominal trauma. J Trauma 45:615–616

44.

Duncan A, Phillips TF, Sclafani SJ et al (1987) Intussusception following abdominal trauma. J Trauma 27:1193–1198

45.

el Benjelloun B, Ousadden A, Ibnmajdoub K, Mazaz K, Taleb KA (2009) Small bowel intussusception with the Meckel's diverticulum after blunt abdominal trauma: a case report. World J Emerg Surg 4:18

46.

Ver Steeg K (2006) Retrograde intussusception following Roux-en-Y gastric bypass. Obes Surg 16:1101–1103

47.

Edwards MA, Grinbaum R, Ellsmere J, Jones DB, Schneider BE (2006) Intussusception after Roux-en-Y gastric bypass for morbid obesity: case report and literature review of a rare complication. Surg Obes Relat Dis 2:83–489

48.

Majeski J, Fried D (2004) Retrograde intussusception after Roux-en-Y gastric bypass surgery. J Am Coll Surg 199(6):988–989

49.

Chandler RC, Srinivas G, Chintapalli KN, Schwesinger WH, Prasad SR (2008) Imaging in bariatric surgery: a guide to postsurgical anatomy and common complications. AJR Am J Roentgenol 190:122–135

50.

Lorenzi M, Iroatulam AJ, Vernillo R et al (1999) Adult colonic intussusception caused by malignant tumor of the transverse colon. Am Surg 65(1):11–14

51.

Tresoldi S, Kim YH, Blake MA et al (2008) Adult intestinal intussusception: can abdominal MDCT distinguish an intussusception caused by a lead point? Abdom Imaging 33(5):582–588

52.

Chand M, Bradford L, Nash GF (2008) Intussusception in colorectal cancer. Clin Colorectal Cancer 7(3):204–205

53.

Salemis NS, Tsiambas E, Liatsos C, Karameris A, Tsohataridis E (2010) Small bowel intussusception due to a primary non-Hodgkin's lymphoma. An unusual presentation and clinical course. J Gastrointest Canc 41(4):233–237

54.

Kella VK, Constantine R, Parikh NS et al (2009) Mantle cell lymphoma of the gastrointestinal tract presenting with multiple intussusceptions–case report and review of literature. World J Surg Oncol 7:60

55.

Idelevich E, Kashtan H, Mavor E, Brenner B (2006) Small bowel obstruction caused by secondary tumors. Surg Oncol 15(1):29–32

56.

Hillenbrand A, Strater J, Henne-Bruns D (2005) Frequency, symptoms and outcome of intestinal metastases of bronchopulmonary cancer: case report and review of literature. Int Semin Surg Oncol 2:1–5

57.

Patel JK, Didolkar MS, Pickren JW, Moore RH (1978) Metastatic pattern of malignant melanoma. A study of 216 autopsy cases. Am J Surg 135:807–810

58.

Fishman EK, Kuhlman JE, Shuchter LM, Miller JA, Magid D (1990) CT of malignant melanoma in the chest, abdomen, and musculoskeletal system. Radiographics 10:603–620

59.

Horton MK, Fishman EK (2008) MDCT and 3D imaging in transient enteroenteric intussusception: clinical observations and review of the literature. AJR Am J Roentgenol 191:736–742

60.

Lvoff N, Breiman RS, Coakley FV, Lu Y, Warren RS (2003) Distinguishing features of self-limiting adult small-bowel intussusception identified at CT. Radiology 227:68–72

61.

Catalano O (1997) Transient small bowel intussusception: CT findings in adults. Br J Radiol 70:805–808

62.

Knowles MC, Fishman EK, Kuhlman JE, Bayless TM (1989) Transient intussusception in Crohn's disease: CT evaluation. Radiology 170:814

63.

López-Tomassetti Fernández EM, Lorenzo Rocha N, Arteaga González I, Carrillo Pallarés A (2006) Ileoileal intussusception as initial manifestation of Crohn's disease. Mcgill J Med 9(1):34–37

64.

Schuppan D, Junker Y, Barisani D (2009) Celiac disease: from pathogenesis to novel therapies. Gastroenterology 137(6):1912–1933

65.

Buckley O, Brien JO, Ward E, Doody O, Govender P, Torreggiani WC (2008) The imaging of coeliac disease and its complications. Eur J Radiol 65(3):483–490

66.

Paolantonio P, Tomei E, Rengo M, Ferrari R, Lucchesi P, Laghi A (2007) Adult celiac disease: MRI findings. Abdom Imaging 32(4):433–440

67.

Rubesin SE, Herlinger H, Saul SH, Grumbach K, Laufer I, Levine MS (1989) Adult celiac disease and its complications. Radiographics 9(6):1045–1066, Review
Electronic supplementary material
Below is the link to the electronic supplementary material.
A 33-year-old woman with history of bariatric surgery Roux en Y gastric by-pass. CT scans show the classic target sign involving distal Roux limb and resultant mild dilatation of proximal portion of the roux limb. Coronal CT (video 4) and surgical procedure (video 5) demonstrate jejuno-jejunal intussusception (MOV 9,822 kb)
Ultrasound demonstrating the typical "target sign" appearance of intussusceptions (AVI 5,573 kb)
Meckel's diverticulum in a 26-year-old woman with abdominal pain. CT shows the classic target sign in the right iliac fossa, which is pathognomonic for ileoileal intussusception. Note the central area of fat attenuation surrounded by soft tissue, which is characteristic of an invaginated Meckel's diverticulum. Intraoperative photograph shows an invaginated Meckel's diverticulum causing an ileoileal intussusception located 35 cm from the ileocecal valve (Fig. 2; AVI 521 kb)
Ileocolocolic intussusception in a 22-year-old man with cystic fibrosis and a 1-week history of abdominal pain. CT scans reveal a sausage-shaped mass with a well-enhanced portion, representing the bowel wall of the intussuscipiens within the intussusceptum at its periphery, and a central fatty density, representing mesenteric fat. Coronal and axial scans show mesenteric fat, vessels, and intussusceptum (ileum and ascending colon) entering the intussuscipiens of the transverse colon (AVI 626 kb)
A 33-year-old woman with history of bariatric surgery Roux en Y gastric by-pass. CT scans show the classic target sign involving distal Roux limb and resultant mild dilatation of proximal portion of the roux limb. Coronal CT (video 4) and surgical procedure (video 5) demonstrate jejuno-jejunal intussusception (AVI 2,507 kb)
A 33-year-old woman with history of bariatric surgery Roux en Y gastric by-pass. CT scans show the classic target sign involving distal Roux limb and resultant mild dilatation of proximal portion of the roux limb. Coronal CT (video 4) and surgical procedure (video 5) demonstrate jejuno-jejunal intussusception (MOV 9,822 kb)
A 72-year-old man with rectosigmoid intussusception secondary to a sigmoid neoplasm. CT demonstrates a central lead point representing an adenocarcinoma (AVI 842 kb)
A 53-year-old woman receiving palliative treatment for malignant melanoma with lung and liver metastases presented with 3 days of midabdominal pain and abdominal distension. CT shows small bowel dilatation and multiple ileoileal intussusceptions. Several small bowel metastases can be identified. Intraoperative photographs show the intussusception and smaller implants in the abdominal cavity (Fig. 10; AVI 1,073 kb)
About this article
Cite this article
Baleato-González, S., Vilanova, J.C., García-Figueiras, R. et al. Intussusception in adults: what radiologists should know. Emerg Radiol 19, 89–101 (2012). https://doi.org/10.1007/s10140-011-1006-z
Received:

Accepted:

Published:

Issue Date:
Keywords
Acute abdomen

Intussusception

Intestinal obstruction

Gastrointestinal disease