Abstract
We report a case of a portion of bran bread impacted in the cervical esophagus in an 88-year-old woman. A complete radiologic study including ultrasonography, computed tomography, and barium swallow was performed. These techniques confirmed and localized the foreign body, which was endoscopically removed. A complete radiologic assessment can guarantee the usefulness of esophagoscopy to avoid significant morbidity from unnecessary procedures in a patient in poor clinical condition. Ultrasonography and computed tomography are attractive and profitable options in these cases.
This is a preview of subscription content, log in to check access.
Access options
Buy single article
Instant access to the full article PDF.
US$ 39.95
Price includes VAT for USA
Subscribe to journal
Immediate online access to all issues from 2019. Subscription will auto renew annually.
US$ 99
This is the net price. Taxes to be calculated in checkout.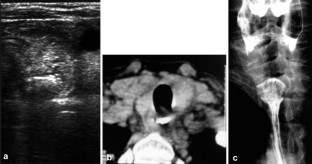 References
1.

Schwartz GF, Polsky HS (1976) Ingested foreign bodies of the gastrointestinal tract. Ann Surg 42:236–238

2.

Ginsberg GG (1995) Management of ingested foreign objects and food bolus impactions. Gastrointest Endosc 41:33–39

3.

Eliashar R, Dano I, Dangoor E, Braverman I, Sichel JY (1999) Computed tomography diagnosis of esophageal bone impaction: a prospective study. Ann Otol Rhinol Laryngol 108:708–710

4.

Mosca S (2000) Management and endoscopic techniques in cases of ingestion of foreign bodies. Endoscopy 32:232–233

5.

Mosca S, Manes R, Martino L, Amitrano V, Bottino V, Bove A et al (2001) Endoscopic management of foreign bodies in the upper gastrointestinal tract: report on a series of 414 adult patients. Endoscopy 33: 692–696

6.

Derowe A, Ophir D (1994) Negative findings of esophagoscopy for suspected foreign bodies. Am J Otolaryngol 15:41–45

7.

Lue AJ, Fang WD and Manolidis S (2000) Use of plain radiography and computed tomography to identify fish bone foreign bodies. Otolaryngol Head Neck Surg 123:435–438

8.

Braverman I, Gomori JM, Polv O, Saah D (1993) The role of CT imaging in the evaluation of cervical esophageal foreign bodies. J Otolaryngol 22:311–314

9.

Watanabe K, Kikuchi T, Katori Y (1998) The usefulness of computed tomography in the diagnosis of impacted fish bones in the oesophagus. J Laryngol Otol 112:360–364
About this article
Cite this article
Marco de Lucas, E., Ruiz-Delgado, M.L., García-Barón, P.L. et al. Foreign esophageal body impaction: multimodality imaging diagnosis. Emergency Radiology 10, 216–217 (2004). https://doi.org/10.1007/s10140-003-0315-2
Received:

Accepted:

Published:

Issue Date:
Keywords
Computed tomography

Ultrasonography

Esophageal foreign body

Esophagogram