Abstract
Prolyl 4-hydroxylase (P4H) catalyzes the hydroxylation of proline residues in collagen. P4H has two functional subunits, α and β. Here, we report the cDNA cloning, characterization, and expression analysis of the α and β subunits of the P4H derived from the marine sponge Chondrosia reniformis. The amino acid sequence of the α subunit is 533 residues long with an M r of 59.14 kDa, while the β subunit counts 526 residues with an M r of 58.75 kDa. Phylogenetic analyses showed that αP4H and βP4H are more related to the mammalian sequences than to known invertebrate P4Hs. Western blot analysis of sponge lysate protein cross-linking revealed a band of 240 kDa corresponding to an α2β2 tetramer structure. This result suggests that P4H from marine sponges shares the same quaternary structure with vertebrate homologous enzymes. Gene expression analyses showed that αP4H transcript is higher in the choanosome than in the ectosome, while the study of factors affecting its expression in sponge fragmorphs revealed that soluble silicates had no effect on the αP4H levels, whereas ascorbic acid strongly upregulated the αP4H mRNA. Finally, treatment with two different tumor necrosis factor (TNF)-alpha inhibitors determined a significant downregulation of αP4H gene expression in fragmorphs demonstrating, for the first time in Porifera, a positive involvement of TNF in sponge matrix biosynthesis. The molecular characterization of P4H genes involved in collagen hydroxylation, including the mechanisms that regulate their expression, is a key step for future recombinant sponge collagen production and may be pivotal to understand pathological mechanisms related to extracellular matrix deposition in higher organisms.
This is a preview of subscription content, log in to check access.
Access options
Buy single article
Instant unlimited access to the full article PDF.
US$ 39.95
Price includes VAT for USA
Subscribe to journal
Immediate online access to all issues from 2019. Subscription will auto renew annually.
US$ 99
This is the net price. Taxes to be calculated in checkout.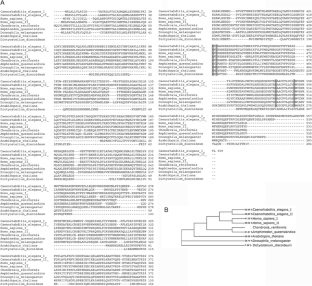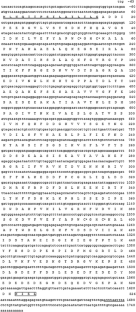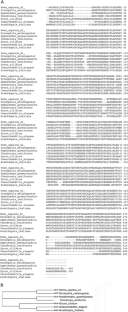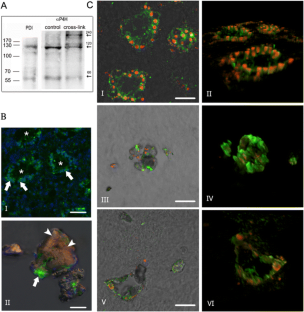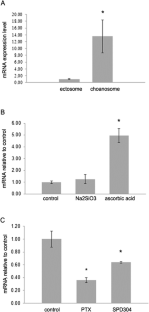 References
Aarskog NK, Vedeler CA (2000) Real-time quantitative polymerase chain reaction. A new method that detects both the peripheral myelin protein 22 duplication in Charcot-Marie-Tooth type 1A disease and the peripheral myelin protein 22 deletion in hereditary neuropathy with liability to pressure palsies. Hum Genet 107:494–498

Abrams EW, Andrew DJ (2002) Prolyl 4-hydroxylase alpha-related proteins in Drosophila melanogaster: tissue-specific embryonic expression of the 99F8-9 cluster. Mech Dev 112:165–171

Annunen P, Autio-Harmainen H, Kivirikko KI (1998) The novel type II prolyl 4-hydroxylase is the main enzyme form in chondrocytes and capillary endothelial cells, whereas the type I enzyme predominates in most cells. J Biol Chem 273:5989–5992

Annunen P, Koivunen P, Kivirikko KI (1999) Cloning of the alpha subunit of prolyl 4-hydroxylase from Drosophila and expression and characterization of the corresponding enzyme tetramer with some unique properties. J Biol Chem 274(10):67906796

Bader HL, Lambert E, Guiraud A, Malbouyres M, Driever W, Koch M, Ruggiero F (2013) Zebrafish collagen is required for proper function of certain basement membranes. J Biol Chem 288(10):6777–6787

Bavestrello G, Arillo A, Benatti U, Cerrano C, Cattaneo-Vietti R, Cortesogno L, Gaggero L, Giovine M, Tonetti M, Sarà M (1995) Quartz dissolution by the sponge Chondrosia reniformis (Porifera, Demospongiae). Nature 378:374–376

Bavestrello G, Benatti U, Calcinai B, Cattaneo-Vietti R, Cerrano C, Favre A, Giovine M, Lanza S, Pronzato R, Sarà M (1998) Body polarity and mineral selectivity in the demosponge Chondrosia reniformis. Biol Bull 195:120–125

Bavestrello G, Benatti U, Cattaneo-Vietti R, Cerrano C, Giovine M (2003) Sponge cell reactivity to various forms of silica. Microsc Res Tech 62:327–335

Bergman O, Mayzel B, Anderson MA, Shpigel M, Hill RT, Ilan M (2011) Examination of marine-based cultivation of three demosponges for acquiring bioactive marine natural products. Mar Drugs 9(11):2201–2219

Bonasoro F, Wilkie IC, Bavestrello G, Cerrano C, Candia Carnevali MD (2001) Dynamic structure of the mesohyl in the sponge Chondrosia reniformis (Porifera, Demospongiae). Zoomorphology 121:109–121

Bradford MA (1976) Rapid and sensitive method for the quantitation of microgram quantities of protein utilizing the principle of protein-dye binding. Anal Biochem 72:248–254

Cao M, Westerhausen-Larson A, Niyibizi C, Kavalkovich K, Georgescu HI, Rizzo CF, Hebda PA, Stefanovic-Racic M, Evans CH (1997) Nitric oxide inhibits the synthesis of type-II collagen without altering Col2A1 mRNA abundance: prolyl hydroxylase as a possible target. Biochem J 324:305–310

Cerrano C, Bavestrello G, Arillo A, Benatti U, Bonpadre S, Cattaneo-Vietti R, Gaggero L, Giovine M, Leone L, Lucchetti G, Sarà M (1999) Calcium oxalate production in the marine sponge Chondrosia reniformis. Mar Ecol Prog Ser 179:297–300

Chen LI, Shen YH, Wang X, Wang J, Gan Y, Chen N, Wang J, LeMaire SA, Coselli JS, Wang XL (2006) Human prolyl-4-hydroxylase alpha(I) transcription is mediated by upstream stimulatory factors. J Biol Chem 281:10849–10855

Dzik JM (2010) The ancestry and cumulative evolution of immune reactions. Acta Biochim Pol 57:443–466

Edogawa S, Sakai A, Inoue T, Harada S, Takeuchi T, Umegaki E, Hayashi H, Higuchi K (2014) Down-regulation of collagen I biosynthesis in intestinal epithelial cells exposed to indomethacin: a comparative proteome analysis. J Proteomics 103:35–46

Exposito JY, Garrone R (1990) Characterization of a fibrillar collagen gene in sponges reveals the early evolutionary appearance of two collagen gene families. Proc Natl Acad Sci U S A 7:6669–6673

Exposito JY, Ouazana R, Garrone R (1990) Cloning and sequencing of a Porifera partial cDNA coding for a short-chain collagen. Eur J Biochem 190:401–406

Gamulin V, Muller I, Muller WEG (2000) Sponge proteins are more similar to those of Homo Sapiens than to Caenorabditis elegans. Biol J Linn Soc 71:821–828

Garrone R, Hu A, Junqua S (1975) Fine structure and physicochemical studies on the collagen of the marine sponge Chondrosia reniformis Nardo. J Ultrastruct Res 52:261–275

Gharaee-Kermani M, Hu B, Phan SH, Geytko MR (2009) Recent advances in molecular targets and treatment of idiopathic pulmonary fibrosis: focus on TGF-beta signaling and the myofibroblasts. Curr Med Chem 16:1400–1417

Gilber HF (1997) Protein disulfide isomerase and assisted protein folding. J Biol Chem 272:29399–29402

Giovine M, Scarfì S, Pozzolini M, Penna A, Cerrano C (2013) Cell reactivity to different silica. Prog Mol Subcell Biol 54:143–174

He MM, Stroustrup Smith A, Oslob JD, Flanagan WM, Braisted AC, Whitty A, Cancilla MT, Wang J, Lugovskoy AA, Yoburn JC, Fung AD, Farrington G, Eldredge JK, Day ES, Cruz LA, Cachero TG, Miller SK, Friedman JE, Choong IC, Cunningham BC (2005) Small-molecule inhibition of TNF-alpha. Science 310:1022–1025

Heinemann S, Ehrlich H, Douglas T, Heinemann C, Worch H, Schatton W, Hanke T (2007) Ultrastructural studies on the collagen of the marine sponge Chondrosia reniformis Nardo. Biomacromolecules 8:3452–3457

Hiramatsu M, Kumegawa M, Hatakeyama K, Yajima T, Minami N, Kodama H (1982) Effect of epidermal growth factor on collagen synthesis in osteoblastic cells derived from newborn mouse calvaria. Endocrinology 111:1810–1816

Kawaguchi Y, Kitani A, Hara M, Harigai M, Hirose T, Suzuki K, Kawakami M, Hidaka T, Ishizuka T, Kawagoe M (1992) Cytokine regulation of prolyl 4-hydroxylase production in skin fibroblast cultures from patients with systemic sclerosis: contribution to collagen synthesis and fibrosis. J Rheumatol 9:1195–1201

Kersteen EA, Rainers RT (2003) Catalysis of protein folding by protein disulfide isomerase and small-molecule mimics. Antioxid Redox Signal 5:413–424

Kivirikko KI, Myllyharju J (1998) Prolyl 4-hydroxylase and their protein disulfide isomerase subunit. Matrix Biol 16:357–368

Kivirikko KI, Myllylä R, Pihlajaniemi T (1989) Protein hydroxylation: prolyl 4-hydroxylase, an enzyme with four cosubstrate and a multifunctional subunit. FASEB J 3:1609–1617

Kukkola L, Hieta R, Kivirikko KI, Myllyharju J (2003) Identification and characterization of a third human, rat, and mouse collagen prolyl 4-hydroxylase isoenzyme. J Biol Chem 278:47685–47693

Lyons BL, Schwarz RI (1984) Ascorbate stimulation of PAT cells causes an increase in transcription rates and a decrease in degradation rates of procollagen mRNA. Nucleic Acids Res 12:2569–2579

Muguerza B, Castilla-Cortázar I, García M, Quiroga J, Santidrián S, Prieto J (2001) Antifibrogenic effect in vivo of low doses of insulin-like growth factor-I in cirrhotic rats. Biochim Biophys Acta 1536:185–195

Myllyharju J (2003) Prolyl 4-hydroxylase, the key enzymes of collagen biosynthesis. Matrix Biol 22:15–24

Nicklas M, Schatton W, Heinemann S, Hanke T, Kreuter J (2009a) Preparation and characterization marine sponge collagen nanoparticles and employment for the transdermal delivery of 17beta-estradiol-hemihydrate. Drug Dev Ind Pharm 35:1035–1042

Nicklas M, Schatton W, Heinemann S, Hanke T, Kreuter J (2009b) Enteric coating derived from marine sponge collagen. Drug Dev Ind Pharm 35:1384–1388

Nietfeld JJ, Van der Kraan I, Kemp A (1981) Dissociation and reassociation of prolyl 4-hydroxylase subunits after cross-linking of monomers. Biochim Biophys Acta 661:21–27

Nissi R, Autio-Harmainen H, Marttila P, Sormunen R, Kivirikko KI (2001) Prolyl 4-hydroxylase isoenzymes I and II have different expression patterns in several human tissues. J Histochem Cytochem 49:1143–1153

Piguet PF, Collart MA, Grau GE, Sappino AP, Vassalli P (1990) Requirement of tumour necrosis factor for development of silica-induced pulmonary fibrosis. Nature 344:245–247

Poulakis N, Androutsos G, Kazi D, Bastas A, Provata A, Bitsakou C, Kontozoglou T, Polyzogopoulou C, Tassiopoulou A (1999) The differential effect of pentoxifylline on cytokine production by alveolar macrophages and its clinical implications. Respir Med 93:52–55

Pozzolini M, Bruzzone F, Berilli V, Mussino F, Cerrano C, Benatti U, Giovine M (2012) Molecular characterization of a nonfibrillar collagen from the marine sponge Chondrosia reniformis Nardo 1847 and positive effects of soluble silicates on its expression. Mar Biotechnol 14:281–293

Pozzolini M, Mussino F, Cerrano C, Scarfì S, Giovine M (2014) Sponge cell cultivation: optimization of the model Petrosia ficiformis (Poiret 1789). JEMBE 454:70–77

Raveendrana M, Senthila D, Utamaa B, Shena Y, Dudleyb D, Wanga J, Zhangc Y, Wang XL (2004) Cigarette suppresses the expression of P4Hα and vascular collagen production. Biochem Biophys Res Commun 323:592–598

Sipkema D, Osinga R, Schatton W, Mendola D, Tramper J, Wijffels RH (2005) Large-scale production of pharmaceuticals by marine sponges: sea, cell, or synthesis? Biotechnol Bioeng 90:201–222

Steiling K, Kadar AY, Bergerat A, Flanigon J, Sridhar S, Shah V, Ahmad QR, Brody JS, Lenburg ME, Steffen M, Spira A (2009) Comparison of proteomic and transcriptomic profiles in the bronchial airway epithelium of current and never smokers. PLoS ONE 4, e5043

Swatschek D, Schatton W, Kellermann J, Müller WE, Kreuter J (2002) Marine sponge collagen: isolation, characterization and effects on the skin parameters surface-pH, moisture and sebum. Eur J Pharm Biopharm 53:107–113

Vandescompele J, De Preter K, Pattyn F, Poppe B, Van Roy N, De Paepe A, Speleman F (2002) Accurate normalization of real-time quantitative RT-PCR data by geometric averaging of multiple internal control genes. Genome Biol 3(7):RESEARCH0034

Veijola J, Koivunen P, Annunen P, Pihlajaniemi T, Kivirikko KI (1994) Cloning, baculovirus expression, and characterization of the alpha subunit of prolyl 4-hydroxylase from the nematode Caenorhabditis elegans. This alpha subunit forms an active alpha beta dimer with the human protein disulfide isomerase/beta subunit. J Biol Chem 269(43):26746–26753

Wilkie IC, Parma L, Bonasoro F, Bavestrello G, Cerrano C, Carnevali MD (2006) Mechanical adaptability of a sponge extracellular matrix: evidence for cellular control of mesohyl stiffness in Chondrosia reniformis Nardo. J Exp Biol 209:4436–4443

Zhang C, Zhang MX, Shen YH, Burks JK, Zhang Y, Wang J, LeMaire SA, Yoshimura K, Aoki H, Coselli JS, Wang XL (2008) TNF-alpha suppresses prolyl-4-hydroxylase alpha1 expression via the ASK1-JNK-NonO pathway. Arterioscler Thromb Vasc Biol 27(8):1760–1767
Acknowledgments
This work was supported by grant from EU (FP7 grant agreement no. 266033 SPonge Enzyme and Cell for Innovative AppLication—SPECIAL) to Marco Giovine and by the University of Genova Funding (PRA 2012) to Sonia Scarfì. The authors thank Carlo Cerrano for the supplying of fresh marine sponges.
Conflict of Interest
The authors declare no conflict of interests.
Electronic supplementary material
Below is the link to the electronic supplementary material.
3D reconstruction of P4H immunoreactivity and nuclei in choanocyte chambers in C. reniformis. (MP4 649 kb)
3D reconstruction of P4H immunoreactivity and nuclei in choanocyte chambers in C. reniformis. (MP4 649 kb)
3D reconstruction of P4H immunoreactivity and nuclei close to sand grains in C. reniformis. (MP4 446 kb)
3D reconstruction of P4H immunoreactivity and nuclei close to sand grains in C. reniformis. (MP4 776 kb)
3D reconstruction of P4H immunoreactivity and nuclei close to sand grains in C. reniformis. (MP4 850 kb)
About this article
Cite this article
Pozzolini, M., Scarfì, S., Mussino, F. et al. Molecular Cloning, Characterization, and Expression Analysis of a Prolyl 4-Hydroxylase from the Marine Sponge Chondrosia reniformis . Mar Biotechnol 17, 393–407 (2015). https://doi.org/10.1007/s10126-015-9630-3
Received:

Accepted:

Published:

Issue Date:
Keywords
Collagen

P4H

PDI

TNF

Chondrosia reniformis