The Importance of Chitin in the Marine Environment
Abstract
Chitin is the most abundant renewable polymer in the oceans and is an important source of carbon and nitrogen for marine organisms. The process of chitin degradation is a key step in the cycling of nutrients in the oceans and chitinolytic bacteria play a significant role in this process. These bacteria are autochthonous to both marine and freshwater ecosystems and produce chitinases that degrade chitin, an insoluble polysaccharide, to a biologically useful form. In this brief review, a description of the structure of chitin and diversity of chitinolytic bacteria in the oceans is provided, in the context of the significance of chitin degradation for marine life.
Keywords
Chitin 
Oceans 
Chitinolytic bacteria 
Chitinase 
Biodiversity 
Sustainability 
Introduction
Chitin, one of the most abundant polysaccharides found on Earth, was first isolated by the French Professor Henri Braconnot in 1811 from mushrooms and was named fungine (Braconnot 1811). Later, in 1823, Odier found the same substance in the exoskeleton of insects and named it chitin (Odier 1823). The term "chitin" is more appropriate since it is derived from the Greek word "chiton", i.e., resembling a tunic or envelope. This polysaccharide is an important source of carbon and nitrogen in the oceans. However, the ecological importance of chitin in the marine environment was not recognized until early in the twentieth century, when Johnstone reported that carbon and nitrogen would disappear from the ocean in a relatively short time if chitin did not return in a biologically useful form, since these two elements are usually limited in the marine ecosystem (Johnstone 1908). Most of the chitin globally is produced at or near the surface of the aquatic environment and the vast annual production of chitin is balanced by an equal amount of degradation, making possible cycling of nutrients in the oceans (Gooday 1990). The bulk of chitin degradation in the marine environment is accomplished by bacteria that are both free-living and live in association with animals (Gooday 1990; Poulicek et al. 1998). Here, we provide an overview of the current knowledge concerning production and recycling of chitin in the marine environment. The importance of chitin degradation by chitinolytic bacteria for maintenance of marine life is demonstrated.
Chemical Structure of Chitin
Chitin is a linear polysaccharide consisting of residues of β-1,4-
N-
acetyl-
d
-glucosamine (GlcNAc; Fig. 
1
), and is classified into three crystalline forms: α-chitin; β-chitin; and γ-chitin (Lotmar and Picken
1950
; Hackman and Goldberg
1965
; Rudall and Kenchington
1973
; Roberts
1992
; Jang et al.
2004
).

α-Chitin is the most abundant, crystalline and compact form found in the nature. The chains are arranged in an anti-parallel fashion, favoring strong hydrogen bonding and consequently making it the most stable form of the three crystalline variations (Carlstrom 1957; Raabe et al. 2006). It is present as a resistant structure in insect cuticles, shells of crabs, lobsters, and shrimp, and in fungal and yeast cell walls. It is also found in marine sponges (Carlstrom 1957; Rudall and Kenchington 1973; Jang et al. 2004; Raabe et al. 2006; Brunner et al. 2009).
β-Chitin occurs in the extracellular fibers of diatoms, in the pens of squid, in the spines and chaetae of certain annelids, and in the tubes synthesized by pogonophoran and vestimentiferan worms (Blackwell et al. 1965, 1967; Rudall 1969; Herth et al. 1986; Gaill et al. 1992). This form of chitin is arranged in parallel chains, which are responsible for weak intermolecular forces that lead to a less stable molecule, compared to α-chitin (Gardner and Blackwell 1975).
The least common form of chitin found in nature is γ-chitin and is present in the stomach of squid and in the cocoons of two genera of beetles (Rudall and Kenchington 1973; Muzzarelli 1977). It is a mixture of both α- and β-chitin with two parallel chains in one direction and the third in the opposite direction (Rudall and Kenchington 1973). However, γ-chitin has been considered to be a combination of the α and β structures, rather than a different crystalline form (Roberts 1992).
According to Muzzarelli (1977), different crystalline forms of chitin are relevant to function, but are not related to phylogeny, as different forms may occur in the same organism, providing different functional properties. One example is that which is found in squids of the genus Loligo, where α-chitin occurs in its tough beak, β-chitin in its rigid pen, and γ-chitin in its flexible stomach lining (Rudall and Kenchington 1973).
Production of Chitin in the Marine Environment
Chitin is the most abundant of the renewable biopolymers in the marine environment and one of the most abundant on Earth, after cellulose. This polysaccharide is found in the cell walls of fungi, yeast, and green algae and is the main component of the exoskeleton of crustaceans and insects (Gooday 1990). Large quantities of chitin are produced annually in marine waters and many researchers have attempted to estimate this amount. Data provided by Johnstone (1908) show the annual production of chitin generated by planktonic crustaceans (copepods) in the marine environment exceeds billions of tons. This estimate was based on the chitin content of copepods and copepod abundance, copepods being considered the most significant source of chitin in the marine environment. The dry weight of chitin produced as a result of molting by a single species of planktonic crustacean (Euphasia pacifica) has been estimated at 5–12 million tons annually (Jerde and Lasker 1966; Jeuniaux 1971). In Euphasia superba, the dominant krill species of Antarctic marine waters, 4–10% of its dry mass is composed of chitin (Raymont et al. 1971; Clarke 1980) and the total biomass of krill is estimated at 0.5–3 billion metric tons (Anderson et al. 1978). According to the estimates of Jeuniaux and Voss-Foucart (Jeuniaux and Voss-Foucart 1991), the total chitin production in the whole marine biocycle would be at least 2.3 million metric tons per year. The authors obtained this value on the basis of analytical data from studies of zooplankton and benthic communities of the Mediterranean Sea, together with data in the literature dealing with total and exuviae production by krill and by some large crustacean species.
Gaill et al. (1997) showed that Riftia pachyptila, a giant vestimentiferan worm (up to 2 m in length), has a significant role in the production of chitin in the deep sea hydrothermal vent. Other estimates of chitin production have been made by Gooday (1990), who reported that 1010–1011 t of chitin are produced annually in the aquatic biosphere alone and by Goffinet (1996), who claimed chitin produced annually in the oceans exceeds 2 × 109 t. In any case, it is clear that production of chitin in the world ocean reaches billions of tons.
Degradation of Chitin in the Oceans
Marine sediments contain only traces of chitin, despite continuous production of this highly insoluble polymer in the water column (Johnstone 1908; Poulicek and Jeauniaux 1989; Alldredge and Gotschalk 1990). Zobell and Rittenberg (1938) showed that chitinolytic bacteria are autochthonous, very abundant, widely distributed, can live under extreme conditions in the oceans, and are responsible for rapid degradation of chitin in the marine environment. These bacteria play critical roles in converting chitin to a biologically useful form that can be used by the entire marine food web (Keyhani and Roseman 1999). Since this discovery, many manuscripts have been published giving rates of chitin degradation in the oceans. Seki (1965) affirmed that almost all chitin produced in the oceans may be completely mineralized within 50 days and 140 days in surface water at 25°C and 15°C, respectively, within 370 days in the intermediate water at 5°C, and within 500 days in deep water at a few degrees centigrade.
Poulicek and Jeauniaux (1989) reported screening approximately 100 sediment samples covering a wide diversity of areas with different characteristics and showed that most sediments have low or very low chitin content (67% were under 100 μg of chitin per gram of decalcified sediment). They concluded that this observation can be explained only by the very active degradation of chitin compounds and that chitin disappears at the same rate as it is produced. The specialized features of chitinolytic microorganisms lead to an optimization of the chitin recycling processes in the marine environment that account for the low amount of chitin in most marine sediments (Poulicek and Jeuniaux 1991). A study carried out in the York River Estuary, Virginia, showed that, in the water column, 88% to 93% of particulate chitin was mineralized to CO2; for sediment, only 55% to 65% was mineralized to CO2. Thus, it is clear that chitin degradation and mineralization occur rapidly in estuaries and that bacteria present in the water column may be more important in this process than previously acknowledged (Boyer 1994). However, other studies have reported that there are different rates of chitin degradation associated with different environments (Herwig et al. 1988; Hillman et al. 1989; Montgomery et al. 1990; Gooday et al. 1991; Kirchner 1995; Kirchman and White 1999; Ravaux et al. 2003).
The chitin degradation pathway is accomplished by chitinases, which are enzymes that catalyze hydrolysis of this polysaccharide. Chitinases are grouped into two families (termed the 18 and the 19 families) in the classification system of glycosyl hydrolases, based on the amino acid sequence similarity of their catalytic domains. Family 18 contains chitinases produced by bacteria, fungi, viruses, animals and plants. Family 19 included only chitinases from plants (Henrissat 1991; Henrissat and Bairoch 1993; Davies and Henrissat 1995). However, it was subsequently shown that bacteria of the genus Streptomyces can also produce chitinases of family 19 (Ohno et al. 1996; Watanabe et al. 1999). An alternative system of chitinases classification is based on the products of chitin hydrolysis and divides them into two broad categories: endochitinase (EC 3.2.1.14) and exochitinase. The exochitinase can be grouped into two subcategories: (1) chitobiosidase and (2) 1-4-β-N-acetylglucosaminidase (EC 3.2.1.52; Nomenclature Committee of International Union of Biochemistry and Molecular Biology 1992; Cohen-Kupiec and Chet 1998). Endochitinase randomly cleaves the chitin at internal sites, releasing low molecular mass multimers of GlcNAc, such as chitotetraose, chitotriose, and diacetylchitobiose. Chitobiosidase catalyzes the progressive release of diacetylchitobiose, starting at the nonreducing end of chitin chains, while 1-4-β-N-acetylglucosaminidases cleave the oligomeric products of endochitinase and chitobiosidase producing monomers of GlcNAc (Harman et al. 1993; Sahai and Manocha 1993; Cohen-Kupiec and Chet 1998; Duo-Chuan 2006).
Chitinase was isolated for the first time in 1911 by Bernard from orchid bulbs (Bernard 1911). Karrer and Hoffmann found this enzyme in snails in 1929 (Karrer and Hofmann 1929), after which the number of papers describing the presence of chitinases in living organisms increased considerably. Chitinases have been identified in the domains Bacteria, Archaea, and Eukarya (Benton 1935; Zobell and Rittenberg 1938; Tanaka et al. 1970; Boot et al. 2001; Bhattacharya et al. 2007; Nakamura et al. 2007; Arakane and Muthukrishnan 2010; Prakash et al. 2010). These enzymes have a different physiological and ecological role in each organism, for example, fungal chitinases are used in developmental processes and play a role in nutrition and morphogenesis (Sahai and Manocha 1993; Adams 2004). Chitinases produced by arthropods are important for their postembryonic development, particularly for the degradation of cuticles and the peritrophic matrix during molting (Merzendorfer and Zimoch 2003). Chitinases encoded by viruses have roles in pathogenesis (Gooday 1995). Plants produce chitinases as a defense mechanism against chitin-containing organisms (Graham and Sticklen 1994). Some species of protozoa require chitinases to digest the peritrophic membrane of insects during the process of migration from the midgut to the salivary glands (Shahabuddin and Kaslow 1994; Sacks and Kamhawi 2001; Rogers et al. 2008). The role of chitinases in humans is uncertain. However, it may be involved in defense against chitinous pathogens and in carbohydrate metabolism (Hollak et al. 1994; Boot et al. 2001). Chitinases produced by bacteria have an important role in the degradation of chitin for utilization as a carbon and energy source, and consequently make possible the recycling of chitin in nature (Zobell and Rittenberg 1938; Gooday 1990; Svitil et al. 1997; Wang and Chang 1997; Keyhani and Roseman 1999). Bacteria produce several chitinases, probably to hydrolyze the great variety of chitins found in nature. Vibrio harveyi, for example, excretes about ten chitinases when grown on chitin, varying in response to the structure of the chitin they encounter, which implies that they can distinguish among different types of chitin. V. harveyi had a higher growth rate and more chitinase activity when grown on β-chitin than on α-chitin, probably because the parallel arrangement of strands in β-chitin permits easier access for bacterial enzymes (Svitil et al. 1997).
The recycling of chitin in the marine environment is attributed primarily to chitinolytic bacteria (Keyhani and Roseman
1999
) and is an exceedingly complex process, which has been intensively studied (Bassler et al.
1991
; Yu et al.
1991
,
1993
; Keyhani and Roseman
1996
,
1999
; Keyhani et al.
1996
; Li and Roseman
2004
; Meibom et al.
2004
; Li et al.
2007
; Miyamoto et al.
2007
; Hunt et al.
2008
). According to Keyhani and Roseman (
1999
), chitin degradation by
Vibrio
spp. is a highly sophisticated and coordinated process which comprises at least four major steps: (1) sensing of chitin; (2) attachment to chitin; (3) expression of a large number of enzymes and other proteins to degrade chitin to GlcNAc and oligosaccharides and, finally, (4) uptake and catabolism of the chitin hydrolysis products (Fig. 
2
). However, the detailed molecular mechanism of this process remains to be elucidated.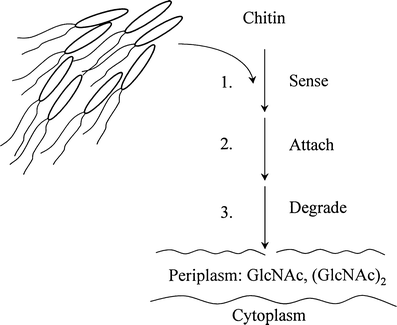 Li and Roseman (2004) estimated that, in general, the chitin catabolic cascade involves dozens of enzymes and structural proteins. These authors suggested that this process probably includes several chitinases, chemotaxis systems specific for chitin oligosaccharides, a "nutrient sensor" that allows the cells to bind to chitin, a specific chitoporin in the outer membrane, at least two hydrolases specific for chitin oligosaccharides in the periplasmic space that yield the monosaccharide (GlcNAc) and the disaccharide (GlcNAc)2, respectively, three transport complexes in the inner membrane, and a minimum of six cytoplasmic enzymes that convert the products of transport to fructose-6-P, NH3 and acetate. Consequently, it is probable that there are between 50 and 100 genes involved in the chitin degradation process (Roseman 2003).
Biodiversity of Chitinolytic Bacteria
The marine ecosystem is one of the richest environments, in terms of prokaryotic diversity and the number of bacteria in the oceanic subsurface alone is approximately 3.5 × 1030 (Whitman et al. 1998). The oceans also represent an extremely promising and largely unexplored environment, considering the genetic and metabolic diversity located therein. Thus, this environment constitutes an inestimable source for the discovery of new microorganisms and bioactive compounds for biotechnology and sustainable development (Colwell 1997; Whitman et al. 1998).
Marine microorganisms are extraordinarily important for sustaining oceanic life and are a major pillar of the biosphere. They carry out many essential functions that permit survival of other living organisms. Their exclusive metabolic pathways allow them to carry out many steps of biochemical cycles that other organisms are unable to complete (Finlay et al. 1997; Hunter-Cevera et al. 2005). Among these, the chitinolytic bacteria play an important role in nutrient cycling, releasing carbon and nitrogen for the marine food web via chitin degradation (Gooday 1990).
Chitinolytic microbial diversity was first explored in 1935, when Benton isolated chitinolytic strains from many sources, including soil, water, fishes, frogs, bats, plankton, lobsters, insects, and lake sediment (Benton 1935). Subsequently, several studies reported isolation of chitinolytic bacteria from many sources. Campbell and Williams (1951) identified eight new species from the marine environment belonging to the genus Achromobacter, Flavobacterium, Micrococcus, and Pseudomonas. Other studies described the presence of chitinolytic bacteria in marine fish (Lindsay and Gooday 1990; Fukasawa et al. 1992; Itoi et al. 2007), whales (Herwig and Staley 1986), in association with marine sponges (Han et al. 2009), in the exoskeleton of shrimp (Brzezinska et al. 2008) and crabs (Juarez-Jimenez et al. 2008) and free-living in the marine and freshwater column (Aumen 1981; Donderski 1984; Herwig et al. 1988; Ramaiah et al. 2000; Chang et al. 2007; Fenice et al. 2007).
The ability to degrade chitin has been shown to occur in many bacteria in the marine environment, including Alteromonas sp. (Tsujibo et al. 1993; Orikoshi et al. 2005), Microbulbifer degradans (Howard et al. 2003), Moritella marina (Stefanidi and Vorgias 2008), Salinivibrio costicola (Aunpad and Panbangred 2003), Streptomyces sp. (Han et al. 2009), Vibrio alginolyticus (Suginta 2007), Vibrio anguillarum, and Vibrio parahaemolyticus (Hirono et al. 1998), Vibrio cholerae (Colwell 1970; Li and Roseman 2004; Meibom et al. 2004), Vibrio furnissi (Keyhani and Roseman 1999; Bassler et al. 1991), V. harveyi (Svitil et al. 1997), Vibrio proteolyticus (Itoi et al. 2007), and Vibrio vulnificus (Wortman et al. 1986; Somerville and Colwell 1993).
In addition, chitinases genes have been retrieved from upland grassland (Krsek and Wellington 2001; Metcalfe et al. 2002), freshwater and saline lake water and sediment, estuarine water and sediment, Arctic Ocean water (LeCleir et al. 2004, 2007), Antarctic sediment (Xiao et al. 2005), hot springs (Hobel et al. 2005), and soil samples (Hjort et al. 2010) to determine the total diversity of chitinolytic bacteria. Cottrell et al. (2000) suggest that exploration of the chitin-degrading capabilities of currently unculturable α-proteobacteria could yield a more global understanding of chitin degradation.
Conclusion and Future Perspective
The marine ecosystem is an attractive and relatively unexplored source of biological molecules, of which chitin and chitinases have received increased attention because of their potential biotechnological application. The biochemical structure of chitin and the process of chitin turnover have been actively investigated for decades, but only a few studies have described the role of chitin in carbon and nitrogen cycling, despite the extraordinary amount of chitin produced annually in the oceans and the importance of this polysaccharide to the marine food web. It is important to know which bacterial species are highly active in chitin degradation and to understand the influence of anthropogenic activities on this process, mainly in estuarine and coastal regions. There remain aspects, such as the rate of the chitin production and degradation and bacterial genetic and biochemical mechanisms involved in chitin recycling that have yet to be fully elucidated. From an ecological point of view, knowledge of global processes of chitin degradation in the oceans will permit better understanding of the role of chitin in marine biogeochemical cycles and, consequently, the importance of this biopolymer to sustainability of the marine ecosystem.
Notes
Acknowledgments
The authors are grateful to FAPESP and CNPq for the financial support. C.P.S. acknowledges a postdoctoral fellowship from FAPESP (Fundação de Amparo a Pesquisa do Estado de São Paulo).
Copyright information
© Springer Science+Business Media, LLC 2011