Abstract
Ubiquitous computing has proven its relevance and efficiency in improving the user experience across a myriad of situations. It is now the ineluctable solution to keep pace with the ever-changing environments in which current systems operate. Despite the achievements of ubiquitous computing, this discipline is still overlooked in business process management. This is surprising, since many of today's challenges, in this domain, can be addressed by methods and techniques from ubiquitous computing, for instance user context and dynamic aspects of resource locations. This paper takes a first step to integrate methods and techniques from ubiquitous computing in business process management. To do so, we propose discovering commute patterns via process mining. Through our proposition, we can deduce the users' significant locations, routes, travel times and travel modes. This information can be a stepping-stone toward helping the business process management community embrace the latest achievements in ubiquitous computing, mainly in location-based service. To corroborate our claims, a user study was conducted. The significant places, routes, travel modes and commuting times of our test subjects were inferred with high accuracies. All in all, ubiquitous computing can enrich the processes with new capabilities that go beyond what has been established in business process management so far.
This is a preview of subscription content, log in to check access.
Access options
Buy single article
Instant unlimited access to the full article PDF.
US$ 39.95
Price includes VAT for USA
Subscribe to journal
Immediate online access to all issues from 2019. Subscription will auto renew annually.
US$ 99
This is the net price. Taxes to be calculated in checkout.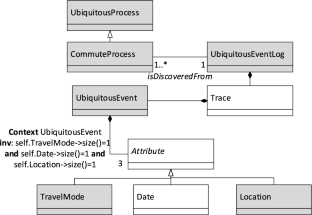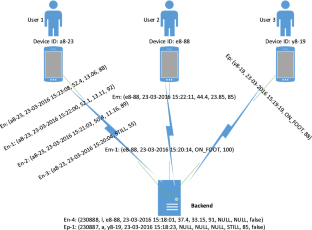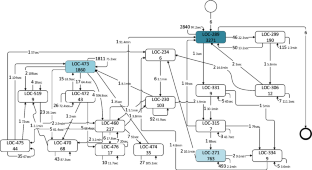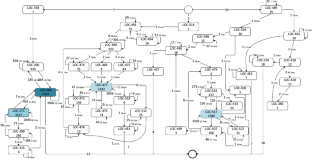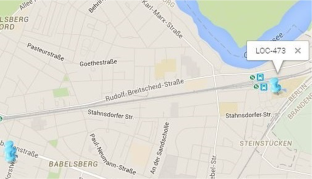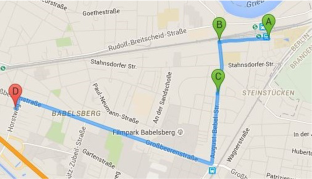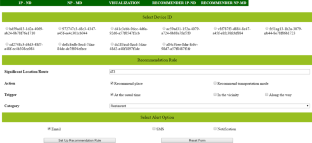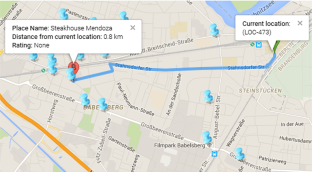 Notes
1.

2.

3.

4.

5.

6.

7.

8.

9.

10.

11.

12.

13.

14.
References
1.

Krumm J (2009) Ubiquitous computing fundamentals. Taylor & Francis, London

2.

Barfield W (2015) Fundamentals of wearable computers and augmented reality. CRC Press, Boca Raton

3.

Abowd GD, Dey AK, Brown PJ, Davies N, Smith M, Steggles P (1999) Towards a better understanding of context and context-awareness. In: Handheld and ubiquitous computing, first international symposium, HUC'99, Karlsruhe, Germany, September 27–29, 1999, Proceedings. Springer, pp 304–307

4.

Sears A, Jacko JA (2009) Human-computer interaction fundamentals. CRC Press, Boca Raton

5.

Weske M (2012) Business process management: concepts, languages, architectures. Springer, Berlin

6.

Yan L, Zhang Y, Yang LT, Ning H (2008) The internet of things: from RFID to the next-generation pervasive networked systems. CRC Press, Boca Raton

7.

Zikopoulos P, Eaton C (2011) Understanding big data: analytics for enterprise class hadoop and streaming data. McGraw-Hill Osborne Media, New York

8.

Schiller J, Voisard A (2004) Location-based services. In: The Morgan Kaufmann series in data management systems. Elsevier Science

9.

Zipf A, Jöst MM (2011) Location-based services. In: Springer handbook of geographic information. Springer, pp 417–421

10.

Bellavista P, Küpper A, Helal S (2008) Location-based services: back to the future. IEEE Pervasive Comput 7(2):85–89

11.

Van Der Aalst W (2011) Process mining: discovery, conformance and enhancement of business processes. Springer, Berlin

12.

Van der Aalst W, van Dongen BF, Günther CW, Rozinat A, Verbeek E, Weijters T (2009) Prom: the process mining toolkit. BPM (Demos) 489:31

13.

van der Aalst WMP, van Dongen BF, Herbst J, Maruster L, Schimm G, Weijters AJMM (2003) Workflow mining: a survey of issues and approaches. Data Knowl Eng 47(2):237–267

14.

Reisig W (2012) Petri nets: an introduction, vol 4. Springer, Berlin

15.

OMG. Business process model and notation 2.0. Technical report, Object Management Group (2011)

16.

Van der Aalst WMP (1997) Verification of workflow nets. In: International conference on application and theory of petri nets. Springer, pp 407–426

17.

Van der Aalst W, Adriansyah A, van Dongen B (2012) Replaying history on process models for conformance checking and performance analysis. Wiley Interdiscip Rev Data Min Knowl Discov 2(2):182–192

18.

Rozinat A, van der Aalst W (2008) Conformance checking of processes based on monitoring real behavior. Inf Syst 33(1):64–95

19.

Chervenak AL, Palavalli N, Bharathi S, Kesselman C, Schwartzkopf R (2004) Performance and scalability of a replica location service. In: Proceedings of the 13th IEEE international symposium on high performance distributed computing, 2004

20.

Argote L, Ingram P, Levine JM, Moreland RL (2000) Knowledge transfer in organizations: learning from the experience of others. Organ Behav Hum Decis Process 82(1):1–8

21.

Ashbrook D, Starner T (2003) Using gps to learn significant locations and predict movement across multiple users. Pers Ubiquitous Comput 7(5):275–286

22.

Eluru N, Chakour V, El-Geneidy AM (2012) Travel mode choice and transit route choice behavior in montreal: insights from mcgill university members commute patterns. Public Transp 4(2):129–149

23.

Kirmse A, Udeshi T, Bellver P, Shuma J (2011) Extracting patterns from location history. In: Proceedings of the 19th ACM SIGSPATIAL international conference on advances in geographic information systems. ACM, pp 397–400

24.

Qian ZS, Xiao FE, Zhang HM (2012) Managing morning commute traffic with parking. Transp Res Part B: Methodol 46(7):894–916

25.

Brush AJ, Krumm J, Scott J (2010) Exploring end user preferences for location obfuscation, location-based services, and the value of location. In: Proceedings of the 12th ACM international conference on Ubiquitous computing. ACM, pp 95–104

26.

Chon J, Cha H (2011) Lifemap: a smartphone-based context provider for location-based services. IEEE Pervasive Comput 10(2):58–67

27.

Kushwaha V, Ojha M (2011) Location based services using android mobile operating system. Int J Artif Intell Knowl Discov 1(1):17–20

28.

Dhar S, Varshney U (2011) Challenges and business models for mobile location-based services and advertising. Commun ACM 54(5):121–128

29.

Li K, Timon CD (2012) Building a targeted mobile advertising system for location-based services. Decis Support Syst 54(1):1–8

30.

Rongxing L, Lin X, Liang X, Shen X (2012) A dynamic privacy-preserving key management scheme for location-based services in vanets. IEEE Trans Intell Transp Syst 13(1):127–139

31.

Abowd GD, Mynatt ED (2000) Charting past, present, and future research in ubiquitous computing. ACM Trans Comput Hum Interact 7(1):29–58

32.

Abowd GD, Mynatt ED, Rodden T (2002) The human experience. IEEE Pervasive Comput 1(1):48–57

33.

Decker M (2009) Modelling location-aware access control constraints for mobile workflows with UML activity diagrams. In: Third international conference on mobile ubiquitous computing, systems, services and technologies, 2009. IEEE, pp 263–268

34.

Decker M, Che H, Oberweis A, Stürzel P, Vogel M(2010) Modeling mobile workflows with bpmn. In: Ninth international conference on mobile business and 2010 ninth global mobility roundtable, 2010. IEEE, pp 272–279

35.

Zhu X, van den Broucke S, Zhu G, Vanthienen J, Baesens B (2016) Enabling flexible location-aware business process modeling and execution. Decis Support Syst 83:1–9

36.

Yousfi A, Bauer C, Saidi R, Dey AK (2016) uBPMN: a BPMN extension for modeling ubiquitous business processes. Inf Softw Technol 74:55–68

37.

Yousfi A, de Freitas A, Dey AK, Saidi R (2016) The use of ubiquitous computing for business process improvement. IEEE Trans Serv Comput 9(4):621–632

38.

Chang C, Srirama SN, Buyya R (2016) Mobile cloud business process management system for the internet of things: a survey. ACM Comput Surv 49(4):70
About this article
Cite this article
Yousfi, A., Weske, M. Discovering commute patterns via process mining. Knowl Inf Syst 60, 691–713 (2019). https://doi.org/10.1007/s10115-018-1255-1
Received:

Revised:

Accepted:

Published:

Issue Date:
Keywords
Commute pattern

Commute process

Process mining

Ubiquitous computing

Location-based services