Abstract
Due to the dependence of its economy on rainfed agriculture and livestock husbandry, Burkina Faso, like other Sahelian countries, is particularly vulnerable to climate change. Adaptation is needed to counteract anticipated drawbacks of climate change on crop and livestock productivity; therefore, we examined climate change perceptions of pastoralists and agro-pastoralists and analysed their adaptation strategies. To this end, focus group discussions were held in six villages distributed across three agro-ecological zones. In three of these sites, 162 farmers were also individually interviewed. Perceptions of farmers were compared to actual trends of different climatic parameters extracted from official long-term meteorological records (1988–2008). Results showed that farmers in Burkina Faso were partly aware of climate change, particularly of changes in temperature and rainfall patterns, but their perception did not match well with the recorded annual rainfall data in the southern Sahelian and Sudanian zones. The most important adaptation strategies mentioned by agro-pastoralists were crop diversification, combination of cropping and livestock operations, use of water harvesting technologies and anti-erosive measures such as half-moons or stone dikes. Strategies of pastoralists included seasonal, annual and permanent migration and taking up of cereal cropping. Logistic regression analysis indicated that agro-ecological zone, cultivated surface, ruminant herd size, household size and education were the most important variables affecting farmers' choice of adaptation strategies. These factors should be taken into account in the development and implementation of any programme of adaptation to climate change in Burkina Faso.
This is a preview of subscription content, log in to check access.
Access options
Buy single article
Instant unlimited access to the full article PDF.
US$ 39.95
Price includes VAT for USA
Subscribe to journal
Immediate online access to all issues from 2019. Subscription will auto renew annually.
US$ 99
This is the net price. Taxes to be calculated in checkout.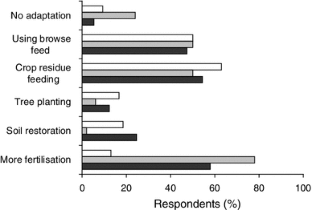 References
Abdulai A, Huffman WE (2005) The diffusion of new agricultural technologies: the case of crossbred-cow technology in Tanzania. Am J Agric Econ 87:645–659

Ajibade LT (2007) Indigenous knowledge system of waste management in Nigeria. Indian J Tradit Knowl 6:642–647

Archer KJ, Lemeshow S (2006) Goodness-of-fit test for a logistic regression model fitted using survey sample data. Stata J 6:97–105

Barbier B, Yacouba H, Karambiri H, Zorome M, Some B (2009) Human vulnerability to climate variability in the Sahel: farmers' adaptation strategies in northern Burkina Faso. Environ Manag 43:790–803

Barro A, Zougmoré R, Taonda SJB (2005) Mécanisation de la technique du zaï—manuel en zone semi-aride. Cahiers Agric 14:549–559

Benhin JKA (2006) Climate change and South African agriculture: Impacts and adaptation options. CEEPA discussion paper no. 21. Centre for Environmental Economics and Policy in Africa, University of Pretoria

Benjaminsen TA, Alinon K, Buhaug H, Buseth JT (2012) Does climate change drive land-use conflicts in the Sahel? J Peace Res 49:97–111

Bikienga MI (2002) Report of the African trade investment program on policy reform to enhance trade of agricultural inputs in West Africa: une évaluation des secteurs des engrais et des semences au Burkina Faso. From http://www.hubrural.org/Burkina-Faso-Une-evaluation-des.html. Accessed 22 Feb 2012

Blench R (2001) You can't go home again. Pastoralism in the new millennium. Overseas Development Institute, London, p 104

Bonnet B, Hérault D (2011) Governance of pastoral tenure and climate change in the Sahel. Reinforce capacities of actors to secure mobility and fair access to pastoral resources. Land Tenure J 2:157–187

Brooks, N (2006) Climate change, drought and pastoralism in the Sahel. Discussion note for the World Initiative on Sustainable Pastoralism. From http://cmsdata.iucn.org/downloads/e_conference_discussion_note_for_the_world_initiative_on_sustainable_pastoralism_.pdf. Accessed 18 Jan 2012

CILSS (2009) Climate change in the Sahel, a challenge for sustainable development. Agrhymet Regional Center, Niamey, Niger. From www.agrhymet.ne. Accessed 18 Jan 2012

Cooper PJM, Dimes J, Rao KPC, Shapiro B, Shiferaw B, Twomlow S (2008) Coping better with current climatic variability in the rain-fed farming systems of sub-Saharan Africa: an essential step in adapting to future climate change? Agric Ecosyst Environ 126:24–35

Crane TA, Roncoli C, Hoogenboom G (2011) Adaptation to climate change and climate variability: the importance of understanding agriculture as performance. NJAS-Wagen J Life 57:179–185

Croppenstedt A, Demeke M, Meschi MM (2003) Technology adoption in the presence of constraints: the case of fertilizer demand in Ethiopia. Rev Dev Econ 7:58–70

Darwin R (1999) A farmer's view of the Ricardian approach to measuring agricultural effects of climatic change. Clim Chang 4:371–411

De Bruijn M, Van Dijk H (2001) Ecology and power in the periphery of Maasina: the case of the Hayre in the nineteenth century. J Afr Hist 42:217–238

Deressa TD, Hassan RM, Ringler C, Alemu T, Yesuf M (2009) Determinants of farmers' choice of adaptation methods to climate change in the Nile Basin of Ethiopia. Glob Environ Chang 19:248–255

Deressa TD, Hassan DRM, Ringler C (2011) Perception of and adaptation to climate change by farmers in the Nile basin of Ethiopia. J Agric Sci 149:23–31

Dolisca F, McDaniel JM, Teeter LD (2007) Farmers' perceptions towards forests: a case study from Haiti. For Policy Econ 9:704–712

Forsfält T (1999) The effects of risk aversion and age on investments in new firms. Department of Economics, Stockholm

Fratkin E, Smith K (1994) Labor, livestock, and land: the organization of pastoral production. In: Fratkin E, Galvin KA, Roth EA (eds) African pastoralist systems. Lynne Rienner Publishers Inc., London

Gbetibouo GA (2009) Understanding farmers' perceptions and adaptations to climate change and variability: the case of the Limpopo Basin, South Africa. IFPRI discussion paper no. 00849. IFPRI, Washington. From http://www.ifpri.org/publication/. Accessed 17 Jan 2012

GIEC (2007) Bilan 2007 des changements climatiques. Contribution des Groupes de travail I, II et III au quatrième rapport d'évaluation du groupe d'experts intergouvernemental sur l'évolution du climat. GIEC, Genève, Suisse

Hassan C, Nhemachena C (2008) Determinants of African farmers' strategies for adapting to climate change: multinomial choice analysis. Afr J Agric 2:83–104

IPCC (2001) Climate change, 2001: the scientific basis. In: Houghton JT, Ding Y, Griggs DJ, Noguer M, van der Linden PJ, Dai X, Maskell K, Johnson CA (eds) IPCC third assessment report (TAR). Intergovernmental panel on climate change. From http://www.grida.no/publications/other/ipcc_tar/?src=/climate/ipcc_tar/wg1/. Accessed 17 Jan 2012

Jayne TS, Takashi Y, Weber M, Tschirley D, Benfica R, Neven D, Chapoto A, Zulu B (2003) Smallholder income and land distribution in Africa: implications for poverty reduction strategies. Food Policy 28:253–273

Kandji ST, Verchot L, Mackensen J (2006) Climate change and variability in the Sahel region: impacts and adaptation strategies in the agricultural sector. UNEP/ICRAF, Nairobi

Maddison D (2006) The perception of and adaptation to climate change in Africa. CEEPA. Discussion paper no 10. Centre for Environmental Economics and Policy in Africa. University of Pretoria, South Africa

MAHRH (2004) Document de stratégie de développement rural à l'horizon 2015. Ministère de l'Agriculture, de l'Hydraulique et des Ressources Halieutiques, Ouagadougou, Burkina Faso

Mano R, Nhemachena C (2006) Assessment of the economic impacts of climate change on agriculture in Zimbabwe: a Ricardian approach. CEEPA Discussion Paper No. 11. Centre for Environmental Economics and Policy in Africa, University of Pretoria, South Africa

Mary LA, Majule AE (2009) Impact of climate change, variability and adaptation strategies on agriculture in semi-arid areas of Tanzania: the case of Manyoni district in Singida region. Afr J Environ Sci Technol 3:206–218

MECV (2007) Programme d'action national d'adaptation à la variabilité et aux changements climatiques du Burkina Faso. Ministère de l'Environnement et du Cadre de Vie, Ouagadougou, Burkina Faso

Mendelsohn R, Nordhaus W, Shaw D (1994) The impact of global warming on agriculture: a Ricardian analysis. Am Econ Rev 84:753–771

Mertz O, Mbow C, Reenberg A, Diouf A (2009) Farmers' perceptions of climate change and agricultural adaptation strategies in rural Sahel. Environ Manag 3:804–816

Mertz O, Mbow C, Reenberg A, Genesio L, Lambin EF, D'Haen S, Zorom M, Rasmussen K, Diallo D, Barbier B, Moussa IB, Diouf A, Nielsen JO, Sandholt I (2011) Adaptation strategies and climate vulnerability in the Sudano-Sahelian region of West Africa. Atmos Sci Lett 12:104–108

Mertz O, D'Haen S, Maiga A, Moussa IB, Barbier B, Diouf A, Diallo D, Da ED, Dabi D (2012) Climate variability and environmental stress in the Sudan-Sahel zone of West Africa. AMBIO 41:380–392

Meze-Hausken E (2004) Contrasting climate change variability and meteorological drought with perceived drought and climate change in northern Ethiopia. Clim Res 27:19–31

Mortimore MJ, Adams WM (2001) Farmer adaptation, change and 'crisis' in the Sahel. Glob Environ Chang 11:49–57

Nyong A, Adesina F, Osman EB (2007) The value of indigenous knowledge in climate change mitigation and adaptation strategies in the African Sahel. Mitig Adapt Strateg Glob Chang 12:787–797

OECD/SWAC (2008) Climate, climate change and agro pastoral practices in the Sahel region. Note prepared for the high level conference on world food security: the challenges of climate change and bioenergy. Rome

Ouedraogo M, Dembele Y, Some L (2010) Farmer perceptions and adaptation options to rainfall change: evidence from Burkina Faso. Sécheresse 21:87–96

PANA (2007) Programme d'action national d'adaptation à la variabilité et aux changements climatiques, rapport final. Ministère de l'Environnement et du Cadre de Vie, Secrétariat Permanent du Conseil National pour l'Environnement et le Développement Durable. Ouagadougou, Burkina Faso

Parry ML, Canziani OF, Palutikof JP, van der Linden PJ, Hanson CE (eds.) (2007) Cross-chapter case study. In: Climate change 2007: impacts, adaptation and vulnerability. Contribution of working group II to the fourth assessment report of the intergovernmental panel on climate change. Cambridge University Press, Cambridge

Rao KPC, Ndegwa WG, Kizito K, Oyoo A (2011) Climate variability and change: farmer perceptions and understanding of intra-seasonal variability in rainfall and associated risk in semi-arid Kenya. Exp Agric 47:267–291

Regessa T (2008) Farmer's perception of environmental degradation and their response to environmental management. A case of Dale Woreda, Sidama Zone, SNNPR. M.Sc. Thesis, Addis Ababa University, Ethiopia

Ringler C, Zhu T, Cai X, Koo J, Wang D (2010) Climate change impacts on food security in sub-Saharan Africa: insights from comprehensive climate change scenarios. IFPRI discussion paper 01042, Environment and Production Technology Division, International Food Policy Research Institute (IFPRI), Washington

Salick J, Byg A (eds) (2007) Indigenous peoples and climate change. Report of symposium 12–13 April 2007. A Tyndall Centre Publication. Tyndall Centre for Climate Change Research, Oxford

Sarr B, Traoré S, Salack S (2007) Évaluation de l'incidence des changements climatiques sur les rendements des cultures céréalières en Afrique soudano-sahélienne. Centre Régional Agrhymet, CILSS, Niamey

Sawadogo H, Bock L, Lacroix D, Zombré NP (2008) Restauration des potentialités de sols dégradés à l'aide du zaï et du compost dans le Yatenga (Burkina Faso). Biotech Agron Soc Environ 12:279–290

Seo NS (2010) Is an integrated farm more resilient against climate change? A micro-econometric analysis of portfolio diversification in African agriculture. Food Policy 35:32–40

Seo NS, Mendelsohn R (2006) The impact of climate change on livestock management in Africa: a structural Ricardian analysis. CEEPA discussion paper no. 23, Centre for Environmental Economics and Policy in Africa, University of Pretoria, South Africa

Seo NS, McCarl BA, Mendelsohn R (2010) From beef cattle to sheep under global warming? An analysis of adaptation by livestock species choice in South America. Ecol Econ 69:2486–2494

Solomon S, Qin D, Manning M, Chen Z, Marquis M, Averyt KB, Tignor M, Miller HL (eds) (2007) Climate change 2007: the physical science basis. Contribution of working group I to the fourth assessment report of the intergovernmental panel on climate change. Cambridge University Press, Cambridge

Somé D, Zombré PN, Zombré G, Macauley HR (2004) Impact de la technique du zaï sur la production du niébé et sur l'évolution des caractéristiques chimiques des sols très dégradés (zipellés) du Burkina Faso. Sécheresse 15:263–269

Thornton PK, Jones PG, Owiyo T, Kruska RL, Herrero M, Kristjanson P, Notenbaert A, Bekele N, Omolo A (2006) Mapping climate vulnerability and poverty in Africa. Report to the Department for International Development, ILRI, Nairobi

Trouche G, Da S, Pale G, Sohoro A, Ouedraogo O, Den Gosso G (2001) Evaluation participative de nouvelle variétés de sorgho au Burkina Faso. In: Hocdé G, Lancon J, Trouche G (eds), Atelier sur la sélection participative. Montpellier

Turner MD, Ayantunde AA, Patterson KP, Patterson ED (2011) Livelihood transitions and the changing nature of farmer–herder conflict in Sahelian West Africa. J Dev Stud 47:183–206

West CT, Roncoli C, Ouattara F (2008) Local perceptions and regional climate trends on the central plateau of Burkina Faso. Land Degrad Dev 19:289–304

Wittig R, König K, Schmidt M, Szarzynski J (2007) A study of climate change and anthropogenic impacts in West Africa. Environ Sci Pollut Res 14:182–189

Zougmoré R, Ouattara K, Mando A, Ouattara B (2004) Rôle des nutriments dans le succès des techniques de conservation des eaux et des sols (cordons pierreux, bandes enherbées, zaï et demi-lunes) au Burkina Faso. Sécheresse 15:41–48
Appendix
Appendix
See Table 8.
About this article
Cite this article
Zampaligré, N., Dossa, L.H. & Schlecht, E. Climate change and variability: perception and adaptation strategies of pastoralists and agro-pastoralists across different zones of Burkina Faso. Reg Environ Change 14, 769–783 (2014). https://doi.org/10.1007/s10113-013-0532-5
Received:

Accepted:

Published:

Issue Date:
Keywords
Climate variability

Coping strategies

Local knowledge

Mixed farming systems

Sahelian zone

Sudanian zone