Abstract
There is a growing availability of climate change information, offered to scientists and policy makers through climate services. However, climate services are not well taken up by the policy-making and planning community. Climate services focus on primary impacts of climate change, e.g., the disclosure of precipitation and temperature data, and this seems insufficient in meeting their needs. In this paper, we argue that, in order to reach the spatial planning community, climate services should take on a wider perspective by translating climate data to policy-relevant indicators and by offering support in the design of adaptation strategies. We argue there should be more focus on translating consequences of climate change to land-use claims and subsequently discuss the validity, consequences and implications of these claims with stakeholders, so they can play a role in spatial planning processes where much of the climate adaptation takes place. The term Climate Adaptation Services is introduced as being a stepwise approach supporting the assessment of vulnerability in a wider perspective and include the design and appraisal of adaptation strategies in a multi-stakeholder setting. We developed the Climate Adaptation Atlas and the Climate Ateliers as tools within the Climate Adaptation Services approach to support decision-making and planning processes. In this paper, we describe the different steps of our approach and report how some of the challenges were addressed.
This is a preview of subscription content, log in to check access.
We're sorry, something doesn't seem to be working properly.
Please try refreshing the page. If that doesn't work, please contact support so we can address the problem.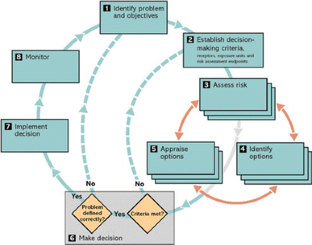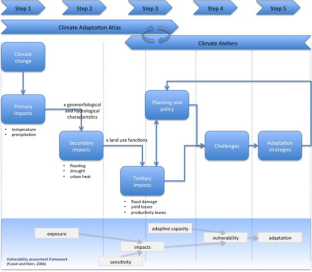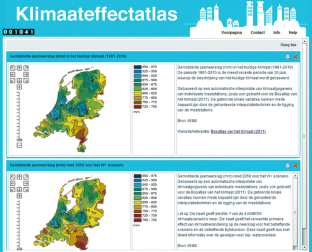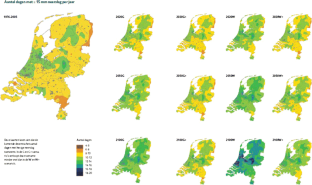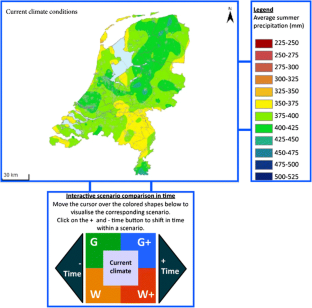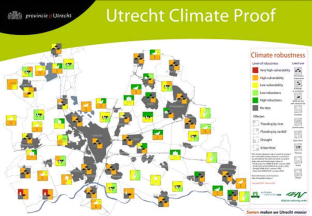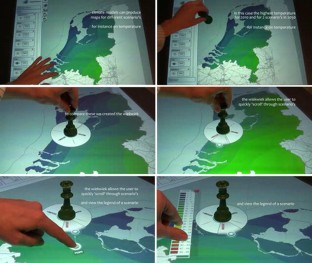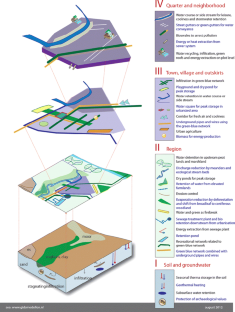 References
Al-Kodmany K (2001) Bridging the gap between technical and local knowledge: tools for promoting community-based planning and design. J Archit Plann Res 18(2):110–130

Arciniegas G, Janssen R (2012) Spatial decision support for collaborative land use planning workshops. Landsc Urban Plann 107:332–342

Bertin J (1983) Semiology of graphics: diagrams, networks, maps. University of Wisconsin Press, Madison

Bessembinder J (2009) Klimaatschetsboek nederland—het huidige en toekomstige klimaat. KNMI, De Bilt

Burch S, Sheppard SR, Shaw A, Flanders D (2010) Planning for climate change in a flood-prone community: municipal barriers to policy action and the use of visualizations as decision-support tools. J Flood Risk Manag 3(2):126–139

Crampton JW (2001) Maps as social constructions: power, communication and visualization. Prog Hum Geogr 25(2):235–252

Crampton JW, Krygier J (2005) An introduction to critical cartography. ACME Int E-J Crit Geogr 4(1):11–33

De Bruin K, Dellink RB, Ruijs A, Bolwidt L, Van Buuren A, Graveland J, de Groot RS, Kuikna PJ, Reinhard S, Roetter RP (2009) Adapting to climate change in the Netherlands: an inventory of climate adaptation options and ranking of alternatives. Clim Change 95(1–2):23–45

DiBiase D, MacEachren AM, Krygier JB, Reeves C (1992) Animation and the role of map design in scientific visualization. Cartogr Geogr Inf Sci 19(4):201–214

Dockerty T, Lovett A, Sünnenberg G, Appleton K, Parry M (2005) Visualising the potential impacts of climate change on rural landscapes. Comput Environ Urban Syst 29(3):297–320

Dühr S (2006) The visual language of spatial planning: exploring cartographic representations for spatial planning in Europe. Routledge, London

Dutton JA (2002) Opportunities and priorities in a new era for weather and climate services. Bull Am Meteorol Soc 83(9):1303–1311

Ford JD, Berrang-Ford L, Paterson J (2011) A systematic review of observed climate change adaptation in developed nations. Clim Change 106(2):327–336

Füssel H-M, Klein RJT (2006) Climate change vulnerability assessments: an evolution of conceptual thinking. Clim Change 75(3):301–329

Goosen H (2006) Spatial water management: supporting participatory planning and decision making. Techne Press, Amsterdam

Goosen H, Janssen R, Vermaat JE (2007) Decision support for participatory wetland decision-making. Ecol Eng 30(2):187–199

Harley JB (1989) Deconstructing the map. Cartogr Int J Geogr Inf Geovis 26(2):1–20

Harley JB (1990) Cartography, ethics and social theory. Cartogr Int J Geogr Inf Geovis 27(2):1–23

Harrower M, Brewer C (2003) Colorbrewer. Org: an online tool for selecting colour schemes for maps. Cartogr J 40(1):27–37

Horn RE (1999) Information design: emergence of a new profession. In: Jacobson RE (ed) Information design, MIT press, Cambridge, pp 15–33

Hulme M (2009) Why we disagree about climate change: Understanding controversy, inaction and opportunity. Cambridge University Press, Cambridge, UK

Hurlimann AC, March AP (2012) The role of spatial planning in adapting to climate change. Wiley Interdiscip Rev Clim Change 3(5):477–488

Jacobson R (2000) Information design. MIT Press, Cambridge

Kazmierczak ET (2003) Design as meaning making: from making things to the design of thinking. Design Issues 19(2):45–59

Keller PR, Keller MM (1993) Visual cues: practical data visualization. IEEE Computer Society Press, Los Alamitos, CA

KNMI (2011) Bosatlas van het klimaat. Noordhoff Uitgevers B.V, Groningen

Mastrandrea MD, Heller NE, Root TL, Schneider SH (2010) Bridging the gap: linking climate-impacts research with adaptation planning and management. Clim Change 100(1):87–101

Meinke H, Howden SM, Struik PC, Nelson R, Rodriguez D, Chapman SC (2009) Adaptation science for agriculture and natural resource management—urgency and theoretical basis. Curr Opin Environ Sustain 1(1):69–76

Moser SC, Luers AL (2008) Managing climate risks in California: the need to engage resource managers for successful adaptation to change. Clim Change 87(1):309–322

Parry ML (2007) Climate change 2007: impacts, adaptation and vulnerability: Working group I contribution to the fourth assessment report of the IPCC, vol 4. Cambridge University Press, Cambridge

Pettit CJ, Raymond CM, Bryan BA, Lewis H (2011) Identifying strengths and weaknesses of landscape visualisation for effective communication of future alternatives. Landsc Urban Plann 100(3):231–241

Pickles J (1995) Ground truth: the social implications of geographic information systems. The Guilford Press, New York

Pittock A (2009) Climate change: the science, impacts and solutions. Csiro Publishing, Melbourne

Romsdahl RJ (2011) Decision support for climate change adaptation planning in the US: why it needs a coordinated internet-based practitioners' network. Clim Change 106(4):507–536

Shaw A, Sheppard S, Burch S, Flanders D, Wiek A, Carmichael J, Robinson J, Cohen S (2009) Making local futures tangible: synthesizing, downscaling, and visualizing climate change scenarios for participatory capacity building. Global Environ Change 19(4):447–463

Swart R, Raes F (2007) Making integration of adaptation and mitigation work: mainstreaming into sustainable development policies? Clim Policy 7(4):288–303

Termeer C, Dewulf A, van Rijswick H, van Buuren A, Huitema D, Meijerink S, Rayner T, Wiering M (2011) The regional governance of climate adaptation: a framework for developing legitimate, effective, and resilient governance arrangements. Clim Law 2(2):159–179

Tjallingii, S. P. (1996). Ecological conditions: Strategies and structures in environmental planning

Tufte ER (1983) The visual display of quantitative information. Graphics Press, Cheshire, CT

Tufte ER (1991) Envisioning information. Graphics Press, Cheshire, CT

Tufte ER, Weise Moeller E (1997) Visual explanations: images and quantities, evidence and narrative. Graphics Press, Cheshire, CT

US National Research Council (2009) Restructuring federal climate research to meet the challenges of climate change. National Academies Press, Washington

van Ark R (2006) Planning, contract and commitment: Naar een relationeel perspectief op gebiedscontracten in de ruimtelijke planning. Eburon Uitgeverij BV, The Netherlands

Van Den Hurk B, Klein Tank A, Lenderink G, Van Ulden A, Van Oldenborgh GJ, Katsman C, Van den Brink H, Keller F, Bessembinder J, Burgers G (2006) KNMI climate change scenarios 2006 for the Netherlands. KNMI, De Bilt

Veregin H (1995) Developing and testing of an error propagation model for GIS overlay operations. Int J Geogr Inf Syst 9(6):595–619

Visbeck M (2007) From climate assessment to climate services. Nat Geosci 1(1):2–3

Wardekker JA, de Jong A, Knoop JM, van der Sluijs JP (2010) Operationalising a resilience approach to adapting an urban delta to uncertain climate changes. Technol Forecast Soc Change 77(6):987–998

Willows R, Reynard N, Meadowcroft I, Connell R (2003) Climate adaptation: risk, uncertainty and decision-making. UKCIP technical report, UK Climate Impacts Programme

Wilson E (2006) Adapting to climate change at the local level: the spatial planning response. Local Environ 11(6):609–625

Wolfe JM, Horowitz TS (2004) What attributes guide the deployment of visual attention and how do they do it? Nat Rev Neurosci 5(6):495–501

Wood D, Fels J (1992) The power of maps. The Guilford Press, New York

World Meteorological Organization (2011) Climate knowledge for action: a global framework for climate services—empowering the most vulnerable (the report of the high-level taskforce for the global framework for climate services)

Wurman RS (1989) Information anxiety: what to do when information doesn't tell you what you want to know. Bantam Books, New York
Acknowledgments
The development of the Climate Adaptation Atlas and the Climate Ateliers was funded by the Dutch research programs Climate changes Spatial Planning (CcSP) and Knowledge for Climate (KfC). To consolidate and to continue the development and innovation of Climate Adaptation Services in October 2012, the foundation Climate Adaptation ServicesFootnote 4 was established. The foundation brings together several Dutch research institutes like Alterra, Deltares, KNMI, Geodan and TNO and aims at creating a common knowledge portal. An important goal of the foundation is to support the adaptation process by assessing different adaptation strategies for different regions.
Appendix
Appendix
See Table 1.
About this article
Cite this article
Goosen, H., de Groot-Reichwein, M.A.M., Masselink, L. et al. Climate Adaptation Services for the Netherlands: an operational approach to support spatial adaptation planning. Reg Environ Change 14, 1035–1048 (2014). https://doi.org/10.1007/s10113-013-0513-8
Received:

Accepted:

Published:

Issue Date:
Keywords
Climate services

Adaptation

Spatial planning

Climate impacts

Visualisation