Abstract
Microneedle radiofrequency (FMR) for the treatment of primary axillary hyperhidrosis radiofrequency (RF) technology is a new modality that applied deep heat energy directly affecting the epidermis and dermis. Limiting data about FMR for axillary hyperhidrosis is concerning. To compare clinical efficacy between fractional microneedle radiofrequency and intradermal botulinum toxin type A injection. This study was a randomized, intraindividual split-side comparative study. Twenty female subjects clinically diagnosed of primary axillary hyperhidrosis were enrolled. All subjects randomly assigned to receive either FMR device on one side of axilla or 50 units of intradermal botulinum toxin A on contralateral side of axilla. Treatment with FMR device was scheduled for 2 sessions for 4 weeks apart. After treatment, mean Hyperhidrosis Disease Severity Score (HDSS) of both groups revealed remarkably better reduction from the baseline (p < 000.1). By comparing between the two groups at the endpoint visit (12th week), the botulinum toxin A group had significantly better reduction of mean HDSS score than the microneedle RF group with 1.60 (0.59) versus 2.05 (0.68), respectively (p = 0.0332). At the week-12 visit, the botulinum toxin A group had significantly better participant's satisfaction score by quartile rating scale than the microneedle RF group (2.55 + 0.69 versus 1.70 + 1.03, respectively, p = 0.004). Therefore, the botulinum toxin A group also demonstrated with significantly better improvement for their quality of life by DLQI score at the 12th week than the microneedle RF group (p = 0.013). Intradermal botulinum toxin A had better efficacy than fractional microneedle radiofrequency for the treatment of primary axillary hyperhidrosis.
This is a preview of subscription content, log in to check access.
Access options
Buy single article
Instant unlimited access to the full article PDF.
US$ 39.95
Price includes VAT for USA
Subscribe to journal
Immediate online access to all issues from 2019. Subscription will auto renew annually.
US$ 99
This is the net price. Taxes to be calculated in checkout.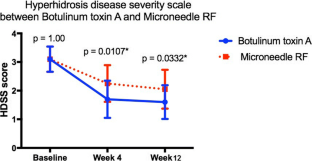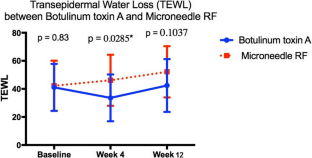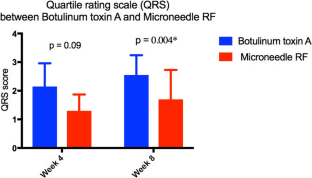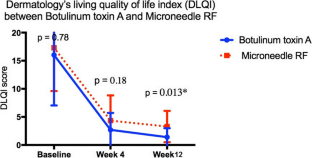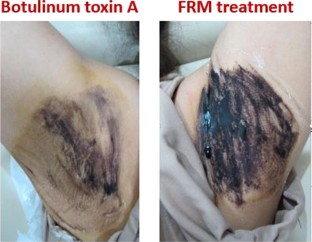 References
1.

Atkins JL, Butler PE (2002) Hyperhidrosis: a review of current management. Plast Reconstr Surg 110:222–228

2.

Cohen JL, Cohen G, Solish N, Murray CA (2007) Diagnosis, impact, and management of focal hyperhidrosis: treatment review including botulinum toxin therapy. Facial Plast Surg Clin North Am 15:17–30 v-vi

3.

Heckmann M, Ceballos-Baumann AO, Plewig G, Hyperhidrosis Study G (2001) Botulinum toxin A for axillary hyperhidrosis (excessive sweating). N Engl J Med 344:488–493

4.

Naumann M, Lowe NJ (2001) Botulinum toxin type A in treatment of bilateral primary axillary hyperhidrosis: randomised, parallel group, double blind, placebo controlled trial. Bmj 323:596–599

5.

Lowe NJ, Glaser DA, Eadie N et al (2007) Botulinum toxin type A in the treatment of primary axillary hyperhidrosis: a 52-week multicenter double-blind, randomized, placebo-controlled study of efficacy and safety. J Am Acad Dermatol 56:604–611

6.

Lolis MS, Goldberg DJ (2012) Radiofrequency in cosmetic dermatology: a review. Dermatol Surg 38:1765–1776

7.

Hong HC, Lupin M, O'Shaughnessy KF (2012) Clinical evaluation of a microwave device for treating axillary hyperhidrosis. Dermatol Surg 38:728–735

8.

Naumann M, Dressler D, Hallett M et al (2013) Evidence-based review and assessment of botulinum neurotoxin for the treatment of secretory disorders. Toxicon 67:141–152

9.

Abtahi-Naeini B, Naeini FF, Saffaei A et al (2016) Treatment of primary axillary hyperhidrosis by fractional microneedle radiofrequency: is it still effective after long-term follow-up? Indian J Dermatol 61:234

10.

Abtahi-Naeini B, Naeini FF, Adibi N, Pourazizi M (2015) Quality of life in patients with primary axillary hyperhidrosis before and after treatment with fractionated microneedle radiofrequency. J Res Med Sci 20:631–635

11.

Kim M, Shin JY, Lee J, Kim JY, Oh SH (2013) Efficacy of fractional microneedle radiofrequency device in the treatment of primary axillary hyperhidrosis: a pilot study. Dermatology 227:243–249

12.

Naeini FF, Saffaei A, Pourazizi M, Abtahi-Naeini B (2015) Histopathological evidence of efficacy of microneedle radiofrequency for treatment of axillary hyperhidrosis. Indian J Dermatol Venereol Leprol 81:288–290
Acknowledgments
We are very grateful for research participants and would like to thank The Thai Aesthetics Physicians and School of Anti-aging and Regenerative Medicine, Mae Fah Luang University, Bangkok, Thailand.
Ethics declarations
This study was conducted according to the International Conference of Harmonization (ICH) Good Clinical Practice (GCP) guidelines and the Declaration of Helsinki. This study was approved by the independent Ethics Committee (IEC)/Institutional Review Board (IRB) of Mae Fah Luang University on August 1, 2016, and registered with ClinicalTrials.gov (identification number: NCT03054480).
Conflict of interest
The authors declare that they have no conflict of interest.
Additional information
Publisher's note
Springer Nature remains neutral with regard to jurisdictional claims in published maps and institutional affiliations.
About this article
Cite this article
Rummaneethorn, P., Chalermchai, T. A comparative study between intradermal botulinum toxin A and fractional microneedle radiofrequency (FMR) for the treatment of primary axillary hyperhidrosis. Lasers Med Sci (2020) doi:10.1007/s10103-020-02958-8
Received:

Accepted:

Published:
Keywords
Fractional microneedle radiofrequency

Intradermal botulinum toxin A

Primary axillary hyperhidrosis