Abstract
The objective of this study was to analyze retrospectively the clinical efficacy and fungal clearance of long-pulsed 1064-nm Nd:YAG laser for treating onychomycosis and explore the inhibitory effects of laser on the fungus pathogen-induced onychomycosis in vitro. We performed a systematic retrospective analysis of clinical patients (162 effected nails) of onychomycosis treatment applying laser with or without topical ketoconazole ointment and followed up 3 months after treatment. Trichophyton rubrum- and Trichophyton mentagrophytes-induced onychomycosis was irradiated with laser superimposed for different cumulative energy, respectively; then, the areas of fungus colonies and growth curve in different days were showed, and changes in ultrastructures were observed under SEM and TEM. The clinical effective rate and fungal clearance rate in the combined group were higher than those in the laser group; however, there was no significant difference between the two groups. In vitro, the areas of T. rubrum colonies were significantly reduced at days 1, 3, and 5 after irradiation with cumulative laser energy ≥ 6400 J/cm2. When irradiated with cumulative laser energy ≥ 25600 J/cm2, significant difference in the areas of T. mentagrophytes colonies was found at day 5. And ultrastructure of the two strains before and after laser irradiation was damaged at different degrees. This study confirmed that long-pulsed 1064-nm Nd:YAG laser is effective for treating onychomycosis, and the laser irradiation can inhibit the colony growth of T. rubrum and T. mentagrophytes and change their cellular ultrastructures. The mechanism of laser treatment of onychomycosis may be related to direct damage of fungus pathogen.
This is a preview of subscription content, log in to check access.
Access options
Buy single article
Instant access to the full article PDF.
US$ 39.95
Price includes VAT for USA
Subscribe to journal
Immediate online access to all issues from 2019. Subscription will auto renew annually.
US$ 99
This is the net price. Taxes to be calculated in checkout.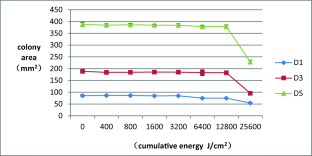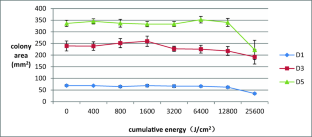 References
1.

Gupta AK, Humke S (2000) The prevalence and management of onychomycosis in diabetic patients. Eur J Dermatol 10(5):379–384

2.

Roberts DT (1992) Prevalence of dermatophyte onychomycosis in the United Kingdom: results of an omnibus survey. Br J Dermatol 126(suppl 39):23–27

3.

Ghannoum MA, Hajjeh RA, Scher R et al (2000) A large-scale North American study of fungal isolates from nails: the frequency of onychomycosis, fungal distribution, and antifungal susceptibility patterns. J Am Acad Dermatol 43(4):641–648

4.

Gupta A, Simpson F (2012) Device-based therapies for onychomycosis treatment. Skin Therapy Lett 17:4–9

5.

Gupta AK, Simpson FC (2012) Medical devices for the treatment of onychomycosis. Dermatol Ther 25(6):574–581

6.

Ledon JA, Savas J, Franca K, Chacon A, Nouri K (2014) Laser and light therapy for onychomycosis: a systematic review. Lasers Med Sci 29:823–829

7.

Zhang RN, Wang DK, Zhuo FL, Duan XH, Zhang XY, Zhao JY (2012) Long-pulse Nd: YAG 1064-nm laser treatment for onychomycosis. Chin Med J 125:3288–3291

8.

Gupta AK, Simpson FC, Heller DF (2016) The future of lasers in onychomycosis. J Dermatolog Treat 27:167–172

9.

Helou J, Maatouk I, Hajjar MA, Moutran R (2016) Evaluation of Nd: YAG laser device efficacy on onychomycosis: a case series of 30 patients. Mycoses. 59:7–11

10.

Antonio Z, Alejandra M, Elena P et al (2018) Clinical laser treatment of toenail onychomycoses. Lasers Med Sci 33(4):927–933

11.

Weber GC, Firouzi P, Baran AM et al (2018) Treatment of onychomycosis using a 1064-nm diode laser with or without topical antifungal therapy: a single-center, retrospective analysis in 56 patients. Eur J Med Res 23(1):53

12.

Hollmig ST, Rahman Z, Henderson MT, Rotatori RM, Gladstone H, Tang JY (2014) Lack of efficacy with 1064-nm neodymium: yttrium-aluminum-garnet laser for the treatment of onychomycosis: a randomized, controlled trial. J Am Acad Dermatol 70:911–917

13.

Kim HJ, Park H-j, Suh DH (2018) Clinical factors influencing outcomes of 1064 nm neodymium-doped yttrium aluminum garnet (Nd:YAG) laser treatment for onychomycosis. Ann Dermatol 30(4):493–495

14.

Vural E, Winfield HL, Shingleton AW et al (2008) The effects of laser irradiation on Trichophyton rubrum growth. Lasers Med Sci 23(4):349–353

15.

Hees H, Raulin C, Baumler W (2012) Laser treatment of onychomycosis: an in vitro pilot study[J]. J Dtsch Dermatol Ges 10(12):913–918

16.

Carney C, Cantrell W, Warner J, Elewski B (2013) Treatment of onychomycosis using a submillisecond 1064-nm neodymium: yttrium-aluminum-garnet laser. J Am Acad Dermatol 69(4):578–582

17.

Wei-hua P (2016) Interpretation of Chinese onychomycosis treatment guidelines (2015 edition). World Clin Drugs 37(2):73–76

18.

Manevitch Z, Lev D, Hochberg M et al (2010) Direct antifungal effect of femtosecond laser on Trichophyton rubrum onychomycosis. Photochem Photobiol 86(2):476–479

19.

Hochman LG (2011) Laser treatment of onychomycosis using a novel 0.65-millisecond pulsed Nd:YAG1064nm laser. J Cosmet Laser Ther 13(1):2–5

20.

Cronin L, Moffitt M, Mawad D et al (2012) An in vitro study of the photodynamic effect of rose bengal on Trichophyton rubrum. J Biophotonics 7(6):410–417

21.

Jasmina K, Vizintin Z (2010) Novel laser therapy in treatment of onychomycosis. J Laser Health Acad 1:1–8

22.

Liu C, Zhang L, Zeng HY et al (2018) The energy density and treatment times are the main factors that affect the efficacy of long-pulsed 1064-nm Nd:YAG laser treatment for onychomycosis caused by Trichophyton rubrum. Dermatology. 234(3–4):105–111

23.

Meral G, Tasar F, Kocagoz S et al (2003) Factors affecting the antibacterial effects of Nd:YAG laser in vivo. Lasers Surg Med 32(3):197–202

24.

Xu ZL, Xu J, Zhuo FL et al (2012) Effects of laser irradiation Trichophyton rubrum growth and ultrastructure[J]. Chin Med J 125(20):3697–3700

25.

Ghavam SA, Aref S, Mohajerani E et al (2015) Laser irradiation on growth of Trichophyton rubrum: an in vitro study. J Lasers Med Sci 6(1):10–16

26.

Wantphakdeedecha R, Thanomkitti K, Bunyaratavej S et al (2015) Efficacy and safety of 1064nm Nd:YAG laser in treatment of onychomycosis. J Dermatol Treat 27(1):75–79
Funding
The study was supported by the funds of Pudong New Area Science and Technology Development (PKJ 2016-Y07) and the Key Research Program of Shanghai Pudong New Area Health and Family Planning Commission (PWZzk2017-28).
Ethics declarations
This study was approved by the Pudong New Area People's Hospital ethics committee. Study subjects were informed, agreed, and signed a written consent document.
Conflict of interest
The authors declare that they have no conflict of interest.
Additional information
Publisher's note
Springer Nature remains neutral with regard to jurisdictional claims in published maps and institutional affiliations.
About this article
Cite this article
Cao, Y., Xu, S., Kong, W. et al. Clinical retrospective analysis of long-pulsed 1064-nm Nd:YAG laser in the treatment of onychomycosis and its effect on the ultrastructure of fungus pathogen. Lasers Med Sci 35, 429–437 (2020). https://doi.org/10.1007/s10103-019-02840-2
Received:

Accepted:

Published:

Issue Date:
Keywords
Long-pulsed 1064-nm Nd:YAG laser

Onychomycosis

Irradiation

Trichophyton rubrum
Trichophyton mentagrophytes

Electron microscopy