Abstract
The dumping of solid waste in uncontrolled landfills can cause significant impacts on the environment and human health. The principal concern is focussed on the pollution potential due to migration of the leachate generated from the landfill sites into the groundwater, the surface water or the sea. In this paper, the concept of the leachate pollution index, a tool for quantifying the leachate pollution potential of landfill sites, has been described and its practical application has been demonstrated by comparing the leachate contamination potential of two active and two closed landfills sites in Hong Kong. It has been found that the leachate generated from the closed landfills can have equal or more contamination potential in comparison to the active landfill sites and hence, the remediation actions and post-closure monitoring should be ensured at the closed landfills till the leachate generated is stabilized and poses no further threat to the environment.
This is a preview of subscription content, log in to check access.
Access options
Buy single article
Instant access to the full article PDF.
US$ 39.95
Price includes VAT for USA
Subscribe to journal
Immediate online access to all issues from 2019. Subscription will auto renew annually.
US$ 99
This is the net price. Taxes to be calculated in checkout.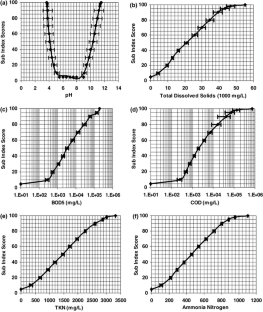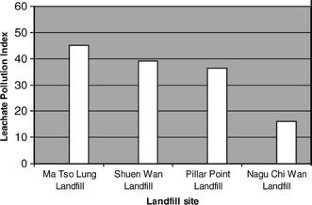 References
Chian ESK, DeWalle FB (1976) Sanitary landfill leachates and their treatment. J Environ Eng Division ASCE 102(EE2):411–431

Dalkey NC (1968) DELPHI. The Rand Corporation, Santa Monica

Hong Kong Environmental Protection Department (1993) Environmental Hong Kong—a review of 1992. Report No. 234835–128 L

Kelley WE (1976) Ground-water pollution near a landfill. J Environ Eng Division ASCE 102(EE6):1189–1199

Kouzeli-Katsiri A, Bodogianni A, Christoulas D (1999) Prediction of leachate quality from sanitary landfills. J Environ Eng Division ASCE 125(EE10):950–957

Kumar D, Alappat BJ (2003) A technique to quantify landfill leachate pollution. In: Proceedings of the 9th international landfill symposium. Cagliari, Sardinia, Paper No. 400

Kumar D, Alappat BJ (2004a) Selection of the appropriate aggregation function for calculating leachate pollution index. ASCE Pract Periodicals Hazard Radioactive Toxic Wastes 8(4):253–264

Kumar D, Alappat BJ (2004b) Errors involved in the estimation of leachate pollution index. ASCE Pract Periodicals Hazard Radioactive Toxic Wastes (in press)

Kumar D, Khare M, Alappat BJ (2002) Threat to groundwater from the municipal landfills in Delhi, India. In: Proceedings of the 28th WEDC Conference on sustainable environmental sanitation and water services. Kolkata (Calcutta), pp 377–380

Leckie JO, Pacey JG, Halvadakis C (1979) Landfill management with moisture control. J Environ Eng Division ASCE 105(EE2):337–355

Lo IMC (1996) Characteristics and treatment of leachates from domestic landfills. Environ Int 22(4):433–442

Masters GM (1998) Introduction to environmental engineering and science. Prentice-Hall of India Private Limited, New Delhi

Robinson HD, Chen CK, Formby RW, Carville MS (1995) Treatment of leachates from Hong Kong landfills with full nitrification and denitrification. In: Proceedings of the fifth international landfill symposium. Cagliari, Sardinia

Truett JB, Johnson AC, Rowe WD, Feigner KD, Manning LJ (1975) Development water quality management indices. Water Resource Bull 11(3):436–448

Walker WH (1969) "Illinois Groundwater Pollution". Journal American Water Works Assoc 61:31–40
About this article
Cite this article
Kumar, D., Alappat, B.J. Evaluating leachate contamination potential of landfill sites using leachate pollution index. Clean Techn Environ Policy 7, 190–197 (2005). https://doi.org/10.1007/s10098-004-0269-4
Received:

Accepted:

Published:

Issue Date:
Keywords
Municipal Solid Waste

Landfill Site

Landfill Leachate

Pollutant Variable

Leachate Composition