Abstract
RSV is one of the most important agents of lower respiratory infections in childhood. In this study, anti-RSV antibody levels in mother-infant pairs and factors related to antibody transfer ratio were investigated. One hundred and twenty-seven women that had term babies and their babies and 84 mother-infant pairs of them who continued the study after 6 months were enrolled. Anti-RSV IgG antibodies of the mothers and infants were positive in 46.5% and 61.5%, respectively. At the sixth month, anti-RSV antibodies were negative in all infants. Median of the anti-RSV antibody levels of the mothers and infants at birth were 12.08 IU/ml (1.21–119.27) and 13.78 IU/ml (3.99–108.6), respectively. There was a significant correlation between anti-RSV antibody levels of mothers and infants at birth (p: 0.0001, r: 0.667) and anti-RSV antibody levels of infants at birth and at 6th month (p: 0.0001, r: 0.343). Median ratio of infant and mother antibody levels was 1.22 (0.14–6.05). Median ratio that was detected in appropriate for gestational age infants was significantly higher than in small for gestational age or large for gestational age infants. In this study, the significant positive correlation between maternal antibody levels and infants' antibody levels at birth suggests that maternal vaccination strategies may be logical. We showed that antibody transfer rate was highest in appropriate for gestational age infants. It should be kept in mind that maternal vaccination strategies may be less effective in small for gestational age and large for gestational age infants.
This is a preview of subscription content, log in to check access.
Access options
Buy single article
Instant access to the full article PDF.
US$ 39.95
Price includes VAT for USA
Subscribe to journal
Immediate online access to all issues from 2019. Subscription will auto renew annually.
US$ 99
This is the net price. Taxes to be calculated in checkout.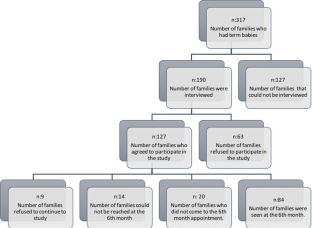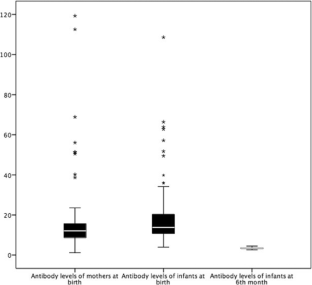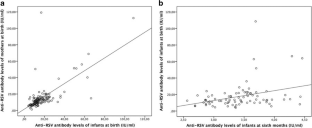 Abbreviations
RSV:

Respiratory syncytial virus

LRTI:

Lower respiratory tract infection

SGA:

Small for gestational age

AGA:

Appropriate for gestational age

LGA:

Large for gestational age
References
1.

Shi T, McAllister DA, O'Brien KL, Simoes EAF, Madhi SA, Gessner BD, Polack FP, Balsells E, Acacio S, Aguayo C, Alassani I, Ali A, Antonio M, Awasthi S, Awori JO, Azziz-Baumgartner E, Baggett HC, Baillie VL, Balmaseda A, Barahona A, Basnet S, Bassat Q, Basualdo W, Bigogo G, Bont L, Breiman RF, Brooks WA, Broor S, Bruce N, Bruden D, Buchy P, Campbell S, Carosone-Link P, Chadha M, Chipeta J, Chou M, Clara W, Cohen C, de Cuellar E, Dang DA, Dash-Yandag B, Deloria-Knoll M, Dherani M, Eap T, Ebruke BE, Echavarria M, de Freitas Lazaro Emediato CC, Fasce RA, Feikin DR, Feng L, Gentile A, Gordon A, Goswami D, Goyet S, Groome M, Halasa N, Hirve S, Homaira N, Howie SRC, Jara J, Jroundi I, Kartasasmita CB, Khuri-Bulos N, Kotloff KL, Krishnan A, Libster R, Lopez O, Lucero MG, Lucion F, Lupisan SP, Marcone DN, McCracken JP, Mejia M, Moisi JC, Montgomery JM, Moore DP, Moraleda C, Moyes J, Munywoki P, Mutyara K, Nicol MP, Nokes DJ, Nymadawa P, da Costa Oliveira MT, Oshitani H, Pandey N, Paranhos-Baccala G, Phillips LN, Picot VS, Rahman M, Rakoto-Andrianarivelo M, Rasmussen ZA, Rath BA, Robinson A, Romero C, Russomando G, Salimi V, Sawatwong P, Scheltema N, Schweiger B, Scott JAG, Seidenberg P, Shen K, Singleton R, Sotomayor V, Strand TA, Sutanto A, Sylla M, Tapia MD, Thamthitiwat S, Thomas ED, Tokarz R, Turner C, Venter M, Waicharoen S, Wang J, Watthanaworawit W, Yoshida LM, Yu H, Zar HJ, Campbell H, Nair H (2017) Global, regional, and national disease burden estimates of acute lower respiratory infections due to respiratory syncytial virus in young children in 2015: a systematic review and modelling study. Lancet (London, England) 390(10098):946–958. https://doi.org/10.1016/s0140-6736(17)30938-8

2.

Rudan I, O'Brien KL, Nair H, Liu L, Theodoratou E, Qazi S, Lukšić I, Fischer Walker CL, Black RE, Campbell H, Child Health Epidemiology Reference G (2013) Epidemiology and etiology of childhood pneumonia in 2010: estimates of incidence, severe morbidity, mortality, underlying risk factors and causative pathogens for 192 countries. J Glob Health 3(1):010401–010401. https://doi.org/10.7189/jogh.03.010401

3.

Rudan I, Boschi-Pinto C, Biloglav Z, Mulholland K, Campbell H (2008) Epidemiology and etiology of childhood pneumonia. Bull World Health Organ 86(5):408–416. https://doi.org/10.2471/blt.07.048769

4.

Liu P, Xu M, He L, Su L, Wang A, Fu P, Lu L, Wang C, Xu J (2018) Epidemiology of respiratory pathogens in children with lower respiratory tract infections in Shanghai, China, from 2013 to 2015. Jpn J Infect Dis 71(1):39–44. https://doi.org/10.7883/yoken.JJID.2017.323

5.

Bharaj P, Sullender WM, Kabra SK, Mani K, Cherian J, Tyagi V, Chahar HS, Kaushik S, Dar L, Broor S (2009) Respiratory viral infections detected by multiplex PCR among pediatric patients with lower respiratory tract infections seen at an urban hospital in Delhi from 2005 to 2007. Virol J 6:89. https://doi.org/10.1186/1743-422x-6-89

6.

Ralston SL, Lieberthal AS, Meissner HC, Alverson BK, Baley JE, Gadomski AM, Johnson DW, Light MJ, Maraqa NF, Mendonca EA, Phelan KJ, Zorc JJ, Stanko-Lopp D, Brown MA, Nathanson I, Rosenblum E, Sayles S 3rd, Hernandez-Cancio S (2014) Clinical practice guideline: the diagnosis, management, and prevention of bronchiolitis. Pediatrics 134(5):e1474–e1502. https://doi.org/10.1542/peds.2014-2742

7.

ACOG Committee Opinion No 579: Definition of term pregnancy (2013). Obstet Gynecol 122 (5):1139–1140. doi:https://doi.org/10.1097/01.AOG.0000437385.88715.4a

8.

Mikolajczyk RT, Zhang J, Betran AP, Souza JP, Mori R, Gulmezoglu AM, Merialdi M (2011) A global reference for fetal-weight and birthweight percentiles. Lancet (London, England) 377(9780):1855–1861. https://doi.org/10.1016/s0140-6736(11)60364-4

9.

Chu HY, Steinhoff MC, Magaret A, Zaman K, Roy E, Langdon G, Formica MA, Walsh EE, Englund JA (2014) Respiratory syncytial virus transplacental antibody transfer and kinetics in mother-infant pairs in Bangladesh. J Infect Dis 210(10):1582–1589. https://doi.org/10.1093/infdis/jiu316

10.

Chu HY, Tielsch J, Katz J, Magaret AS, Khatry S, LeClerq SC, Shrestha L, Kuypers J, Steinhoff MC, Englund JA (2017) Transplacental transfer of maternal respiratory syncytial virus (RSV) antibody and protection against RSV disease in infants in rural Nepal. J Clin Virol 95:90–95. https://doi.org/10.1016/j.jcv.2017.08.017

11.

Okoko JB, Wesumperuma HL, Hart CA (2001) The influence of prematurity and low birthweight on transplacental antibody transfer in a rural west African population. Tropical Med Int Health 6(7):529–534. https://doi.org/10.1046/j.1365-3156.2001.00741.x

12.

Yeung CY, Hobbs JR (1968) Serum-γG-globulin levels in normal, premature, post-mature, and "small-for-dates" newborn babies. Lancet 291(7553):1167–1170. https://doi.org/10.1016/S0140-6736(68)91865-5

13.

Addy DP (1970) Cord serum IgG levels in "small-for-dates" babies. Arch Dis Child 45(244):809–810. https://doi.org/10.1136/adc.45.244.809

14.

Park WJ (2014) Seroprevalence of respiratory syncytial virus IgG among healthy young adults in basic training for the Republic of Korea air force. J Korean Med Sci 29(9):1325–1327. https://doi.org/10.3346/jkms.2014.29.9.1325

15.

Eick AA, Faix DJ, Tobler SK, Nevin RL, Lindler LE, Hu Z, Sanchez JL, MacIntosh VH, Russell KL, Gaydos JC (2011) Serosurvey of bacterial and viral respiratory pathogens among deployed U.S. service members. Am J Prev Med 41(6):573–580. https://doi.org/10.1016/j.amepre.2011.08.006

16.

Hacimustafaoglu M, Celebi S, Aynaci E, Sinirtas M, Koksal N, Kucukerdogan A, Ercan I, Goral G, Ildirim I (2004) The progression of maternal RSV antibodies in the offspring. Arch Dis Child 89(1):52–53. https://doi.org/10.1136/adc.2002.017780

17.

Suara RO, Piedra PA, Glezen WP, Adegbola RA, Weber M, Mulholland EK, Greenwood BM, Whittle H (1996) Prevalence of neutralizing antibody to respiratory syncytial virus in sera from mothers and newborns residing in the Gambia and in the United States. Clin Diagn Lab Immunol 3(4):477–479

18.

Forster J, Tacke U, Krebs H, Streckert HJ, Werchau H, Bergmann RL, Schulz J, Lau S, Wahn U (1996) Respiratory syncytial virus infection: its role in aeroallergen sensitization during the first two years of life. Pediatr Allergy Immunol 7(2):55–60

19.

Arankalle VA, Kulkarni R, Malshe N, Palkar S, Lalwani S, Mishra AC (2019) Seroepidemiology of respiratory syncytial virus in western India with special reference to appropriate age for infant vaccination. J Med Virol 91(8):1566–1570. https://doi.org/10.1002/jmv.25489

20.

Heijtink RA, Backx G, Van Der Horst JM, Masurel N (1977) Complement fixation and neutralization RS antibodies in maternal and neonatal sera. J Hyg 78(3):411–417. https://doi.org/10.1017/s0022172400056308

21.

Cox MJ, Azevedo RS, Cane PA, Massad E, Medley GF (1998) Seroepidemiological study of respiratory syncytial virus in Sao Paulo state, Brazil. J Med Virol 55(3):234–239

22.

Bhattarakosol P, Pancharoen C, Mungmee V, Thammaborvorn R, Semboonlor L (2003) Seroprevalence of anti-RSV IgG in Thai children aged 6 months to 5 years. Asian Pac J Allergy Immunol 21(4):269–271

23.

Nyiro JU, Sande C, Mutunga M, Kiyuka PK, Munywoki PK, Scott JA, Nokes DJ (2015) Quantifying maternally derived respiratory syncytial virus specific neutralising antibodies in a birth cohort from coastal Kenya. Vaccine 33(15):1797–1801. https://doi.org/10.1016/j.vaccine.2015.02.039

24.

Le Saux N, Gaboury I, MacDonald N (2003) Maternal respiratory syncytial virus antibody titers: season and children matter. Pediatr Infect Dis J 22(6):563–564. https://doi.org/10.1097/00006454-200306000-00015
Funding
This work was supported by Scientific Research Projects Coordination Unit of Istanbul University. Project number TTU-2016-23288″.
Ethics declarations
Ethical approval
This study was found to be ethically acceptable by Istanbul University Istanbul Medical Faculty Clinical Research Ethics Committee (2015/1816).
Statement of informed consent
Written informed consent was obtained from all of the participants' parents.
Financial disclosure
All of the authors have indicated they have no financial relationships relevant to this article to disclose.
Conflict of interest
All of the authors have indicated they have no potential conflicts of interest to disclose.
Additional information
Publisher's note
Springer Nature remains neutral with regard to jurisdictional claims in published maps and institutional affiliations.
About this article
Cite this article
Yildiz, M., Kara, M., Sutcu, M. et al. Evaluation of respiratory syncytial virus IgG antibody dynamics in mother-infant pairs cohort. Eur J Clin Microbiol Infect Dis (2020). https://doi.org/10.1007/s10096-020-03841-8
Received:

Accepted:

Published:
Keywords
Respiratory syncytial virus

Maternal antibodies

Passive immunization

Transplacental antibody transfer