Abstract
Previously treated TB patients still pose a serious threat to global control of TB, yet new re-treatment therapies were little studied. This study aimed to examine the therapeutic effects of new re-treatment regimens, and explore risk factors associated with recurrence after successful treatment. We conducted a cohort study in nine regions of China and enrolled previously treated TB patients from October, 2008 to December, 2010. Patients were randomly divided into four treatment regimen groups including standard, high-dose, long-course, and individualized treatment. After treatment, those with successful treatment outcomes were followed up to 7 years. The effects of different regimens and the information of recurrence were recorded. Risk factors to poor treatment outcomes were calculated using logistic regression model, while risk factors to recurrence or death were calculated using Cox model. Four hundred ninety-two participants were enrolled during the study time and 419 patients were included in our analysis of treatment effects. Overall, the treatment success rate is 75.9%, and the recurrence and death rate is 6.9% and 3.8%, respectively. Reduced risks of poor outcomes were observed in patients who were treated with high-dose and individualized regimen compared with standard regimen, and the adjusted ORs were 0.3 (0.1–0.6), 0.2 (0.1–0.5), respectively. In our analysis of factors associated with recurrence, all documented variables were not significant. Revised re-treatment regimen has better therapeutic effects compared to standard regimen, but it was not associated with lower risk of TB recurrence. Further studies are warranted to evaluate the role of other revised re-treatment regimens in recurrence risk. Trial registration: chictr.org Identifier: ChiCTR1800017441.
This is a preview of subscription content, log in to check access.
Access options
Buy single article
Instant unlimited access to the full article PDF.
US$ 39.95
Price includes VAT for USA
Subscribe to journal
Immediate online access to all issues from 2019. Subscription will auto renew annually.
US$ 99
This is the net price. Taxes to be calculated in checkout.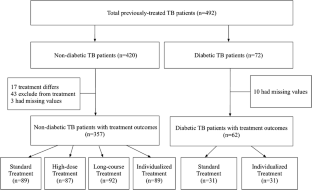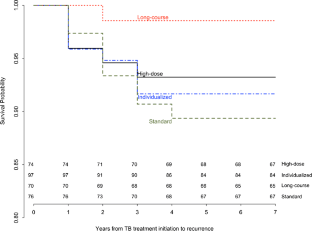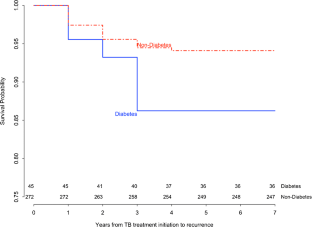 References
1.

World Health Organization (2017) Global tuberculosis report 2017 World Health Organization, Geneva. Retrieved November 2017 from http://apps.who.int/iris/bitstream/10665/259366/1/9789241565516-eng.pdf?ua=1. Accessed Oct 2017

2.

Zignol M, Wright A, Jaramillo E, Nunn P, Raviglione MC (2007) Patients with previously treated tuberculosis no longer neglected. Clin Infect Dis 44(1):61–64

3.

Shen X, Yang C, Wu J et al (2017) Recurrent tuberculosis in an urban area in China: relapse or exogenous reinfection? Tuberculosis (Edinb) 103:97–104

4.

Korhonen V, Smit PW, Haanpera M et al (2016) Whole genome analysis of Mycobacterium tuberculosis isolates from recurrent episodes of tuberculosis, Finland, 1995-2013. Clin Microbiol Infect 22(6):549–554

5.

Narayanan S, Swaminathan S, Supply P et al (2010) Impact of HIV infection on the recurrence of tuberculosis in South India. J Infect Dis 201(5):691–703

6.

Sotgiu G, Centis R, Migliori GB (2016) Tuberculosis management and determinants of recurrence. Int J Tuberc Lung Dis 20(1):3–3

7.

Bryant JM, Harris SR, Parkhill J et al (2013) Whole-genome sequencing to establish relapse or re-infection with Mycobacterium tuberculosis: a retrospective observational study. Lancet Respir Med 1(10):786–792

8.

Wang JY, Sun HY, Wang JT et al (2015) Nine- to twelve-month anti-tuberculosis treatment is associated with a lower recurrence rate than 6-9-month treatment in human immunodeficiency virus-infected patients: a retrospective population-based cohort study in Taiwan. PLoS One 10(12):e0144136

9.

Hung CL, Chien JY, Ou CY (2015) Associated factors for tuberculosis recurrence in Taiwan: a nationwide nested case-control study from 1998 to 2010. PLoS One 10(5):e0124822

10.

Blondal K, Viiklepp P, Guethmundsson LJ, Altraja A (2012) Predictors of recurrence of multidrug-resistant and extensively drug-resistant tuberculosis. Int J Tuberc Lung Dis 16(9):1228–1233

11.

Ministry of Health Bureau of Disease Control and Prevention, Ministry of Health Department of Medical Administration, Chinese Center for Disease Control and Prevention (2008) China tuberculosis program implementation guide, 2008th edn.. Peking Union Medical College Press, Beijing

12.

Millet JP, Orcau A, de Olalla PG, Casals M, Rius C, Cayla JA (2019) Tuberculosis recurrence and its associated risk factors among successfully treated patients. J Epidemiol Community Health 63(10):799–804

13.

Pettit AC, Kaltenbach LA, Maruri F et al (2011) Chronic lung disease and HIV infection are risk factors for recurrent tuberculosis in a low-incidence setting. Int J Tuberc Lung Dis 15(7):906–911

14.

Crofts JP, Andrews NJ, Barker RD, Delpech V, Abubakar I (2010) Risk factors for recurrent tuberculosis in England and Wales, 1998-2005. Thorax 65(4):310–314

15.

Dale KD, Globan M, Tay EL, Trauer JM, Trevan PG, Denholm JT (2017) Recurrence of tuberculosis in a low-incidence setting without directly observed treatment: Victoria, Australia, 2002-2014. Int J Tuberc Lung Dis 21(5):550–555

16.

Picon PD, Rizzon CF, Bassanesi SL, Silva LC, Della Giustina Mde L (2011) Retreatment of tuberculosis patients in the city of Porto Alegre, Brazil: outcomes. J Bras Pneumol 37(4):504–511

17.

Tabarsi P, Chitsaz E, Tabatabaei V et al (2011) Revised category II regimen as an alternative strategy for retreatment of category I regimen failure and irregular treatment cases. Am J Ther 18(5):343–349

18.

Huang FL, Jin JL, Chen S et al (2015) MTBDRplus results correlate with treatment outcome in previously treated tuberculosis patients. Int J Tuberc Lung Dis 19(3):319–325 i-ii

19.

Deepa D, Achanta S, Jaju J et al (2013) The impact of isoniazid resistance on the treatment outcomes of smear positive re-treatment tuberculosis patients in the state of Andhra Pradesh, India. PLoS One 8(10):e76189

20.

Mak A, Thomas A, Del Granado M, Zaleskis R, Mouzafarova N, Menzies D (2008) Influence of multidrug resistance on tuberculosis treatment outcomes with standardized regimens. Am J Respir Crit Care Med 178(3):306–312

21.

Furin J, Gegia M, Mitnick C et al (2012) Eliminating the category II retreatment regimen from national tuberculosis programme guidelines: the Georgian experience. Bull World Health Organ 90(1):63–66

22.

World Health Organization (2010) Treatment of tuberculosis: guidelines for national programmes, 4th edn. World Health Organization, Geneva

23.

Xia Y, Goel S, Harries AD et al (2014) Prevalence of extended treatment in pulmonary tuberculosis patients receiving first-line therapy and its association with recurrent tuberculosis in Beijing, China. Trans R Soc Trop Med Hyg 108(7):402–407

24.

Ormerod LP, Prescott RJ (1991) Inter-relations between relapses, drug regimens and compliance with treatment in tuberculosis. Respir Med 85(3):239–242

25.

Piubello A, Harouna SH, Souleymane MB et al (2014) High cure rate with standardised short-course multidrug-resistant tuberculosis treatment in Niger: no relapses. Int J Tuberc Lung Dis 18(10):1188–1194

26.

Hu Y, Liu A, Ortega-Muro F, Alameda-Martin L, Mitchison D, Coates A (2015) High-dose rifampicin kills persisters, shortens treatment duration, and reduces relapse rate in vitro and in vivo. Front Microbiol 6:641

27.

Ahmad Khan F, Gelmanova IY, Franke MF et al (2016) Aggressive regimens reduce risk of recurrence after successful treatment of MDR-TB. Clin Infect Dis 63(2):214–220

28.

Sonnenberg P, Murray J, Glynn JR, Shearer S, Kambashi B, Godfrey-Faussett P (2001) HIV-1 and recurrence, relapse, and reinfection of tuberculosis after cure: a cohort study in South African mineworkers. Lancet 358(9294):1687–1693

29.

Huyen MN, Buu TN, Tiemersma E et al (2013) Tuberculosis relapse in Vietnam is significantly associated with Mycobacterium tuberculosis Beijing genotype infections. J Infect Dis 207(10):1516–1524

30.

Kim L, Moonan PK, Heilig CM, Yelk Woodruff RS, Kammerer JS, Haddad MB (2016) Factors associated with recurrent tuberculosis more than 12 months after treatment completion. Int J Tuberc Lung Dis 20(1):49–56

31.

Jimenez-Corona ME, Cruz-Hervert LP, Garcia-Garcia L et al (2013) Association of diabetes and tuberculosis: impact on treatment and post-treatment outcomes. Thorax 68(3):214–220

32.

Choi H, Lee M, Chen RY et al (2014) Predictors of pulmonary tuberculosis treatment outcomes in South Korea: a prospective cohort study, 2005-2012. BMC Infect Dis 14:360

33.

Baker MA, Harries AD, Jeon CY et al (2011) The impact of diabetes on tuberculosis treatment outcomes: a systematic review. BMC Med 9:81

34.

Lee PH, Lin HC, Huang ASE, Wei SH, Lai MS, Lin HH (2014) Diabetes and risk of tuberculosis relapse: nationwide nested case-control study. PLoS One 9(3)
Acknowledgments
We would like to thank all participants from Guangdong Center for Tuberculosis Control and prevention, Tianjin Center for Tuberculosis Control, Affiliated Hospital of Zunyi Medical College, Beijing Research Institute for Tuberculosis Control, The 309th Hospital of Chinese People's Liberation Army, First Affiliated Hospital, Chongqing Medical University, Shenyang Chest Hospital, First Affiliated Hospital, Xinxiang Medical University, Henan Center for Disease Control and Prevention, Heilongjiang institute for tuberculosis control and prevention, Zhejiang Center for Disease Control and Prevention, Harbin Chest Hospital, Inner Mongolia Fourth Hospital, Jingzhou Infectious Disease Hospital, Jingmen Center for Tuberculosis Prevention and Control, The Third People's Hospital of Baotou City, The Fourth Hospital of Tangshan, The Third Hospital of Qinhuangdao, Beijing Geriatric Hospital, Xuzhou Infectious Disease Hospital, and Jingmei Group General Hospital in the present study for their hard work.
Financial support
This study was supported by the National Science and Technology Major Project of China (2008ZX10003-009).
Ethics declarations
Ethics approval was granted by the Institutional Ethics Review Committee of Beijing Tuberculosis and Thoracic Tumor Research Institute, and the nine regions TB Control and Prevention Centers (TB special hospital) in China. A written informed consent was obtained from eligible patients prior to interview.
Conflict of interest
The authors declare that they have no competing interests.
Additional information
Publisher's note
Springer Nature remains neutral with regard to jurisdictional claims in published maps and institutional affiliations.
Electronic supplementary material
About this article
Cite this article
Du, J., Zhang, L., Ma, Y. et al. Treatment and recurrence on re-treatment tuberculosis patients: a randomized clinical trial and 7-year perspective cohort study in China. Eur J Clin Microbiol Infect Dis 39, 93–101 (2020). https://doi.org/10.1007/s10096-019-03696-8
Received:

Accepted:

Published:

Issue Date:
Keywords
Re-treatment TB

Re-treatment regimen

Therapeutic effects

Recurrence