Abstract
The clinical utility of therapeutic drug monitoring in tuberculosis has not been adequately evaluated by controlled clinical trials. To examine the relationship between slow culture conversion and peak plasma rifampicin level (Cmax-rfm) in a case-control study, patients with persistence of positive sputum smear despite at least 8 weeks of directly observed treatment with standard pyrazinamide-containing regimens were enrolled prospectively in government chest clinics from 16 December 2005 to 15 November 2006. Patients with multidrug-resistant tuberculosis, human immunodeficiency virus infection, or poor treatment adherence were excluded. Cases referred to patients with persistence of positive culture whereas controls had negative culture despite positive smear. Blood was checked at 2 and 4 hours post-dosing to capture Cmax-rfm. A cohort of 88 patients was identified. After excluding 16 patients, there were 36 controls and 36 cases. None had symptoms of malabsorption. Cmax-rfm was below 6 mg/l among 47% of controls and 44% of cases. Univariate and multiple logistic regression analyses showed no significant association between slow culture conversion and Cmax-rfm after logarithmic transformation. Thus, there is probably no association between Cmax-rfm and slow culture conversion.
This is a preview of subscription content, log in to check access.
Access options
Buy single article
Instant access to the full article PDF.
US$ 39.95
Price includes VAT for USA
Subscribe to journal
Immediate online access to all issues from 2019. Subscription will auto renew annually.
US$ 99
This is the net price. Taxes to be calculated in checkout.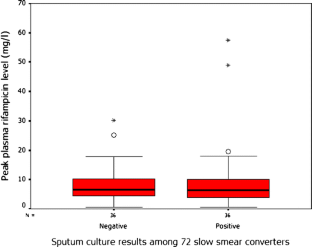 References
1.

Peloquin CA (2002) Therapeutic drug monitoring in the treatment of tuberculosis. Drugs 62:2169–2183

2.

Heifets L (1988) Qualitative and quantitative drug-susceptibility tests in mycobacteriology. Am Rev Respir Dis 137:1217–1222

3.

Kimerling ME, Phillips P, Patterson P, Hall M, Robinson CA, Dunlap NE (1998) Low serum antimycobacterial drug levels in non-HIV-infected tuberculosis patients. Chest 113:1178–1183

4.

Mehta JB, Shantaveerapa H, Byrd Jr. RP, Morton SE, Fountain F, Roy TM (2001) Utility of rifampin blood levels in the treatment and follow-up of active pulmonary tuberculosis in patients who were slow to respond to routine directly observed therapy. Chest 120:1520–1524

5.

Ray J, Gardiner I, Marriott D (2003) Managing antituberculosis drug therapy by therapeutic drug monitoring of rifampicin and isoniazid. Intern Med J 33:229–234

6.

Tappero JW, Bradford WZ, Agerton TB, Hopewell P, Reingold AL, Lockman S, Oyewo A, Talbot EA, Kenyon TA, Moeti TL, Moffat HJ, Peloquin CA (2005) Serum concentrations of antimycobacterial drugs in patients with pulmonary tuberculosis in Botswana. Clin Infect Dis 41:461–469

7.

Nijland HM, Ruslami R, Stalenhoef JE, Nelwan EJ, Alisjahbana B, Nelwan RH, van der Ven AJ, Danusantoso H, Aarnoutse RE, van Crevel R (2006) Exposure to rifampicin is strongly reduced in patients with tuberculosis and type 2 diabetes. Clin Infect Dis 43:848–854

8.

Jayaram R, Gaonkar S, Kaur P, Suresh BL, Mahesh BN, Jayashree R, Nandi V, Bharat S, Shandil RK, Kantharaj E, Balasubramanian V (2003) Pharmacokinetics-pharmacodynamics of rifampin in an aerosol infection model of tuberculosis. Antimicrob Agents Chemother 47:2118–2124

9.

Weiner M, Burman W, Vernon A, Benator D, Peloquin CA, Khan A, Weis S, King B, Shah N, Hodge T; Tuberculosis Trials Consortium (2003) Low isoniazid concentrations and outcome of tuberculosis treatment with once-weekly isoniazid and rifapentine. Am J Respir Crit Care Med 167:1341–1347

10.

Chan C (1988) A systematic approach for the simultaneous assay of some anti-tuberculous drug in CSF and plasma by liquid chromatography. J Liq Chromatogr 11:1051–1073

11.

Kim TC, Blackman RS, Heatwole KM, Kim T, Rochester DF (1984) Acid fast bacilli in sputum smears of patients with pulmonary tuberculosis: prevalence and significance of negative smears pretreatment and positive smears post-treatment. Am Rev Respir Dis 129:264–268

12.

Benator D, Bhattacharya M, Bozeman L, Burman W, Cantazaro A, Chaisson R, Gordin F, Horsburgh CR, Horton J, Khan A, Lahart C, Metchock B, Pachucki C, Stanton L, Vernon A, Villarino ME, Wang YC, Weiner M, Weis S; Tuberculosis Trials Consortium (2002) Rifapentine and isoniazid once a week versus rifampicin and isoniazid twice a week for treatment of drug-susceptible pulmonary tuberculosis in HIV-negative patients: a randomized clinical trial. Lancet 360:528–534

13.

Mitchison DA (1993) Assessment of new sterilizing drugs for treating pulmonary tuberculosis by culture at 2 months. Am Rev Respir Dis 147:1062–1063

14.

Al-Moamary MS, Black W, Bessuille E, Elwood RK, Vedal S (1999) The significance of the persistent presence of acid-fast bacilli in sputum smears in pulmonary tuberculosis. Chest 116:726–731

15.

Chang KC, Leung CC, Yew WW, Ho SC, Tam CM (2004) A nested case-control study on treatment-related risk factors for early relapse of tuberculosis. Am J Respir Crit Care Med 170:1124–1130

16.

Chang KC, Leung CC, Yew WW, Chan SL, Tam CM (2006) Dosing schedules of 6-month regimens and relapse for pulmonary tuberculosis. Am J Respir Crit Care Med 174:1153–1158

17.

Acocella G (1978) Clinical pharmaocokinetics of rifampicin. Clin Pharmacokinet 3:108–127

18.

Long MW, Snider Jr. DE, Farer LS (1979) US Public Health Service Cooperative trial of three rifampin-isoniazid regimens in treatment of pulmonary tuberculosis. Am Rev Respir Dis 119:879–894

19.

Donald PR, Sirgel FA, Botha FJ, Seifart HI, Parkin DP, Vandenplas ML, Van de Wal BW, Maritz JS, Mitchison DA (1997) The early bactericidal activity of isoniazid related to its dose size in pulmonary tuberculosis. Am J Respir Crit Care Med 156:895–900

20.

Burman WJ (2003) The hunt for the elusive surrogate marker of sterilizing activity in tuberculosis treatment. Am J Respir Crit Care Med 167:1299–1301

21.

Kradolfer F (1968) Relationships between chemotherapeutic activity and blood concentration of rifampin in murine tuberculosis. Am Rev Respir Dis 98:104–106
Acknowledgements
The authors would like to thank all colleagues in the Hong Kong Tuberculosis and Chest Service for their invaluable assistance in enrolling the study cohort.
About this article
Cite this article
Chang, K., Leung, C., Yew, W. et al. Peak plasma rifampicin level in tuberculosis patients with slow culture conversion. Eur J Clin Microbiol Infect Dis 27, 467–472 (2008). https://doi.org/10.1007/s10096-007-0454-6
Received:

Accepted:

Published:

Issue Date:
Keywords
Rifampicin

Therapeutic Drug Monitoring

Multiple Logistic Regression Analysis

Logarithmic Transformation

Rifapentine