Abstract
Objective
Orthostatic hypotension (OH) is a common non-motor sign of Parkinson's disease (PD). Several epidemiological studies have estimated the association between OH and PD with controversial results. Here, a meta-analysis was conducted to evaluate the association between them.
Methods
PubMed, Embase, Web of Science, CNKI (Chinese National Knowledge Infrastructure), VIP (Database of Chinese Scientific and Technical Periodicals), and Wanfang databases were searched for eligible publications from October 2003 to December 2017. Prevalence numbers from studies were pooled using a non-linear random-effects meta-analysis. Random effect model was used to calculate the pooled odds ratio (OR) with 95% confidence intervals (CIs) from individual studies. Publication bias was estimated by Egger's test, Begg's test, and the funnel plot.
Results
Nineteen studies involving 1620 PD patients and 898 healthy controls were included in this meta-analysis. The pooled estimate of the prevalence of OH in PD was 27.7% compared with 7.9% of that in control. The pooled OR of OH with PD was 4.343 (95% CI 3.323–5.676) with a low heterogeneity (I2 = 12.5%, Pheterogeneity = 0.301).
Conclusion
In the present meta-analysis, the pooled OR of OH with PD was 4.343 (95% CI 3.323–5.676) with a low heterogeneity, which showed a significant association between OH and increased risk of PD.
This is a preview of subscription content, log in to check access.
Access options
Buy single article
Instant access to the full article PDF.
US$ 39.95
Price includes VAT for USA
Subscribe to journal
Immediate online access to all issues from 2019. Subscription will auto renew annually.
US$ 99
This is the net price. Taxes to be calculated in checkout.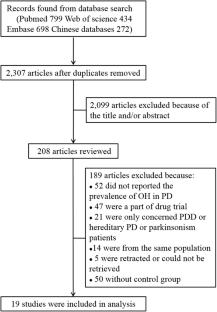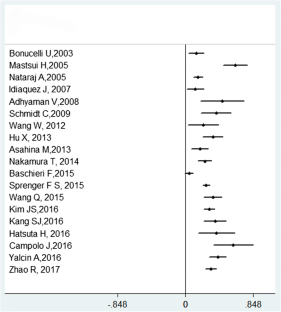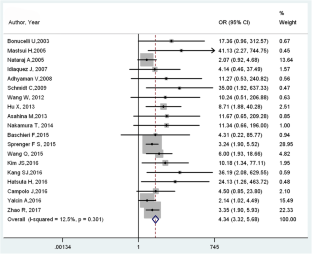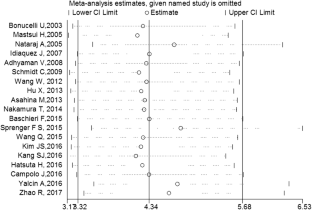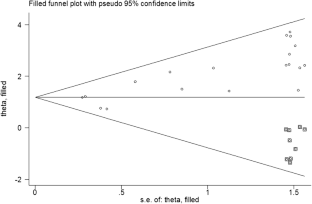 Abbreviations
PD:

Parkinson's disease

OH:

Orthostatic hypotension

OR:

Odds ratio

CIs:

Confidence intervals

RRs:

Relative risks

HRs:

Hazard ratios
References
1.

Jiang H, Song N, Jiao Q, Shi L, Du X (2019) Iron pathophysiology in Parkinson diseases. Adv Exp Med Biol 1173:45–66

2.

Elkouzi A, Vedam-Mai V, Eisinger RS, Okun MS (2019) Emerging therapies in Parkinson disease - repurposed drugs and new approaches. Nat Rev Neurol 15:204–223

3.

Buob A, Winter H, Kindermann M, Becker G, Moller JC, Oertel WH et al (2010) Parasympathetic but not sympathetic cardiac dysfunction at early stages of Parkinson's disease. Clin Res Cardiol 99:701–706

4.

Wang W, Song N, Jia F, Tang T, Bao W, Zuo C et al (2018) Genomic DNA levels of mutant alpha-synuclein correlate with non-motor symptoms in an A53T Parkinson's disease mouse model. Neurochem Int 114:71–79

5.

Chaudhuri KR, Healy DG, Schapira AH (2006) Non-motor symptoms of Parkinson's disease: diagnosis and management. Lancet Neurol 5:235–245

6.

(1996) Consensus statement on the definition of orthostatic hypotension, pure autonomic failure, and multiple system atrophy. The Consensus Committee of the American Autonomic Society and the American Academy of Neurology. Neurology 46: 1470

7.

Shaw BH, Claydon VE (2014) The relationship between orthostatic hypotension and falling in older adults. Clin Auton Res 24:3–13

8.

Cersosimo MG, Benarroch EE (2012) Autonomic involvement in Parkinson's disease: pathology, pathophysiology, clinical features and possible peripheral biomarkers. J Neurol Sci 313:57–63

9.

Papapetropoulos S, Paschalis C, Athanassiadou A, Papadimitriou A, Ellul J, Polymeropoulos MH et al (2001) Clinical phenotype in patients with alpha-synuclein Parkinson's disease living in Greece in comparison with patients with sporadic Parkinson's disease. J Neurol Neurosurg Psychiatry 70:662–665

10.

Goldstein DS, Holmes C, Bentho O, Sato T, Moak J, Sharabi Y et al (2008) Biomarkers to detect central dopamine deficiency and distinguish Parkinson disease from multiple system atrophy. Parkinsonism Relat Disord 14:600–607

11.

Velseboer DC, de Haan RJ, Wieling W, Goldstein DS, de Bie RM (2011) Prevalence of orthostatic hypotension in Parkinson's disease: a systematic review and meta-analysis. Parkinsonism Relat Disord 17:724–729

12.

Song F, Gilbody S (1998) Bias in meta-analysis detected by a simple, graphical test. Increase in studies of publication bias coincided with increasing use of meta-analysis. Bmj 316:471

13.

Bonuccelli U, Lucetti C, Del Dotto P, Ceravolo R, Gambaccini G, Bernardini S et al (2003) Orthostatic hypotension in de novo Parkinson disease. Arch Neurol 60:1400–1404

14.

Matsui H, Nishinaka K, Oda M, Komatsu K, Kubori T, Udaka F (2006) Does cardiac metaiodobenzylguanidine (MIBG) uptake in Parkinson's disease correlate with major autonomic symptoms? Parkinsonism Relat Disord 12:284–288

15.

Nataraj A, Rajput AH (2005) Parkinson's disease, stroke, and related epidemiology. Mov Disord 20:1476–1480

16.

Idiaquez J, Benarroch EE, Rosales H, Milla P, Rios L (2007) Autonomic and cognitive dysfunction in Parkinson's disease. Clin Auton Res 17:93–98

17.

Adhiyaman V, Hobson P, Meara RJ (2008) Central and peripheral autonomic integrity in Parkinson's disease. Age Ageing 37:578–581

18.

Schmidt C, Herting B, Prieur S, Junghanns S, Schweitzer K, Globas C et al (2009) Valsalva manoeuvre in patients with different Parkinsonian disorders. J Neural Transm (Vienna) 116:875–880

19.

Wang W, Zhang QH, Zhao HQ (2012) Variability of blood pressure and heart rate in patients with Parkinson's disease in Thulesius test. Chin J Hemorh:582–585

20.

Hu X, Li ZH, Liu WG, Yan FL (2013) Related risk factors of orthostatic hypotension and postprandial hypotension of Parkinson disease. J Clin Neurol:260–263

21.

Asahina M, Low DA, Mathias CJ, Fujinuma Y, Katagiri A, Yamanaka Y, Shimada J, Poudel A, Kuwabara S (2013) Skin temperature of the hand in multiple system atrophy and Parkinson's disease. Parkinsonism Relat Disord 19:560–562

22.

Nakamura T, Hirayama M, Hara T, Mizutani Y, Suzuki J, Watanabe H, Sobue G (2014) Role of cardiac sympathetic nerves in preventing orthostatic hypotension in Parkinson's disease. Parkinsonism Relat Disord 20:409–414

23.

Baschieri F, Calandra-Buonaura G, Doria A, Mastrolilli F, Palareti A, Barletta G, Solieri L, Guaraldi P, Martinelli P, Cortelli P (2015) Cardiovascular autonomic testing performed with a new integrated instrumental approach is useful in differentiating MSA-P from PD at an early stage. Parkinsonism Relat Disord 21:477–482

24.

Sprenger FS, Seppi K, Djamshidian A, Reiter E, Nocker M, Mair K, Göbel G, Poewe W (2015) Nonmotor symptoms in subjects without evidence of dopaminergic deficits. Mov Disord 30:976–981

25.

Wang Q (2015) The studies of autonomic dysfunctions in Parkinson's patients

26.

Kim JS, Lee SH, Oh YS, Park JW, An JY, Park SK, Han SR, Lee KS (2016) Cardiovascular autonomic dysfunction in mild and advanced Parkinson's disease. J Mov Disord 9:97–103

27.

Kang SJ, Ahn JY, Kim JS, Cho JW, Kim JY, Choi YY, Kim HT (2016) 24-hour ambulatory blood pressure monitoring in SWEDDs patients with parkinsonism. Can J Neurol Sci 43:390–397

28.

Hatsuta H, Takao M, Nakano Y, Nogami A, Uchino A, Sumikura H et al (2016) Reduction of small fibers of thoracic ventral roots and neurons of Intermediolateral nucleus in Parkinson disease and dementia with Lewy bodies. J Park Dis 6:325–334

29.

Campolo J, De Maria R, Cozzi L, Parolini M, Bernardi S, Proserpio P et al (2016) Antioxidant and inflammatory biomarkers for the identification of prodromal Parkinson's disease. J Neurol Sci 370:167–172

30.

Yalcin A, Atmis V, Cengiz OK, Cinar E, Aras S, Varli M, Atli T (2016) Evaluation of cardiac autonomic functions in older Parkinson's disease patients: a cross-sectional study. Aging Dis 7:28–35

31.

Zhao R, Tian T, Ji YF, Hu WT, Liu X, Yang Q et al (2017) Clinical analysis of the prevalence of orthostatic hypotension and related risk factors in 189 patients with Parkinson's disease. J Apoplexy Nervous Disease:242–246

32.

Jiang H, Wang J, Rogers J, Xie J (2017) Brain Iron metabolism dysfunction in Parkinson's disease. Mol Neurobiol 54:3078–3101

33.

Sulzer D, Edwards RH (2019) The physiological role of alpha-synuclein and its relationship to Parkinson's disease. J Neurochem 150:475–486

34.

Zhang Z, Shi L, Du X, Jiao Q, Jiang H (2017) Acute action of rotenone on excitability of catecholaminergic neurons in rostral ventrolateral medulla. Brain Res Bull 134:151–161

35.

Wang Y, Chen AQ, Xue Y, Liu MF, Liu C, Liu YH, Pan YP, Diao HL, Chen L (2019) Orexins alleviate motor deficits via increasing firing activity of pallidal neurons in a mouse model of Parkinson's disease. Am J Physiol Cell Physiol 317:C800–C812

36.

Sharabi Y, Goldstein DS (2011) Mechanisms of orthostatic hypotension and supine hypertension in Parkinson disease. J Neurol Sci 310:123–128

37.

Handa SP, Wong J, Wolf HK (1995) The relationship of plasma norepinephrine levels and aortic distensibility in elderly with isolated systolic hypertension. Am J Hypertens 8:422–425

38.

Wullner U, Schmitz-Hubsch T, Antony G, Fimmers R, Spottke A, Oertel WH et al (2007) Autonomic dysfunction in 3414 Parkinson's disease patients enrolled in the German Network on Parkinson's disease (KNP e.V.): the effect of ageing. Eur J Neurol 14:1405–1408

39.

Perez-Lloret S, Rey MV, Fabre N, Ory F, Spampinato U, Senard JM, Pavy-le Traon A, Montastruc JL, Rascol O (2012) Factors related to orthostatic hypotension in Parkinson's disease. Parkinsonism Relat Disord 18:501–505

40.

Perlmuter LC, Sarda G, Casavant V, Mosnaim AD (2013) A review of the etiology, associated comorbidities, and treatment of orthostatic hypotension. Am J Ther 20:279–291

41.

Jamnadas-Khoda J, Koshy S, Mathias CJ, Muthane UB, Ragothaman M, Dodaballapur SK (2009) Are current recommendations to diagnose orthostatic hypotension in Parkinson's disease satisfactory? Mov Disord 24:1747–1751

42.

Ziemssen T, Reichmann H (2010) Cardiovascular autonomic dysfunction in Parkinson's disease. J Neurol Sci 289:74–80

43.

Fereshtehnejad SM, Lokk J (2014) Orthostatic hypotension in patients with Parkinson's disease and atypical parkinsonism. Parkinsons Dis 2014:475854
Funding
This work financially supported by the National Foundation of Natural Science of China (31771110, 31701020), Shandong Province Natural Science Foundation (ZR2019ZD31), the National Key Research and Development Program of China (2016YFC1306501), the Key Research and Development Program of Shandong Province (2018GSF118042), and Taishan Scholars Construction Project and Innovative Research Team of High-Level Local Universities in Shanghai.
Ethics declarations
Conflict of interest
The authors declare that they have no conflict of interest.
Additional information
Publisher's note
Springer Nature remains neutral with regard to jurisdictional claims in published maps and institutional affiliations.
About this article
Cite this article
Mu, F., Jiao, Q., Du, X. et al. Association of orthostatic hypotension with Parkinson's disease: a meta-analysis. Neurol Sci (2020). https://doi.org/10.1007/s10072-020-04277-w
Received:

Accepted:

Published:
Keywords
Parkinson's disease

Orthostatic hypotension

Meta-analysis

Odds ratio