Abstract
Purpose
Symptomatic Chiari type I malformation (CM) is treated with posterior fossa decompression with/ without duroplasty. Few authors suggested cerebellar tonsil caudal migration due to a supposed "caudal traction" of cranial nerve structures in a so-called occult tethered cord syndrome. For these authors, filum terminale (FT) sectioning may improve CM symptoms. The objective of this review is to evaluate the effect of FT sectioning on the treatment of CM.
Methods
Using the PRISMA guidelines for systematic reviews, we reviewed studies to evaluate patient's outcomes with CM who underwent FT sectioning. The MINORS instrument was used for methodological quality assessment. The included studies' levels of evidence (LOE) were classified according to the Oxford Centre of Evidence-Based Medicine.
Results
Two studies from the same group of authors were included. We cannot assure if the cited cases in the first study were also included in their latter published study. The described results suggest that outcomes were not collected in a standardized fashion. Outcomes are described vaguely as a percentage of improvement. Case series samples were small and included not only patients with CM but also patients with scoliosis and syringomyelia. The MINORS score reported that both studies had low methodological quality. Both included studies were classified as level 4 of evidence.
Conclusion
There is no scientific support for filum terminale sectioning in patients with CM without evidence of tethered cord. This procedure may be considered experimental and should be validated in a strict criterion of inclusion clinical trial comparing outcomes in posterior fossa decompression.
This is a preview of subscription content, log in to check access.
Access options
Buy single article
Instant access to the full article PDF.
US$ 39.95
Price includes VAT for USA
Subscribe to journal
Immediate online access to all issues from 2019. Subscription will auto renew annually.
US$ 99
This is the net price. Taxes to be calculated in checkout.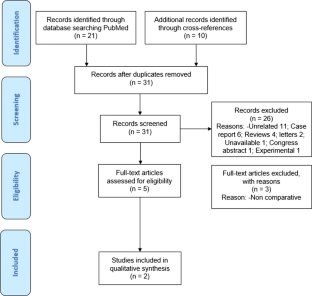 Abbreviations
MINORS:

Methodological index analysis for non-randomized studies

PRISMA:

Preferred Reporting Items for Systematic Reviews and Meta-Analysis
References
1.

Bejjani GK (2001) Definition of the adult Chiari malformation: a brief historical overview. Neurosurg Focus 11(1):E1

2.

Steinmetz MP, Benzel EC (2003) Surgical management of Chiari malformation. Neurosurg Q 13:105–112

3.

McRae DL (1960) The significance of abnormalities of the cervical spine. Caldwell lecture 1959. Am J Roentgenol 84:3–25

4.

Nishikawa M, Sakamoto H, Hakuba A, Nakanishi N, Inoue Y (1997) Pathogenesis of Chiari malformation: a morphometric study of the posterior cranial fossa. J Neurosurg 86:40–47

5.

Schady W, Metcalfe RA, Butler P (1987) The incidence of craniocervical bony anomalies in the adult Chiari malformation. J Neurol Sci 82:193–203

6.

Milhorat TH, Nishikawa M, Kula RW, Dlugacz YD (2010) Mechanisms of cerebellar tonsil herniation in patients with Chiari malformations as guide to clinical management. Acta Neurochir 152:1117–1127

7.

Karagöz F, Izgi N, Kapíjcíjoğlu Sencer S (2002) Morphometric measurements of the cranium in patients with Chiari type I malformation and comparison with the normal population. Acta Neurochir 144:165–171

8.

de Oliveira SU, de Oliveira MF, Heringer LC, Barcelos ACES, Botelho RV (2018) The effect of posterior fossa decompression in adult Chiari malformation and basilar invagination: a systematic review and meta-analysis. Neurosurg Rev 41:311–321

9.

Royo-Salvador MB (1997) A new surgical treatment for syringomyelia, scoliosis, Arnold-Chiari malformation, kinking of the brainstem, odontoid recess, idiopathic basilar impression and platybasia. Rev Neurol 25:523–530

10.

Royo-Salvador MB, Solé-Llenas J, Doménech JM, González-Adrio R (2005) Results of the section of the filum terminale in 20 patients with syringomyelia, scoliosis and Chiari malformation. Acta Neurochir 147:515–523

11.

Tubbs RS, Oakes WJ (2004) Can the conus medullaris in normal position be tethered? Neurol Res 26:727–731

12.

Massimi L, Peraio S, Peppucci E, Tamburrini G, Di Rocco C (2011) Section of the filum terminale: is it worthwhile in Chiari type I malformation? Neurol Sci 32:S349–S351

13.

Slim K, Nini E, Forestier D, Kwiatkowski F, Panis Y, Chipponi J (2003) Methodological index for non-randomized studies (minors): development and validation of a new instrument. ANZ J Surg 73:712–716

14.

Levels of Evidence and Grades of Recommendations - Oxford Centre of Evidence-Based Medicine. Available at: http://www.cebm.net/oxford-centre-evidence-based-medicine-levelsevidence-march-2009/. Accessed September, 2017

15.

Moher D, Liberati A, Tetzlaff J, Altman DG, The PRISMA Group (2009) Preferred reporting items for systematic reviews and meta-analyses: the PRISMA statement. PLoS Med 6:e1000097

16.

Garceau GJ (1953) The filum terminale syndrome (the cord-traction syndrome). J Bone Joint Surg Am 35:711–716

17.

Hoffman HJ, Hendrick EB, Humphreys RP (1976) The tethered spinal cord: its protean manifestations, diagnosis and surgical correction. Childs Brain 2:145–155

18.

Bale PM (1984) Sacrococcygeal developmental abnormalities and tumors in children. Perspect Pediatr Pathol 8:9–56

19.

Sarwar M, Virapongse C, Bhimani S (1984) Primary tethered cord syndrome: a new hypothesis of its origin. AJNR Am J Neuroradiol 5:235–242

20.

Szalay EA, Roach JW, Smith H, Maravilla K, Partain CL (1987) Magnetic resonance imaging of the spinal cord in spinal dysraphisms. J Pediatr Orthop 7:541–545

21.

Royo-Salvador MD (1996) Syringomyelia, scoliosis and idiopathic Arnold-Chiari malformations: a common etiology. Rev Neurol 24:937–959

22.

Royo-Salvador MD (1999) Etiology and treatment of Chiari I/ syringomyelia complex. Rev Neurol 28:1218

23.

Jindal A, Mahapatra AK (2000) Spinal lipomatous malformations. Indian J Pediatr 67:342–346

24.

Sicuranza GB, Steinberg P, Figueroa R (2003) Arnold-Chiari malformation in a pregnant woman. Obstet Gynecol 102:1191–1194

25.

Haberl H, Tallen G, Michael T, Hoffmann KT, Benndorf G, Brock M (2004) Surgical aspects and outcome of delayed tethered cord release. Zentralbl Neurochir 65:161–167

26.

Rossi A, Cama A, Piatelli G, Ravegnani M, Biancheri R, Tortori-Donati P (2004) Spinal dysraphism: MR imaging rationale. J Neuroradiol 31:3–24

27.

Rinaldi F, Cioffi FA, Columbano L, Krasagakis G, Bernini FP (2005) Tethered cord syndrome. J Neurosurg Sci 49:131–135

28.

Abel TJ, Chowdhary A, Gabikian P, Ellenbogen RG, Avellino AM (2006) Acquired Chiari malformation type I associated with a fatty terminal filum. Case report. J Neurosurg 105:329–332

29.

Nakai H, Kunimoto M, Daita G, Fujita T, Yoshida K, Sako K et al (1992) A septated syringomyelia with a dramatic clinical course in a young patient with MELAS; a case report. No Shinkei Geka 20:793–798

30.

Tubbs RS, Oakes WJ (2006) Chiari I malformation, caudal regression syndrome, and Pierre Robin syndrome: a previously unreported combination. Childs Nerv Syst 22:1507–1508

31.

Tubbs RS, Loukas M, Shoja MM, Oakes WJ (2007) Observations at the craniocervical junction with simultaneous caudal traction of the spinal cord. Childs Nerv Syst 23:367–369

32.

Deeg KH, Lode HM, Gassner I (2008) Spinal sonography in newborns and infants – part II: spinal dysraphism and tethered cord. Ultraschall Med 29:77–88

33.

Milhorat TH, Bolognese PA, Nishikawa M, Francomano CA, McDonnell NM, Roonprapunt C et al (2009) Association of Chiari malformation type I and tethered cord syndrome: preliminary results of sectioning filum terminale. Surg Neurol 72:20–35

34.

Kıymaz N, Yılmaz N, Güdü BO, Demir I, Kozan A (2010) Cervical spinal dysraphism. Pediatr Neurosurg 46:351–356

35.

Chern JJ, Dauser RC, Whitehead WE, Curry DJ, Luerssen TG, Jea A (2011) The effect of tethered cord release on coronal spinal balance in tight filum terminale. Spine (Phila Pa 1976) 36:E944–E949

36.

Klekamp J (2011) Tethered cord syndrome in adults. J Neurosurg Spine 15:258–270

37.

Kulwin CG, Patel NB, Ackerman LL, Smith JL, Boaz JC, Fulkerson DH (2013) Radiographic and clinical outcome of syringomyelia in patients treated for tethered cord syndrome without other significant imaging abnormalities. J Neurosurg Pediatr 11:307–312

38.

Glenn C, Cheema AA, Safavi-Abbasi S, Gross NL, Martin MD, Mapstone TB (2015) Spinal cord detethering in children with tethered cord syndrome and Chiari type 1 malformations. J Clin Neurosci 22:1749–1752

39.

Smith B, Strahle J, Garton H, Muraszko K, Maher C (2015) The association between Chiari malformation Type-1 and tethered spinal cord in children. Neurosurgery. 62:232

40.

Satyarthee GD (2017) Evolution of different surgical treatment techniques for management and improving outcome of Chiari malformation type 1. World Neurosurg 104:1026–1027

41.

Zhou Y, Zhu L, Lin Y, Cheng H (2017) Chiari type I malformation with occult tethered cord syndrome in a child: a case report. Medicine (Baltimore) 96(40):e8239

42.

Selcuki M, Mete M, Selcuki D (2018) Are herniated cerebellar tonsils the main culprit of Chiari malformation type I symptoms? The brainstem compression hypothesis seems to be re-elucidated and revised. Turk Neurosurg 28:67–71

43.

Jackson C, Yang BW, Bi WL, Chiocca EA, Groff MW (2018) Adult tethered cord syndrome following Chiari decompression. World Neurosurg. 112:205–208

44.

Republic Federative of Brazil – Health Minister. Accessed in 3 Mar 2019. http://bvsms.saude.gov.br/bvs/publicacoes/progestores/leg_sus.pdf

45.

Strong MJ, Thompson EM, Roundy N, Selden NR (2015) Use of lumbar laminoplasty vs. laminotomy for transection of the filum terminale does not affect early complication rates or postoperative course. Childs Nerv Syst 31:597–601

46.

Solmaz I, Izci Y, Albayrak B, Cetinalp E, Kural C, Sengul G et al (2011) Tethered cord syndrome in childhood: special emphasis on the surgical technique and review of the literature with our experience. Turk Neurosurg 21:516–521
Ethics declarations
Conflict of interest
The authors declare that they have no conflict of interest.
Additional information
Publisher's note
Springer Nature remains neutral with regard to jurisdictional claims in published maps and institutional affiliations.
About this article
Cite this article
Milano, J.B., Barcelos, A.C.E.S., Onishi, F.J. et al. The effect of filum terminale sectioning for Chiari 1 malformation treatment: systematic review. Neurol Sci 41, 249–256 (2020). https://doi.org/10.1007/s10072-019-04056-2
Received:

Accepted:

Published:

Issue Date:
Keywords
Chiari

Filum terminale

Sectioning

Outcomes

Systematic review