The diagnosis of dementias: a practical tool not to miss rare causes
Abstract
Dementia represents one of the most diffuse disorders of our Era. Alzheimer's disease is the principle cause of dementia worldwide. Metabolic, infectious, autoimmune, inflammatory, and genetic dementias represent a not negligible number of disorders, with increasing numbers in younger subjects. Due to the heterogeneity of patients and disorders, the diagnosis of dementia is challenging. In the present article, we propose a practical diagnostic approach following the two-step investigation procedure. The first step includes basic blood tests and brain neuroimaging, performed on all patients. After this first-line investigation, it is then possible to rule out metabolic causes of dementia and to identify three main subgroups in dementia: predominant gray matter atrophy, white matter disease, basal ganglia pathologies. The predominant gray matter atrophy subgroup includes neurodegenerative causes of dementia and some lysosomal storage disorders. The white matter subgroup indicates a comprehensive list of vascular dementia causes, mitochondrial diseases, and leukodystrophies. Whereas, the basal ganglia alterations are due to metal accumulation pathologies, such as iron, copper, or calcium. Each category has specific clinical hallmarks, accurately reported in the article, and requires specific second-line investigation. Thus, we indicate the distinct second diagnostic step of each disease. The proposed diagnostic flow-chart follows the clinical reasoning and helps clinicians through the differential diagnosis of dementia.
Keywords
Dementia 
Uncommon dementia 
Rare dementia 
Differential diagnosis 
Practical tool 
Introduction
Dementia is an epidemic phenomenon affecting 44 million individuals worldwide. The prevalence increases with age, from 1% among 65 years old to more than 22% among subjects older than 85 years [1]. Young-onset dementia is not negligible since it represents around 4–10% of all dementias [2]. The etiologies of dementia differ according to the age of disease onset [3]. Nevertheless, neurodegenerative disorders are the leading causes of cognitive decline with a frequency of 80–90% among older patients [4], and 30–34% among patients younger than 45 years [3, 5]. Metabolic, autoimmune, inflammatory, and infective dementias, even if singularly are uncommon, represent around 20% of the young onset cases [5]. Epidemiological data among the elderly population are not available and based only on single case reports. The European Dementia Guidelines [6, 7] already suggest specific approach for each dementia and neurologist are aware of peculiar investigation in different dementia subtype, however, due to the heterogeneity and rarity of diseases, the diagnosis of dementia is challenging, and 20 to 40% of younger patients had no cause identified [2]. The aim of the present article is to provide a practical tool that guides clinicians through the differential diagnosis of dementia. Following the typical first- and second-line investigation procedure, we propose a flow-chart that takes into account all dementia causes. In the paper, we highlight the clinical hallmarks of each disorder that are helpful for the diagnostic suspicion and the differential diagnosis. The diagnosis of rapid progressive dementia is also included. A detailed description of each disorder is beyond the scope of the present article.
Dementia classification
Dementia includes a broad variety of etiology and could be associated with many disorders. Many authors have attempted to provide [3, 8, 9] a comprehensive list of dementia causes, but in our opinion a complete dementia classification is lacking.
Table
1
shows a proposal of common and uncommon dementias classification following etiological and radiological criteria. Among neurodegenerative causes, we select two subgroups of disorders based on clinical features:
Neurodegenerative dementia with peculiar cognitive profile, that includes Alzheimer's disease (AD), fronto-temporal lobar degeneration spectrum (FTLD) corticobasal degeneration (CBD), progressive supranuclear palsy (PSP), Lewy body dementia spectrum (LBD); and

Other neurodegenerative diseases, in which dementia is non-specific or with prominent frontal dysfunction.
Table 1
Classification of dementias
Neurodegenerative diseases
 (a) Specific cognitive profile: Alzheimer disease, Fronto-temporal lobar dementia, Lewy Body Dementia, Corticobasal Degeneration, Progressive Supranucelar Palsy
 (b) Other neurodegenerative dementia whit prominent frontal symptoms: Huntington disease, Autosomal Dominant Spino-Cerebellar Ataxia, Hereditary Spastic Paraparesis, FTAX
Vascular dementia
 (a) Large vessel disease
 (b) Small vessel diseases (hypertensive, sporadic cerebral amyloid angiopathy)
Familial cause of vascular Dementia
CADASIL, CARASIL, COL4A1, RVCL, genetic form of cerebral amyloid angiopathy
Adult-onset Leukodystrophy
Adrenoleukodystrophy, Adult-onset leukoencephalopathy with axonal spheroid and pigmented glia, ovario-leukodystrophy, Cerebrotendinous Xanthomatosis, Pelizaeus-Merzbacher Disease, Alexander disease, Adult polyglucosan body disease, Vanishing white matter disease
Lysosomal storage disorders
 (a) with mainly primary neuronal dysfunction: Gaucher's disease, Niemann-Pick Type C, Kuf's disorder (Neuronal ceroid lipofuscinosis), Tay-Sachs disease
 (b) with primary glial dysfunction and leukoencephalopathy: Krabbe disease Metachromatic leukodystrophy
 (c) with vascular dysfunction: Fabry disease
Mitochondrial pathologies
MELAS, MERFF, Kearn-Sayre Syndrome
Basal Ganglia pathologies
 (a) Degeneration: Wilson disease; Neuroacanthocytoses (Chorea-Acanthocytosis, McLeod Syndrome, HD-like syndrome)
 (b) Accumulation pathologies: Neurodegeneration with iron accumulation (Pantothenate kinase-associated neurodegeneration, PLA2G6, Kufor-Rakeb, Neuropherritinopathy, Aceruloplasminemia), Fahr disease
Infective dementia
HIV, Syphilis, Borrelia, Herpes Simplex, VZV, Prion diseases
Metabolic dementia
hypo and hyperthyroidism, vitamin deficits, hyponatremia, hepatic encephalopathy, uremic encephalopathy
Autoimmune dementia
Multiple Sclerosis, Vasculitis, Limbic Encephalitis, Hashimoto encephalopathy, NMDAR encephalitis
Neurosurgical causes
Neoplasm, Normal Pressure Hydrocephalus, Subdural Hematoma
Two new categories are also suggested: Basal ganglia pathologies and neurosurgical dementia. In the present paper, basal ganglia pathologies are defined by the presence of altered signal in basal ganglia detected by conventional magnetic resonance imaging (MRI): T2 hyperintensity in case of degeneration and T2 hypointensity in case of metal accumulation. We decide to group under the category neurosurgical dementia a heterogeneous group of diseases characterized by structural brain damage that can be surgically treated. This group includes brain tumor, subdural hematoma, and normal pressure hydrocephalus.
First diagnostic step
After the first visit, as suggested by EFNS guidelines [6, 7], neurologists request basic blood test and neuroimaging exams from each patient. Basic blood tests include complete blood counts, serum electrolytes, liver and thyroid function tests, vitamin B12 and folate, cholesterol and triglycerides, glucose, urea, and serum creatinine. Metabolic causes of dementia (hypo and hyperthyroidism, vitamin deficits, hyponatremia, hepatic encephalopathy, uremic encephalopathy) can be immediately ruled out. Then, neuroimaging is necessary to exclude tumor, subdural hematoma, normal-pressure hydrocephalus or major cerebral lesion as in case of previous stroke [6]. To this purpose, computed tomography scan (CT) is sufficient, but magnetic resonance imaging (MRI) is more sensitive and is required in the diagnostic work up of dementia [6, 7].
Once the MRI is performed, we suggested three principle patterns: predominant gray matter atrophy, predominant white matter involvement, presence of peculiar basal ganglia alteration. When atrophy is the principal MRI feature, differential diagnosis is between Neurodegenerative diseases and some Lysosomal storage disorders. White matter disease is associated to a wider number of disorders: vascular dementia, familial form of vascular dementia, leukodystrophy, mitochondrial disease. Infective and autoimmune dementia can present characteristic white matter lesions [
10
,
11
]. Basal ganglia alteration can be caused by neurodegeneration or by metal accumulation. Once a subgroup is identified, it is possible to proceed to the second diagnostic step, which is different in each category (Fig.
1
).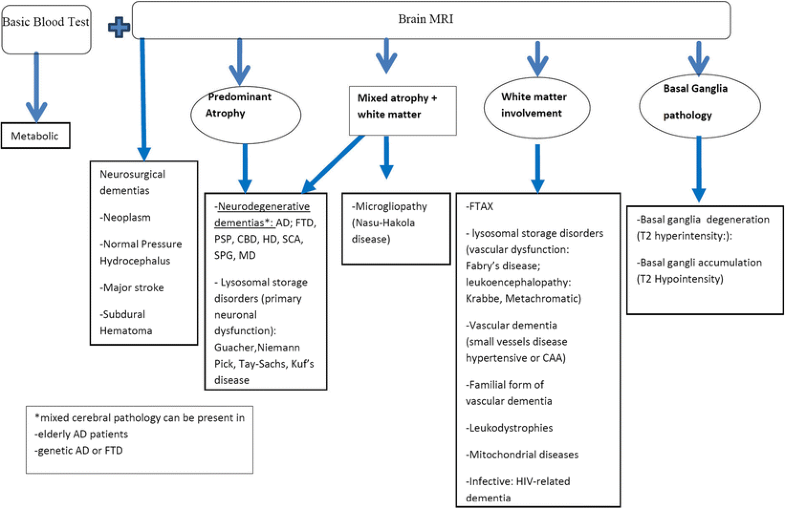 Second diagnostic step (Tables 2, 3, 4, 5)
Neurosurgical dementia: tumor, subdural hematoma, normal pressure hydrocephalus
Normal pressure hydrocephalus (NPH) should be suspected in older patients, when the enlargement of the cerebral ventricles is associated with gait disturbance, urinary incontinence and dementia [
53
]. However, in the elderly, those symptoms are common and to differentiate normal pressure hydrocephalus from brain atrophy can be challenging. According to diagnostic criteria [
54
], MRI or CT must show an Evan's index (maximal ventricular width divided by the largest biparietal distance between the inner tables of the skull) of at least 0.3. Measurement of cerebrospinal fluid (CSF) flow by phase-contrast MRI can support diagnostic suspicion but is insufficient [
6
,
55
] in predicting response to shunting. The CSF tap test, which involves the removal of 30–50 ml of CSF, is useful for the diagnosis and in predicting shunt effectiveness [
56
]. The diagnosis of NPH is important since around 59% of patients ameliorate after the treatment [
54
].
Predominant gray matter atrophy
Neurodegenerative disease (Table 2) with specific cognitive profile: Alzheimer's disease (AD),Fronto temporal dementia (FTD), Lewy body dementia (LBD), Cortico basal degeneration (CBD), Progressive supranuclear palsy (PSP)
Each of these diseases presents a peculiar neuropsychological profile, neurological signs, and pattern of cerebral atrophy. In the typical clinical presentation, the diagnosis can be done following diagnostic criteria [12, 17, 18, 22, 23, 25].
Alzheimer's disease is the most common type of dementia in the general population. It is usually the disorder of the medial temporal lobe, with its first symptoms as memory loss. However, more than 15% of cases [57] have a different focal presentation; language variant, frontal variant (or executive dysfunction), and posterior variant (or visuospatial) [22, 58, 59, 60]. AD non-amnestic subtypes are more often present in younger subjects. Each subtype has been well characterized by clinical and radiological criteria [18, 61]. However, sometimes the first-line investigation is not sufficient in distinguishing AD between the other neurodegenerative diseases. The language variant phenotype overlaps with the FTD, CBD, and PSP spectrum, while the visuospatial variant with LBD. In these cases amyloid biomarkers, CSF or amyloid-PET, are required to confirm AD pathology [12]. In the presence of extrapyramidal signs, LBD, PSP, or CBD should be suspected. The principle hallmarks of each disease are rapid eye movements-behavioral disorders [22, 24] and early hallucination in LBD, supranuclear vertical palsy and falls in PSP [24, 25], and apraxic-dystonic limb in CBD [23, 24]. Neuroimaging atrophic pattern is also helpful, i.e., FTD languages variant, AD language variant, and CBD usually show an asymmetric atrophy [24] (Table 2). A genetic form of AD (10%) and FTD (20%) should be suspected in case of positive family history for dementia, early or atypical clinical presentation. It is important to note that AD-genetic mutations can be often associated with atypical frontal-cognitive phenotype and with myoclonus, cerebellar ataxia, or spastic paraparesis [5, 62].
Other neurodegenerative diseases (Table 3): Huntington disease (HD), autosomal dominant cerebellar ataxia (SCA), hereditary spastic paraparesis (HSP), myotonic dystrophies
This group includes autosomal dominant diseases, and the diagnosis is always based on genetic mutation. Besides dementia, that is usually of the frontal type, choreiform movements and psychiatric symptoms are the hallmarks of HD, SCA 17, and Dentato-Pallido-Rubro-Luysian atrophy (DPRL) [26, 27, 28, 29]. They share part of the pathogenetic mechanism being polyglutamate disorders. To guide clinicians in differential diagnosis, we highlight that SCA 17 and DPRL present a more catastrophic clinical picture, with seizures. More than are very rare and mostly described in Japanese families [28, 29]. Furthermore, on MRI imaging HD is characterized by atrophy of the head of the caudate nucleus, while SCAs has atrophy of the cerebellum. Dementia and cerebellar ataxia are the main feature of SCA 8 and SCA 13 [29]. Dementia has not been described in the other SCAs, and is present only in the hereditary spastic paraparesis associated with the SPG4 mutation [30].
Lysosomal storage disorders with mainly primary neuronal dysfunctions (Table 3): Niemann Pick, Kuf's disease, Tay–Sachs disease, Gaucher disease
The above diseases are autosomal recessive disorders with clinical onset in infancy and with systemic involvement, but sometimes are responsible for dementia syndrome among young-adult subjects (20–60 years). Typical clinical symptoms are reported in Table 3. The second diagnostic step includes the amount of specific enzyme activity. Supranuclear gaze palsy is typical of Gaucher type 3 and Niemann-Pick type C, horizontal and vertical palsy respectively [32, 33]. Akinetic-rigid syndrome, poorly responsive to dopa therapy, is described in Gaucher type 3 cases, while cerebellar ataxia is present in Niemann-Pick type C, Tay-Sachs and Kuf's disease [32, 33, 34, 35]. Kuf's disease presents variable motor signs and is characterized by facial dyskinesia [35]. The adult onset form of Tay-Sachs could be phenotypical as an ataxia Friedreich-like syndrome or a progressive spinal amyotrophy [34]. Hepatosplenomegaly should be investigated in Gaucher and Niemann Pick Disorders.
To summarize:
Language disorders: AD, FTD, CBD, PSP

Visuospatial deficit: AD, LBD

Apraxia: AD, CBD, PSP

Parkinsonian symptoms: LBD, CBD, PSP, Gaucher syndrome

Gaze palsy: Vertical PSP and Niemann-Pick type C, Horizontal Gaucher syndrome

Chorea/dyskinesia/psychiatric disorders: HD, SCA 17, DPRLA, Kuf's disease

Cerebellar ataxia: SCA8, SCA13, Niemann-Pick type C, Tay-Sachs disease, genetic-AD (PSEN1)

Spastic-paraparesis: SPG4, genetic-AD (PSEN1),

Muscle-weakness: Tay-Sachs, Myotonic Dystrophy
White matter disease (Table 4)
Smal vessels diseases: hypertensive small vessel disease, cerebral amyloid angiopathy (CAA). Neuroimaging findings in this group include, along with white matter hyperintensities, lacunar or small subcortical infarcts or hemorrhages, visible perivascular spaces, micro bleeds, and brain atrophy [63]. The distribution of each radiological feature differs between pathologies (Table 4). Subcortical ischemic vascular dementia [37] is the most frequent vascular cause of cognitive decline in elderly persons.
Clinically, in elderly with small vessel diseases or sporadic CAA, cognitive deficits concern attentive functions, information processing, working memory, language, mood and motivation [64]. Visuospatial skills are also characteristically impaired in CAA. Gait disturbance, urinary incontinence, and behavioral changes are also frequently present [37].
Familial cause of vascular dementia should be suspected in younger subjects with more specific clinical and radiological profile and often with positive family history for the disorder (Table 4).
The differential diagnosis of dementia associated with white matter lesions includes a wide number of inherited leukoencephalopathies [41]: adult-onset leukodystrophies, mitochondrial diseases, lysosomal storage disorders with primary glial dysfunction and leukoencephalopathy or with vascular dysfunctions, and Fragile-X associated tremor/ataxia (FTAX) among neurodegenerative disease. Infective dementia (HIV-related dementia) and autoimmune dementias such as in case of cerebral vasculitis or multiple sclerosis (MS) are also included in this subgroup. Distinctive clinical and neuroimaging features are described in Table 4 [42].
To summarize:
Young onset of stroke or stroke-like symptoms: CADASIL (in presence of autosomal dominant inheritance), CARASIL, RVCL, Fabry's disease; MELAS

Migraine: CADASIL (in presence of autosomal dominant inheritance), COL4A, RVCL, MELAS, Vasculitis

Spastic paraparesis: All leukodystrophies, HIV-dementia, MS

Ataxia: all leukodystrophies, FTAX, MS
The Nasu–Hakola disease, which is difficult to classify, has recently been given the term microgliopathy. Nasu-Hakola is a unique disease characterized by an early onset with personality changes, memory disorder, apraxia, and seizures, along with a history of repeated bone fractures. Bone X-rays show multiple cystic lesions in the epiphyses of long bones. It is associated with homozygous mutations in the TREM2 gene. Brain neuroimaging shows diffuse atrophy and white matter diseases [51].
The concurrent presence of gray matter atrophy with white matter hyperintensity is also frequent in elderly AD patients [65] and in some genetic case of FTD [66].
Basal ganglia pathologies (Table 5)
Basal ganglia degeneration: neuroacanthocytosis (NA), Wilson's disease,

Basal ganglia accumulation pathologies: neurodegeneration with iron accumulation (NBIA), Fahr's disease
This group includes disorders characterized by chorea/dystonic/parkinsonian symptoms and psychiatric features as obsessive-compulsive disorders, schizophrenic-like psychosis.
NA [41] and Wilson's disease [41] present a T2 basal ganglia hyperintensity. While in the NBIA [41], iron is visualized as hypointense in T2 MRI. Calcium accumulation is well characterized with computed tomography (CT) scans in Fahr's disease [6]. Chorea movements, especially in the facial regions, are typical for NA and are in differential diagnosis with HD. NA can be associated with blood acanthocytes and, differently from HD, have no autosomal dominant inheritance [41]. Dystonia and parkinsonian symptoms are the hallmarks of NBIA. Dystonia usually affects the facial region, with characteristic of oculogyric dystonic spasm in the Kufor Rakeb disease, oro-facial action-specific dystonia in neuropherritinopathy, or mouth and neck dystonia in the Hallevorden-Spatz syndrome. PLA2G6, aceruloplasminemia, Kufor-Rakeb, and neuropherritinopathy present Parkinsonian symptoms partially L-DOPA responsive. Among all these disorders, neuroferritinopathy is the only one with autosomal dominant inheritance and with older age at onset (> 40 years). In this subgroup, systemic involvement includes the liver, joints, and eyes, due to the metal accumulation [41].
Subacute dementias
By definition, dementia usually presents a gradual worsening of cognitive performance over years. However, in some cases, patients move from normal status to severe cognitive decline in just a few months. Rapidly progressive dementias can be treatable and therefore it is paramount to diagnose these patients immediately. Thus, in cases of subacute dementia, we suggest to proceed immediately with a complete first-line investigation for all patients. We recommend, beyond the basic blood tests, a urine analysis, a brain MRI, and an electroencephalogram (EEG) and CSF examination (Fig. 
2
). In case of rapid alteration of cognitive status, especially among the elderly, the diagnosis of delirium [
67
] should be ruled out, and/or concurrent urinary or systemic infectious, liver and renal dysfunction, alteration of serum electrolytes. Brain neuroimaging is of great importance as it helps to exclude chronic or subacute subdural hematoma, brain tumor or vascular alterations. It has been found that prion disease represents a large portion of rapid progressive dementias [
68
]. Patients experience cerebellar ataxia, pyramidal or extrapyramidal signs, sometimes psychiatric disturbances and myoclonus. Death occurs generally within 6 months and not longer than 2 years from the onset of the disease. Brain MRI reveals an unusual T2 basal ganglia hyperintensity, while the EEG can show a pseudo-periodic pattern [
69
]. However, recently, the real-time quaking-induced conversion test, is indicate as a sensitive (82%) and specific (99%) approach in detecting prions on the CSF [
70
]. Diagnosis is important for the repercussion on family members but also for the Public Health, as the disease can be transmitted and no treatment to cure it is available. On the other hand, infective, metabolic and autoimmune subacute dementias can be treatable. Hashimoto's Encephalopathy, can have a similar presentation to prion disorders, but is a steroid-responsive disease associated with autoimmune thyroiditis. A prompt treatment usually determines a good prognosis [
71
]. Investigations can be non-specific, thus the diagnosis sometimes is based on the exclusion of the other causes [
70
]. The clinical presentation of Limbic Encephalitis is the classic triad: memory deficits, behavioral changes and temporal epilepsy. The paraneoplastic etiology should always be investigated and in cases of negative results the search of primary tumor should continue up to 5 years. Plasmapheresis or tumor specific treatment ameliorates cognitive status [
72
]. An abrupt psychiatric presentation (typically psychosis) in isolation [
11
,
73
], is characteristic for NMDAR encephalitis, usually in young females often associated with an underlying teratoma (usually ovarian) [
73
]. The picture evolves with rapid progressive dementia, oromandibular dyskinesia and myoclonus. A timely treatment is important for prognosis and consists in tumor identification and treatment or immunosuppressant therapy.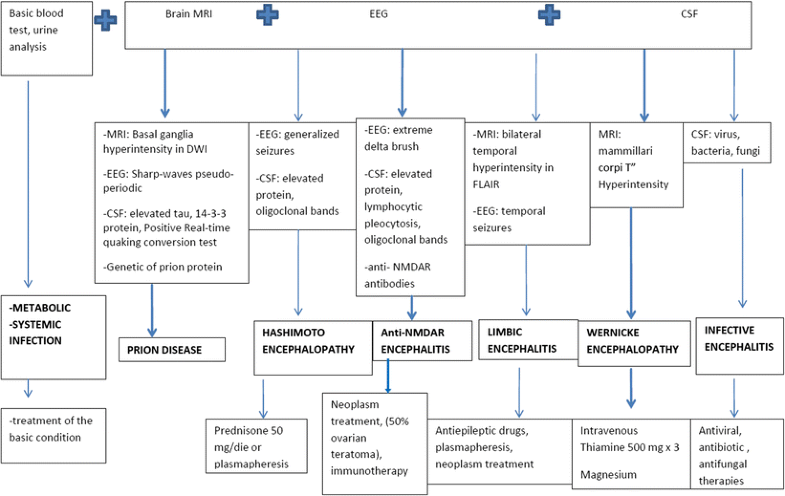 The acute onset of Wernicke Encephalopathy requires thiamine and magnesium replacement. Wernicke Encephalopathy is characterized by psychosis, ataxia and ophthalmoplegia. Around 20% of Wernicke Encephalopathy cases results in death [74]. To prevent such cases, this disease should be suspected in patients who are malnourished, who have pathology that can reduce vitamin absorption (anorexia and gastric resection) and have a history of alcoholism (Fig. 2). After the exclusion of treatable causes of dementia, it is important to remember that an atypical rapid progression can be seen even in primitive neurodegenerative dementias, especially in genetic case. A recent study revealed that more than 20% of cases where patients were referred to various national prion centers were affected by Alzheimer's disease [68].
Conclusion
Dementia is a generic term that indicates the progressive loss of intellectual functioning. Alzheimer's disease has been for decades the emblem of dementia, and until recently, diagnostic criteria for dementia required the presence of memory deficits. However, in clinical practice, this definition has always been limited and many patients with cognitive impairment never reached a diagnosis. In the last years, thanks to technology, especially in the genetic field, clinicians had the possibility to identify previous unknown disorders and sometimes to cure dementia. In this picture, the diagnosis of dementia has become challenging. In our opinion, the proposed diagnostic flow-chart will support clinicians during clinical practice, suggesting differential diagnosis and guiding the appropriate use of investigation options.
Notes
Compliance with ethical standards
Conflict of interest
The authors declare that they have no conflict of interest.
Copyright information
© Springer-Verlag Italia S.r.l., part of Springer Nature 2017