Abstract
Asterixis commonly occurs in a patient with metabolic encephalopathy, whereas focal brain lesions such as thalamus, cerebellum, or frontal area also cause focal or unilateral asterixis in the arms. We report a novel case of asterixis in the leg after unilateral anterior cerebral artery territory infarction. A 76-year-old man was admitted with sudden-onset mild right leg weakness and postural instability due to knee buckling. He was diagnosed with ischemic stroke in the left prefrontal area and cingulated gyrus by brain magnetic imaging. Needle electromyography of the right vastus lateralis muscle while standing showed intermittent periods of EMG silence, consistent with asterixis. There were no abnormal involuntary movements in the upper extremities. This case suggests that gait disturbance or postural instability after structural lesions in the prefrontal area may be directly related to asterixis in the leg, not in the arm associated with postural failure.
This is a preview of subscription content, log in to check access.
Access options
Buy single article
Instant unlimited access to the full article PDF.
US$ 39.95
Price includes VAT for USA
Subscribe to journal
Immediate online access to all issues from 2019. Subscription will auto renew annually.
US$ 99
This is the net price. Taxes to be calculated in checkout.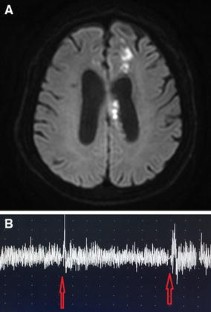 References
1.

Ghika-Schmid F, Ghika J, Regli F et al (1997) Hyperkinetic movement disorders during and after acute stroke: the Lausanne Stroke Registry. J Neurol Sci 146(2):109–116

2.

Kim JS (2001) Involuntary movements after anterior cerebral artery territory infarction. Stroke 32(1):258–261

3.

Mehanna R, Jankovic J (2013) Movement disorders in cerebrovascular disease. Lancet Neurol 12(6):597–608

4.

Bansil S, Prakash N, Kaye J et al (2012) Movement disorders after stroke in adults: a review. Tremor Other Hyperkinet Mov (N Y) 2

5.

Young RR, Shahani BT (1986) Asterixis: one type of negative myoclonus. Adv Neurol 43:137–156

6.

Matsumoto H, Hashida H, Ugawa Y (2014) Unilateral asterixis caused by an internal capsule lesion. Intern Med 53(4):341–342

7.

Kim JS (2001) Asterixis after unilateral stroke: lesion location of 30 patients. Neurology 56(4):533–536

8.

Siniscalchi A, Gallelli L, Di Benedetto O et al (2012) Asterixis as a presentation of cerebellar ischemic stroke. West J Emerg Med 13(6):507–508

9.

Inoue M, Kojima Y, Mima T et al (2012) Pathophysiology of unilateral asterixis due to thalamic lesion. Clin Neurophysiol 123(9):1858–1864
Ethics declarations
Conflict of interest
Nothing to report.
Electronic supplementary material
Below is the link to the electronic supplementary material.
Video 1. The video shows the patients with asterixis in the right leg (MP4 18329 kb)
About this article
Cite this article
Sunwoo, M.K., Jang, H., Roh, S.Y. et al. Asterixis in the leg induced by anterior cerebral artery infarction. Neurol Sci 37, 979–981 (2016). https://doi.org/10.1007/s10072-016-2486-0
Received:

Accepted:

Published:

Issue Date:
Keywords
Movement disorder

Asterixis

Anterior cerebral artery territory infarction

Prefrontal