This is a preview of subscription content, log in to check access.
Access options
Buy single article
Instant unlimited access to the full article PDF.
US$ 39.95
Price includes VAT for USA
Subscribe to journal
Immediate online access to all issues from 2019. Subscription will auto renew annually.
US$ 99
This is the net price. Taxes to be calculated in checkout.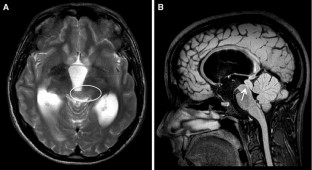 References
1.

Albanese A, Bhatia K, Bressman SB et al (2013) Phenomenology and classification of dystonia: a consensus update. Mov Disord Off J Mov Disord Soc 28:863–873. doi:10.1002/mds.25475

2.

Sheehy MP, Marsden CD (1982) Writers' cramp—a focal dystonia. Brain 105:461–480. doi:10.1093/brain/105.3.461

3.

Milanov I, Georgiev D (1995) Writer's cramp and tremor due to brain tumor. Can J Neurol Sci J Can Sci Neurol 22:59–61

4.

Satoshi Takahashi TO (2009) Focal hand dystonia cured by removal of clinoid meningioma-case report. Neurol Med Chir (Tokyo) 49:619–621

5.

Krauss JK, Nobbe F, Wakhloo AK et al (1992) Movement disorders in astrocytomas of the basal ganglia and the thalamus. J Neurol Neurosurg Psychiatry 55:1162–1167. doi:10.1136/jnnp.55.12.1162
Acknowledgments
The authors would like to acknowledge the patient for his kind cooperation. This research received no specific grant from any funding agency.
Ethics declarations
Conflict of interest
The authors have no competing interests.
Electronic supplementary material
Below is the link to the electronic supplementary material.
Segment 1: Slight dystonic hand posturing and irregular dystonic tremor during arms extension and gait. Segment 2: Focal right hand dystonia in writing performance. Hand tremulous and occasional jerks are visible. Segment 3: The compression of the fourth and fifth fingers against the table works as a geste antagoniste, improving writing performance (MP4 99220 kb)
About this article
Cite this article
Martins, J., Alves, J.E. & Magalhães, M. Isolated writer's cramp symptomatic to a brain tumour. Neurol Sci 37, 815–816 (2016) doi:10.1007/s10072-015-2461-1
Received:

Accepted:

Published:

Issue Date:
Keywords
Writer's cramp

Brain tumour

Symptomatic dystonia