This is a preview of subscription content, log in to check access.
Access options
Buy single article
Instant unlimited access to the full article PDF.
US$ 39.95
Price includes VAT for USA
Subscribe to journal
Immediate online access to all issues from 2019. Subscription will auto renew annually.
US$ 99
This is the net price. Taxes to be calculated in checkout.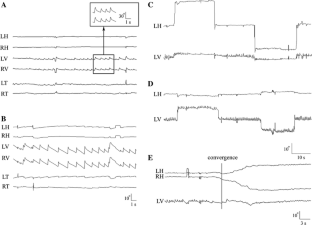 References
1.

Leigh RJ, Zee DS (2006) The neurology of eye movements, 4th edn. Oxford, New York

2.

Kim JS, Yoon B, Choi KD, Oh SY, Park SH, Kim BK (2006) Upbeat nystagmus: clinicoanatomical correlations in 15 patients. J Clin Neurol 2:58–65

3.

Pierrot-Deseilligny C, Milea D (2005) Vertical nystagmus: clinical facts and hypotheses. Brain 128:1237–1246

4.

Buttner-Ennever JA, Horn AK (1996) Pathways from cell groups of the paramedian tracts to the floccular region. Ann N Y Acad Sci 781:532–540

5.

Choi KD, Jung DS, Park KP, Jo JW, Kim JS (2004) Bowtie and upbeat nystagmus evolving into hemi-seesaw nystagmus in medial medullary infarction: possible anatomic mechanisms. Neurology 62:663–665

6.

Robinson DA (1975) A quantitative analysis of extraocular muscle cooperation and squint. Invest Ophthalmol 14:801–825

7.

Fisher A, Gresty M, Chambers B, Rudge P (1983) Primary position upbeating nystagmus. A variety of central positional nystagmus. Brain 106(Pt 4):949–964

8.

Halmagyi GM, Leigh RJ (2004) Upbeat about downbeat nystagmus. Neurology 63:606–607
Conflict of interest
None of the authors has any conflict of interest to disclose.
Electronic supplementary material
Below is the link to the electronic supplementary material.
Supplement Legends
Video 1. Patient shows upbeat nystagmus with decreasing slow phase velocities. Without fixation, the slow phases of the nystagmus become more linear, and disjunctive torsional components, clockwise (from the patient's perspective) in the right eye and counterclockwise in the left eye, are associated with the upbeat nystagmus.
Video 2. The upbeat nystagmus decreases in lateral and upward gazes, and increases in downward gaze. Leftward gaze also induces left beating nystagmus. The nystagmus changes into downbeat during convergence.
Video 3. The upbeat nystagmus decreases in the supine position and reversed to downbeat with counterclockwise torsional component in the prone position.
Video 4. Since the anterior semicircular canal (AC) innervate ipsilateral superior rectus (SR) and contralateral inferior oblique (IO), disruption of the pathways from both ACs generates downward ocular deviation and upbeat nystagmus. However, as SR is mainly an elevator and IO is primarily an extorter, the prevailing extorting action of IO would generate disjunctive extorsional nystagmus in association with upbeat nystagmus. III = oculomotor nucleus, IV = trochlear nucleus, VI = abducens nucleus.
Supplementary material 1 (MP4 2453 kb)
Supplementary material 2 (MP4 7253 kb)
Supplementary material 3 (MP4 2129 kb)
Supplementary material 4 (MP4 83 kb)
About this article
Cite this article
Hyun, J.W., Choi, S.Y., Huh, Y.E. et al. Upbeat nystagmus due to a giant vertebral artery aneurysm. Neurol Sci 34, 805–807 (2013). https://doi.org/10.1007/s10072-012-1143-5
Received:

Accepted:

Published:

Issue Date:
Keywords
Vertigo

Upbeat nystagmus

Downbeat nystagmus

Aneurysm

Medulla