Abstract
To date, no studies are available on the effect of pregabalin in dystonia. A patient with subarachnoidal and cerebral hemorrhage was treated with pregabalin for neuropathic pain. Upon withdrawal of the medication she experienced spontaneous and painful supination in the right foot and internal hip rotation when standing up. When pregabalin was reinstituted, these dystonic symptoms subsided, but reappeared when the medication was again discontinued. One possible explanation for these symptoms could be neuronal hyperactivity within still-functioning pathways in connection with the motor cortex. Preponderance of activity in potentially compensatory structures could be suppressed by pregabalin: therefore, its potential benefit in subacute secondary dystonia in cases with orbital brain involvement is suggested.
This is a preview of subscription content, log in to check access.
Access options
Buy single article
Instant unlimited access to the full article PDF.
US$ 39.95
Price includes VAT for USA
Subscribe to journal
Immediate online access to all issues from 2019. Subscription will auto renew annually.
US$ 99
This is the net price. Taxes to be calculated in checkout.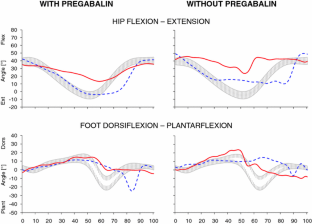 References
1.

Albanese A, Asmus F, Bhatia KP, Elia AE, Elibol B, Filippini G, Gasser T, Krauss JK, Nardocci N, Newton A, Valls-Sole J (2011) EFNS guidelines on diagnosis and treatment of primary dystonias. Eur J Neurol 18:5–18

2.

Dworkin RH, Kirkpatrick P (2005) Pregabalin. Nat Rev Drug Discov 4:455–456

3.

Kofler M, Morota N, Deletis V (1999) Preserved motor evoked potentials fail to predict functional outcome in quadriplegia because of bilateral lesions of the supplementary motor areas. Am J Phys Med Rehabil 78:66–72

4.

Fink K, Dooley DJ, Meder WP, Suman-Chauhan N, Duffy S, Clusmann H, Gothert M (2002) Inhibition of neuronal Ca(2+) influx by gabapentin and pregabalin in the human neocortex. Neuropharmacology 42:229–236

5.

Joshi I, Taylor CP (2006) Pregabalin action at a model synapse: binding to presynaptic calcium channel alpha2-delta subunit reduces neurotransmission in mice. Eur J Pharmacol 553:82–88

6.

Richter A, Löscher W (1999) Gabapentin decreases the severity of dystonia at low doses in a genetic animal model of paroxysmal dystonic choreoathetosis. Eur J Pharmacol 369:335–338

7.

Chudnow RS, Mimbela RA, Owen DB, Roach ES (1997) Gabapentin for familial paroxysmal dystonic choreoathetosis. Neurology 49:1441–1442

8.

Alexander GE (1994) Basal ganglia-thalamocortical circuits: their role in control of movements. J Clin Neurophysiol 11:420–431

9.

Dooley DJ, Donovan CM, Pugsley TA (2000) Stimulus-dependent modulation of [(3)H]norepinephrine release from rat neocortical slices by gabapentin and pregabalin. J Pharmacol Exp Ther 295:1086–1093

10.

Di Filippo M, Picconi B, Tantucci M, Ghiglieri V, Bagetta V, Sgobio C, Tozzi A, Parnetti L, Calabresi P (2009) Short-term and long-term plasticity at corticostriatal synapses: implications for learning and memory. Behav Brain Res 199:108–118

11.

Perez LS, Amaya M, Merello M (2009) Pregabalin-induced parkinsonism: a case report. Clin Neuropharmacol 32:353–354

12.

Sills GJ (2006) The mechanisms of action of gabapentin and pregabalin. Curr Opin Pharmacol 6:108–113

13.

Vandel P, Bonin B, Leveque E, Sechter D, Bizouard P (1997) Tricyclic antidepressant-induced extrapyramidal side effects. Eur Neuropsychopharmacol 7:207–212

14.

Cui QL, Yung WH, Chen L (2008) Effects of substance P on neuronal firing of pallidal neurons in parkinsonian rats. Neurosci Res 60:162–169

15.

Serrano A, Menendez J, Casarejos MJ, Solano RM, Gallego E, Sanchez M, Mena MA, de Garcia YJ (2005) Effects of cinnarizine, a calcium antagonist that produces human parkinsonism, in parkin knock out mice. Neuropharmacology 49:208–219
Acknowledgments
The authors express their gratitude to Mrs. Maria Hoch, Hochzirl, for her technical assistance with the neurophysiological exams, and to Mrs. Ellen Quirbach, Hochzirl, for her help with editing the manuscript.
Electronic supplementary material
Below is the link to the electronic supplementary material.
Online Resource 1 Video gait analysis with pregabalin. Eleven days after reinstitution of pregabalin, right initial contact is on the lateral forefoot. At loading response, mid-stance, and terminal stance, the heel remains lifted, hence both heel and ankle rockers are absent. Forefoot rocker activity during pre-swing phase is inadequate. The knee remains flexed (range 30–22°) and the hip extended (13°) during the entire stance phase. During swing phase, the ankle position remains neutral in the sagittal plane, but slightly inverted and supinated in the frontal plane. The knee is flexed at 40°, with insufficient extension during terminal swing (33°). The hip is flexed at 36° with notable compensatory pelvic tilt (12°) due to flexor weakness. Supplementary material 1 (AVI 27844 kb)
Online Resource 2 Video gait analysis without pregabalin. Seven days after withdrawal of pregabalin, right swing phase is characterized by pronounced inversion and supination of the foot even before initial contact. Strong inversion at the ankle continues with non-physiological rolling, beginning from the lateral aspect of the foot and tilting medially. Only brief floor contact of the entire sole occurs (loading response). Due to early raising of the heel during mid-stance, no heel rocker and minimal ankle and forefoot rockers are apparent. The functionally shortened triceps surae muscle is unable to permit adequate control of the anterior movement of the lower leg. During stance phase, the knee remains flexed (range 33–28°) and the hip extends only to 24°. Slight dorsiflexion in the sagittal plane at initial swing is replaced by plantar flexion of 8° during the remaining swing phase. The frontal plane reveals marked foot inversion/supination. Flexion of the knee briefly reaches 50°, while the hip is flexed up to 45° with compensatory pelvic tilt and inclination of the trunk. Supplementary material 2 (AVI 60982 kb)
About this article
Cite this article
Karosin, C., Kofler, M., Mayr, A. et al. Pregabalin: a treatment option for dystonia?. Neurol Sci 33, 351–354 (2012) doi:10.1007/s10072-011-0737-7
Received:

Accepted:

Published:

Issue Date:
Keywords
Pregabalin

Secondary dystonia

Basal ganglia

Posttraumatic neuronal hyperexcitability