Abstract
Success in problem solving, a form of innovativeness, can help animals exploit their environments, and recent research suggests that it may correlate with reproductive success. Innovativeness has been proposed to be especially beneficial in urbanized habitats, as suggested by superior problem-solving performance of urban individuals in some species. If there is stronger selection for innovativeness in cities than in natural habitats, we expect problem-solving performance to have a greater positive effect on fitness in more urbanized habitats. We tested this idea in great tits (Parus major) breeding at two urban sites and two forests by measuring their problem-solving performance in an obstacle-removal task and a food-acquisition task. Urban pairs were significantly faster problem-solvers in both tasks. Solving speed in the obstacle-removal task was positively correlated with hatching success and the number of fledglings, whereas performance in the food-acquisition task did not correlate with reproductive success. These relationships did not differ between urban and forest habitats. Neophobia, sensitivity to human disturbance, and risk taking in the presence of a predator did not explain the relationships of problem-solving performance either with habitat type or with reproductive success. Our results suggest that the benefit of innovativeness in terms of reproductive success is similar in urban and natural habitats, implying that problem-solving skills may be enhanced in urban populations by some other benefits (e.g. increased survival) or reduced costs (e.g. more opportunities to gain practice with challenging tasks).
This is a preview of subscription content, log in to check access.
Access options
Buy single article
Instant unlimited access to the full article PDF.
US$ 39.95
Price includes VAT for USA
Subscribe to journal
Immediate online access to all issues from 2019. Subscription will auto renew annually.
US$ 99
This is the net price. Taxes to be calculated in checkout.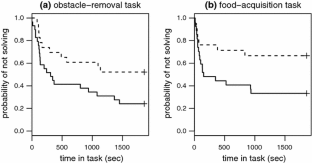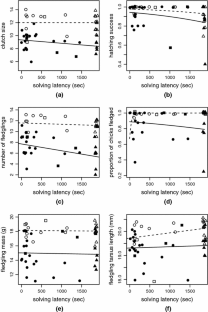 References
Audet J-N, Ducatez S, Lefebvre L (2015) The town bird and the country bird: problem solving and immunocompetence vary with urbanization. Behav Ecol. doi:10.1093/beheco/arv201

Bailly J, Scheifler R, Berthe S et al (2015) From eggs to fledging: negative impact of urban habitat on reproduction in two tit species. J Ornithol. doi:10.1007/s10336-015-1293-3

Bird CD, Emery NJ (2009) Insightful problem solving and creative tool modification by captive nontool-using rooks. Proc Natl Acad Sci USA 106:10370–10375. doi:10.1073/pnas.0901008106

Bókony V, Kulcsár A, Liker A (2010) Does urbanization select for weak competitors in house sparrows? Oikos 119:437–444. doi:10.1111/j.1600-0706.2009.17848.x

Burfield I, van Bommel F (eds) (2004) Birds in Europe: population estimates, trends and conservation status. BirdLife International, Cambridge

Cauchard L, Boogert NJ, Lefebvre L et al (2013) Problem-solving performance is correlated with reproductive success in a wild bird population. Anim Behav 85:19–26. doi:10.1016/j.anbehav.2012.10.005

Chamberlain DE, Cannon AR, Toms MP et al (2009) Avian productivity in urban landscapes: a review and meta-analysis. Ibis (Lond 1859) 151:1–18. doi:10.1111/j.1474-919X.2008.00899.x

Cole EF, Quinn JL (2012) Personality and problem-solving performance explain competitive ability in the wild. Proc R Soc B Biol Sci 279:1168–1175. doi:10.1098/rspb.2011.1539

Cole EF, Morand-Ferron J, Hinks AE, Quinn JL (2012) Cognitive ability influences reproductive life history variation in the wild. Curr Biol 22:1808–1812. doi:10.1016/j.cub.2012.07.051

Diquelou MC, Griffin AS, Sol D (2015) The role of motor diversity in foraging innovations: a cross-species comparison in urban birds. Behav Ecol. doi:10.1093/beheco/arv190

Emery NJ (2006) Cognitive ornithology: the evolution of avian intelligence. Philos Trans R Soc Lond B Biol Sci 361:23–43. doi:10.1098/rstb.2005.1736

Etienne AS (1984) The meaning of object permanence at different zoological levels. Hum Dev 27:309–320

Foltz SL, Ross AE, Laing BT et al (2015) Get off my lawn: increased aggression in urban song sparrows is related to resource availability. Behav Ecol 26:1548–1557. doi:10.1093/beheco/arv111

García-Navas V, Ferrer ES, Cáliz-Campal C et al (2015) Spatiotemporal and genetic contingency of extrapair behaviour in a songbird. Anim Behav 106:157–169. doi:10.1016/j.anbehav.2015.05.020

Geffroy B, Samia DSM, Bessa E, Blumstein DT (2015) How nature-based tourism might increase prey vulnerability to predators. Trends Ecol Evol 30:755–765. doi:10.1016/j.tree.2015.09.010

Greggor AL, Thornton A, Clayton NS (2015) Neophobia is not only avoidance: improving neophobia tests by combining cognition and ecology. Curr Opin Behav Sci 6:82–89. doi:10.1016/j.cobeha.2015.10.007

Griffin AS (2016) Innovativeness as an emergent property: a new alignment of comparative and experimental research on animal innovation. Philos Trans R Soc B 371:20150544. doi:10.1098/rstb.2015.0544

Griffin AS, Guez D (2014) Innovation and problem solving: a review of common mechanisms. Behav Process 109:121–134. doi:10.1016/j.beproc.2014.08.027

Griffin AS, Guez D (2016) Bridging the gap between cross-taxon and within-species analyses of behavioral innovations in birds: making sense of discrepant cognition-innovation relationships and the role of motor diversity. Adv Stud Behav 48:1–40. doi:10.1016/bs.asb.2016.02.001

Griffin AS, Diquelou M, Perea M (2014) Innovative problem solving in birds: a key role of motor diversity. Anim Behav 92:221–227. doi:10.1016/j.anbehav.2014.04.009

Isden J, Panayi C, Dingle C, Madden JR (2013) Performance in cognitive and problem-solving tasks in male spotted bowerbirds does not correlate with mating success. Anim Behav 86:829–838. doi:10.1016/j.anbehav.2013.07.024

Keagy J, Savard J-F, Borgia G (2011) Complex relationship between multiple measures of cognitive ability and male mating success in satin bowerbirds, Ptilonorhynchus violaceus. Anim Behav 81:1063–1070. doi:10.1016/j.anbehav.2011.02.018

Kotrschal A, Rogell B, Bundsen A et al (2013) Artificial selection on relative brain size in the guppy reveals costs and benefits of evolving a larger brain. Curr Biol 23:168–171. doi:10.1016/j.cub.2012.11.058

Kotrschal A, Corral-Lopez A, Amcoff M, Kolm N (2015) A larger brain confers a benefit in a spatial mate search learning task in male guppies. Behav Ecol 26:527–532. doi:10.1093/beheco/aru227

Kozlovsky D, Branch C, Freas CA, Pravosudov VV (2014) Elevation-related differences in novel environment exploration and social dominance in food-caching mountain chickadees. Behav Ecol Sociobiol 68:1871–1881. doi:10.1007/s00265-014-1796-6

Kozlovsky DY, Branch CL, Pravosudov VV (2015) Problem-solving ability and response to novelty in mountain chickadees (Poecile gambeli) from different elevations. Behav Ecol Sociobiol. doi:10.1007/s00265-015-1874-4

Liker A, Bókony V (2009) Larger groups are more successful in innovative problem solving in house sparrows. Proc Natl Acad Sci USA 106:7893–7898. doi:10.1073/pnas.0900042106

Mateos-Gonzalez F, Quesada J, Senar JC (2011) Sexy birds are superior at solving a foraging problem. Biol Lett 7:668–669. doi:10.1098/rsbl.2011.0163

Miranda AC, Schielzeth H, Sonntag T, Partecke J (2013) Urbanization and its effects on personality traits: a result of microevolution or phenotypic plasticity? Glob Change Biol 19:2634–2644. doi:10.1111/gcb.12258

Morand-Ferron J, Quinn JL (2015) The evolution of cognition in natural populations. Trends Cogn Sci. doi:10.1016/j.tics.2015.03.005

Morand-Ferron J, Cole EF, Quinn JL (2015) Studying the evolutionary ecology of cognition in the wild: a review of practical and conceptual challenges. Biol Rev. doi:10.1111/brv.12174

Overington SE, Cauchard L, Côté KA, Lefebvre L (2011) Innovative foraging behaviour in birds: what characterizes an innovator? Behav Processes 87:274–285. doi:10.1016/j.beproc.2011.06.002

Papp S, Vincze E, Preiszner B et al (2015) A comparison of problem-solving success between urban and rural house sparrows. Behav Ecol Sociobiol 69:471–480. doi:10.1007/s00265-014-1859-8

Pravosudov VV, Roth TC (2013) Cognitive ecology of food hoarding: the evolution of spatial memory and the hippocampus. Annu Rev Ecol Evol Syst 44:173–193. doi:10.1146/annurev-ecolsys-110512-135904

Preiszner B, Papp S, Vincze E et al (2015) Does innovation success influence social interactions? An experimental test in house sparrows. Ethology 121:661–673. doi:10.1111/eth.12380

Quinn JL, Cole EF, Reed TE, Morand-Ferron J (2016) Environmental and genetic determinants of innovativeness in a natural population of birds. Philos Trans R Soc B 371:20150184. doi:10.1098/rstb.2015.0184

Reader SM, Laland KN (2003) Animal innovation. Oxford University Press Inc., Oxford

Reader SM, Morand-Ferron J, Flynn E (2016) Animal and human innovation: novel problems and novel solutions. Philos Trans R Soc B 371:20150182. doi:10.1098/rstb.2015.0182

Rowe C, Healy SD (2014) Measuring variation in cognition. Behav Ecol 25:1287–1292. doi:10.1093/beheco/aru090

Schlicht E, Kempenaers B (2015) Immediate effects of capture on nest visits of breeding blue tits, Cyanistes caeruleus, are substantial. Anim Behav 105:63–78. doi:10.1016/j.anbehav.2015.04.010

Seress G, Bókony V, Heszberger J, Liker A (2011) Response to predation risk in urban and rural house sparrows. Ethology 117:896–907. doi:10.1111/j.1439-0310.2011.01944.x

Seress G, Bókony V, Pipoly I et al (2012) Urbanization, nestling growth and reproductive success in a moderately declining house sparrow population. J Avian Biol 43:403–414. doi:10.1111/j.1600-048X.2012.05527.x

Shettleworth SJ (2010) Cognition, evolution, and behaviour, 2nd edn. Oxford University Press, New York

Shochat E, Warren PS, Faeth SH et al (2006) From patterns to emerging processes in mechanistic urban ecology. Trends Ecol Evol 21:186–191. doi:10.1016/j.tree.2005.11.019

Sol D, Griffin AS, Bartomeus I, Boyce H (2011) Exploring or avoiding novel food resources? The novelty conflict in an invasive bird. PLoS ONE 6:e19535. doi:10.1371/journal.pone.0019535

Sol D, Lapiedra O, González-Lagos C (2013) Behavioural adjustments for a life in the city. Anim Behav. doi:10.1016/j.anbehav.2013.01.023

Solonen T (2001) Breeding of the Great Tit and Blue Tit in urban and rural habitats in southern Finland. Ornis Fenn 78:49–60

Svensson L (1992) Identification guide to european passerines. Fourth, BTO, Stockholm, Sweden

Thornton A, Lukas D (2012) Individual variation in cognitive performance: developmental and evolutionary perspectives. Philos Trans R Soc B Biol Sci 367:2773–2783. doi:10.1098/rstb.2012.0214

Thornton A, Samson J (2012) Innovative problem solving in wild meerkats. Anim Behav 83:1459–1468. doi:10.1016/j.anbehav.2012.03.018

Thornton A, Isden J, Madden JR (2014) Toward wild psychometrics: linking individual cognitive differences to fitness. Behav Ecol 00:1–3. doi:10.1093/beheco/aru095

Tryjanowski P, Skórka P, Sparks TH et al (2015) Urban and rural habitats differ in number and type of bird feeders and in bird species consuming supplementary food. Environ Sci Pollut Res 22:15097–15103. doi:10.1007/s11356-015-4723-0

Vincze E, Papp S, Preiszner B et al (2016) Habituation to human disturbance is faster in urban than rural house sparrows. Behav Ecol. doi:10.1093/beheco/arw047
Acknowledgments
We thank Tamás Hammer for his help during the experiment. The study was financed by the Hungarian Scientific Research Fund (OTKA Grants K84132 and K112838). During the preparation of the manuscript, we were supported by the European Union, with the co-funding of the European Social Fund (S.P., I.P., B.P., and E.V. by TÁMOP-4.2.2.A-11/1/KONV-2012-0064). V.B. was supported by the János Bolyai Scholarship of the Hungarian Academy of Sciences. We thank Andrea Griffin and two anonymous reviewers for helpful comments on the manuscript.
Ethics declarations
Conflict of interest
The authors declare that they have no conflict of interest.
Ethical standards
All procedures were in accordance with Hungarian laws and licensed by the Middle Transdanubian Inspectorate for Environmental Protection, Natural Protection and Water Management (Permission Number: 31559/2011).
Additional information
This article is part of the Special Issue Animal cognition in a human-dominated world.
Electronic supplementary material
Below is the link to the electronic supplementary material.
Supplementary material 2 (MP4 60070 kb)
Supplementary material 3 (MP4 42115 kb)
About this article
Cite this article
Preiszner, B., Papp, S., Pipoly, I. et al. Problem-solving performance and reproductive success of great tits in urban and forest habitats. Anim Cogn 20, 53–63 (2017). https://doi.org/10.1007/s10071-016-1008-z
Received:

Revised:

Accepted:

Published:

Issue Date:
Keywords
Innovation

Urbanization

Breeding success

Birds

Behaviour