Abstract
Tool use is rare amongst rodents and has never been recorded in connection with agonistic displays. We witnessed a behaviour, stick display (StD), involving tool use in free-living Eurasian beavers (Castor fiber) that we conclude is a display behaviour. Two beavers were the main performers of the signal that was observed in at least six beavers from three families. Beavers reacted to displays by increased evasive and agonistic behaviours compared with their usual behavioural patterns when at territory borders. The behaviour was almost exclusively seen between rivals at territory borders. We suggest that the display is used in agonistic encounters, mainly in a territorial context.
This is a preview of subscription content, log in to check access.
Access options
Buy single article
Instant unlimited access to the full article PDF.
US$ 39.95
Price includes VAT for USA
Subscribe to journal
Immediate online access to all issues from 2019. Subscription will auto renew annually.
US$ 99
This is the net price. Taxes to be calculated in checkout.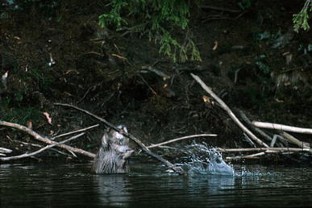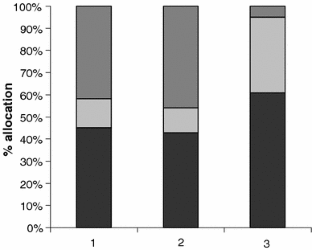 References
Beck BB (1980) Animal tool behavior: the use and manufacture of tools by animals. Garland, New York

Bradbury JW, Vehrencamp SL (1998) Principles of animal communication. Sinauer Associates Inc., Sunderland

Chevalier-Skolnikoff S, Liska J (1993) Tool use by wild and captive elephants. Anim Behav. doi:10.1006/anbe.1993.1183

Guilford T, Dawkins MS (1991) Receiver psychology and the evolution of animal signals. Anim Behav 42:1–14

Krebs JR, Dawkins R (1984) Animal signals: mind-reading and manipulation. In: Krebs JR, Davies NB (eds) Behavioural ecology: an evolutionary approach, 2nd edn. Blackwell, Oxford, pp 380–402

MacFarland D (1993) Animal behaviour: psychobiology, ethology, and evolution. Wiley, New York

Martin P, Bateson P (1999) Measuring behaviour: an introductory guide, 2nd edn. Cambridge University Press, Cambridge

Nolet BA, Rosell F (1994) Territoriality and time budgets in beavers during sequential settlement. Can J Zool 72:1227–1237

Perry G, Levering K, Girard I, Garland Jr T (2003) Locomotor performance and social dominane in male Anolis cristallus. Anim Behav. doi:10.1016/j.anbehav.2003.02.003

Rosell F (2002) The function of scent marking in beaver (Castor fiber) territorial defence. Ph.D. thesis, Norwegian University of Science and Technology, Trondheim, Norway

Rosell F, Thomsen LR (2006) Sexual dimorphism in territorial scent marking by adult Eurasian beavers (Castor fiber). J Chem Ecol 32(6):1301–1315

Rosell F, Bergan F, Parker H (1998) Scent-marking in the Eurasian beaver (Castor fiber) as a means of territory defense. J Chem Ecol. doi:10.1023/A:1022524223435

Sharpe F, Rosell F (2003) Time budgets and sex differences in the Eurasian beaver Anim Behav. doi:10.1006/anbe.2003.2274

Shuster G, Sherman PW (1998) Tool use by naked mole rats. Anim Cogn. doi:10.1007/s100710050009

Tuttle RS (1986) Apes of the world: their social behavior, communication, mentality, and ecology. Noyes Publications, Park Ridge

Wilsson L (1971) Observations and experiments on the ethology of the European beaver (Castor fiber L.). Viltrevy 8:115–266

Zahavi A (1977) The cost of honesty (further remarks on the handicap principle). J Theor Biol 53:603–605

Zahavi A, Zahavi A (1997) The handicap principle: a missing piece of Darwin's puzzle. Oxford University Press, New York
Acknowledgments
We thank Frode Bergan, Orsolya Bozsér, Jan Herr, Bjørnar Hovde, Bruno Pinto, and Fiona Sharpe for assistance in the field, and Jon M. Arnemo and Birgit Ranheim for conducting the implant operations, Dr. Paul Johnson for conducting the SAS analyses and four anonymous referees and Alex Weir for helpful comments on earlier versions of the manuscript. The study was financially supported by Telemark University College. The application of radio transmitters and the study procedures comply with the current laws of the country in which they were performed.
Electronic supplementary material
"Stick display in beavers" The movie file S1 showing stick display. Two beavers from neighbouring territories are seen displaying at each other at the territory border. The view switches to a close-up of the animal on the right displaying. (WMV 9.42 Mb)
About this article
Cite this article
Thomsen, L.R., Campbell, R.D. & Rosell, F. Tool-use in a display behaviour by Eurasian beavers (Castor fiber). Anim Cogn 10, 477–482 (2007). https://doi.org/10.1007/s10071-007-0075-6
Received:

Revised:

Accepted:

Published:

Issue Date:
Keywords
Castor fiber

Rodent

Tool use

Display