Abstract
Cuttlefish have a large repertoire of body patterns that are used for camouflage and interspecific signaling. Intraspecific signaling by male cuttlefish has been well documented but studies on signaling by females are lacking. We found that females displayed a newly described body pattern termed Splotch toward their mirror image and female conspecifics, but not to males, prey or inanimate objects. Female cuttlefish may use the Splotch body pattern as an intraspecific signal, possibly to reduce agonistic interactions. The ability of females to produce a consistent body pattern in response to conspecifics and mirrors suggests that they can recognize same-sex conspecifics using visual cues, despite the lack of sexual dimorphism visible to human observers.
This is a preview of subscription content, log in to check access.
Access options
Buy single article
Instant unlimited access to the full article PDF.
US$ 39.95
Price includes VAT for USA
Subscribe to journal
Immediate online access to all issues from 2019. Subscription will auto renew annually.
US$ 99
This is the net price. Taxes to be calculated in checkout.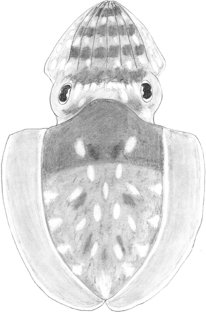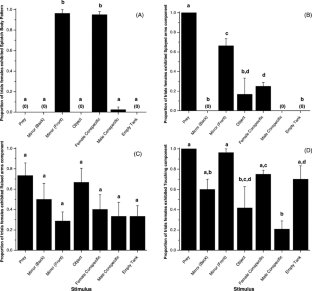 References
Adamo SA, Hanlon RT (1996) Do cuttlefish (Cephalopoda) signal their intentions to conspecifics during agonistic encounters? Anim Behav 52:73–81

Adamo SA, Brown WM, King AJ, Mather DL, Mather JA, Shoemaker KL, Wood JB (2000) Agonistic and reproductive behaviours of the cuttlefish Sepia officinalis in a semi-natural environment. J Moll Stud 66:417–419

Boal JG, Shashar N, Grable MM, Vaughan KH, Loew ER, Hanlon RT (2004). Behavioral evidence for intraspecific signals with achromatic and polarized light by cuttlefish (Mollusca: Cephalopoda). Behaviour 141:837–861

Boal JG (1997) Female choice of males in cuttlefish (Mollusca: Cephalopoda). Behaviour 134:975–988

Boal JG (1996) Absence of social recognition in laboratory-reared cuttlefish (Sepia officinalis) L. (Mollusca: Cephalopoda). Anim Behav 52:529–537

Budelmann B (1995) The cephalopod nervous system: What evolution has made of the molluscan design. In: Breidbach O, Kutsch W (eds) The nervous system of invertebrates: An evolutionary and comparative approach. Birkhauser, Basel, pp 115–136

Corner BD, Moore HT (1980) Field observations on the reproductive behavior of Sepia latimanus. Micronesica 16:235–260

Hanlon RT, Messenger JB (1996) Cephalopod behaviour. Cambridge University Press, Cambridge

Hanlon RT, Messenger JB (1988) Adaptive coloration in young cuttlefish (Sepia officinalis L.): The morphology and development of body patterns and their relation to behaviour. Philos Trans R Soc Lond Ser B 320:437–487

Le Mao P (1985) The diet of the cuttlefish Sepia officinalis in the Normano-Bretan Gulf (France, Brittany). Cahiers de Bio Mar 26:331–340

Marler P (1977) How animals communicate. Indiana University Press, Bloomington

Mather JA (1986) A female-dominated feeding hierarchy in juvenile Sepia officinalis in the laboratory. Mar Behav Physiol 12:233–244

Maynard Smith J, Harper D (2003) Animal signals. Oxford University Press, Oxford

Messenger JB (2001) Cephalopod chromatophores: Neurobiology and natural history. Biol Rev 76:473–528

Moynihan M (1985) Communication and non-communication by cephalopods. Indiana University Press, Bloomington

Norman MD, Finn J, Tregenza T (1999) Female impersonation as an alternative reproductive strategy in giant cuttlefish. Proc R Soc Lond B 266:1347–1349

Shashar N, Rutledge PA, Cronin TW (1996) Polarization of vision in cuttlefish—concealed communication channel? J Exp Biol 199:2077–2084

Tinbergen L (1939) Zur Fortpflanzungsethologie von Sepia officinalis L. Archs néerl Zool 3:323–364

Zar JH (1999) Biostatistical analysis, 4th edn. Prentice Hall, Upper Saddle River, New Jersey
Acknowledgements
We thank Ivy Whitehorne for contributing the Splotch illustration (Fig. 1) and Dr. Jean G. Boal for helpful discussions. This research was supported by a Natural Science and Engineering Research Council of Canada (NSERC) grant to S.A. Adamo. All experiments were approved by the Dalhousie University Animal Care Committee
Electronic Supplementary Material
About this article
Cite this article
Palmer, M.E., Calvé, M.R. & Adamo, S.A. Response of female cuttlefish Sepia officinalis (Cephalopoda) to mirrors and conspecifics: evidence for signaling in female cuttlefish. Anim Cogn 9, 151–155 (2006). https://doi.org/10.1007/s10071-005-0009-0
Received:

Revised:

Accepted:

Published:

Issue Date:
Keywords
Animal communication

Mollusca

Body pattern

Cephalopoda