Abstract
Introduction
Oral isotretinoin is commonly prescribed for acne vulgaris. Several case reports and observational studies have reported serious musculoskeletal side effects; however, the incidence, imaging findings, and longitudinal follow-up data are limited for patients who develop inflammatory back pain (IBP).
Objective
To assess the incidence of isotretinoin-triggered axial spondyloarthropathy (SpA) in acne vulgaris patients based on clinical features and MRI findings and to examine clinical and radiological outcomes following drug withdrawal.
Methods
Five hundred thirteen acne patients receiving isotretinoin were screened for IBP; IBP patients were assessed for CRP, plain radiographs, and MRI of the sacroiliac joint. MRI-proven sacroiliitis was scored semi-quantitatively. Patients were followed longitudinally to assess SpA clinical course and longitudinal MRI sacroiliac joints, and CRP levels were reassessed 3 weeks after patients were symptom-free, following isotretinoin discontinuation.
Results
Of the 513 patients, 23.98% developed IBP. MRI-proven sacroiliitis was detected in 42.3% of the symptomatic patients or 10.1% of the cohort. Among MRI-proven sacroiliitis cases, 51.9% fulfilled the Assessment of Spondyloarthritis International Society criteria for axial SpA. Mean CRP level was 32.05 ± 17.23 mg/L at pain onset and 3.4 ± 2.7 mg/L after symptom resolution. MRI findings completely resolved within 9 months (mean 6.27 ± 1.7) after isotretinoin discontinuation. MRI scores positively correlated with baseline CRP levels and global acne grading system score, pain, and the Ankylosing Spondylitis Disease Activity Score.
Conclusion
Isotretinoin-induced axial SpA is a prevalent side effect in acne vulgaris patients. Early detection and follow-up of isotretinoin-induced sacroiliitis can be facilitated by MRI. Cessation of isotretinoin resulted in complete resolution in all affected patients.
Key Points
• Detection of underdiagnosed isotretinoin side effects which are common but not always correctly diagnosed and managed.
• Incidence, diagnosis, and management of these side effects in a real-world setting.
• This is the first large prospective longitudinal cohort study to report on axial manifestations in patients treated with isotretinoin as well as the effect of drug cessation upon the clinical, laboratory, and radiological findings.
This is a preview of subscription content, log in to check access.
Access options
Buy single article
Instant access to the full article PDF.
US$ 39.95
Price includes VAT for USA
Subscribe to journal
Immediate online access to all issues from 2019. Subscription will auto renew annually.
US$ 99
This is the net price. Taxes to be calculated in checkout.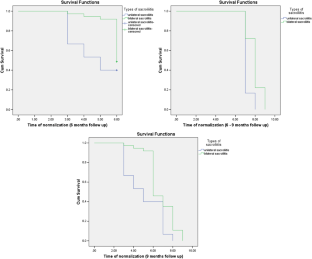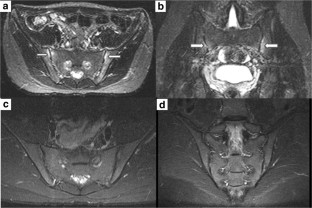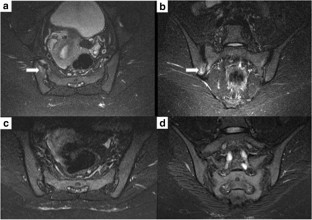 References
1.

Kircik LH (2016) Advances in the understanding of the pathogenesis of inflammatory acne. J Drugs Dermatol 15(1 Suppl 1):S7–S10

2.

Brelsford M, Beute TC (2008) Preventing and managing the side effects of isotretinoin. Semin Cutan Med Surg 27:197–206

3.

Solmaz D, Akar S, Soysal O, Akkoc Y, Can G, Gerdan V, Birlik M, Onen F, Akkoc N (2014) Performance of different criteria sets for inflammatory back pain in patients with axial spondyloarthritis with and without radiographic sacroiliitis. Clin Rheumatol 33(10):1475–1479

4.

Vinson EN, Major NM (2003) MR Imaging of ankylosing spondylitis. Semin Musculoskelet Radiol 7(2):103–113

5.

Zochling J, Baraliakos X, Hermann KG, Braun J (2007) Magnetic resonance imaging in ankylosing spondylitis. Curr Opin Rheumatol 19(4):346–352

6.

Coskun BN, Yagiz B, Pehlivan Y, Dalkilic E. (2019) Isotretinoin-induced sacroiliitis in patients with hidradenitis suppurativa: a case-based review. Rheumatol Int 27

7.

Eksioglu E, Oztekin F, Unlu E, Cakci A, Keyik B, Karadavut IK (2008) Sacroiliitis and polyneuropathy during isotretinoin treatment. Clin Exp Dermatol 33:122–124

8.

Rozin AP, Kagna O, Shiller Y (2010) Sacroiliitis and severe disability due to isotretinoin therapy. Rheumatol Int 30:985–986

9.

Yilmaz Tasdelen O, Yurdakul FG, Duran S, Bodur H (2015) Isotretinoin-induced arthritis mimicking both rheumatoid arthritis and axial spondyloarthritis. Int J Rheum Dis 18:466–469

10.

Pehlivan Y, Kisacik B, Sayiner ZA, Onat AM (2011) Inflammatory back pain in patients treated with isotretinoin. J Rheumatol 38(12):2690

11.

Levinson M, Gibson A, Stephenson G (2012) Sacroiliitis secondary to isotretinoin. Australas J Dermatol 53(4):298–300

12.

Kocak O, Kocak AY, Sanal B, Kulan G (2017) Bilateral sacroiliitis confirmed with magnetic resonance imaging during isotretinoin treatment: assessment of 11 patients and a review of the literature. Acta Dermatovenerol Croat 25(3):228–233

13.

Geller AS, Alagia RF (2013) Sacroiliitis after use of oral isotretinoin-association with acne fulminans or adverse effect? An Bras Dermatol 88(6 Suppl 1):193–196

14.

Dawoud NM, Elnady BM, Elkhouly T, Yosef A (2018) Adalimumab as a successful treatment for acne fulminans and bilateral acute sacroiliitis with hip synovitis complicating isotretinoin therapy. Indian J Dermatol Venereol Leprol 84:104–107

15.

Baykal Selçuk L, Aksu Arıca D, Baykal Şahin H, Yaylı S, Bahadır S (2017) The prevalence of sacroiliitis in patients with acne vulgaris using isotretinoin. Cutan Ocul Toxicol 36:176–179

16.

Alkan S, Kayiran N, Zengin O, Kalem A, Kimyon G, Kilinc EO, Pehlivan Y, Kirtak N, Onat AM, Kisacik B (2015) Isotretinoin-induced spondyloarthropathy-related symptoms: a prospective study. J Rheumatol 42:2106–2109

17.

Sieper J, van der Heijde D, Landewé R, Brandt J, Burgos-Vagas R, Collantes-Estevez E, Dijkmans B, Dougados M, Khan MA, Leirisalo-Repo M, van der Linden S, Maksymowych WP, Mielants H, Olivieri I, Rudwaleit M (2009) New criteria for inflammatory back pain in patients with chronic back pain: a real patient exercise by experts from the Assessment of SpondyloArthritis International Society (ASAS). Ann Rheum Dis 68(6):784–788

18.

McCormack HM, Horne DJ, Sheather S (1988) Clinical applications of visual analogue scales: a critical review. Psychol Med 18:1007–1019

19.

Rudwaleit M, van der Heijde D, Landewé R, Akkoc N, Brandt J, Chou CT, Dougados M, Huang F, Gu J, Kirazli Y, Van den Bosch F, Olivieri I, Roussou E, Scarpato S, Sørensen IJ, Valle-Oñate R, Weber U, Wei J, Sieper J (2011) The Assessment of Spondyloarthritis International Society classification criteria for peripheral spondyloarthritis and for spondyloarthritis in general. Ann Rheum Dis 70:25–31

20.

Doshi A, Zaheer A, Stiller MJ (1997) A comparison of current acne grading systems and proposal of a novel system. Int J Dermatol 36:416–418

21.

Rudwaleit M, Jurik AG, Hermann KG, Landewé R, van der Heijde D, Baraliakos X, Marzo-Ortega H, Ostergaard M, Braun J, Sieper J (2009) Defining active sacroiliitis on magnetic resonance imaging (MRI) for classification of axial spondyloarthritis: a consensual approach by the ASAS/OMERACT MRI group. Ann Rheum Dis 68(10):1520–1527

22.

Althoff CE, Feist E, Burova E, Eshed I, Bollow M, Hamm B, Hermann KG (2009) Magnetic resonance imaging of active sacroiliitis: do we really need gadolinium? Eur J Radiol 71:232–236

23.

Hermann KG, Braun J, Fischer T, Reisshauer H, Bollow M (2004) Magnetic resonance tomography of sacroiliitis: anatomy, histological pathology, MR-morphology, and grading. Radiology 44:217–228

24.

Machado P, Landewé R, van der Heijde D (2011) Endorsement of definitions of disease activity states and improvement scores for the ankylosing spondylitis disease activity score: results from OMERACT 10. J Rheumatol 38:1502–1506

25.

Omair MA, AlDuraibi FK, Bedaiwi MK, Abdulaziz S, Husain W, El Dessougi M, Alhumaidan H, Al Khabbaz HJ, Alahmadi I, Omair MA, Al Saleh S, Alismael K, Al AM (2017 Jul) Prevalence of HLA-B27 in the general population and in patients with axial spondyloarthritis in Saudi Arabia. Clin Rheumatol 36(7):1537–1543

26.

Al-Harbi M (2010) Concerns and awareness of acne patients about isotretinoin in Qassim region of Saudi Arabia. Int J Health Sci (Qassim) 4(1):47–51

27.

Weber U, Jurik AG, Zejden A, Larsen E, Jørgensen SH, Rufibach K, Schioldan C, Schmidt-Olsen S (2018) Frequency and anatomic distribution of magnetic resonance imaging features in the sacroiliac joints of young athletes: exploring "background noise" toward a data-driven definition of sacroiliitis in early spondyloarthritis. Arthritis Rheumatol 70(5):736–745

28.

de Winter J, de Hooge M, van de Sande M, de Jong H, van Hoeven L, de Koning A, Berg IJ, Ramonda R, Baeten D, van der Heijde D, Weel A, Landewé R (2018) Magnetic resonance imaging of the sacroiliac joints indicating sacroiliitis according to the Assessment of SpondyloArthritis International Society definition in healthy individuals, runners, and women with postpartum back pain. Arthritis Rheumatol 70(7):1042–1048

29.

Slobodin G, Rimar D, Boulman N, Kaly L, Rozenbaum M, Rosner I, Odeh M (2016) Acute sacroiliitis. Clin Rheumatol 35:851–856

30.

Kistowska M, Meier B, Proust T, Feldmeyer L, Cozzio A, Kuendig T, Contassot E, French LE (2015) Propionibacterium acnes promotes Th17 and Th17/Th1 responses in acne patients. J Invest Dermatol 135(1):110–118

31.

Paine A, Ritchlin CT (2016) Targeting the interleukin-23/17 axis in axial spondyloarthritis. Curr Opin Rheumatol 28(4):359–367

32.

Alzoubi KH, Khabour OF, Hassan RE, Qarqaz F, Al-Azzam S, Mhaidat N (2013) The effect of genetic polymorphisms of RARA gene on the adverse effects profile of isotretinoin-treated acne patients. Int J Clin Pharmacol Ther 51:631–640

33.

Layton A (2009) The use of isotretinoin in acne. Dermatoendocrinol 1(3):162–169

34.

DiGiovanna JJ (2001) Isotretinoin effects on bone. J Am Acad Dermatol 45(5):S176–S182

35.

Shimono K, Tung WE, Macolino C, Chi AH, Didizian JH, Mundy C, Chandraratna RA, Mishina Y, Enomoto-Iwamoto M, Pacifici M, Iwamoto M (2011) Potent inhibition of heterotopic ossification by nuclear retinoic acid receptor-gamma agonists. Nat Med 17(4):454–460

36.

Rudwaleit M, Landewe R, van der Heijde D, Listing J, Brandt J, Braun J, Burgos-Vargas R, Collantes-Estevez E, Davis J, Dijkmans B, Dougados M, Emery P, van der Horst-Bruinsma IE, Inman R, Khan MA, Leirisalo-Repo M, van der Linden S, Maksymowych WP, Mielants H, Olivieri I, Sturrock R, de Vlam K, Sieper J (2009) The development of Assessment of Spondyloarthritis International Society classification criteria for axial spondyloarthritis (part I): classification of paper patients by expert opinion including uncertainty appraisal. Ann Rheum Dis 68:770–776
Acknowledgments
The authors gratefully acknowledge the support provided by the officials of the studied hospital for facilitating the administrative aspects of the research. Special thanks to the participant patients for their cooperation.
Ethics declarations
This study complies with the Declaration of Helsinki and was approved by the local ethical research committees; all patients signed written informed consent. This article has neither been previously published nor is under consideration for publication in any other journal.
Disclosures
None.
Additional information
Publisher's note
Springer Nature remains neutral with regard to jurisdictional claims in published maps and institutional affiliations.
All authors approved the entirety of the submitted material and contributed actively to the study
Electronic supplementary material
About this article
Cite this article
Elnady, B., Elkhouly, T., Dawoud, N.M. et al. New onset of axial spondyloarthropathy in patients treated with isotretinoin for acne vulgaris: incidence, follow-up, and MRI findings. Clin Rheumatol (2020). https://doi.org/10.1007/s10067-020-04957-0
Received:

Revised:

Accepted:

Published:
Keywords
Acne

Isotretinoin

Magnetic resonance imaging

Sacroiliitis

Spondyloarthropathy