Abstract
In this study, we aimed to analyze the value of annexin-A5 anticoagulant ratio (A5R) and non-criteria antibodies for the diagnosis of APS in patients with clinical seronegative APS. Three groups were defined, including 21 seronegative APS patients with unexplained obstetrical adverse events or thrombosis history, 15 confirmed APS patients with triple aPL positivity, and a control group of 20 healthy patients without any history of thrombosis or pregnancy complications. Seronegative APS patients have similar levels of A5R in comparison to healthy controls (202% [171%–238%] versus 191% [178%–221%]; p = 0.65), whereas triple-positive APS patients have significantly more reduced A5R in comparison to both seronegative and healthy patients (149% [138%–158%] versus 202% [171%–238%] and 191% [178%–221%], respectively, p < 0.001). The non-criteria aPL were found in 24% of seronegative APS: anti-PE IgM in 3 cases (14%) and anti-PS/PT IgG and anti-PS/PT IgM in 1 (5%) case each. The frequency of non-criteria APL was significantly more frequent in comparison to healthy controls (p = 0.048). All triple-positive APS patients have at least one non-criteria aPL, and the non-criteria aPL were significantly more frequent in these patients compared to seronegative APS and healthy controls (p < 0.001). Whereas A5R levels do not allow to discriminate seronegative APS from healthy controls, our results demonstrate that non-criteria aPL can help to APS diagnosis in clinical seronegative APS.
Key points
• Annexin-A5 resistance testing does not help for the diagnosis of seronegative APS.
• The non-criteria antiphospholipid antibodies can contribute to APS diagnosis in patients without conventional antibodies.
This is a preview of subscription content, log in to check access.
Access options
Buy single article
Instant unlimited access to the full article PDF.
US$ 39.95
Price includes VAT for USA
Subscribe to journal
Immediate online access to all issues from 2019. Subscription will auto renew annually.
US$ 99
This is the net price. Taxes to be calculated in checkout.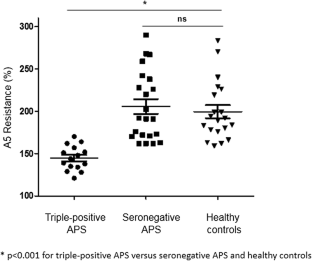 Additional information
Publisher's note
Springer Nature remains neutral with regard to jurisdictional claims in published maps and institutional affiliations.
About this article
Cite this article
Ferreira, T.G., Delhommeau, F., Johanet, C. et al. Annexin-A5 resistance and non-criteria antibodies for the diagnosis of seronegative antiphospholipid syndrome. Clin Rheumatol (2020) doi:10.1007/s10067-019-04915-5
Received:

Revised:

Accepted:

Published:
Keywords
Annexin-A5

Annexin-A5 resistance

Antiphospholipid antibodies

Antiphospholipid syndrome

Non-criteria antibodies

Seronegative