Abstract
Lower urinary tract symptoms (LUTS) have long been overlooked in systemic sclerosis (SSc). However, they are out of proportion of what would be expected based on age, sex, and presence of usual risk factors. Thus, there must be specific scleroderma-related mechanisms to result in LUTS. Fibrosis, nervous involvement (notably, dysautonomia), early signs of menopauses, and functional restriction play certainly a role, but available evidence shows inconsistent results. Thus, these factors are not sufficient to explain all aspect of LUTS in SSc. In vitro experiments point out a promising alternative mechanism, already observed in other rheumatologic diseases: an antibody-mediated etiology. However, more research is needed to better understand the pathophysiology of LUTS in SSc and develop specific treatment.
This is a preview of subscription content, log in to check access.
Access options
Buy single article
Instant unlimited access to the full article PDF.
US$ 39.95
Price includes VAT for USA
Subscribe to journal
Immediate online access to all issues from 2019. Subscription will auto renew annually.
US$ 99
This is the net price. Taxes to be calculated in checkout.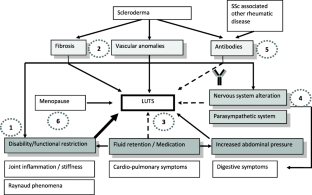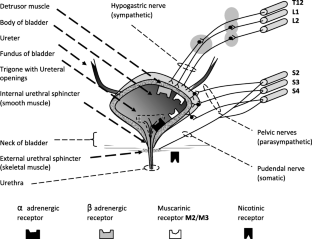 References
1.

Beigelman PM, Goldner F Jr, Bayles TB (1953) Progressive systemic sclerosis (scleroderma). N Engl J Med 249:45–58

2.

Leinwand I, Duryee AW, Richter MN (1954) Scleroderma; based on a study of over 150 cases. Ann Intern Med 41:1003–1041

3.

John G, Avouac J, Piantoni S, Polito P, Fredi M, Cozzi F et al (2017) Prevalence and disease-specific risk factors for lower urinary tract symptoms in systemic sclerosis: an international multi-centric study. Arthritis Care Res 70:1218–1227

4.

Irwin DE, Milsom I, Hunskaar S, Reilly K, Kopp Z, Herschorn S, Coyne K, Kelleher C, Hampel C, Artibani W, Abrams P (2006) Population-based survey of urinary incontinence, overactive bladder, and other lower urinary tract symptoms in five countries: results of the EPIC study. Eur Urol 50:1306–1314

5.

Zigman JYJ, Trinidad J, Yazdany T (2017) Scleroderma and pelvic organ prolapse: a multidisciplinary approach to patient care and surgical planning. J Gynecol Surg 33:198–201. https://doi.org/10.1089/gyn.2017.0014

6.

La Civita L, Fiorentini L, Tognetti A, Pasero G, Ferri C (1998) Severe urinary bladder involvement in systemic sclerosis. Case report and review of the literature. Clin Exp Rheumatol 16:591–593

7.

Minervini R, Morelli G, Minervini A, Pampaloni S, Tognetti A, Fiorentini L, Ciompi ML (1998) Bladder involvement in systemic sclerosis: urodynamic and histological evaluation in 23 patients. Eur Urol 34:47–52

8.

Gong R, Xia Z (2019) Collagen changes in pelvic support tissues in women with pelvic organ prolapse. Eur J Obstet Gynecol Reprod Biol 234:185–189

9.

Bertinotti L, Bracci S, Nacci F, Colangelo N, Del Rosso A, Casale R et al (2004) The autonomic nervous system in systemic sclerosis. A review. Clin Rheumatol 23:1–5

10.

Lazzeri M, Beneforti P, Benaim G, Corsi C, Ciambrone V, Marrapodi E, Mincione G, Turini D (1995) Vesical dysfunction in systemic sclerosis (scleroderma). J Urol 153:1184–1187

11.

Raz S, Boxer R, Waisman J, Sukov RJ (1977) Scleroderma of lower urinary tract. Urology 9:682–683

12.

Singh J, Mehendiratta V, Del Galdo F, Jimenez SA, Cohen S, DiMarino AJ et al (2009) Immunoglobulins from scleroderma patients inhibit the muscarinic receptor activation in internal anal sphincter smooth muscle cells. Am J Physiol Gastrointest Liver Physiol 297:G1206–G1213

13.

Wang F, Jackson MW, Maughan V, Cavill D, Smith AJ, Waterman SA, Gordon TP (2004) Passive transfer of Sjogren's syndrome IgG produces the pathophysiology of overactive bladder. Arthritis Rheum 50:3637–3645

14.

John G, Allanore Y, Polito P, Piantoni S, Fredi M, Avouac J, Franceschini F, Truchetet ME, Cozzi F, Airo P, Chizzolini C (2017) The limited cutaneous form of systemic sclerosis is associated with urinary incontinence: an international multicentre study. Rheumatology (Oxford) 56:1874–1883

15.

Motegi SI, Sekiguchi A, Sekine Y, Nakayama H, Suzuki K, Ishikawa O (2019) Prevalence and clinical characteristics of over-active bladder in systemic sclerosis. Mod Rheumatol 5:1–5. https://doi.org/10.1080/14397595.2019.1589913

16.

Kucharz EJ, Jonderko G, Rubisz-Brzezinska J, Konca A, Jarczyk R (1996) Premictional volume and contractility of the urinary bladder in patients with systemic sclerosis. Clin Rheumatol 15:118–120

17.

Kondo A, Susset JG (1974) Viscoelastic properties of bladder II. Comparative studies in normal and pathologic dogs. Investig Urol 11:459–465

18.

Susset JG, Servot-Viguier D, Lamy F, Madernas P, Black R (1978) Collagen in 155 human bladders. Investig Urol 16:204–206

19.

D'Angelo WA, Fries JF, Masi AT, Shulman LE (1969) Pathologic observations in systemic sclerosis (scleroderma). A study of fifty-eight autopsy cases and fifty-eight matched controls. Am J Med 46:428–440

20.

Comperat E, Reitz A, Delcourt A, Capron F, Denys P, Chartier-Kastler E (2006) Histologic features in the urinary bladder wall affected from neurogenic overactivity--a comparison of inflammation, oedema and fibrosis with and without injection of botulinum toxin type A. Eur Urol 50:1058–1064

21.

Thoua NM, Abdel-Halim M, Forbes A, Denton CP, Emmanuel AV (2012) Fecal incontinence in systemic sclerosis is secondary to neuropathy. Am J Gastroenterol 107:597–603

22.

Fetscher C, Fleichman M, Schmidt M, Krege S, Michel MC (2002) M(3) muscarinic receptors mediate contraction of human urinary bladder. Br J Pharmacol 136:641–643
Additional information
Publisher's note
Springer Nature remains neutral with regard to jurisdictional claims in published maps and institutional affiliations.
About this article
Cite this article
John, G. Systemic sclerosis and urinary symptoms: a complex pathophysiology. Clin Rheumatol 39, 5–8 (2020) doi:10.1007/s10067-019-04714-y
Received:

Revised:

Accepted:

Published:

Issue Date:
Keywords
Antibodies

Fibrosis

Pathophysiology

Systemic sclerosis

Urinary incontinence