Abstract
Rheumatoid arthritis (RA) is the most common type of inflammatory arthritis leading to joint damage and physical disability. Cardiovascular diseases (CVDs) are considered a common comorbidity in patients with RA. However, the mechanism underlying its pathogenesis is not definitively explained. Endothelial dysfunction caused by impaired nitric oxide synthesis is an early indicator of cardiovascular disease. Asymmetric and symmetric dimethylarginine (ADMA and SDMA, respectively) the inhibitors of endothelial nitric oxide synthase (NOS) have emerged as novel CVD risk factor determiners. Concerning the unmet need to identify a salutary biomarker for CVD prediction, the purpose of this meta-analysis was to assess the serum/plasma ADMA and SDMA levels in RA patients compared with the healthy controls. A thorough literature search was performed in PubMed, Scopus, Web of Science, and Google Scholar to identify all studies reporting ADMA and/or SDMA levels in RA patients compared with healthy controls. The quality of studies was evaluated using the Newcastle-Ottawa scale (NOS). Pooled standard mean difference (SMD) with 95% confidence interval (CI) was used as the effect size in this study. We also conducted stratified analysis based on assay methods and median age of the participants. Fourteen articles were included. The pooled serum/plasma levels of ADMA were higher in RA patients compared with those of healthy controls (SMD = 1.02, 95% CI = 0.49 to 1.55); However, no statistical differences between RA patients and healthy controls in serum/plasma SDMA levels was seen (SMD = 0.57, 95% CI = −0.21 to 1.36). Subgroup analyses suggested that participants aged > 50 years had higher levels of ADMA rather than controls and the measurement method was a source of heterogeneity for ADMA. According to the results of this meta-analysis, ADMA measurement but not SDMA, can be useful for assessment of endothelial dysfunction as a predictor of CVD risk in RA patients. Prospero registration number: CRD42019121126.
This is a preview of subscription content, log in to check access.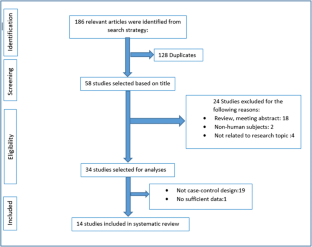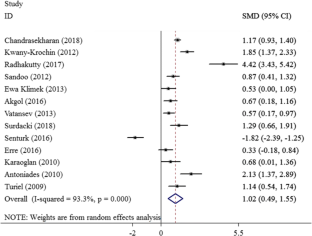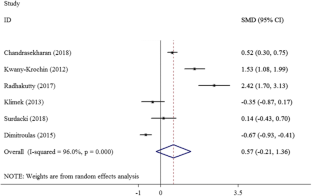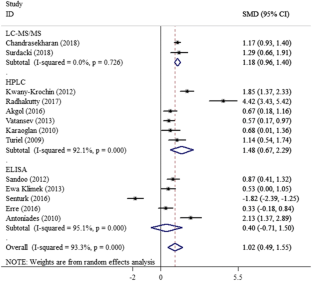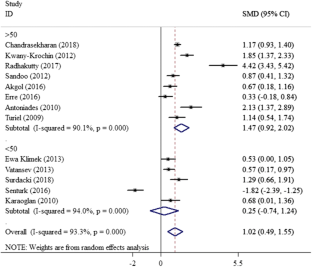 References
1.

Rudan I, Sidhu S, Papana A, Meng S-J, Xin-Wei Y, Wang W, Campbell-Page RM, Demaio AR, Nair H, Sridhar D et al (2015) Prevalence of rheumatoid arthritis in low- and middle-income countries: a systematic review and analysis. J Glob Health 5:010409

2.

Crowson CS, Liao KP, Davis JM 3rd, Solomon DH, Matteson EL, Knutson KL, Hlatky MA, Gabriel SE (2013) Rheumatoid arthritis and cardiovascular disease. Am Heart J166:622–8.e1

3.

Chandrasekharan UM, Wang Z, Wu Y, Wilson Tang WH, Hazen SL, Wang S, Elaine Husni M (2018) Elevated levels of plasma symmetric dimethylarginine and increased arginase activity as potential indicators of cardiovascular comorbidity in rheumatoid arthritis. Arthritis Res Ther 20:123

4.

Kubes P, Suzuki M, Granger DN (1991) Nitric oxide: an endogenous modulator of leukocyte adhesion. Proc Natl Acad Sci U S A 88:4651–4655

5.

Wolfe F, Mitchell DM, Sibley JT, Fries JF, Bloch DA, Williams CA, Spitz PW, Haga M, Kleinheksel SM, Cathey MA (1994) The mortality of rheumatoid arthritis. Arthritis Rheum 37:481–494

6.

Vallance P, Leone A, Calver A, Collier J, Moncada S (1992) Endogenous dimethylarginine as an inhibitor of nitric oxide synthesis. J Cardiovasc Pharmacol 20:S60–S62

7.

Bode-Böger SM, Scalera F, Kielstein JT, Martens-Lobenhoffer J, Breithardt G, Fobker M, Reinecke H (2006) Symmetrical dimethylarginine: a new combined parameter for renal function and extent of coronary artery disease. J Am Soc Nephrol 17:1128–1134

8.

Kwasny-Krochin B, Gluszko P, Undas A (2012) Plasma asymmetric dimethylarginine in active rheumatoid arthritis: links with oxidative stress and inflammation. Pol Arch Med Wewn 122:270–276

9.

Alderton WK, Cooper CE, Knowles RG (2001) Nitric oxide synthases: structure, function and inhibition. Biochem J 357:593–615

10.

Bouras G, Deftereos S, Tousoulis D, Giannopoulos G, Chatzis G, Tsounis DW, Cleman M, Stefanadis C (2013) Asymmetric dimethylarginine (ADMA): a promising biomarker for cardiovascular disease? Curr Top Med Chem 13:180–200

11.

Şentürk T, Yılmaz N, Sargın G, Köseoğlu K, Yenisey Ç (2016) Relationship between asymmetric dimethylarginine and endothelial dysfunction in patients with rheumatoid arthritis. Eur J Rheumatol 3:106–108

12.

Landim MBP, Casella Filho A, Chagas ACP (2009) Asymmetric dimethylarginine (ADMA) and endothelial dysfunction: implications for atherogenesis. Clinics 64:471–478

13.

Boger RH, Sydow K, Jr B, Thum T, Lenzen H, Schubert B, Tsikas D, Bode-Boger SM (2000) LDL cholesterol upregulates synthesis of asymmetrical dimethylarginine in human endothelial cells: involvement of S-adenosylmethionine–dependent methyltransferases. Circ Res 87:99–105

14.

Wilson AM, Shin DS, Weatherby C, Harada RK, Ng MK, Nair N, Kielstein J, Cooke JP (2010) Asymmetric dimethylarginine correlates with measures of disease severity, major adverse cardiovascular events and all-cause mortality in patients with peripheral arterial disease. Vasc Med 15:267–274

15.

Tripepi G, Raso FM, Sijbrands E, Seck MS, Maas R, Boger R, Witteman J, Rapisarda F, Malatino L, Mallamaci F (2011) Inflammation and asymmetric dimethylarginine for predicting death and cardiovascular events in ESRD patients. Clin J Am Soc Nephrol 6:1714–1721

16.

Leong T, Zylberstein D, Graham I, Lissner L, Ward D, Fogarty J, Bengtsson C, Björkelund C, Thelle D (2008) Asymmetric dimethylarginine independently predicts fatal and nonfatal myocardial infarction and stroke in women: 24-year follow-up of the population study of women in Gothenburg. Arterioscler Thromb Vasc Biol 28:961–967

17.

Krzyzanowska K, Mittermayer F, Wolzt M, Schernthaner G (2007) Asymmetric dimethylarginine predicts cardiovascular events in patients with type 2 diabetes. Diabetes Care 30:1834–1839

18.

Schlesinger S, Sonntag SR, Lieb W, Maas R (2016) Asymmetric and symmetric dimethylarginine as risk markers for total mortality and cardiovascular outcomes: a systematic review and meta-analysis of prospective studies. PLoS One 11:e0165811

19.

Di Franco M, Lucchino B, Conti F, Valesini G, Spinelli FR (2018) Asymmetric dimethyl arginine as a biomarker of atherosclerosis in rheumatoid arthritis. Mediat Inflamm 2018:1–13

20.

Radhakutty A, Mangelsdorf BL, Drake SM, Rowland A, Smith MD, Mangoni AA, Thompson CH, Burt MG (2017) Opposing effects of rheumatoid arthritis and low dose prednisolone on arginine metabolomics. Atherosclerosis 266:190–195

21.

Surdacki A, Martens-Lobenhoffer J, Wloch A, Marewicz E, Rakowski T, Wieczorek-Surdacka E, Dubiel JS, Pryjma J, Bode-Böger SM (2007) Elevated plasma asymmetric dimethyl-L-arginine levels are linked to endothelial progenitor cell depletion and carotid atherosclerosis in rheumatoid arthritis. Arthritis Rheum 56:809–819

22.

Spasovski D, Latifi A, Osmani B, Krstevska-Balkanov S, Kafedizska I, Slaninka-Micevska M, Dejanova B, Alabakovska S, Balkanov T (2013) Determination of the diagnostic values of asymmetric dimethylarginine as an indicator for evaluation of the endothelial dysfunction in patients with rheumatoid arthritis. Arthritis 2013:818037

23.

Moher D, Liberati A, Tetzlaff J, Altman DG (2009) Preferred reporting items for systematic reviews and meta-analyses: the PRISMA statement. PLoS Med 6:e1000097

24.

Surdacki A, Nowicki M, Sandmann J, Tsikas D, Boeger RH, Bode-Boeger SM, Kruszelnicka-Kwiatkowska O, Kokot F, Dubiel JS, Froelich JC (1999) Reduced urinary excretion of nitric oxide metabolites and increased plasma levels of asymmetric dimethylarginine in men with essential hypertension. J Cardiovasc Pharmacol 33:652–658

25.

Kwaśny-Krochin B, Głuszko P, Undas A (2012) Plasma asymmetric dimethylarginine in active rheumatoid arthritis: links with oxidative stress and inflammation. Pol Arch Intern Med 122:270–276

26.

Sandoo A, Dimitroulas T, van Zanten J, Smith JP, Metsios GS, Nightingale P, Stavropoulos-Kalinoglou A, Kitas GD (2012) Lack of association between asymmetric dimethylarginine and in vivo microvascular and macrovascular endothelial function in patients with rheumatoid arthritis. Clin Exp Rheumatol 30:388–396

27.

Klimek E, Skalska A, Kwaśny-Krochin B, Surdacki A, Sulicka J, Korkosz M, Fedak D, Kierzkowska I, Wizner B, Grodzicki TK (2014) Differential associations of inflammatory and endothelial biomarkers with disease activity in rheumatoid arthritis of short duration. Mediat Inflamm 2014:681635

28.

Akgol G, Gülkesen A, Telo S, Ulusoy H, Poyraz AK, Alkan G, Kaya A (2016) Can serum asymmetric dimethyl-arginine and homocysteine levels be a new activity parameter of disease in patients with rheumatoid arthritis? Int J Clin Exp Med 9:14586–14595

29.

Vatansev H, Öztürk B, Yılmaz S, Sivrikaya A, Dağlı M, Kıyıcı A, Ünlü A (2013) Asymmetric dimethylarginine and arginine levels in patients with rheumatoid arthritis. Turk J Biochem 38:169–175

30.

Erre GL, Piras A, Mura S, Mundula N, Piras M, Taras L, Longu MG, Saba PS, Ganau A, Carru C, Passiu G (2016) Asymmetric dimethylarginine and arterial stiffness in patients with rheumatoid arthritis: a case–control study. J Intern Med Res 44:76–80

31.

Karaoǧlan B, Öztürk GT, Özdoǧan V, Cumaoǧlu A, Oktar S, Taş N, Aricioǧlu A (2011) Investigation of the correlation between ADMA levels and carotid artery intima-media thickness in rheumatoid arthritis patients. Turk Fiz Tip Rehab D 57:114–118

32.

Antoniades C, Demosthenous M, Tousoulis D, Antonopoulos AS, Vlachopoulos C, Toutouza M, Marinou K, Bakogiannis C, Mavragani K, Lazaros G, Koumallos N, Triantafyllou C, Lymperiadis D, Koutsilieris M, Stefanadis C (2011) Role of asymmetrical dimethylarginine in inflammation-induced endothelial dysfunction in human atherosclerosis. Hypertension 58:93–98

33.

Turiel M, Atzeni F, Tomasoni L, De Portu S, Delfino L, Bodini BD, Longhi M, Sitia S, Bianchi M, Ferrario P et al (2009) Non-invasive assessment of coronary flow reserve and ADMA levels: a case - control study of early rheumatoid arthritis patients. Rheumatology 48:834–839

34.

Dimitroulas T, Hodson J, Sandoo A, Smith J, Kitas GD (2015) Symmetric dimethylarginine (SDMA) serum levels in rheumatoid arthritis: correlations with insulin resistance and disease activity scores. Amino Acids 47:1995–2004

35.

Goldenberg J, Ferraz MB, Pessoa AP, Fonseca AS, Carvalho AC, Hilario MO, Atra E (1992) Symptomatic cardiac involvement in juvenile rheumatoid arthritis. Int J Cardiol 34:57–62

36.

Voskuyl A (2006) The heart and cardiovascular manifestations in rheumatoid arthritis. Rheumatology 45:iv4–iv7

37.

Meinitzer A, Kielstein JT, Pilz S, Drechsler C, Ritz E, Boehm BO, Winkelmann BR, März W (2011) Symmetrical and asymmetrical dimethylarginine as predictors for mortality in patients referred for coronary angiography: the Ludwigshafen Risk and Cardiovascular Health study. Clin Chem 57:112–121

38.

Folsom AR, Aleksic N, Catellier D, Juneja HS, Wu KK (2002) C-reactive protein and incident coronary heart disease in the Atherosclerosis Risk In Communities (ARIC) study. Am Heart J 144:233–238

39.

Sydow K, Münzel T (2003) ADMA and oxidative stress. Atheroscler Suppl 4:41–51

40.

Mallamaci F, Tripepi G, Cutrupi S, Malatino LS, Zoccali C (2005) Prognostic value of combined use of biomarkers of inflammation, endothelial dysfunction, and myocardiopathy in patients with ESRD. Kidney Int 67:2330–2337

41.

Panoulas VF, Metsios GS, Pace A, John H, Treharne G, Banks M, Kitas GD (2008) Hypertension in rheumatoid arthritis. Rheumatology 47:1286–1298

42.

Solomon DH, Karlson EW, Rimm EB, Cannuscio CC, Mandl LA, Manson JE, Stampfer MJ, Curhan GC (2003) Cardiovascular morbidity and mortality in women diagnosed with rheumatoid arthritis. Circulation 107:1303–1307

43.

Surdacki A, Martens-Lobenhoffer J, Wloch A, Gluszko P, Rakowski T, Dubiel JS, Bode-Böger SM (2009) Plasma asymmetric dimethylarginine is related to anticitrullinated protein antibodies in rheumatoid arthritis of short duration. Metabolism 58:316–318

44.

Turiel M, Tomasoni L, Sitia S, Cicala S, Gianturco L, Ricci C, Atzeni F, De Gennaro Colonna V, Longhi M, Sarzi-Puttini P (2010) Effects of long-term disease-modifying antirheumatic drugs on endothelial function in patients with early rheumatoid arthritis. Cardiovasc Ther 28:e53–e64
Additional information
Publisher's note
Springer Nature remains neutral with regard to jurisdictional claims in published maps and institutional affiliations.
About this article
Cite this article
Zafari, P., Zarifian, A., Alizadeh-Navaei, R. et al. Asymmetric and symmetric dimethylarginine concentration as an indicator of cardiovascular diseases in rheumatoid arthritis patients: a systematic review and meta-analysis of case-control studies. Clin Rheumatol 39, 127–134 (2020). https://doi.org/10.1007/s10067-019-04713-z
Received:

Revised:

Accepted:

Published:

Issue Date:
Keywords
Atherosclerosis

Cardiovascular diseases

Endothelial dysfunction

Rheumatoid arthritis

Symmetric dimethylarginine