Autoantibodies, elevated cytokines, and neurocognitive abnormalities in offspring of women with systemic lupus erythematosus: comparison with healthy controls
Abstract
Introduction
Research describes higher incidence of neurodevelopmental disorders and learning disabilities in offspring of women affected by lupus. Factors implied are pregnancy and delivery adversities and exposure to maternal antibodies and cytokines. Little is known about the offspring immunological condition or the relation between offspring and maternal condition.
Objectives
This study was conducted in order to analyze immunological configuration, psychopathology, and neuropsychological performance of young offspring of women with lupus, in comparison with healthy controls and in relation to maternal psychophysical condition.
Methods
Twenty-one offspring aged 8–17 of 17 women with lupus and 34 controls were recruited. Pregnancy conditions, stress factors, and immunological, psychopathological, and neuropsychological characteristics were compared. Immunological tests included standard lupus screening, lupus-related autoantibodies, antibodies against GluN2 subunit of the N-methyl-D-aspartate receptor (NMDAR) (anti-DWEYS Ab), and levels of ten cytokines (IL-1β, IL-2, IL-4, IL-5, IL-6, IL-8, IL-10, GMCSF, IFN-γ, TNF-α).
Results
Offspring had lower leukocyte count (p = 0.001) and higher levels of anti-dsDNA Ab (p = 0.022), anti-DWEYS-GluN2 Ab (p < 0.001), and eight cytokines (IL-1β, IL-2, IL-4, IL-5, IL-6, IL-10, TNF-α—all p < 0.001—and IFN-γ, p = 0.026) than controls. Their cytokine levels did not differ from their mothers'; 23.9% of offspring met the criteria for a clinical psychiatric diagnosis. No differences were found in intelligence measures. Various neuropsychological scores correlated inversely with maternal psychophysical health.
Conclusions
Offspring's profile suggests proinflammatory and autoimmune activation. Their rate of psychiatric diagnosis appears higher than in the general population, and their cognitive performance is related to maternal psychophysical health. Longitudinal research might investigate whether immunological and psychosocial conditions influence psychopathology and cognition.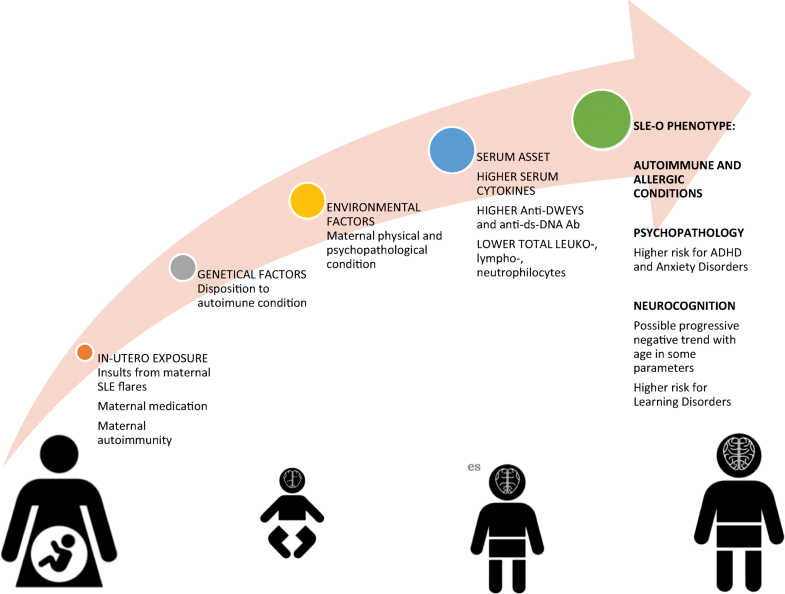 Keywords
Anti-DWEYS 
Anti-NMDA/glutamate receptor antibodies 
Cognitive development 
Cytokines 
Parental depression 
Systemic lupus erythematosus 
List of abbreviations
Ab

autoantibodies

ADHD

attention deficit and hyperactivity disorder

ANA Ab

anti-nuclear antibodies

Anti-DWEYS-GluN2 Ab

antibodies against the GluN2 subunit of the NMDAR

anti-RP Ab

anti-ribosomal P protein antibodies

aPL Ab

antiphospholipid antibodies

ASD

autism spectrum disorders

ASLO Ab

anti-streptolysin-O (ASLO) antibodies

BBB

blood brain barrier

BDI

Beck Depression Inventory

BMI

body mass index

CBA

cell based assays

CDRS-R

Children's Depression Rating Scale—revised

HADS

Hospital Anxiety and Depression

HC

healthy controls

IHC

immunochemistry

LD

learning disabilities

NMDAR

N-methyl-D-aspartate receptor

NPSLE

neuropsychiatric lupus

OCD

obsessive-compulsive disorder

OCS scale

obstetrical complication scale

SCARED

Screen for Child Anxiety Related Emotional Disorders

SES scale

socioeconomic status scale

SLE

systemic lupus erythematosus

SLEDAI scale

SLE Disease Activity Index scale

SLE-O

offspring of women with SLE

SLES-C

Stressful Life Events Schedule, child version

SLES-P

Stressful Life Events Schedule—parent version

SLICC-DI

Systemic Lupus International Collaborative Clinics/American College of Rheumatology Damage Index scale

WAIS-III

Wechsler adult intelligence scale 3rd edition

WISC- IV

the Wechsler intelligence scale for children 4th edition
Notes
Acknowledgements
The authors would like to thank Antonio Angulo, neuropsychologist, who took the neuropsychological tests; Dr. Odette Vinyas, immunologist, who contributed in running the immunological tests; and Dr. Roger Borrás for the help in the preliminary statistical analysis.
Funding information
This work was partially financed by FIS (Fund for Investigation in Health) grant no. PI040700 from the Health Ministry of Spain. MG was partly supported by an "After-Specialization-Grant" (Beca de Fin de Residencia) by the Hospital Clinic Foundation.
Compliance with ethical standards
Copyright information
© International League of Associations for Rheumatology (ILAR) 2019