Abstract
The objectives of this study were to develop a standard classification of digital ulcers (DUs) in systemic sclerosis (SSc) for use in observational or therapeutic studies and to assess the reliability of these definitions as well as of the measurement of ulcer area. Ten North American rheumatologists with expertise in SSc reviewed multiple photos of DUs, examined four SSc subjects with DUs, and came to a consensus on the definitions for digital, active, healed, and indeterminate ulcers. These ten raters then examined the right hand of ten SSc subjects twice and the left hand once to classify ulcers and to measure ulcer area. Weighted and Fleiss kappa were used to calculate intra- and interrater agreement on classification of ulcers, and intraclass correlation coefficient (ICC) was used to assess agreement on ulcer area. Because the traditional ICC calculations relied on a small number of ulcers, ICCs were recalculated using the results of linear mixed models to evaluate the variance components of observations on all the data. Intrarater kappa for classifying DU as not an ulcer/healed ulcer versus active/indeterminate ulcer was substantial (0.76), and interrater kappa was moderate (0.53). The ICC for ulcer area using the linear mixed models was moderate both for intrarater (0.57) and interrater (0.48) measurements. A consensus for the classification of DUs in SSc was developed, and after a training session, rheumatologists with expertise in SSc are able to reliably classify DUs and to measure ulcer area.
This is a preview of subscription content, log in to check access.
Access options
Buy single article
Instant unlimited access to the full article PDF.
US$ 39.95
Price includes VAT for USA
Subscribe to journal
Immediate online access to all issues from 2019. Subscription will auto renew annually.
US$ 99
This is the net price. Taxes to be calculated in checkout.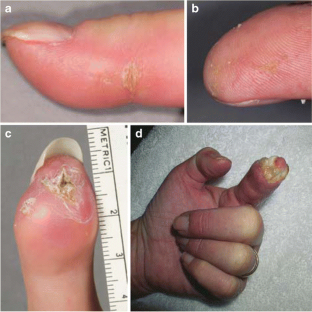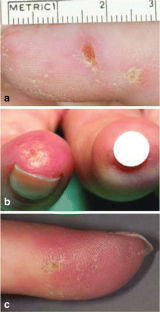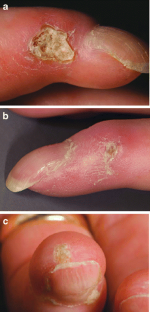 References
1.

Chung L, Fiorentino D (2006) Digital ulcers in patients with systemic sclerosis. Autoimmun Rev 5:125–128

2.

Steen VD, Medsger TA Jr (1997) The value of the Health Assessment Questionnaire and special patient-generated scales to demonstrate change in systemic sclerosis patients over time. Arthritis Rheum 40:1984–1991

3.

Malcarne VL, Hansdottir I, McKinney A, Upchurch R, Greenbergs HL, Henstorf GH et al (2007) Medical signs and symptoms associated with disability, pain, and psychosocial adjustment in systemic sclerosis. J Rheumatol 34:359–367

4.

Matucci-Cerinic M, Denton CP, Furst DE, Mayes MD, Hsu VM, Carpentier P et al (2011) Bosentan treatment of digital ulcers related to systemic sclerosis: results from the RAPIDS-2 randomised, double-blind, placebo-controlled trial. Ann Rheum Dis 70:32–38

5.

Korn JH, Mayes M, Matucci Cerinic M, Rainisio M, Pope J, Hachulla E et al (2004) Digital ulcers in systemic sclerosis: prevention by treatment with bosentan, an oral endothelin receptor antagonist. Arthritis Rheum 50:3985–3993

6.

Abou-Raya A, Abou-Raya S, Helmii M (2008) Statins: potentially useful in therapy of systemic sclerosis-related Raynaud's phenomenon and digital ulcers. J Rheumatol 35:1801–1808

7.

Herrick AL, Roberts C, Tracey A, Silman A, Anderson M, Goodfield M et al (2009) Lack of agreement between rheumatologists in defining digital ulceration in systemic sclerosis. Arthritis Rheum 60:878–882

8.

Landis JR, Koch GG (1977) The measurement of observer agreement for categorical data. Biometrics 33:159–174

9.

Shenoy PD, Kumar S, Jha LK, Choudhary SK, Singh U, Misra R et al (2010) Efficacy of tadalafil in secondary Raynaud's phenomenon resistant to vasodilator therapy: a double-blind randomized cross-over trial. Rheumatology (Oxford) 49:2420–2428
Acknowledgments
The Scleroderma Society of Ontario granted $20,000.00 for this study.
Conflict of interest
None of the authors have any conflict of interest with regard to the contents of this paper.
Electronic supplementary material
Below is the link to the electronic supplementary material.
About this article
Cite this article
Baron, M., Chung, L., Gyger, G. et al. Consensus opinion of a North American Working Group regarding the classification of digital ulcers in systemic sclerosis. Clin Rheumatol 33, 207–214 (2014). https://doi.org/10.1007/s10067-013-2460-7
Received:

Accepted:

Published:

Issue Date:
Keywords
Digital ulcers

Ischemia

Psychometrics

Reliability

Scleroderma

Systemic sclerosis