Abstract
In vivo and in vitro aggrecanases degrade proteoglycan aggrecan in articular cartilage. However, the expression of aggrecanases in patients in different stages of osteoarthritis (OA) has not been investigated. This study detected the expression of a disintegrin and metalloproteinase with thrombospondin motifs 4 (ADAMTS-4) and ADAMTS-5 and their proteolytic products, ARGxx, in the synovial fluid (SF) of patients in different stages of OA. This study aimed to evaluate the expression of aggrecanases and to explore the respective roles of these enzymes in human cartilage degradation. A total of 144 patients with knee OA were divided into early-, middle-, and late-stage OA groups according to the degree of cartilage degradation using Recht's MRI grading standard and the modified Outerbridge classification system. Expression levels of ADAMTS-4, ADAMTS-5, and ARGxx in the SF from these patients were measured using enzyme-linked immunosorbent assay (ELISA) and Western blot analysis. Our findings showed that ADAMTS-4 and ARGxx expression levels in the early-stage group were significantly higher than in the other two groups. ADAMTS-5 in the early-stage group and ADAMTS-4, ADAMTS-5, and ARGxx in the late-stage group were significantly higher than those in the middle-stage OA group. Both ADAMTS-4 and ADAMTS-5 levels were correlated with ARGxx levels (P < 0.05). The correlation coefficients of ADAMTS-4 and ADAMTS-5 were 0.236 and 0.068, 0.729 and 0.479, and 0.675 and 0.257 in the early-, middle-, and late-stage groups, respectively, and 0.530 and 0.258 in the total SF samples. Western blot analysis revealed that the ADAMTS-4 and ADAMTS-5 in SF were 50 kDa proteins and that ARGxx in SF had at least two molecular masses, 55 kDa and 70 kDa. The expression levels of all three proteins were consistent with the ELISA results. These results suggested that aggrecanases were involved in all stages of human OA aggrecan degradation, especially in the early and late stages. ADAMTS-4 levels were higher in early- compared with middle- or late-stage OA and were also more correlated with ARGxx than ADAMTS-5; thus, ADAMTS-4 might be the principal aggrecanase of aggrecan degradation in human OA.
This is a preview of subscription content, log in to check access.
Access options
Buy single article
Instant access to the full article PDF.
US$ 39.95
Price includes VAT for USA
Subscribe to journal
Immediate online access to all issues from 2019. Subscription will auto renew annually.
US$ 99
This is the net price. Taxes to be calculated in checkout.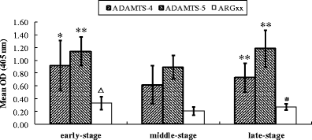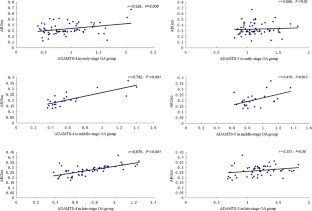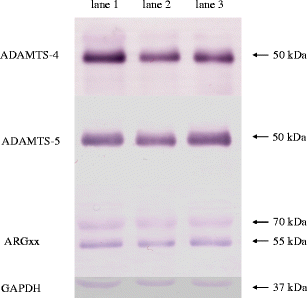 Abbreviations
ADAMTS:

A disintegrin and metalloproteinase with thrombospondin motifs

ELISA:

Enzyme-linked immunosorbent assay

MMP:

Matrix metalloproteinase

OA:

Osteoarthritis

SF:

Synovial fluid
References
1.

Martel-Pelletier J, Boileau C, Pelletier JP, Roughley PJ (2008) Cartilage in normal and osteoarthritis conditions. Best Pract Res Clin Rheumatol 22:351–384

2.

Roberts S, Hollander AP, Caterson B, Menage J, Richardson JB (2001) Matrix turnover in human cartilage repair tissue in autologous chondrocyte implantation. Arthritis Rheum 44:2586–2598

3.

Struglics A, Larsson S, Pratta MA, Kumar S, Lark MW, Lohmander LS (2006) Human osteoarthritis synovial fluid and joint cartilage contain both aggrecanase- and matrix metalloproteinase-generated aggrecan fragments. Osteoarthritis Cartilage 14:101–113

4.

Durigova M, Nagase H, Mort JS, Roughley PJ (2011) MMPs are less efficient than ADAMTS5 in cleaving aggrecan core protein. Matrix Biol 30:145–153

5.

Karsdal MA, Madsen SH, Christiansen C, Henriksen K, Fosang AJ, Sondergaard BC (2008) Cartilage degradation is fully reversible in the presence of aggrecanase but not matrix metalloproteinase activity. Arthritis Res Ther 10:R63

6.

Little CB, Hughes CE, Curtis CL, Janusz MJ, Bohne R, Wang-Weigand S, Taiwo YO, Otterness IG, Mitchell PG, Flannery CR, Caterson B (2002) Matrix metalloproteinases are involved in C-terminal and interglobular domain processing of cartilage aggrecan in late stage cartilage degradation. Matrix Biol 21:271–288

7.

Bayliss MT, Hutton S, Hayward J, Maciewicz RA (2001) Distribution of aggrecanase (ADAMts 4/5) cleavage products in normal and osteoarthritic human articular cartilage: the influence of age, topography and zone of tissue. Osteoarthritis Cartilage 9:553–560

8.

Bondeson J, Wainwright S, Hughes C, Caterson B (2008) The regulation of the ADAMTS4 and ADAMTS5 aggrecanases in osteoarthritis: a review. Clin Exp Rheumatol 26:139–145

9.

Sandy JD, Verscharen C (2001) Analysis of aggrecan in human knee cartilage and synovial fluid indicates that aggrecanase (ADAMTS) activity is responsible for the catabolic turnover and loss of whole aggrecan whereas other protease activity is required for C-terminal processing in vivo. Biochem J 358:615–626

10.

Song RH, Tortorella MD, Malfait AM, Alston JT, Yang Z, Arner EC, Griggs DW (2007) Aggrecan degradation in human articular cartilage explants is mediated by both ADAMTS-4 and ADAMTS-5. Arthritis Rheum 56:575–585

11.

Innes JF, Little CB, Hughes CE, Caterson B (2005) Products resulting from cleavage of the interglobular domain of aggrecan in samples of synovial fluid collected from dogs with early- and late-stage osteoarthritis. Am J Vet Res 66:1679–1685

12.

Altman R, Asch E, Bloch D, Bole G, Borenstein D, Brandt K, Christy W, Cooke TD, Greenwald R, Hochberg M (1986) Development of criteria for the classification and reporting of osteoarthritis. Classification of osteoarthritis of the knee. Diagnostic and Therapeutic Criteria Committee of the American Rheumatism Association. Arthritis Rheum 29:1039–1049

13.

Recht MP, Kramer J, Marcelis S, Pathria MN, Trudell D, Haghighi P, Sartoris DJ, Resnick D (1993) Abnormalities of articular cartilage in the knee: analysis of available MR techniques. Radiology 187:473–478

14.

Outerbridge RE (1964) Further studies on the etiology of Chondromalacia patellae. J Bone Joint Surg Br 46:179–190

15.

Eckstein F, Burstein D, Link TM (2006) Quantitative MRI of cartilage and bone: degenerative changes in osteoarthritis. NMR Biomed 19:822–854

16.

Eckstein F, Charles HC, Buck RJ, Kraus VB, Remmers AE, Hudelmaier M, Wirth W, Evelhoch JL (2005) Accuracy and precision of quantitative assessment of cartilage morphology by magnetic resonance imaging at 3.0 T. Arthritis Rheum 52:3132–3136

17.

Hollander AP, Pidoux I, Reiner A, Rorabeck C, Bourne R, Poole AR (1995) Damage to type II collagen in aging and osteoarthritis starts at the articular surface, originates around chondrocytes, and extends into the cartilage with progressive degeneration. J Clin Invest 96:2859–2869

18.

Mankin HJ, Lippiello L (1970) Biochemical and metabolic abnormalities in articular cartilage from osteo-arthritic human hips. J Bone Joint Surg Am 52:424–434

19.

Little CB, Flannery CR, Hughes CE, Mort JS, Roughley PJ, Dent C, Caterson B (1999) Aggrecanase versus matrix metalloproteinases in the catabolism of the interglobular domain of aggrecan in vitro. Biochem J 344(Pt 1):61–68

20.

Flannery CR, Lark MW, Sandy JD (1992) Identification of a stromelysin cleavage site within the interglobular domain of human aggrecan. Evidence for proteolysis at this site in vivo in human articular cartilage. J Biol Chem 267:1008–1014

21.

Lohmander LS, Neame PJ, Sandy JD (1993) The structure of aggrecan fragments in human synovial fluid. Evidence that aggrecanase mediates cartilage degradation in inflammatory joint disease, joint injury, and osteoarthritis. Arthritis Rheum 36:1214–1222

22.

Sandy JD, Flannery CR, Neame PJ, Lohmander LS (1992) The structure of aggrecan fragments in human synovial fluid. Evidence for the involvement in osteoarthritis of a novel proteinase which cleaves the Glu 373-Ala 374 bond of the interglobular domain. J Clin Invest 89:1512–1516

23.

Tortorella M, Pratta M, Liu RQ, Abbaszade I, Ross H, Burn T, Arner E (2000) The thrombospondin motif of aggrecanase-1 (ADAMTS-4) is critical for aggrecan substrate recognition and cleavage. J Biol Chem 275:25791–25797

24.

Kevorkian L, Young DA, Darrah C, Donell ST, Shepstone L, Porter S, Brockbank SM, Edwards DR, Parker AE, Clark IM (2004) Expression profiling of metalloproteinases and their inhibitors in cartilage. Arthritis Rheum 50:131–141

25.

Plaas A, Osborn B, Yoshihara Y, Bai Y, Bloom T, Nelson F, Mikecz K, Sandy JD (2007) Aggrecanolysis in human osteoarthritis: confocal localization and biochemical characterization of ADAMTS5-hyaluronan complexes in articular cartilages. Osteoarthritis Cartilage 15:719–734

26.

Bau B, Gebhard PM, Haag J, Knorr T, Bartnik E, Aigner T (2002) Relative messenger RNA expression profiling of collagenases and aggrecanases in human articular chondrocytes in vivo and in vitro. Arthritis Rheum 46:2648–2657

27.

Glasson SS, Askew R, Sheppard B, Carito B, Blanchet T, Ma HL, Flannery CR, Peluso D, Kanki K, Yang Z, Majumdar MK, Morris EA (2005) Deletion of active ADAMTS5 prevents cartilage degradation in a murine model of osteoarthritis. Nature 434:644–648

28.

Stanton H, Rogerson FM, East CJ, Golub SB, Lawlor KE, Meeker CT, Little CB, Last K, Farmer PJ, Campbell IK, Fourie AM, Fosang AJ (2005) ADAMTS5 is the major aggrecanase in mouse cartilage in vivo and in vitro. Nature 434:648–652

29.

Rogerson FM, Stanton H, East CJ, Golub SB, Tutolo L, Farmer PJ, Fosang AJ (2008) Evidence of a novel aggrecan-degrading activity in cartilage: studies of mice deficient in both ADAMTS-4 and ADAMTS-5. Arthritis Rheum 58:1664–1673

30.

Tortorella MD, Malfait AM, Deccico C, Arner E (2001) The role of ADAM-TS4 (aggrecanase-1) and ADAM-TS5 (aggrecanase-2) in a model of cartilage degradation. Osteoarthritis Cartilage 9:539–552

31.

Powell AJ, Little CB, Hughes CE (2007) Low molecular weight isoforms of the aggrecanases are responsible for the cytokine-induced proteolysis of aggrecan in a porcine chondrocyte culture system. Arthritis Rheum 56:3010–3019

32.

Kamm JL, Nixon AJ, Witte TH (2010) Cytokine and catabolic enzyme expression in synovium, synovial fluid and articular cartilage of naturally osteoarthritic equine carpi. Equine Vet J 42:693–699

33.

Gendron C, Kashiwagi M, Lim NH, Enghild JJ, Thogersen IB, Hughes C, Caterson B, Nagase H (2007) Proteolytic activities of human ADAMTS-5: comparative studies with ADAMTS-4. J Biol Chem 282:18294–18306
Acknowledgments
This work was supported by the Provincial Natural Science Foundation of Shandong (Y2007C132), National Natural Science Foundation of China (NTFC) (30972720), National Basic Research Program of China (2010CB529105), and Shandong Taishan Scholarship.
Disclosures
None.
About this article
Cite this article
Zhang, E., Yan, X., Zhang, M. et al. Aggrecanases in the human synovial fluid at different stages of osteoarthritis. Clin Rheumatol 32, 797–803 (2013). https://doi.org/10.1007/s10067-013-2171-0
Received:

Revised:

Accepted:

Published:

Issue Date:
Keywords
A disintegrin and metalloproteinase with thrombospondin motifs

Aggrecanase

Cartilage destruction

Matrix metalloproteinase

Osteoarthritis

Synovial fluid