Zusammenfassung
Die Versorgung eines traumatologischen Patienten bedarf eines erheblichen Aufwands an Personal und Ressourcen. Aktuell ist die Alarmierung eines Schockraums nach den sog. GoR-B-Kriterien der Deutschen Gesellschaft für Unfallchirurgie möglich, man spricht vom Schockraum nach Unfallhergang. Dies wurde im Zuge der S3-Leitlinie zur Polytraumaversorgung implementiert. Diese Leitlinie hat in den letzten Jahren u. a. zu einer signifikanten Senkung der Mortalität bei Schwerverletzten beigetragen. Jedoch ist es parallel zu einer relevanten Mehrauslastung der Schockräume gekommen, was eine erhebliche finanzielle und personelle Belastung bedeutet. Die Frage nach einer möglichen Reduktion der Schockraumvorhaltung wird kontrovers diskutiert. Die durchgeführte Umfrage richtete sich an präklinisch tätige Ärztinnen und Ärzte sowie Rettungsdienstmitarbeiter(innen) und diente der Untersuchung der präklinischen Anwendung der Schockraumanmeldung nach Unfallhergang. Dabei konnte gezeigt werden, dass die Alarmierung sehr heterogen genutzt wird. Ein Rückschluss auf die Verletzungsschwere des Patienten bzw. die zu aktivierenden Kräfte erscheint für das aufnehmende Traumazentrum kaum möglich. Die automatische Reduktion der Schockraumvorhaltung bei Anmeldung nach Unfallhergang – ohne weitergehende Informationen z. B. durch Arzt-Arzt-Gespräch – kann daher zurzeit aus unserer Sicht nicht empfohlen werden.
Abstract
Trauma team activation requires significant human and financial resources. In Germany, trauma team activation is possible if a patient meets the GoR B criteria defined by the German Society of Trauma Surgery in their S3 guidelines. These guidelines reduced the mortality of severely injured patients significantly over the past 8 years. Implementation of the S3 guidelines led to a significant increase in the usage of trauma team activation with a relevant increase in both human and financial resources. The need for reduced trauma team activation is subject of a controversial debate. The present online survey addressed physicians and paramedics and aimed at assessing the utilization of trauma team activation according to the GoR B criteria. We were able to demonstrate that there is no consistent usage of these GoR B criteria. A prediction of the severity of injuries according to the GoR B criteria trauma team activation does not seem possible. Therefore, a standardized reduction in the trauma team after activation, as per the aforementioned criteria, is not recommended.
This is a preview of subscription content, log in to check access.
Access options
Buy single article
Instant access to the full article PDF.
US$ 39.95
Price includes VAT for USA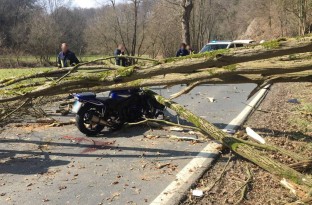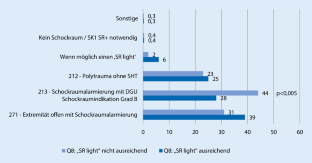 Abbreviations
DGU:

Deutsche Gesellschaft für Unfallchirurgie

GoR:

"Grade of recommendation"

IVENA:

Interdisziplinärer Versorgungsnachweis

PZC:

Patientenzuweisungscode

SK:

Sichtungskategorie

SR:

Schockraum

SRnUH:

Schockraumalarmierung nach Unfallhergang

TTA:

"Trauma team activation"
Literatur
1.

Bouillon B, Pieper D (2016) S3-Leitlinie Polytrauma/Schwerverletzten-Behandlung AWMF Register-Nr. 012/019. https://www.awmf.org/uploads/tx_szleitlinien/012-019l_S3_Polytrauma_Schwerverletzten-Behandlung_2017-08.pdf. Zugegriffen: 01.05.2019

2.

Schoeneberg C, Schiling M, Keitel J, Kaudther DBM (2017) Polytrauma – ein Versuch der Validierung durch eine retrospektive Analyse von 2304 Patienten (2002–2011) an einem überregionalen ( Level 1 ) Traumazentrum TraumaNetwork , Trauma Registry of the DGU ® , Whitebook , S3 Guideline on Treatment of Polytrauma. Zentralblatt für Chir – Zeitschrift für Allg Visz Thorax- und. Gefäßchirurgie 142(2):199–208

3.

Marzi I, Lustenberger T, Störmann P, Mörs K, Wagner N, Wutzler S (2019) Steigender Vorhalteaufwand für den SchockraumIncreasing overhead ressources of the trauma room. Unfallchirurg 122:53–58

4.

Rotonda M, Cribari C, Smith RS (2014) Resources for optimal care of the traumatised patient 2014-annotated

5.

Linder F, Holmberg L, Bjorck M, Juhlin C, Thorbjornsen K, Wisinger J, Polleryd P, Eklof H, Mani K (2019) A prospective stepped wedge cohort evaluation of the new national trauma team activation criteria in Sweden—the TRAUMALERT study. Scand J Trauma Resusc Emerg Med 27:1–10

6.

Smith D, Chapital A, Burgess D, Uperesa B (2011) Trauma activations and their effects on non-trauma patients. J Emerg Med 41:90–94

7.

Spering C, Roessler M, Kurlemann T, Dresing K, Stürmer KM, Lehmann W, Sehmisch S (2018) Optimized resource mobilization and quality of treatment of severely injured patients through a structured trauma room alarm system. Unfallchirurg 121:893–900

8.

Lenz W, Luderer M, Seitz G (2003) Die Dispositionsqualität einer Rettungsleitstelle. Qualitätsmanagement mit der "Rückmeldezahl". Notf Rett Med 3:72–80

9.

Waydhas C, Baake M, Becker L, Buck B, Düsing H, Heindl B, Jensen KO, Lefering R, Mand C, Paffrath T, Schweigkofler U, Sprengel K, Trentzsch H, Wohlrath B, Bieler D (2018) A consensus-based criterion standard for the requirement of a trauma team. World J Surg 42:2800–2809
Ethics declarations
Interessenkonflikt
P. Hagebusch, P. Faul, F. Naujoks, R. Hoffmann und U. Schweigkofler geben an, dass kein Interessenkonflikt besteht.
Für diesen Beitrag wurden von den Autoren keine Studien an Menschen oder Tieren durchgeführt. Für die aufgeführten Studien gelten die jeweils dort angegebenen ethischen Richtlinien.
Additional information
F. Naujoks ist Ärztlicher Leiter Rettungsdienst
About this article
Cite this article
Hagebusch, P., Faul, P., Naujoks, F. et al. Präklinische Nutzung der Schockraumalarmierung nach Unfallhergang. Ergebnis einer Online-Umfrage. Notfall Rettungsmed (2020). https://doi.org/10.1007/s10049-020-00679-7
Schlüsselwörter
Schockraum nach Unfallhergang

Ressourcenmanagement

Schockraumalarmierung

"Schockraum light"
Keywords
Trauma team activation

Resource management

Trauma team alarm

Reduced trauma team activation