Zusammenfassung
Mehr als die Hälfte aller vermeidbaren Todesfälle nach Trauma sind durch Blutungen verursacht. Unter diesem Gesichtspunkt hat das frühzeitige Stillen kritischer, also lebensbedrohlicher Blutungen absolute Priorität. Im vorliegenden Beitrag soll eine leitliniengerechte Handlungsempfehlung zur präklinischen Blutstillung bei schweren Extremitätenverletzungen formuliert werden, zudem wird ein Überblick über mögliche Hilfsmittel zur raschen Blutungskontrolle gegeben.
Abstract
More than half of all avoidable fatalities after trauma are due to uncontrollable bleeding. Therefore, the management of a potentially life-threatening hemorrhage has absolute priority. This review gives an overview of a variety of potential aids, e.g. tourniquets and hemostyptics, and provides practical information on the preclinical management of critical bleeding following severe extremity injuries according to the current guidelines.
This is a preview of subscription content, log in to check access.
Access options
Buy single article
Instant access to the full article PDF.
US$ 39.95
Price includes VAT for USA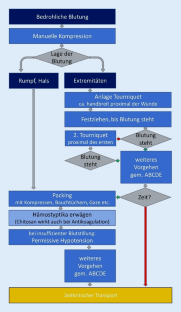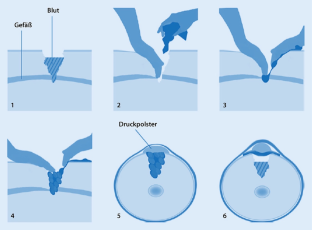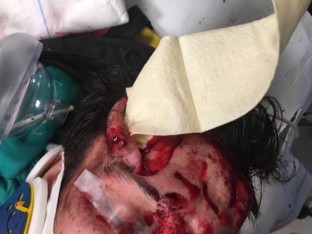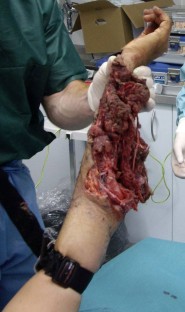 Literatur
1.

AWMF (2016) S3-Leitlinie Polytrauma/Schwerverletztenversorgung (AWMF-Register Nr. 012/019)

2.

Beekley AC, Sebesta JA, Blackbourne LH et al (2008) Prehospital tourniquet use in operation Iraqi freedom: effect on hemorrhage control and outcomes. J Trauma 64:28–37

3.

Bohnen R (2012) TEMS (tactical emergency medical support). Taktische Medizin. Springer, Heidelberg, S 323–330

4.

Eastridge BJ, Mabry RL, Seguin P et al (2012) Death on the battlefield (2001–2011): Implications for the future of combat casualty care. J Trauma Acute Care Surg 73(5):S431–7. https://doi.org/10.1097/TA.0b013e3182755dcc

5.

Evans JA, van Wessem KJ, McDougall D et al (2010) Epidemiology of traumatic deaths: comprehensive population-based assessment. World J Surg 34:158–163

6.

Hodgetts TJ, Mahoney PF, Russell MQ et al (2006) ABC to 〈C〉ABC: redefining the military trauma paradigm. Emerg Med J 23:745–746

7.

Hossfeld B, Lechner R, Josse F et al (2018) Prähospitale Anwendung von Tourniquets bei lebensbedrohlichen Extremitätenblutungen. Unfallchirurg 121:516–529

8.

Hossfeld B, Josse F, Kulla M et al (2016) Handlungsempfehlung prähospitalen Anwendung von Tourniquets. Anasth Intensivmed 57:698–704

9.

Howard JT, Kotwal RS, Smith DJ et al (2019) Use of combat casualty care data to assess the US military trauma system during the Afghanistan and Iraq conflicts, 2001–2017. JAMA Surg 154(7):600–608. https://doi.org/10.1001/jamasurg.2019.0151

10.

Joint Trauma System (JTS) (2019) Committee on tactical combat casualty care (coTCCC), coTCCC recommended devices & adjuncts

11.

Josse F, Helm M, Kulla M, Ladehof K, Hossfeld B (2015) Prehospital measures to stop bleeding: the torniquet. Notarzt 2:103–107

12.

Kalish J, Burke P, Feldmann J et al (2008) The return of torniquets. Original research evaluates the effectiveness of prehospital torniquets for civilian penetrating extremity injuries. JEMS 33:44–46

13.

Kleber C, Giesecke MT, Buschmann CT et al (2012) Overall distribution of trauma-related deaths in Berlin 2010: advancement or stagnation of German trauma management. World J Surg 36:2125–2130

14.

Kleber C, Giesecke MT, Buschmann CT et al (2013) Trauma-related preventable deaths in Berlin 2010: need to change prehospital management strategies and trauma management education. World J Surg 37:1154–1161

15.

Köksal O, Özdemir F, Cam Etöz B et al (2011) Hemostatic effect of a chitosan linear polymer (Celox) in a severe femoral artery bleeding rat model under hypothermia or warfarin therapy. Ulus Travma Acil Cerrahi Derg 17(3):199–204

16.

Kulla M, Hinck D, Bernhard M, Schweigkofler U, Helm M, Hossfeld B (2014) Treatment options for trauma-associated critical bleeding in the out-of-hospital setting. Notf Rett Med 17:575–583

17.

Lechner R, Kulla M, Josse F, Hossfeld B (2019) Prähospitale Anlage von Tourniquets zur Kontrolle massiver Extremitätenblutungen – ein Update. Notarzt 35:45–53

18.

Münzberg M, Gliwitzky B, Kulla M et al (2014) Training strategies to optimize care of the severely injured. Notf Rett Med 17:593–600

19.

Neitzel C, Ladehof K (2015) Taktische Medizin, 2. Aufl. Springer, Berlin, Heidelberg, S 160

20.

Neuhaus SJ (2007) Haemostasis in the Australian defence force: the tourniquet controversy. ANZ J Surg 77(1):A95

21.

Satterly S, Nelson D, Zwintscher N et al (2013) Hemostasis in a noncompressible hemorrhage model: an end-user evaluation of hemostatic agents in a proximal arterial injury. J Surg Educ 70:206–211

22.

Spahn DR, Bouillon B, Rossaint R et al (2019) The European guideline on management of major bleeding and coagulopathy following trauma: fifth edition. Crit Care 23(1):98. https://doi.org/10.1186/s13054-019-2347-3

23.

Stöhr A, Josse F, Helm M et al (2017) Lokale Blustillung in der prähospitalen Notfallmedizin. Notfmed up2date 12(4):395–405

24.

TREMA Europe (2018) TREMA e. V. Guidelines für TCCC
Ethics declarations
Interessenkonflikt
A. Stöhr, F. Josse, B. Hossfeld und M. Helm geben an, dass kein Interessenkonflikt besteht. M. Kulla gibt an, Fördermittel vom Bundesministerium für Verteidigung für das Projekt "SoFo 34K3-17 1515 DigiPen" erhalten zu haben. Weiterhin sonstige Unterstützung im Rahmen des Verbundprojekts "Verbesserung der Versorgungsforschung in der Akutmedizin durch den Aufbau eines nationalen Notaufnahmeregisters" seitens des Bundesministeriums für Bildung und Forschung (BMBF) und sonstige Unterstützung im Rahmen des Projekts "ENQuIRE – Evaluierung der Qualitätsindikatoren von Notaufnahmen auf Outcome-Relevanz für den Patienten" (VSF1_2017-020) durch den Gemeinsamen Bundesausschuss. Seitens der Deutschen Interdisziplinären Vereinigung für Intensiv- und Notfallmedizin wurden Reisekosten für Arbeitssitzungen sowie Kosten einer Open-Access-Publikation übernommen.
Für diesen Beitrag wurden von den Autoren keine Studien an Menschen oder Tieren durchgeführt. Für die aufgeführten Studien gelten die jeweils dort angegebenen ethischen Richtlinien. Für Bildmaterial oder anderweitige Angaben innerhalb des Manuskripts, über die Patienten zu identifizieren sind, liegt von ihnen und/oder ihren gesetzlichen Vertretern eine schriftliche Einwilligung vor.
Additional information
Anmerkung
Dies ist eine aktualisierte Version des früheren Beitrags Prähospitales Management traumatischer Blutungen, Mai 2018, Notfall Rettungsmed, Springer Medizin Verlag GmbH, der auf ausdrücklichen Wunsch des Springer-Verlags nochmals aufgegriffen wurde.
Redaktion
T. Helfen, München
S. Huber-Wagner, München
About this article
Cite this article
Stöhr, A., Josse, F., Hossfeld, B. et al. Blutstillung bei schweren Extremitätenverletzungen. Notfall Rettungsmed (2020). https://doi.org/10.1007/s10049-019-00677-4
Schlüsselwörter
Wunden und Verletzungen

Blutstillung

Druckverbände

Hämostyptika

Tourniquets
Keywords
Wounds and injuries

Hemorrhage

Compression bandages

Hemostatics

Tourniquets