This is a preview of subscription content, log in to check access.
Access options
Buy single article
Instant access to the full article PDF.
US$ 39.95
Price includes VAT for USA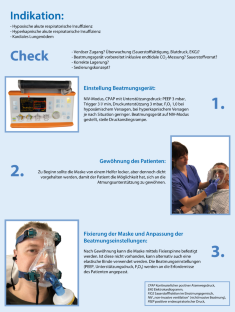 Literatur
1.

DIN 75079 (2009) Notarzt-Einsatzfahrzeuge (NEF) Begriffe, Anforderungen, Prüfung (Deutsche Norm:1–16)

2.

Baillard F, Fosse FP, Sebbane M et al (2006) Noninvasive ventilation improves preoxygenation before intubation of hypoxic patients. Am J Respir Crit Care Med 174:171–177

3.

Davidson AC, Banham S, Elliott M et al (2016) BTS/ICS guideline for the ventilatory management of acute hypercapnic respiratory failure in adults. Thorax 71(2):1–35

4.

Dembinski R (2019) Non-invasive ventilation forms. Anästh Intensivmed 60:308–315

5.

Gray A, Goodacre S, Newby DE et al (2008) Noninvasive ventilation in acute cardiogenic pulmonary edema. N Engl J Med 359:142–151

6.

Kuhn BT, Bradley LA, Dempsey TM et al (2016) Management of mechanical ventilation in decompensated heart failure. J Cardiovasc Dev Dis 3(4):E33. https://doi.org/10.3390/jcdd3040033

7.

Rochwerg B, Brochard L, Elliott MW et al (2017) Official ERS/ATS clinical practice guidelines: noninvasive ventilation for acute respiratory failure. Eur Respir J 50(2):1602426. https://doi.org/10.1183/13993003.02426-2016

8.

Vassilakopoulos T, Zakynthinos S, Roussos C (1996) Respiratory muscles and ventilatory failure. Monaldi Arch Chest Dis 51:489–498

9.

Vitacca M, Ambrosino N, Clini E et al (2001) Physiological response to pressure support ventilation delivered before and after extubation in patients not capable of totally spontaneous autonomous breathing. Am J Respir Crit Care Med 164:638–641

10.

Weingart SD, Trueger NS, Wong N et al (2015) Delayed sequence intubation: a prospective observational study. Ann Emerg Med 65:349–355

11.

Westhoff M, Schonhofer B, Neumann P et al (2015) Noninvasive mechanical ventilation in acute respiratory failure. Pneumologie 69:719–756
Ethics declarations
Interessenkonflikt
M.-M. Ventzke, S. Lauer und T. Weiner geben an, dass kein Interessenkonflikt besteht.
Für diesen Beitrag wurden von den Autoren keine Studien an Menschen oder Tieren durchgeführt. Für die aufgeführten Studien gelten die jeweils dort angegebenen ethischen Richtlinien.
Additional information
Serienpaten
P. Gotthardt, Nürnberg
D. Häske, Reutlingen
B. Hossfeld, Ulm
J. Knapp, Bern
About this article
Cite this article
Ventzke, M., Lauer, S. & Weiner, T. Einfach und praktisch: nichtinvasive Beatmung. Notfall Rettungsmed 23, 56–60 (2020). https://doi.org/10.1007/s10049-019-00665-8