Abstract
We present a neurodegenerative disorder starting in early childhood of two brothers consisting of severe progressive polyneuropathy, severe progressive cerebellar atrophy, microcephaly, mild epilepsy, and intellectual disability. The cause of this rare syndrome was found to be a homozygous mutation (c.1250_1266dup, resulting in a frameshift p.Thr424GlyfsX48) in PNKP, identified by applying homozygosity mapping and whole-genome sequencing. Mutations in PNKP have previously been associated with a syndrome of microcephaly, seizures and developmental delay (MIM 613402), but not with a neurodegenerative disorder. PNKP is a dual-function enzyme with a key role in different pathways of DNA damage repair. DNA repair disorders can result in accelerated cell death, leading to underdevelopment and neurodegeneration. In skin fibroblasts from both affected individuals, we show increased susceptibility to apoptosis under stress conditions and reduced PNKP expression. PNKP is known to interact with DNA repair proteins involved in the onset of polyneuropathy and cerebellar degeneration; therefore, our findings explain this novel phenotype.
This is a preview of subscription content, log in to check access.
Access options
Buy single article
Instant unlimited access to the full article PDF.
US$ 39.95
Price includes VAT for USA
Subscribe to journal
Immediate online access to all issues from 2019. Subscription will auto renew annually.
US$ 99
This is the net price. Taxes to be calculated in checkout.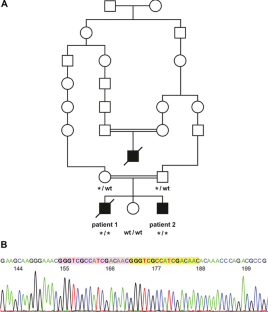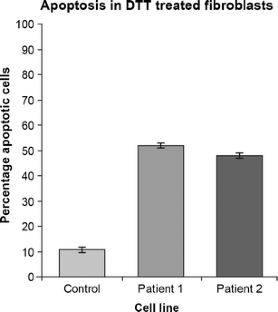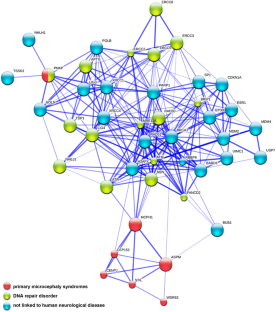 References
1.

Hoischen A, van Bon BW, Gilissen C et al (2010) De novo mutations of SETBP1 cause Schinzel–Giedion syndrome. Nat Genet 42:483–485

2.

Lupski JR, Reid JG, Gonzaga-Jauregui C et al (2010) Whole-genome sequencing in a patient with Charcot–Marie–Tooth neuropathy. N Engl J Med 362:1181–1191

3.

Roach JC, Glusman G, Smit AF et al (2010) Analysis of genetic inheritance in a family quartet by whole-genome sequencing. Science 328:636–639

4.

Pippucci T, Benelli M, Magi A et al (2011) EX-HOM (EXome HOMozygosity): a proof of principle. Hum Hered 72:45–53

5.

Dixon-Salazar TJ, Silhavy JL, Udpa N et al (2012) Exome sequencing can improve diagnosis and alter patient management. Sci Transl Med 4:138–178

6.

Shen J, Gilmore EC, Marshall CA et al (2010) Mutations in PNKP cause microcephaly, seizures and defects in DNA repair. Nat Genet 42:245–249

7.

Nannya Y, Sanada M, Nakazaki K et al (2005) A robust algorithm for copy number detection using high-density oligonucleotide single nucleotide polymorphism genotyping arrays. Cancer Res 65:6071–6079

8.

Drmanac R, Sparks AB, Callow MJ et al (2010) Human genome sequencing using unchained base reads on self-assembling DNA nanoarrays. Science 327:78–81

9.

Lam HY, Clark MJ, Chen R et al (2012) Performance comparison of whole-genome sequencing platforms. Nat Biotechnol 30:562

10.

Kleijer WJ, van der Kraan M, Los FJ, Jaspers NG (1994) Prenatal diagnosis of ataxia-telangiectasia and Nijmegen Breakage syndrome by the assay of radioresistant DNA synthesis. Int J Radiat Biol 66:S167–S174

11.

Mallery DL, Tanganelli B, Colella S et al (1998) Molecular analysis of mutations in the CSB (ERCC6) gene in patients with Cockayne syndrome. Am J Hum Genet 62:77–85

12.

Zafeiriou DI, Thorel F, Andreou A et al (2001) Xeroderma pigmentosum group G with severe neurological involvement and features of Cockayne syndrome in infancy. Pediatr Res 49:407–412

13.

Bustin SA, Benes V, Garson JA et al (2009) The MIQE guidelines: minimum information for publication of quantitative real-time PCR experiments. Clin Chem 55:611–622

14.

Caldecott KW (2008) Single-strand break repair and genetic disease. Nat Rev Genet 9:619–631

15.

Weinfeld M, Mani RS, Abdou I, Aceytuno RD, Glover JN (2011) Tidying up loose ends: the role of polynucleotide kinase/phosphatase in DNA strand break repair. Trends Biochem Sci 36:262–271

16.

Sano Y, Date H, Igarashi S et al (2004) Aprataxin, the causative protein for EAOH is a nuclear protein with a potential role as a DNA repair protein. Ann Neurol 55:241–249

17.

Plo I, Liao ZY, Barcelo JM, Kohlhagen G, Caldecott KW, Weinfeld M, Pommier Y (2003) Association of XRCC1 and tyrosyl DNA phosphodiesterase (Tdp1) for the repair of topoisomerase I-mediated DNA lesions. DNA Repair (Amst) 2:1087–1100

18.

Reynolds JJ, Walker AK, Gilmore EC, Walsh CA, Caldecott KW (2012) Impact of PNKP mutations associated with microcephaly, seizures and developmental delay on enzyme activity and DNA strand break repair. Nucleic Acid Res 40(14):6608–6619

19.

McKinnon PJ (2009) DNA repair deficiency and neurological disease. Nat Rev Neurosci 10:100–112

20.

Mani RS, Yu Y, Fang S et al (2010) Dual modes of interaction between XRCC4 and polynucleotide kinase/phosphatase: implications for nonhomologous end joining. J Biol Chem 285:37619–37629

21.

Gatz SA, Ju L, Gruber R et al (2011) Requirement for DNA ligase IV during embryonic neuronal development. J Neurosci 31:10088–10100

22.

Shull ER, Lee Y, Nakane H et al (2009) Differential DNA damage signaling accounts for distinct neural apoptotic responses in ATLD and NBS. Genes Dev 23:171–180

23.

Poulton CJ, Schot R, Kia SK et al (2011) Microcephaly with simplified gyration, epilepsy, and infantile diabetes linked to inappropriate apoptosis of neural progenitors. Am J Hum Genet 89:265–276
Acknowledgments
We thank Dr. N.G. Jaspers at the Department of Genetics, Erasmus Medical Center for critically reading the manuscript. We acknowledge the collaboration of the members of the patients' family. We thank J. Meulstee for the help with interpretation of EMG data. We also thank Tom de Vries Lentsch for the figures and Petra Veraart for the genealogical study.
Conflict of interest
The authors declare no conflict of interest.
Additional information
Supplementary information is available at the Neurogenetics website.
Cathryn Poulton and Renske Oegema contributed equally to the manuscript.
About this article
Cite this article
Poulton, C., Oegema, R., Heijsman, D. et al. Progressive cerebellar atrophy and polyneuropathy: expanding the spectrum of PNKP mutations. Neurogenetics 14, 43–51 (2013) doi:10.1007/s10048-012-0351-8
Received:

Accepted:

Published:

Issue Date:
Keywords
DNA repair

Microcephaly

Polyneuropathy

Cerebellar atrophy

PNKP

MCSZ syndrome