Abstract
We report of a spinocerebellar ataxia (SCA)27 in a daughter and her mother whose karyotype is 46, XX t(5;13)(q31.2;q33.1). The translocation breakpoint is identical in both patients, disrupting the gene-encoding fibroblast growth factor 14 isoform b (FGF14-1b). Clinically, both show signs of SCA, although the daughter is the most affected with early onset cerebellar ataxia, microcephaly, and severe mental retardation. FGF14-1b is the predominant isoform in brain, where it interacts with the voltage gated Na channel. Fgf14−/− mice develop ataxia and paroxysmal dyskinesia and have cognitive deficits. One missense and one non-sense mutation in FGF14 have previously been linked to SCA27. Truncation of one allele in our patients suggests that haploinsuffiency of FGF14 can cause SCA27.
This is a preview of subscription content, log in to check access.
Access options
Buy single article
Instant unlimited access to the full article PDF.
US$ 39.95
Price includes VAT for USA
Subscribe to journal
Immediate online access to all issues from 2019. Subscription will auto renew annually.
US$ 99
This is the net price. Taxes to be calculated in checkout.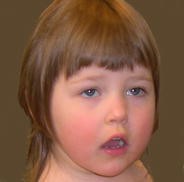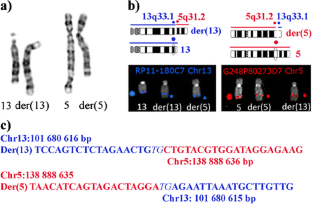 Acknowledgments
We thank the family for their collaboration and contribution to this study. We are indebted to Eli Ormerod who performed the G-banding. This work was founded by project support from the University of Oslo. DM and EF were supported by "Sigurd K. Thoresens Foundation", "University of Oslo Research Fund (UNIFOR)", and "Ullevål University Hospital Research Fund (VIRUUS)".
Electronic supplementary material
Below is the link to the electronic supplementary material.
Video of the proband showing the gait ataxia. The proband demonstrating cerebellar dysfunction with gross truncal ataxia accompanied by coarse tremor in the arms. She has an open mouth and a tendency to drool (MPG 5533 kb)
Video showing the unsteadiness in the mother. The mother displays unsteadiness when asked to stand on one foot at a time with closed eyes. She has slender legs and high arched feet. (MPG 3344 kb)
Genomic clones used as probes in the FISH experiments (XLS 28.5 kb)
PCR primers used to sequence the chromosome translocation breakpoints (XLS 29.0 kb)
PCR primers used to sequence the FGF14-1b alleles (XLS 25.5 kb)
Video of the proband showing the gait ataxia. The proband demonstrating cerebellar dysfunction with gross truncal ataxia accompanied by coarse tremor in the arms. She has an open mouth and a tendency to drool (MPG 5533 kb)
Video showing the unsteadiness in the mother. The mother displays unsteadiness when asked to stand on one foot at a time with closed eyes. She has slender legs and high arched feet. (MPG 3344 kb)
About this article
Cite this article
Misceo, D., Fannemel, M., Barøy, T. et al. SCA27 caused by a chromosome translocation: further delineation of the phenotype. Neurogenetics 10, 371–374 (2009) doi:10.1007/s10048-009-0197-x
Received:

Accepted:

Published:

Issue Date:
Keywords
Cognitive impairment

Inherited translocation

FGF14

Microcephaly

SCA27