Abstract
The post-auricular (PA) driveline positioning for percutaneous power delivery is a specific feature of the Jarvik 2000 FlowMaker LVAD. We applied several technical refinements to optimise the PA implant. Here, we present and discuss these modifications. We retrospectively reviewed all patients implanted with Jarvik 2000 at our Institution. Different PA implant techniques were described. A machine learning analysis was performed to evaluate the determinants of driveline infection. From December 2008 to December 2017, 62 patients were implanted with Jarvik 2000, at our Institution. The PA connection was managed through the "question mark-shaped" incision in 24 patients (39%) and with the "C-shaped" in 18 (29%), whereas 10 (16%) cases received the "vertical incision" and 10 (16%) the "orthogonal incision". The implant technique resulted highly predictive of driveline infection. The rate of driveline infections was numerically lower among cases managed with the last two techniques. After evolving through different implant techniques, we propose and suggest the "orthogonal incision" to maximise the advantages of the Jarvik 2000 post-auricular driveline.
This is a preview of subscription content, log in to check access.
Access options
Buy single article
Instant unlimited access to the full article PDF.
US$ 39.95
Price includes VAT for USA
Subscribe to journal
Immediate online access to all issues from 2019. Subscription will auto renew annually.
US$ 99
This is the net price. Taxes to be calculated in checkout.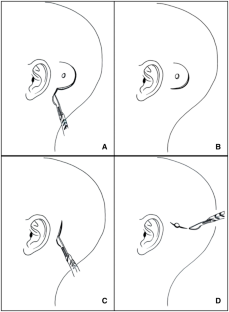 References
1.

Westaby S, Siegenthaler M, Beyersdorf F, Massetti M, Pepper J, Khayat A, et al. Destination therapy with a rotary blood pump and novel power delivery. Eur J Cardiothorac Surg. 2010;37:350–6.

2.

Bejko J, Toto F, Gregori D, Gerosa G, Bottio T. Left ventricle assist devices and driveline's infection incidence: a single-centre experience. J Artif Org. 2018;21:52–60.

3.

Hannan MM, Husain S, Mattner F, Danziger-Isakov L, Drew RJ, Corey GR, et al. Working formulation for the standardization of definitions of infections in patients using ventricular assist devices. J Heart Lung Transplant. 2011;30:375–84.

4.

Carrozzini M, Bejko J, Guariento A, Rubino M, Bianco R, Tarzia V, et al. Minimally invasive implantation of continuous flow left ventricular assist devices: the evolution of surgical techniques in a single centre experience. Artif Organs. 2018. https://doi.org/10.1111/aor.13339.

5.

Breiman L. Random forests. Mach Learn. 2001;45:5–32.

6.

Ishwaran H, Kogalur UB, Blackstone EH, Lauer MS. Random survival forests. Ann Appl Stat. 2008;2:841–60.

7.

Ishwaran H, Kogalur UB, Gorodeski EZ, Minn AJ, Lauer MS. High-dimensional variable selection for survival data. J Am Stat Assoc. 2010;105:205–17.

8.

R Development Core Team. R: a language and environment for statistical computing.

9.

Tarzia V, Bortolussi G, Bianco R, Buratto E, Bejko J, Carrozzini M, et al. Extracorporeal life support in cardiogenic shock: impact of acute versus chronic etiology on outcome. J Thorac Cardiovasc Surg. 2015;150:333–40.

10.

Carrozzini M, Toto F, Gerosa G, Bottio T. Irreversible cardiac failure with intraventricular thrombosis: a novel technique of paracorporeal biventricular assist device implantation with ventricles excision. J Thorac Cardiovasc Surg. 2018;155:1632–4.

11.

Carrozzini M, Bejko J, Gerosa G, Bottio T. Bilateral mini‐thoracotomy approach for minimally invasive implantation of HeartMate 3. Artif Organs. 2018. https://doi.org/10.1111/aor.13387.
Ethics declarations
Conflict of interest
The authors declare that they have no conflict of interest.
Additional information
Publisher's Note
Springer Nature remains neutral with regard to jurisdictional claims in published maps and institutional affiliations.
Electronic supplementary material
Below is the link to the electronic supplementary material.
Surgical procedure to implant the Jarvik 2000 post-auricular driveline with the "orthogonal incision" (MP4 75822 kb)
About this article
Cite this article
Carrozzini, M., Bejko, J., Gregori, D. et al. How to implant the Jarvik 2000 post-auricular driveline: evolution to a novel technique. J Artif Organs 22, 188–193 (2019) doi:10.1007/s10047-019-01104-8
Received:

Accepted:

Published:

Issue Date:
Keywords
Jarvik 2000

Post-auricular

Driveline

LVAD

Left ventricular assist device