Abstract
Our previous studies concluded Egyptian cotton was the most appropriate material for making a second generation granulocytapheresis (G-CAP) column as structural dimensions of the cotton fibers are able to attract granulocytes. Unfortunately, it is considered to be blood incompatible as its fibers are of non-synthetic origins. In this study we examined the alteration of the removal rates of blood cells with different surface modifications of Egyptian cotton to enhance its blood compatibility. The surface-modified cotton fibers were compared after three kinds of combination treatments. There were no differences in the removal rates of white blood cells (WBCs) and particularly neutrophils with the use of three kinds of biolized cottons. Next, an ex vivo animal study with a healthy dog was performed with the prototype of the G-CAP column. The dog's blood pressure (BP) decreased to approximately 80% of the initial values of BP at 20 min after the start of the extracorporeal circulation. The decrease in BP gradually reverted to normal. WBCs and particularly neutrophils decreased significantly at 15 min after the start of the extracorporeal circulation and remained low during the extracorporeal circulation. The ability of this column to remove WBCs was maintained during extracorporeal circulation. Especially, neutrophils at the inlet of the column were thoroughly removed for 1 h. Based upon these results, a second generation G-CAP column could be fabricated with Egyptian cotton and applied for clinical use on the condition that the biocompatibility of the Egyptian cotton needs to be improved by the appropriate biolization method.
This is a preview of subscription content, log in to check access.
Access options
Buy single article
Instant unlimited access to the full article PDF.
US$ 39.95
Price includes VAT for USA
Subscribe to journal
Immediate online access to all issues from 2019. Subscription will auto renew annually.
US$ 99
This is the net price. Taxes to be calculated in checkout.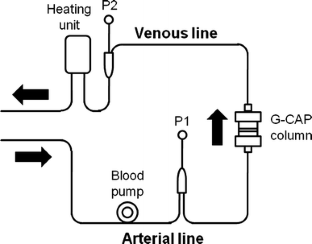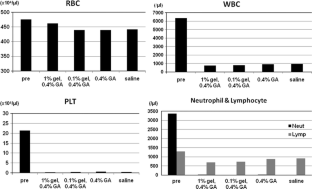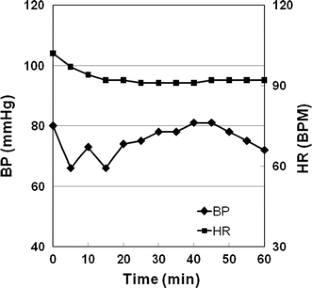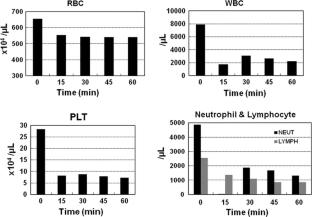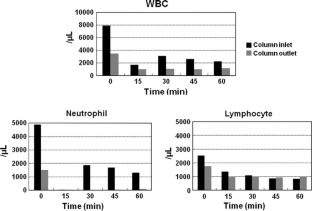 References
1.

Miyamoto H, Sugita Y, Motomura T, Ohta K, Nosé Y. Preliminary studies for the development of a second generation granulocytapheresis (G-CAP) column. J Artif Organs. 2010;13:92–6.

2.

Hetland G, Mollnes TE, Larsen J, Garred P. Biocompatibility of white cell filters as evaluated by complement activation. Transfusion. 1992;32:557–61.

3.

Holme S, Ross D, Heaton WA. In vitro and in vivo evaluation of platelet concentrates after cotton wool filtration. Vox Sang. 1989;57:112–5.

4.

Emoto H, Kambic H, Chen JF, Nosé Y. Characterization of rehydrated gelatin gels. Artif Organs. 1991;15:29–34.

5.

Nosé Y. The Thirteenth Hastings lecture. My life with the National Institutes of Health Artificial Heart Program. Artif Organs. 1990;14:174–90.

6.

Kambic H, Picha G, Kiraly R, Koshino I, Nosé Y. Application of aldehyde treatments to cardiovascular devices. Trans Am Soc Artif Intern Organs. 1976;22:664–72.

7.

Zhang D, Hrmova M, Wan CH, Wu C, Balzen J, Cai W, Wang J, Densmore LD, Fincher GB, Zhang H, Haigler CH. Members of a new group of chitinase-like genes are expressed preferentially in cotton cells with secondary walls. Plant Mol Biol. 2004;54:353–72.

8.

Mito M, Nishimura A, Sumiyoshi A, Kawai M, Nosé Y, Kawamura T, Yoshimoto Y. On extracorporeal circulation of membrane artificial organs (liver and kidney). Sogo Igaku 1960;17:86–8 (in Japanese).

9.

Craddock PR, Fehr J, Brigham KL, Kronenberg RS, Jacob HS. Complement and leukocyte-mediated pulmonary dysfunction in hemodialysis. N Engl J Med. 1977;296:769–74.

10.

Nosé Y, Yamaji K, Sueoka A, Yamane S. Membrane apheresis technology: historical perspective and new trends toward bioincompatible systems. Ther Apher. 1997;1:5–12.
Acknowledgments
The authors thank Mr. Tadashi Terada of Marubeni America Corp. for his assistance with the raw cotton supply. This animal study was supported by a grant from Otsuka Pharmaceutical Co., Ltd., Tokyo, Japan.
About this article
Cite this article
Miyamoto, H., Takaba, J., Ohta, K. et al. Preliminary studies for the development of a second generation granulocytapheresis (G-CAP) column. Part II: in vitro and ex vivo studies. J Artif Organs 14, 342–347 (2011). https://doi.org/10.1007/s10047-011-0583-7
Received:

Accepted:

Published:

Issue Date:
Keywords
Granulocytapheresis (G-CAP)

Egyptian cotton

Biolization

Surface modification