Abstract
Multi-label classification faces several critical challenges, including modeling label correlations, mitigating label imbalance, removing irrelevant and redundant features, and reducing the complexity for large-scale problems. To address these issues, in this paper, we propose a novel method—polytree-augmented classifier chains with label-dependent features—that models label correlations through flexible polytree structures based on low-dimensional label-dependent feature spaces learned by a two-stage feature selection approach. First, a feature weighting approach is applied to efficiently remove irrelevant features for each label and mitigate the effect of label imbalance. Second, a polytree structure is built in the label space using estimated conditional mutual information. Third, an appropriate label-dependent feature subset is found by taking account of label correlations in the polytree. Extensive empirical studies on six synthetic datasets and 12 real-world datasets demonstrate the superior performance of the proposed method. In addition, by incorporating the proposed two-stage feature selection approach, the multi-label classifiers with label-dependent features achieve on average 9.4% performance improvement in Exact-Match compared with the original classifiers.
This is a preview of subscription content, log in to check access.
Access options
Buy single article
Instant unlimited access to the full article PDF.
US$ 39.95
Price includes VAT for USA
Subscribe to journal
Immediate online access to all issues from 2019. Subscription will auto renew annually.
US$ 99
This is the net price. Taxes to be calculated in checkout.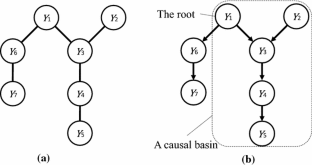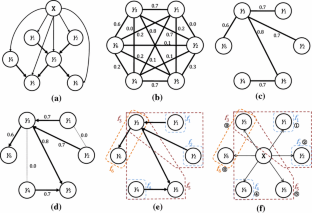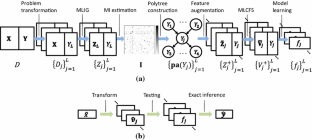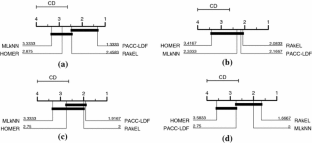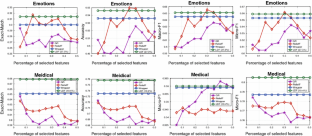 References
1.

Amoon M, Ga R, Daliri MR (2014) PSO-based optimal selection of Zernike moments for target discrimination in high-resolution SAR imagery. J Indian Soc Remote Sens 42(3):483–493

2.

Aoki K, Kudo M (2002) Decision tree using class-dependent feature subsets. Struct Syntactic Stat Pattern Recognit 2396:761–769

3.

Bhatia K, Jain H, Kar P, Varma M, Jain P (2015) Sparse local embeddings for extreme multi-label classification. Adv Neural Inf Process Syst 28:730–738

4.

Boutell MR, Luo J, Shen X, Brown CM (2004) Learning multi-label scene classification. Pattern Recogn 37(9):1757–1771

5.

Brown G, Pocock A, Zhao MJ, Luján M (2012) Conditional likelihood maximisation: a unifying framework for information theoretic feature selection. J Mach Learn Res 13(Jan):27–66

6.

Charte F, Rivera A, del Jesus M, Herrera F (2015) Addressing imbalance in multilabel classification: measures and random resampling algorithms. Neurocomputing 163:3–16

7.

Chow C, Liu C (1968) Approximating discrete probability distributions with dependence trees. IEEE Trans Inf Theory 14(3):462–467

8.

Daliri MR (2012a) Feature selection using binary particle swarm optimization and support vector machines for medical diagnosis. Biomed Tech Biomed Eng 57(5):395–402

9.

Daliri MR (2012b) Predicting the cognitive states of the subjects in functional magnetic resonance imaging signals using the combination of feature selection strategies. Brain Topogr 25(2):129–135

10.

Dembczynski K, Cheng W, Hullermeier E (2010) Bayes optimal multilabel classification via probabilistic classifier chains. In: Proceedings of the 27th international conference on machine learning, pp 279–286

11.

Dembczynski K, Waegeman W, Cheng W, Hllermeier E (2012) On label dependence and loss minimization in multi-label classification. Mach Learn 88(1–2):5–45

12.

Dembczyński K, Waegeman W, Hüllermeier E (2012) An analysis of chaining in multi-label classification. In: Proceedings of the 2012 European conference on artificial intelligence, vol 242. IOS Press, pp 294–299

13.

Demšar J (2006) Statistical comparisons of classifiers over multiple data sets. J Mach Learn Res 7:1–30

14.

Fürnkranz J, Hullermeier E, Mencia E, Brinker K (2008) Multilabel classification via calibrated label ranking. Mach Learn 73(2):133–153

15.

Hall M (2000) Correlation-based feature selection for discrete and numeric class machine learning. In: Proceedings of the 17th international conference on machine learning, pp 359–366

16.

Huang J, Li G, Huang Q, Wu X (2016) Learning label-specific features and class-dependent labels for multi-label classification. IEEE Trans Knowl Data Eng 28(12):3309–3323

17.

John GH, Langley P (1995) Estimating continuous distributions in Bayesian classifiers. In: Proceedings of the 11th conference on uncertainty in artificial intelligence. Morgan Kaufmann Publishers Inc., pp 338–345

18.

Karegowda AG, Manjunath A, Jayaram M (2010) Comparative study of attribute selection using gain ratio and correlation based feature selection. Int J Inf Technol Knowl Manag 2(2):271–277

19.

Kira K, Rendell LA (1992) The feature selection problem: traditional methods and a new algorithm. AAAI 2:129–134

20.

Kohavi R, John GH (1997) Wrappers for feature subset selection. Artif Intell 97(1–2):273–324

21.

Kudo M, Sklansky J (1998) Classifier-independent feature selection for two-stage feature selection. Adv Pattern Recognit 1451:548–554

22.

Kullback S, Leibler R (1951) On information and sufficiency. Ann Math Stat 22(1):79–86

23.

Kumar A, Vembu S, Menon AK, Elkan C (2012) Learning and inference in probabilistic classifier chains with beam search. In: Proceedings of the 2012 European conference on machine learning and knowledge discovery in databases—volume part I, ECML PKDD'12. Springer, Berlin, pp 665–680

24.

Lee J, Kim DW (2015) Fast multi-label feature selection based on information-theoretic feature ranking. Pattern Recogn 48(9):2761–2771

25.

Liu D, Nocedal J (1989) On the limited memory bfgs method for large scale optimization. Math Program 45(1–3):503–528

26.

Liu H, Motoda H (1998) Feature selection for knowledge discovery and data mining. Kluwer Academic Publishers, Norwell

27.

Nemenyi P (1963) Distribution-free multiple comparisons. Ph.D. thesis, Princeton University, New Jersey, USA

28.

Pearl J (1988) Probabilistic reasoning in intelligent systems: networks of plausible inference. Morgan Kaufmann Publishers Inc., San Francisco, CA

29.

Prabhu Y, Varma M (2014) Fastxml: a fast, accurate and stable tree-classifier for extreme multi-label learning. In: Proceedings of the 20th ACM SIGKDD international conference on knowledge discovery and data mining, pp 263–272

30.

Read J, Pfahringer B, Holmes G, Frank E (2011) Classifier chains for multi-label classification. Mach Learn 85(3):333–359

31.

Read J, Martino L, Luengo D (2014) Efficient monte carlo methods for multi-dimensional learning with classifier chains. Pattern Recogn 47(3):1535–1546

32.

Rebane G, Pearl J (1987) The recovery of causal polytrees from statistical data. In: Proceedings of the 3rd conference on uncertainty in artificial intelligence, pp 222–228

33.

Sun L, Kudo M (2015) Polytree-augmented classifier chains for multi-label classification. In: Proceedings of the 24th international joint conference on artificial intelligence, pp 3834–3840

34.

Tang L, Rajan S, Narayanan V (2009) Large scale multi-label classification via metalabeler. In: Proceedings of the 18th international conference on world wide web, pp 211–220

35.

Toms J, Spolar N, Cherman E, Monard M (2014) A framework to generate synthetic multi-label datasets. Electron Notes Theor Comput Sci 302:155–176

36.

Tsoumakas G, Katakis I (2007) Multi-label classification: an overview. Int J Data Warehouse Min 3:1–13

37.

Tsoumakas G, Katakis I, Vlahavas I (2008) Effective and efficient multilabel classification in domains with large number of labels. In: Proceedings of ECML/PKDD 2008 workshop on mining multidimensional data

38.

Tsoumakas G, Katakis I, Vlahavas L (2011) Random k-label sets for multilabel classification. IEEE Trans Knowl Data Eng 23(7):1079–1089

39.

Weston J, Bengio S, Usunier N (2011) Wsabie: scaling up to large vocabulary image annotation. In: Proceedings of the 22nd international joint conference on artificial intelligence, pp 2764–2770

40.

Weston J, Makadia A, Yee H (2013) Label partitioning for sublinear ranking. In: Proceedings of the 30th international conference on machine learning, pp 181–189

41.

Yang Y, Pedersen J (1997) A comparative study on feature selection in text categorization. In: Proceedings of the 14th international conference on machine learning, pp 412–420

42.

Yu H, Jain P, Kar P, Dhillon IS (2014) Large-scale multi-label learning with missing labels. In: Proceedings of the 31st international conference on machine learning, pp 593–601

43.

Yu L, Liu H (2003) Feature selection for high-dimensional data: a fast correlation-based filter solution. In: Proceedings of the 20th international conference on machine learning, pp 856–863

44.

Zaragoza J, Sucar L, Morales E, Bielza C, Naga PL (2011) Bayesian chain classifiers for multidimensional classification. In: Proceedings of the 22nd international joint conference on artificial intelligence, pp 2192–2197

45.

Zhang M, Wu L (2015) Lift: multi-label learning with label-specific features. IEEE Trans Pattern Anal Mach Intell 37(1):107–120

46.

Zhang M, Zhang K (2010) Multi-label learning by exploiting label dependency. In: Proceedings of the 16th ACM SIGKDD international conference on knowledge discovery and data mining, pp 999–1008

47.

Zhang M, Zhou Z (2007) ML-KNN: a lazy learning approach to multi-label learning. Pattern Recogn 40:2038–2048

48.

Zhang M, Pea J, Robles V (2009) Feature selection for multi-label naive Bayes classification. Inf Sci 179(19):3218–3229

49.

Zhang Y, Zhou ZH (2010) Multilabel dimensionality reduction via dependence maximization. ACM Trans Knowl Discov Data 4(3):14:1–14:21
About this article
Cite this article
Sun, L., Kudo, M. Multi-label classification by polytree-augmented classifier chains with label-dependent features. Pattern Anal Applic 22, 1029–1049 (2019). https://doi.org/10.1007/s10044-018-0711-6
Received:

Accepted:

Published:

Issue Date:
Keywords
Multi-label classification

Label correlation

Polytree-augmented classifier chain

Label-dependent feature

Label imbalance