Abstract
Simulation of fluid flow in karst aquifers is challenging because of the presence of porous and free-flow regions within a single aquifer system. One simple but less accurate approach to model such a system is to use Darcy's model. This model has much lower computational overhead than many other more rigorous approaches. The results obtained from the Darcy model are accurate for the porous regions of the aquifer, but it produces inaccurate results inside the caves. An approach is proposed called the Darcy model with optimized permeability distribution (DMOPD) for modeling accurate pressure and velocity distributions within the aquifer while retaining almost the same computational cost as the Darcy model. This method comprises three main steps. First, at the first time-step, the pressure and velocity distribution of the entire aquifer is solved using the Brinkman model. Then each cave is divided into an odd number of zones, with the middle zone assigned a maximum permeability value. Subsequently, the permeability ratios of the other surrounding zones are estimated using a global optimization technique. The permeability ratio is the ratio of permeability in that zone to the maximum permeability within the cave. Finally, the Darcy model is run for the remaining time steps using the optimized values of permeability obtained in the second step. Example applications presented show that this method is able to approximate the Brinkman model very well and much faster when compared to the Brinkman model.
Résumé
La simulation des écoulements dans les aquifères karstiques constitue un défi à cause de la présence de régions poreuses et d'écoulements libres dans un même et unique système aquifère. Une approche simple mais moins précise pour modéliser un tel. système est d'utiliser le modèle de Darcy. Ce modèle nécessite un temps de calcul beaucoup moins important que beaucoup d'autres approches plus rigoureuses. Les résultats obtenus à l'aide d'un modèle de Darcy sont de bonne précision dans les régions poreuses de l'aquifère, mais il produit des résultats imprécis à l'intérieur des cavités. Une approche est proposée dénommée le modèle de Darcy avec une distribution optimizée de la conductivité hydraulique (DMOPD) pour simuler de manière plus précise les distribution de la charge hydraulique et les vitesses d'écoulement au sein de l'aquifère tout en conservant presque le même temps de calcul que le modèle de Darcy. Cette méthode comprend trois principales étapes. Tout d'abord, à la première étape, la distribution de la charge hydraulique et de la vitesse d'écoulement de l'aquifère entier est résolue en utilisant le modèle de Brinkman. Ensuite, chaque cavité est divisée en un nombre impair de zones, avec la zone médiane assignée une valeur de conductivité hydraulique maximale. Par la suite, les rapports de conductivité hydraulique des autres zones environnantes sont estimés à l'aide d'une technique d'optimisation globale. Le rapport de conductivité hydraulique est le rapport de la conductivité hydraulique dans cette zone à la conductivité hydraulique maximale à l'intérieur de la cavité. Finalement, le modèle de Darcy est exécuté pour les étapes de temps restantes en utilisant les valeurs optimisées de conductivité hydraulique obtenues dans la deuxième étape. Des exemples d'application présentés montrent que cette méthode est capable de bien approximer le modèle Brinkman et de manière beaucoup plus rapide en comparaison au modèle de Brinkman.
Resumen
La simulación del flujo de fluidos en los acuíferos kársticos es un desafío debido a la presencia de regiones porosas y de flujo libre dentro de un solo sistema acuífero. Un enfoque simple pero menos preciso para modelar tal sistema es utilizar el modelo de Darcy. Este modelo tiene una sobrecarga computacional mucho menor que muchos otros enfoques más rigurosos. Los resultados obtenidos del modelo Darcy son exactos para las regiones porosas del acuífero, pero produce resultados inexactos dentro de las cavernas. Se propone un enfoque llamado modelo Darcy con distribución de permeabilidad optimizada (DMOPD) para modelar distribuciones precisas de presión y velocidad dentro del acuífero mientras se mantiene casi el mismo costo computacional que el modelo Darcy. Este método comprende tres pasos principales. Primero, en el primer paso, la distribución de presión y velocidad de todo el acuífero se resuelve usando el modelo Brinkman. Luego, cada caverna se divide en un número impar de zonas, y a la zona media se le asigna un valor máximo de permeabilidad. Posteriormente, se estiman los índices de permeabilidad de las demás zonas circundantes mediante una técnica de optimización global. El índice de permeabilidad es la relación entre la permeabilidad en esa zona y la permeabilidad máxima dentro de la caverna. Finalmente, el modelo Darcy se ejecuta para los pasos de tiempo restantes utilizando los valores optimizados de permeabilidad obtenidos en el segundo paso. Las aplicaciones de ejemplo presentadas muestran que este método es capaz de aproximarse muy bien al modelo de Brinkman y mucho más rápido cuando se compara con dicho modelo.
摘要
由于单一含水层系统中存在多孔的自由流区域,岩溶含水层中流体流动的模拟具有挑战性。对这种系统进行建模的一种简单但不太准确的方法是使用Darcy模型。与许多其他更严格的方法相比,该模型的计算量要低得多。从Darcy模型获得的结果对于含水层的多孔介质区是准确的,但在洞穴内产生的结果不准确。因此提出了一种方法,称为优化渗透率分布的达西模型(DMOPD),用于准确模拟含水层内压力和流速分布,同时保留与达西模型几乎相同的计算成本。该方法包括三个主要步骤。首先,在第一个时间步长,使用Brinkman模型求解整个含水层的压力和流速分布。然后,将每个洞穴划分为奇数个区域,并为中间区域分配最大渗透率值。随后,使用全局优化技术估算其他周围区域的渗透率比。渗透率比是该区域渗透率与洞穴内最大渗透率之比。最后,使用在第二步中获得的渗透率优化值,在剩余的时间步长中运行Darcy模型。本文阐述的应用案例表明,该方法能够很好地逼近Brinkman模型,而且计算快于Brinkman模型。
Resumo
A simulação do fluxo de fluidos em aquíferos cársticos é desafiadora devido à presença de regiões porosas e de fluxo livre dentro de um único sistema aquífero. Uma abordagem simples, porém menos precisa, para modelar esse sistema utiliza o modelo de Darcy. Esse modelo gera menos sobrecarga computacional do que muitas outras abordagens mais rigorosas. Os resultados obtidos no modelo de Darcy são precisos para as regiões porosas do aquífero, mas produz resultados imprecisos no interior das cavernas. É proposta uma abordagem denominada modelo de Darcy com distribuição de permeabilidade otimizada (MDDPO) para modelar distribuições precisas de pressão e velocidade no aquífero, mantendo-se quase o mesmo custo computacional do modelo de Darcy. Este método compreende três etapas principais. Na primeira etapa a distribuição de pressão e velocidade de todo o aquífero é resolvida usando o modelo de Brinkman. Em seguida, cada caverna é dividida em um número ímpar de zonas, atribuindo um valor máximo de permeabilidade para a zona intermediária. Posteriormente, as taxas de permeabilidade das outras zonas circundantes são estimadas usando uma técnica de otimização global. A taxa de permeabilidade é a variação da permeabilidade de uma zona até a permeabilidade máxima dentro da caverna. Finalmente, o modelo de Darcy é executado para as etapas de tempo restantes usando os valores otimizados de permeabilidade obtidos na segunda etapa. Exemplos de aplicações apresentadas mostram que esse método é capaz de aproximar muito bem o modelo de Brinkman e muito mais rapidamente quando comparado ao modelo de Brinkman original.
This is a preview of subscription content, log in to check access.
Access options
Buy single article
Instant access to the full article PDF.
US$ 39.95
Price includes VAT for USA
Subscribe to journal
Immediate online access to all issues from 2019. Subscription will auto renew annually.
US$ 99
This is the net price. Taxes to be calculated in checkout.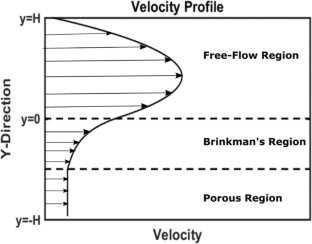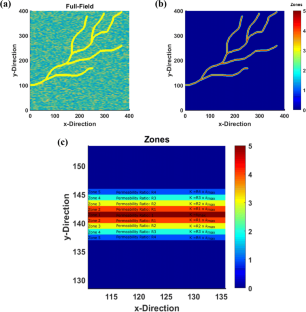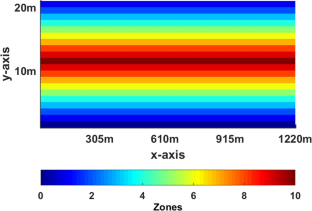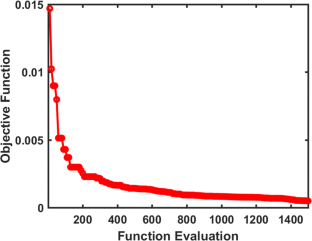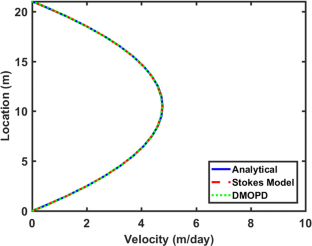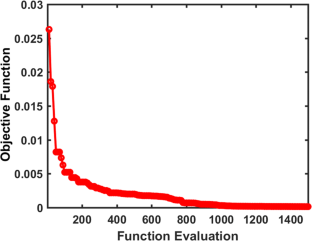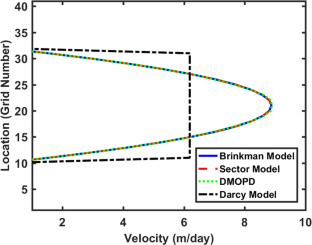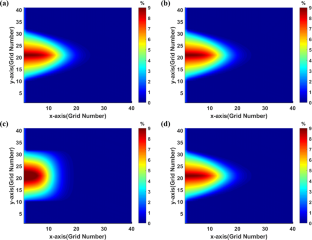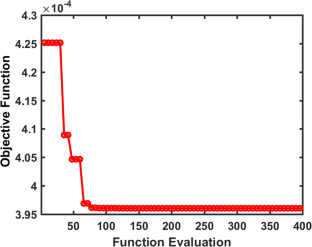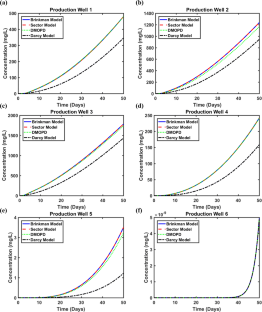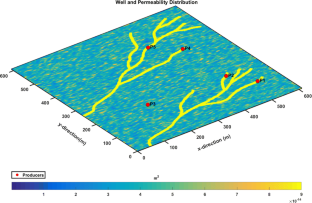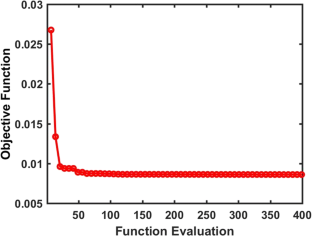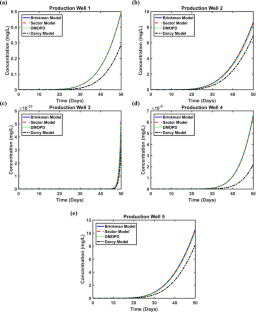 References
Adler PM (1979) Motion and rupture of a porous sphere in a linear flow field. J Rheol 23:25. https://doi.org/10.1122/1.549514

Andreo B, Carrasco F, Duran JJ, LaMoreaux JW (2010) Advances in research in karst media. Springer, Heidelberg, Germany. https://doi.org/10.1007/978-3-642-12486-0

Anwar S, Sukop MC (2009) Lattice Boltzmann models for flow and transport in saturated karst. Ground Water 47:401–413. https://doi.org/10.1111/j.1745-6584.2008.00514.x

Arbogast T, Brunson DS (2007) A computational method for approximating a Darcy-Stokes system governing a vuggy porous medium. Comput Geosci 11:207–218. https://doi.org/10.1007/s10596-007-9043-0

Arbogast T, Gomez MSM (2009) A discretization and multigrid solver for a Darcy-stokes system of three-dimensional vuggy porous media. Comput Geosci 13:331–348. https://doi.org/10.1007/s10596-008-9121-y

Arbogast T, Lehr HL (2006) Homogenization of a Darcy-Stokes system modeling vuggy porous media. Media 78712:291–302. https://doi.org/10.1007/s10596-006-9024-8

Auger A, Hansen N (2005) A restart CMA evolution strategy with increasing population size. In: 2005 IEEE Congress on Evolutionary Computation. IEEE, New York, pp 1769–1776. https://doi.org/10.1109/CEC.2005.1554902

Awotunde AA (2016) Generalized field-development optimization with well-control zonation. Comput Geosci 20:213–230. https://doi.org/10.1007/s10596-016-9559-2

Awotunde AA (2015) Estimation of well test parameters using global optimization techniques. J Pet Sci Eng 125:269–277. https://doi.org/10.1016/J.PETROL.2014.11.033

Bates PD, Lane SN, Ferguson RI (2005) Computational fluid dynamics: applications in environmental hydraulics. Wiley, Chichester, UK

Bauer S, Liedl R, Sauter M (2003) Modeling of karst aquifer genesis: influence of exchange flow. Water Resour Res 39. https://doi.org/10.1029/2003WR002218

Beavers GS, Joseph DD (1967) Boundary conditions at a naturally permeable wall. J Fluid Mech 30:197. https://doi.org/10.1017/S0022112067001375

Beavers GS, Sparrow EM, Magnuson RA (1970) Experiments on coupled parallel flows in a channel and a bounding porous medium. J Basic Eng 92:843. https://doi.org/10.1115/1.3425155

Belhaj H, Agha K., Butt S, Islam M (2003) A comprehensive numerical simulation model for non-Darcy flow including Viscous inertial and convective contributions. Paper SPE-85678-MS. In: Nigeria Annual International Conference and Exhibition, Abuja, Nigeria, 4–6 August 2003, Society of Petroleum Engineers. https://doi.org/10.2118/85678-MS

Bi L, Qin G, Popov P (2009) An efficient upscaling process BM multi-physics model for flow based on a unified fine-scale simulation in naturally fractured carbonate karst reservoirs. Paper SPE 125593. In: SPE/EAGE reservoir characterization and simulation conference, Abu Dhabi, 19–21 October 2009, Society of Petroleum Engineers. https://doi.org/10.2118/125593-MS

Bird R, Stewart W, Lightfoot E (2002) Transport phenomena, 2nd edn. Wiley, Chichester, UK

Birk S, Liedl R, Sauter M, Teutsch G (2003) Hydraulic boundary conditions as a controlling factor in karst genesis: a numerical modeling study on artesian conduit development in gypsum. Water Resour Res 39(1):SBH2-1–SBH2-14. https://doi.org/10.1029/2002WR001308

Brinkman HC (1949) A calculation of the viscous force exerted by a flowing fluid on a dense swarm of particles. Appl Sci Res 1:27–34. https://doi.org/10.1007/BF02120313

Chen Z (2007) Reservoir simulation: mathematical techniques in oil recovery. Society for Industrial and Applied Mathematics. https://doi.org/10.1137/1.9780898717075

Chernyshev A., Podberezhny M, Astafyev V, Timakov E, Koplik A (2016) 3D fracture modeling and fracture-height mapping using different logging methods in the vertical well. In: SPE Russian Petroleum Technology Conference and Exhibition. Soc. Petroleum Eng. https://doi.org/10.2118/182117-MS

Crane SR, Moore JA (1984) Bacterial pollution of groundwater: a review. Water Air Soil Pollut 22:67–83. https://doi.org/10.1007/BF00587465

Darcy H (1856) Les fontaines publiques de la ville de Dijon [The public fountains of the city of Dijon]. Dalmont, Paris

Ertekin T, Abou-Kassem JH, King GR (2001) Basic applied reservoir simulation. Society of Petroleum Engineers, Richardson, TX

Ford D, Williams P (2007) Karst hydrogeology and geomorphology. Wiley, West Sussex, England. https://doi.org/10.1002/9781118684986

Gallegos JJ, Hu BX, Davis H (2013) Simulating flow in karst aquifers at laboratory and sub-regional scales using MODFLOW-CFP. Hydrogeol J 21:1749–1760. https://doi.org/10.1007/s10040-013-1046-4

Happel J, Brenner H (1981) Low Reynolds number hydrodynamics, mechanics of fluids and transport processes. Springer, Dordrecht, The Netherlands. https://doi.org/10.1007/978-94-009-8352-6

Hartmann A, Goldscheider N, Wagener T, Lange J, Weiler M (2014) Karst water resources in a changing world: review of hydrological modeling approaches. Rev Geophys 52:218–242. https://doi.org/10.1002/2013RG000443

He J, Killough JE, Fadlelmula F, Mohamed M, Fraim M (2015) A unified finite difference model for the simulation of transient flow in naturally fractured carbonate karst reservoirs. Paper SPE-173262-MS. In: SPE Reservoir Simulation Symposium, Houston, TX, 23–25 February, Society of Petroleum Engineers, Richardson, TX

Hill ME, Stewart MT, Martin A (2010) Evaluation of the MODFLOW-2005 conduit flow process. Ground Water 48:549–559. https://doi.org/10.1111/j.1745-6584.2009.00673.x

Howells ID (2006) Drag due to the motion of a Newtonian fluid through a sparse random array of small fixed rigid objects. J Fluid Mech 64:449. https://doi.org/10.1017/S0022112074002503

Huntoon PW (1999) Karstic permeability: organized flow pathways created by circulation. In: Karst modeling proceedings. Spec. Publ. 5. Karst Waters Institute, Lewisburg, PA, pp 79–81

Jackson JA (1997) Glossary of geology. American Geological Institute, Alexandria, VA

Jamal MS, Awotunde AA (2018) Full-field to sector modeling for efficient flow simulation in karst aquifers. J Hydrol 564:682–696. https://doi.org/10.1016/J.JHYDROL.2018.07.028

Jamal MS, Awotunde A, Asad A (2018) Utilization of the Brinkman's equation to model flow and tracer transport within karst reservoirs. 80th EAGE Conf. Exhib. https://doi.org/10.3997/2214-4609.201800839

Jamal MS, Awotunde AA, Abdulraheem A, Al-Yousef HY, Al-Mouhamed MA, Fairag FA (2019) Assessment of unsteady Brinkman's model for flow in karst aquifers. Arab J Geosci 12:12. https://doi.org/10.1007/s12517-018-4160-8

Koplik J (1983) Viscosity renormalization in the Brinkman equation. Phys Fluids 26:2864. https://doi.org/10.1063/1.864050

Krotkiewski M, Ligaarden IS, Lie KA, Schmid DW (2011) On the importance of the Stokes-Brinkman equations for computing effective permeability in karst reservoirs. Commun Comput Phys 10:1315–1332. https://doi.org/10.4208/cicp.290610.020211a

Kurtz DA, Parizek RR (1986) Complexity of contaminant dispersal in a karst geological system. In: Evaluation of pesticides in ground water. ACS Symposium Series, American Chemical Society, pp 13–256. https://doi.org/10.1021/bk-1986-0315.ch013

Liao T, Stützle T (2013) Bounding the population size of IPOP-CMA-ES on the noiseless BBOB testbed. In: Proceeding of the Fifteenth annual Conference Companion on Genetic and Evolutionary Computation Conference Companion - GECCO '13 Companion. ACM, New York, 1161 pp. https://doi.org/10.1145/2464576.2482694

Ligaarden I, Krotkiewski M, Lie KA, Pal M, Schmid D (2010) On the Stokes-Brinkman equations for modeling flow in carbonate reservoirs. In: ECMOR XII - Proceedings of the 12th European Conference on the Mathematics of Oil Recovery. https://doi.org/10.3997/2214-4609.20144924

Neale G, Nader W (1974) Practical significance of Brinkman's extension of Darcy's law: coupled parallel flows within a channel and a bounding porous medium. Can J Chem Eng 52:475–478. https://doi.org/10.1002/cjce.5450520407

Nield DA, Bejan A (2013) Convection in porous media. Springer New York. https://doi.org/10.1007/978-1-4614-5541-7

Padilla I, Irizarry C, Steele K (2011) Historical contamination of groundwater resources in the north coast karst aquifers of Puerto Rico. Rev Dimens 3:7–12

Peng X, Du Z, Liang B, Qi Z (2009) Darcy-Stokes streamline simulation for the Tahe-fractured reservoir with cavities. SPE J 14:543–552. https://doi.org/10.2118/107314-PA

Piver WT (1993) Contamination and restoration of groundwater aquifers. Environ Health Perspect 100:237–247

Popov P, Efendiev Y, Qin G (2009) Multiscale modeling and simulations of flows in naturally fractured karst reservoirs. Commun Comput Phys 6:162–184. https://doi.org/10.4208/cicp.2009.v6.p162

Reimann T, Geyer T, Shoemaker WB, Liedl R, Sauter M (2011) Effects of dynamically variable saturation and matrix-conduit coupling of flow in karst aquifers. Water Resour Res 47. https://doi.org/10.1029/2011WR010446

Russel W, Sangtae K (1985) Modeling of porous media by renormalization of the Stokes equations. J Fluid Mech 154:269–286. https://doi.org/10.1017/S0022112085001525

Sarifzadeh M, Javadi M, Shahriar K, Mehrjooei M (2009) Effect of surface roughness on velocity fields through rock fractures. In: ISRM Regional Symposium - EUROCK 2009. Int. Soc. for Rock Mechanics and Rock Eng., Cavtat, Croatia

Shoemaker WB, Kuniansky EL, Birk S, Bauer S, Swain ED (2007) Documentation of a conduit flow process (CFP) for MODFLOW-2005. US Geological Survey Techniques and Methods TM6A24. https://doi.org/10.3133/TM6A24

Simmleit N, Herrmann R (1987) The behavior of hydrophobic, organic micropollutants in different karst water systems. Water Air Soil Pollut 34:79–95. https://doi.org/10.1007/BF00176869

Stevanovic ZP (1988) The regime of the quality of karst groundwaters in eastern Serbia-Yugoslavia. IAH 21st Congress, Guilin, China, 10–15 October 1988, pp 916–921

Storn R, Price K (1997) Differential evolution: a simple and efficient heuristic for global optimization over continuous spaces. J Glob Optim 11:341–359. https://doi.org/10.1023/A:1008202821328

Sukop MC, Cunningham KJ (2014) Lattice Boltzmann methods applied to large-scale three-dimensional virtual cores constructed from digital optical borehole images of the karst carbonate Biscayne aquifer in southeastern Florida. Water Resour Res 50:8807–8825. https://doi.org/10.1002/2014WR015465

Trice R (2005) Challenges and insights in Optimising oil production form Middle Eastern karst reservoirs. SPE-93679-MS. In: Proceedings of SPE Middle East oil and gas show and conference, Bahrain, March 2005, Society of Petroleum Engineers, Richardson, TX, pp 12–15. https://doi.org/10.2118/93679-MS

Wang X (2009) On the coupled continuum pipe flow model (CCPF) for flows in karst aquifer. Discret Contin Dyn Syst Ser B 13:489–501. https://doi.org/10.3934/dcdsb.2010.13.489

White FM (1991) Viscous fluid flow. McGraw-Hill, New York

Xu Z, Hu BX, Davis H, Cao J (2015) Simulating long term nitrate-N contamination processes in the Woodville karst plain using CFPv2 with UMT3D. J Hydrol 524:72–88. https://doi.org/10.1016/J.JHYDROL.2015.02.024

Zimmerman RW, Bodvarsson GS (1996) Hydraulic conductivity of rock fractures. Transport Porous Media 23:1–30
Acknowledgements
The authors express their sincere gratitude towards the editor and the anonymous reviewers for their comments and suggestions.
Funding
The authors would like to acknowledge the College of Petroleum Engineering and Geosciences, King Fahd University of Petroleum and Minerals for providing funding for this research.
Electronic supplementary material
About this article
Cite this article
Jamal, M.S., Awotunde, A.A. Darcy's model with optimized permeability distribution for the simulation of stokes flow and contaminant transport in karst aquifers. Hydrogeol J (2020). https://doi.org/10.1007/s10040-020-02124-y
Received:

Accepted:

Published:
Keywords
Numerical modeling

Karst

Brinkman's equation

Contaminant transport

Darcy's model