Abstract
Isotopes and hydrochemistry were used to characterize the recharge and flow of groundwater in the arid Santanghu basin in Northwest China. The results of isotopic measurement and hydrochemical facies indicate that the predominant recharge mechanism is via rivers and streams. Modern recharge only occurs in the piedmont area of Moqinwula Mountains by ephemeral rivers, and the main recharge source is precipitation in the mountain areas at an elevation of about 2,200 m above sea level. Two recharge mechanisms were identified by stable isotope methods: the ephemeral stream recharge in the piedmont with the occurrence of evaporation during recharge, and subsurface inflow recharge from the mountain regions. Diffuse recharge derived from precipitation in the basin can be ignored because of the scarcity of precipitation and intense evaporation. Groundwater in the Paleogene and Neogene confined aquifers could represent recharge during cooler climatic conditions, rather than latitude or altitude effects, signified by tritium-free samples and significant depletion of heavy stable isotopes throughout the study area. Groundwater age data suggest that central faults are controlling the flow paths of the regional groundwater flow system. Groundwater moves from the piedmont plain to the basin lowland area through lateral flow, and changes flow direction to the spring zone of Hanshuiquan Oasis because of the barrier of the central faults. A conceptual model was defined, for better understanding of the groundwater recharge and flow systems. The major findings of this study have significant implications for groundwater protection and management in arid basins.
Résumé
Les isotopes et l'hydrochimie ont été utilisés pour caractériser la recharge et la circulation des eaux souterraines dans le bassin aride de Santanghu, dans le Nord-Ouest de la Chine. Les résultats des mesures isotopiques et des faciès hydrochimiques indiquent que le mécanisme de recharge prédominant se fait via les rivières et les ruisseaux. La recharge récente se produit uniquement dans les régions situées au pied des Monts Moqinwula via des rivières intermittentes, et la principale source de recharge est constituée par les pluies dans les régions montagneuses à une altitude d'environ 2,200 m au-dessus du niveau de la mer. Deux mécanismes de recharge ont été identifiés grâces aux isotopes stables: la recharge par des cours d'eau intermittents dans le piémont avec une évaporation possible pendant la recharge, et la recharge à partir d'un apports souterrains dans les régions montagneuses. La recharge diffuse provenant des précipitations dans le bassin peut être ignorée en raison de la rareté des précipitations et de l'intense évaporation. Les eaux souterraines dans les aquifères captifs du Paléogène et du Néogène pourraient représenter une recharge caractéristique de conditions climatiques plus froides, plutôt que des effets de latitude ou d'altitude, démontrée par des échantillons sans tritium et un appauvrissement significatif des teneurs en isotopes stables lourds dans toute la zone d'étude. Les données sur l'âge des eaux souterraines suggèrent que les failles centrales contrôlent les voies d'écoulement du système régional d'écoulement d'eau souterraine. Les eaux souterraines passent de la plaine du piémont à la zone des basses terres du bassin via une circulation latérale, et changent de direction d'écoulement près de la zone de sources de l'oasis de Hanshuiquan en raison de la barrière formée par les failles centrales. Un modèle conceptuel a été défini pour mieux comprendre le fonctionnement de la recharge des eaux souterraines et des systèmres d'écoulement. Les principales conclusions de cette étude ont des implications importantes pour la protection et la gestion des eaux souterraines dans les bassins arides.
Resumen
Los isótopos y la hidroquímica se utilizaron para caracterizar la recarga y el flujo de las aguas subterráneas en la cuenca árida de Santanghu, en el Noroeste de China. Los resultados de las mediciones isotópicas y de las facies hidroquímicas indican que el mecanismo de recarga predominante es a través de ríos y arroyos. La recarga moderna sólo se produce en la zona de piedemonte de las montañas de Moqinwula por medio de ríos efímeros, y la principal fuente de recarga son las precipitaciones en las zonas montañosas a una altura de unos 2200 m sobre el nivel del mar. Se identificaron dos mecanismos de recarga mediante métodos isotópicos estables: la recarga efímera de los ríos en el piedemonte con la ocurrencia de evaporación durante la recarga, y la recarga del flujo de entrada subsuperficial desde las regiones montañosas. La recarga difusa derivada de la precipitación en la cuenca puede ser ignorada debido a la escasez de precipitación y a la intensa evaporación. El agua subterránea en los acuíferos confinados del Paleógeno y del Neógeno podría representar la recarga durante condiciones climáticas más frías, en lugar de los efectos de la latitud o la altitud, lo que se traduce en muestras libres de tritio y en el agotamiento significativo de los isótopos estables pesados en toda el área de estudio. Los datos de edad del agua subterránea sugieren que las fallas centrales están controlando las trayectorias de flujo del sistema regional de flujo de agua subterránea. El agua subterránea se mueve desde la planicie de piedemonte hasta la zona baja de la cuenca a través de un flujo lateral, y cambia la dirección del flujo a la zona de manantial del Oasis de Hanshuiquan debido a la barrera de las fallas centrales. Se definió un modelo conceptual, para un mejor entendimiento de la recarga de agua subterránea y los sistemas de flujo. Los principales hallazgos de este estudio tienen implicancias significativas para la protección y manejo de las aguas subterráneas en las cuencas áridas.
摘要
利用同位素和水化学方法识别中国西北部三塘湖干旱盆地的地下水补给机制和流动路径。同位素测试和水化学相分析结果显示, 该地区主要通过河流和溪流获得补给。主要的补给源是海拔2,200 m左右的山区降水, 仅在莫钦乌拉山山前地带通过季节性河流进行现代补给。稳定同位素方法识别出两种补给机制:山前季节性河流补给, 在补给过程中发生蒸发作用, 以及来自山区的地下径流补给。由于该地区降雨稀少而蒸发强烈, 该盆地中来自降水的扩散补给可以忽略不计。研究区内的无氘样品和重同位素的显著耗竭说明古近系和新近系承压含水层的地下水可以代表较冷气候条件下的补给, 而不是受纬度或海拔的影响。地下水年龄资料表明, 盆地中央断裂控制着区域地下水流系统中的水流路径。地下水从山前平原通过侧向径流向盆地下游流动, 由于中央断裂的阻隔而改变方向, 向汉水泉绿洲的泉区流去。为了更好地理解地下水补给机制和流动系统, 本文建立了一个概念模型。本研究的主要发现对干旱盆地的地下水保护与管理具有重要意义。
Resumo
Isótopos e bioquímica foram usados ​​para caracterizar a recarga e o fluxo das águas subterrâneas na bacia árida de Santanghu, no Noroeste da China. Os resultados das medições isotópicas e fácies hidroquímicos indicam que o mecanismo de recarga predominante é via rios e córregos. A recarga moderna ocorre apenas na área de piemonte das montanhas Moqinwula por rios efêmeros, e a principal fonte de recarga é a precipitação nas áreas montanhosas a uma altitude de cerca de 2,200 m acima do nível do mar. Dois mecanismos de recarga foram identificados por métodos ​​de isótopos estáveis: a recarga efêmera de correntes no piemonte, com a ocorrência de evaporação durante a recarga, e a recarga de entrada subterrânea nas regiões montanhosas. A recarga difusa derivada da precipitação na bacia pode ser ignorada devido à escassez de precipitação e intensa evaporação. As águas subterrâneas nos aquíferos Paleogeneico e Neogenico confinados podem representar recarga durante condições climáticas mais frias, em vez de efeitos de latitude ou altitude, significados por amostras sem trítio e depleção significativa de isótopos estáveis ​​e pesados ​​em toda a área de estudo. Os dados da idade das águas subterrâneas sugerem que falhas centrais estão controlando os caminhos de fluxo do sistema regional de fluxo de águas subterrâneas. As águas subterrâneas se deslocam da planície do piemonte para a área de planície da bacia através do fluxo lateral e mudam a direção do fluxo para a zona de nascente do oásis de Hanshuiquan, devido à barreira das falhas centrais. Foi definido um modelo conceitual para melhor compreensão dos sistemas de recarga e fluxo das águas subterrâneas. As principais conclusões deste estudo têm implicações significativas para a proteção e gerenciamento das águas subterrâneas em bacias áridas.
This is a preview of subscription content, log in to check access.
Access options
Buy single article
Instant access to the full article PDF.
US$ 39.95
Price includes VAT for USA
Subscribe to journal
Immediate online access to all issues from 2019. Subscription will auto renew annually.
US$ 99
This is the net price. Taxes to be calculated in checkout.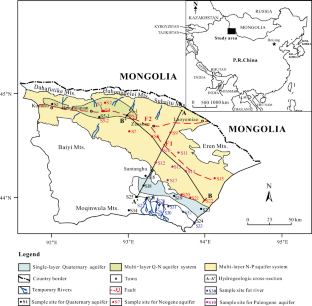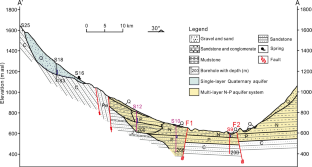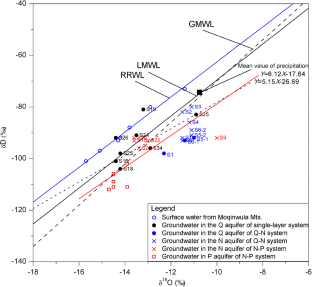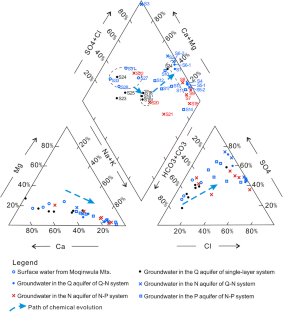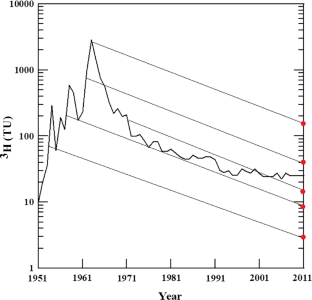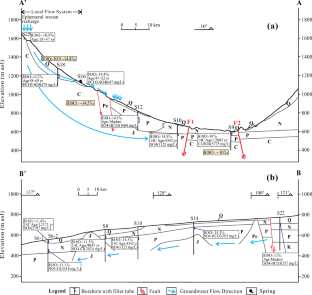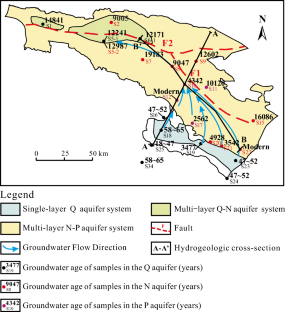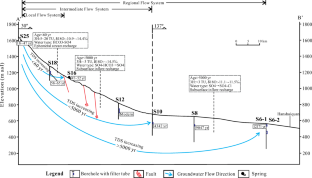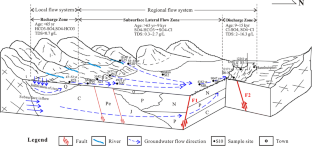 References
Abbott MD, Lini A, Bierman PR (2000) δ18O, δD and 3H measurements constrain groundwater recharge patterns in an upland fractured bedrock aquifer, Vermont, USA. J Hydrol 228(1):101–112

Bai M, Li XX, Zhang J, Ju MT (2015a) An analysis of the control factors of groundwater storage in the Santanghu Basin of Xinjiang (in Chinese). Hydrogeol Geol 42(2):47–52

Bai M, Zhang J, Li XX, Ju MT (2015b) Distribution characteristics of groundwater storage in Santanghu Basin of Balikun County, Xinjiang (in Chinese). Xinjiang Geol 33(2):270–274

Bajjali W (2006) Recharge mechanism and hydrochemistry evaluation of groundwater in the Nuaimeh area, Jordan, using environmental isotope techniques. Hydrogeol J 14(1–2):180–191

Bourke SA, Cook PG, Dogramaci S, Kipfere R (2015) Partitioning sources of recharge in environments with groundwater recirculation using carbon-14 and CFC-12. J Hydrol 525:418–428

Chen X, Huang YY, Ling MH, Hu Q, Liu B (2012) Numerical modeling groundwater recharge and its implication in water cycles of two interdunal valleys in the Sand Hills of Nebraska. Phys Chem Earth 53:10–18

Chen ZL, Liu J, Gong HL, Han FB, Briggs SM, Zheng EJ, Wang G (2011) Late Cenozoic tectonic activity and its significance in the northern Junggar Basin, northwestern China. Tectonophysics 497(1):45–56

Chen ZY, Nie ZL, Zhang ZJ, Qi JX, Nan YJ (2005) Isotopes and sustainability of ground water resources, North China plain. Groundwater 43(4):485–493

Clark ID, Fritz P (1997) Environmental isotopes in hydrogeology, vol 328. CRC, New York

Doney SC, Glover DM, Jenkins WJ (1992) A model function of the global bomb tritium distribution in precipitation, 1960–1986. J Geophys Res 97(C4):5481–5492

Edmunds WM, Ma JZ, Aeschbach-Hertig W, Kipfer R, Darbyshire DPF (2006) Groundwater recharge history and hydrogeochemical evolution in the Minqin Basin, North West China. Appl Geochem 21(12):2148–2170

Gates JB, Edmunds WM, Ma JZ, Scanlon BR (2008) Estimating groundwater recharge in a cold desert environment in northern China using chloride. Hydrogeol J 16(5):893–910

Gu WZ, Longinelli A (1993) A case study on the hydrological significance of stable isotope data on Alpine catchments with snow cover and glaciers, Xinjiang, China. Snow Glacier Hydrol 218:371–383

Kreutz KJ, Wake CP, Aizen VB, Cecil LD, Synal HA (2003) Seasonal deuterium excess in a Tien Shan ice core: influence of moisture transport and recycling in Central Asia. Geophys Res Lett 30(18):1922

Li J, Pang ZH, Froehlich K, Huang TM, Kong YL, Song WH, Yun HX (2015) Paleo-environment from isotopes and hydrochemistry of groundwater in east Junggar Basin, Northwest China. J Hydrol 529:650–661

Ma JZ, He JH, Qi S, Zhu GF, Zhao W, Edmunds WM, Zhao YP (2013) Groundwater recharge and evolution in the Dunhuang Basin, northwestern China. Appl Geochem 28:19–31

Małoszewski P, Zuber A (1982) Determining the turnover time of groundwater systems with the aid of environmental tracers: 1. models and their applicability. J Hydrol 57(3–4):207–231

Pearson FJ, Hanshaw BB (1970) Sources of dissolved carbonate species in groundwater and their effects on carbon-14 dating. In: IAEA (ed) Isotope hydrology 1970. IAEA, Vienna, pp 271–285

Scanlon BR, Healy RW, Cook PG (2002) Choosing appropriate techniques for quantifying groundwater recharge. Hydrogeol J 10(1):18–39

Sophocleous M (2005) Groundwater recharge and sustainability in the High Plains aquifer in Kansas, USA. Hydrogeol J 13(2):351–365

Tamers MA (1975) Validity of radiocarbon dates on ground water. Geophys Surv 2:217–239

Verhagen BT, Mazor E, Sellshop JPF (1974) Radiocarbon and tritium evidence for direct recharge to groundwaters in the northern Kalahari. Nature 249:643–644

Vogel JC (1970) Carbon-14 dating of groundwater. In: Isotope hydrology. IAEA, Vienna, pp 225–239

Zagana E, Obeidat M, Kuells C, Udluft P (2007) Chloride, hydrochemical and isotope methods of groundwater recharge estimation in eastern Mediterranean areas: a case study in Jordan. Hydrol Process 21(16):2112–2123

Zhang L, Chen ZY, Nie ZL, Liu FL, Jia YK, Zhang XY (2008) Correlation between δ18O in precipitation and surface air temperature on different time-scales in China (in Chinese). Nucl Tech 31(9):715–720
Acknowledgements
Special thanks go to Prof. Bai Ming from the Second Institute of Hydrogeology and Engineering Geology of Xinjiang Bureau of Geology and Mineral Resources for providing samples and data on hydrology, hydrochemistry and isotopes.
Funding
This study was financially supported by the National Natural Science Foundation of China (NSFC grant No. 41272252).
About this article
Cite this article
Wang, P., Zhang, F. & Chen, Z. Characterization of recharge processes and groundwater flow paths using isotopes in the arid Santanghu basin, Northwest China. Hydrogeol J (2020). https://doi.org/10.1007/s10040-020-02119-9
Received:

Accepted:

Published:
Keywords
Arid regions

Environmental tracers

Groundwater recharge

Conceptual model

China