Abstract
Slurry grouting plays an important role in water plugging for hydrogeological engineering and there are multiple factors that restrict the slurry flow. This study investigates the restriction mechanisms, based on a single inclined rough fracture, employing a space stepwise method (SSM) using multi-direction sectors (MDS) for calculating the diffusion of variable-viscosity slurry under constant flow. The specifically developed numerical algorithm is validated by experimental results. The spatio-temporal effects of major factors on the flow, and the rock hydraulic properties, were analyzed for cement-based slurry. The results show that the slurry flow calculated by MDS-SSM exhibits strong fitting with experimental results. The diffusion pattern no longer exhibits a circular plane, but rather a double semi-elliptical distribution. The fracture direction angle, especially for the upward vertical flow, must be considered in the case of a larger dip angle. The main controlling factor of the pressure field is the higher slurry viscosity in regions far from the injection hole, and the influence of dip angle is significantly greater closer to the hole. Roughness has an influence on the fracture hydraulic properties, and the required grouting pressure increases with an increase in roughness. The fracture aperture, viscosity coefficient, and diffusion radius are three key factors with strong sensitivity affecting the forecasting accuracy of grouting parameters. The role of the fracture dip angle can be neglected only in narrow fractures and long-distance diffusion with higher-viscosity slurry or larger pressure. The key threshold value can be obtained with a fitting formula under given conditions.
Résumé
La cimentation à base de boue joue un rôle important pour le bouchage de voie d'eau en ingénierie hydrogéologique et plusieurs facteurs restreignent les flux de boue. Cette étude investigue les mécanismes de restriction, sur la base d'une fracture unique inclinée et rugueuse, en employant une méthode par étape spatiale (MES) qui utilise des secteurs multidirectionnels (SMD) pour le calcul de la diffusion de boue à viscosité variable à débit constant. L'algorithme numérique développé spécifiquement est validé par des résultats expérimentaux. Les effets spatio-temporels des facteurs majeurs sur l'écoulement, et les propriétés hydrauliques de la roche, ont été analysés pour une boue à base de ciment. Les résultats montrent que le débit de boue calculé par SMD-MES montre un ajustement robuste avec les résultats expérimentaux. Les motifs de diffusion ne montrent plus un plan circulaire, mais plutôt une double distribution semi-elliptique. L'angle de direction de la fracture, en particulier pour les écoulements ascendants verticaux, devront être considérés pour le cas d'un angle de pendage élevé. Le principal facteur de contrôle du champ de pression est la plus grande viscosité de boue dans les régions éloignées du trou d'injection, et l'influence de l'angle de pendage est significativement plus élevée prêt du trou. La rugosité a une influence sur les propriétés hydrauliques de la fracture, et les pressions requises pour le scellement augmentent avec l'augmentation de rugosité. L'ouverture de la fracture, le coefficient de viscosité, et le rayon de diffusion sont trois facteurs clés avec une forte sensibilité qui affectent la précision les prédictions des paramètres de scellements. Le rôle de l'angle de pendage de la fracture peut être négligé seulement pour les fractures étroites et la diffusion à longue distance avec des boues à haute viscosité ou pour des pressions plus élevées. La valeur de seuil clé peut être obtenue à partir d'une formule empirique sous certaines conditions.
Resumen
El revestimiento por lodos juega un papel importante en el taponamiento de agua para la ingeniería hidrogeológica y existen múltiples factores que restringen el flujo de los lodos. Este estudio investiga los mecanismos de restricción, basados en una sola fractura inclinada en bruto, empleando un método espacial escalonado (SSM) que utiliza sectores multidireccionales (MDS) para calcular la difusión de lodos de viscosidad variable bajo flujo constante. El algoritmo numérico desarrollado específicamente es validado por resultados experimentales. Los efectos espacio-temporales de los principales factores en el flujo, y las propiedades hidráulicas de las rocas, fueron analizados para determinar la presencia de lodos a base de cemento. Los resultados muestran que el flujo de lodos calculado por el MDS-SSM muestra un ajuste fuerte con resultados experimentales. El patrón de difusión ya no presenta un plano circular, sino una doble distribución semielíptica. El ángulo de dirección de la fractura, especialmente para el flujo vertical ascendente, debe considerarse en el caso de un ángulo de inclinación mayor. El principal factor de control del campo de presión es la mayor viscosidad del lodo en regiones alejadas del pozo de inyección, y la influencia del ángulo de inclinación es significativamente mayor cerca del pozo. La rugosidad influye en las propiedades hidráulicas de la fractura, y la presión de inyección requerida aumenta con el aumento de la rugosidad. La apertura de la fractura, el coeficiente de viscosidad y el radio de difusión son tres factores clave con una gran sensibilidad que afectan a la precisión de las previsiones de los parámetros de inyección. El papel del ángulo de inclinación de la fractura sólo se puede descuidar en fracturas estrechas y en la difusión a larga distancia con lodos de mayor viscosidad o mayor presión. El valor umbral clave se puede obtener con una fórmula de ajuste bajo determinadas condiciones.
摘要
本研究以单斜粗糙裂缝为研究对象, 采用基于多方向扇形(MDS)的空间分步方法(SSM)计算变粘度浆体在恒定流量下的扩散作用, 调研了堵水的机理。 利用实验结果验证了开发的数值算法的有效性。本研究分析了影响水泥浆流动的主要因素的时空效应, 以及水泥浆的岩石水力特性。结果表明, 用MDS-SSM方法计算的泥浆流量与实验结果吻合较好。扩散模式不再是一个环形平面, 而是一个双半椭圆分布。在倾角较大的情况下, 必须考虑裂缝方位角, 特别是向上垂直流动的方位角。压力场的主要控制因素是远离注水井区域的泥浆粘度较高, 而靠近注水井区域倾角的影响明显较大。粗糙度对裂缝水力特性有影响, 随着粗糙度的增加, 所需灌浆压力也增大。裂缝宽度、粘滞系数和扩散半径是影响注浆参数预测精度的高敏感性三个关键因素。只有在狭窄的裂缝中和高粘度泥浆或较大压力的长距离扩散条件下, 裂缝倾角的影响才可以忽略。在给定的条件下, 通过拟合公式可以得到关键阈值。
Resumo
Cimentação usando calda de cimento tem um importante papel no tamponamento de água na engenharia hidrogeológica e existem múltiplos fatores que restringem o fluxo de injeção da calda. Este estudo investiga os mecanismos de restrição baseados e uma única fratura áspera, empregando o método space stepwise (MSS) usando setores multi-direcionais (SMD) para calcular a difusão da calda de cimento com viscosidade variável sob fluxo constante. O modelo numérico especificamente desenvolvido é validado por resultados experimentais. Os efeitos espaço-temporais dos principais fatores no fluxo, e a propriedades hidráulicas da rocha foram analisadas para calda de cimento. Os resultados mostram que o fluxo da calda calculado por SMD-SSM mostram boa correlação com os resultados experimentais. O padrão de difusão não mostra mais um plano circular, porém uma distribuição dupla semielíptica. O anglo e direção da fratura, especialmente pata o fluxo vertical ascendente, precisa ser considerado nos casos de alto angulo e mergulho. O principal fator de controle do campo de pressão é a alta viscosidade da calda em regiões distantes do furo de injeção, e a influência do ângulo de mergulho é significativamente próximo ao do poço. A rugosidade influencia as propriedades hidráulicas das fraturas, e requer aumento da pressão de injeção da calda de cimento com o aumento da rugosidade. A abertura da fratura, coeficiente de viscosidade e raio de difusão são três fatores com forte sensibilidade que afetam a precisão da estimativa dos parâmetros de cimentação. O papel do ângulo de mergulho da fratura pode ser negligenciado apenas em fraturas estreitas e difusão de longa distância com alta viscosidade ou alta pressão. O valor limite pode ser obtido com uma formula própria sob as condições dadas.
This is a preview of subscription content, log in to check access.
Access options
Buy single article
Instant unlimited access to the full article PDF.
US$ 39.95
Price includes VAT for USA
Subscribe to journal
Immediate online access to all issues from 2019. Subscription will auto renew annually.
US$ 99
This is the net price. Taxes to be calculated in checkout.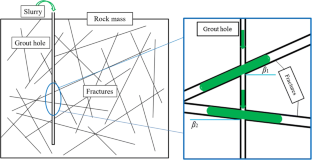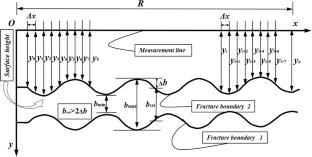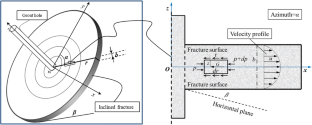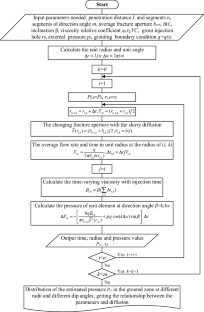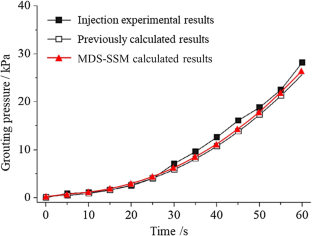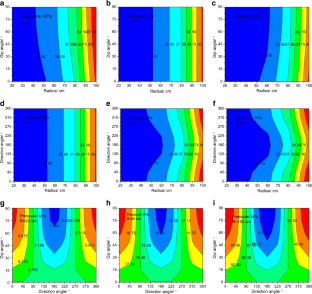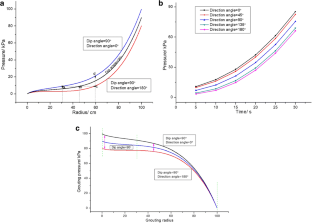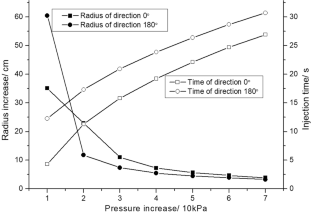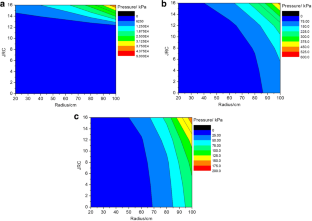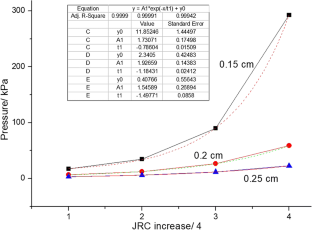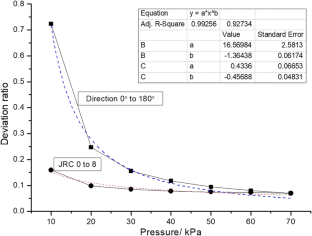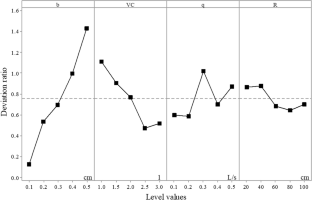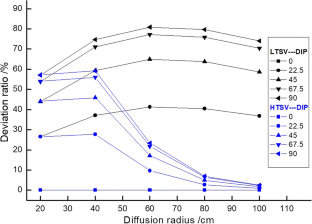 References
Bagalkot N, Kumar GS (2016) Numerical modeling of two species radionuclide transport in a single fracture matrix system with variable fracture aperture. Geosci J 20(5):627–638

Barton N (1973) Review of a new shear strength criterion for rock joints. Eng Geol 7(4):287–332

Bonacci O, Gottstein S, Roje-Bonacci T (2009) Negative impacts of grouting on the underground karst environment. Ecohydrology 2(4):492–502

Bouchelaghem F (2009) Multi-scale modelling of the permeability evolution of fine sands during cement suspension grouting with filtration. Comput Geotech 36(6):1058–1071

Boutt DF, Grasselli G, Fredrich JT, Cook BK, Williams JR (2006) Trapping zones: the effect of fracture roughness on the directional anisotropy of fluid flow and colloid transport in a single fracture. Geophys Res Lett 33(21):L21402

Butron C, Gustafson G, Fransson A, Funehag J (2010) Drip sealing of tunnels in hard rock: a new concept for the design and evaluation of permeation grouting. Tunn Undergr Space Technol 25(2):114–121

Chang X, Wang GZ, Liang ZZ, Tang CA (2017) Study on grout cracking and interface debonding of rockbolt grouted system. Constr Build Mater 135:665–673

Chang X, Li ZH, Wang SY, Wang SR (2018) Pullout performances of grouted rockbolt systems with bond defects. Rock Mech Rock Eng 51(3):861–871

Crandall D, Bromhal G, Karpyn ZT (2010) Numerical simulations examining the relationship between wall-roughness and fluid flow in rock fractures. Int J Rock Mech Min 47(5):784–796

Elsworth D, Goodman R (1986) Characterization of rock fissure hydraulic conductivity using idealized wall roughness profiles. Int J Rock Mech Min Geo Abs 23(3):233–243

El Tani M (2012) Grouting rock fractures with cement grout. Rock Mech Rock Eng 45(4):547–561

El Tani M, Stille H (2017) Grout spread and injection period of silica solution and cement mix in rock fractures. Rock Mech Rock Eng 50(9):2365–2380

Fan GW, Zhang DS, Zhang SZ, Zhang CG (2018) Assessment and prevention of water and sand inrush associated with coal mining under a water-filled buried gully: a case study. Mine Water Environ 37(3):565–576

Frank MW (2015) Fluid mechanics. McGraw-Hill, New York

Funehag J, Gustafson G (2008) Design of grouting with silica sol in hard rock: new methods for calculation of penetration length, part I. Tunn Undergr Space Technol 23(1):1–8

Gellasch CA, Bradbury KR, Hart DJ, Bahr JM (2013) Characterization of fracture connectivity in a siliciclastic bedrock aquifer near a public supply well (Wisconsin, USA). Hydrogeol J 21(2):383–399

Hajjar A, Scholtes L, Oltean C, Bues MA (2018) Effects of the geometry of two-dimensional fractures on their hydraulic aperture and on the validity of the local cubic law. Hydrol Process 32(16):2510–2525

He GH, Wan EZ, Liu XL (2016) Modified governing equation and numerical simulation of seepage flow in a single fracture with three-dimensional roughness. Arab J Geosci 9(1):81

Heitz R, Peacock T, Stocker R (2005) Optimizing diffusion-driven flow in a fissure. Phys Fluids 17(12):128104

Jang HS, Kang SS, Jang BA (2014) Determination of joint roughness coefficients using roughness parameters. Rock Mech Rock Eng 47(6):2061–2073

Javadi M, Sharifzadeh M, Shahriar K (2010) A new geometrical model for non-linear fluid flow through rough fractures. J Hydrol 389(1–2):18–30

Kim JS, Lee IM, Jang JH, Choi H (2009) Groutability of cement-based grout with consideration of viscosity and filtration phenomenon. Int J Numer Anal Met 33(16):1771–1797

Liang YK, Sui WH, Qi JF (2019) Experimental investigation on chemical grouting of inclined fracture to control sand and water flow. Tunn Undergr Space Technol 83:82–90

Lin JZ, Ruan XD, Chen BG (2013) Fluid mechanics, 2nd edn. Tsinghua University Press, Beijing, China

Lisa H, Christian B, Asa F, Gunnar G, Johan F (2012) A hard rock tunnel case study: characterization of the water-bearing fracture system for tunnel grouting. Tunn Undergr Space Technol 30:132–144

Lombardi G (1985) The role of cohesion in cement grouting of rock (Q 58, R 13). In: 15th Int. Congress of Large Dams, ICOLD, Lausanne, Switzerland, pp 235–261

Mohajerani S, Baghbananb A, Wang G, Forouhandeh SF (2017) An efficient algorithm for simulating grout propagation in 2D discrete fracture networks. Int J Rock Mech Min Sci 98:67–77

Mu WQ, Li LC, Yang TH, Yu GF, Han YC (2019) Numerical investigation on a grouting mechanism with slurry-rock coupling and shear displacement in a single rough fracture. Bull Eng Geol Environ. https://doi.org/10.1007/s10064-019-01535-w

Nair VV, Thampi SG (2012) Numerical modeling of contaminant transport in sets of parallel fractures with fracture skin. J Porous Media 15(1):95–100

Niya SMR, Selvadurai APS (2019) Correlation of joint roughness coefficient and permeability of a fracture. Int J Rock Mech Min Sci 113:150–162

Oiro S, Comte JC, Soulsby C, Walraevens K (2018) Using stable water isotopes to identify spatio-temporal controls on groundwater recharge in two contrasting East African aquifer systems. Hydrol Sci J 63(6):862–877

Qian X, Xia CC, Gui Y, Zhuang XQ, Yu QF (2019) Study on flow regimes and seepage models through open rough-walled rock joints under high hydraulic gradient. Hydrogeol J 27(4):1329–1343

Qin W, Xu JL (2018) Dynamic secondary borehole-sealing method for gas drainage boreholes along the coal seam. Geofluids 2018:1723019

Saeidi O, Stille H, Torabi SR (2013) Numerical and analytical analyses of the effects of different joint and grout properties on the rock mass groutability. Tunn Undergr Space Technol 38:11–25

Sayles RS, Thomas RR (1977) The spatial representation of surface roughness by means of the structure functions, a practical alternative to correlation. WEAR 42(2):263–276

Singh KK, Singh DN, Ranjith PG (2015) Laboratory simulation of flow through single fractured granite. Rock Mech Rock Eng 48(3):987–1000

Sohrabi-Bidar A, Rastegar-Nia A, Zolfaghari A (2016) Estimation of the grout take using empirical relationships (case study: Bakhtiari Dam site). Bull Eng Geol Environ 75(2):425–438

Sui WH, Liu JY, Hu W, Qi JF, Zhan KY (2015) Experimental investigation on sealing efficiency of chemical grouting in rock fracture with flowing water. Tunn Undergr Space Technol 50:239–249

Tsang YW (1984) The effect of tortuosity on fluid flow through a single fracture. Water Resour Res 20(9):1209–1215

Tse R, Cruden DM (1979) Estimating joint roughness coefficients. Int J Rock Mech Min Sci Geo Abs 16(5):303–307

Wittke X and Wallner X (1974) Theory and experiment of a new grouting procedure (in German), vol 2, part B. Conference, 10F,12R. Proc. Third Congress Int. Soc. Rock Mech., Denver, CO, 1974, pp 744–750

Xiao F, Zhao ZY, Chen HM (2017) A simplified model for predicting grout flow in fracture channels. Tunn Undergr Space Technol 70:11–18

Xie LZ, Gao C, Ren L, Li CB (2015) Numerical investigation of geometrical and hydraulic properties in a single rock fracture during shear displacement with the Navier–Stokes equations. Environ Earth Sci 73(11):7061–7074

Yang MJ, Yue ZQ, Lee PKK, Su B, Tham LG (2002) Prediction of grout penetration in fractured rocks by numerical simulation. Can Geotech J 39(6):1384–1394

Yang ZY, Lo SC, Di CC (2001) Reassessing the joint roughness coefficient (JRC) estimation using Z2. Rock Mech Rock Eng 34(3):243–251

Yoon J, EI Mohtar CS (2015) A filtration model for evaluating maximum penetration distance of bentonite grout through granular soils. Comput Geotech 65:291–301

Yu WS, Li P, Zhang X, Wang Q (2014) Model test research on hydrodynamic grouting for single fracture with variable inclinations. Chin J Rock Soil Mech 35(8):2137–2143

Yu XB, Vayssade B (1991) Joint profiles and their roughness parameters. Int J Rock Mech Min Sci Geo Abs 28(4):333–336

Zhan KY (2014) Comparative experimental investigation of grouting with flowing water into a smooth or rough fracture. Chin J Undergr Space Eng 10(3):599–603

Zhang QS, Zhang LZ, Liu RT (2017) Grouting mechanism of quick setting slurry in rock fissure with consideration of viscosity variation with space. Tunn Undergr Space Technol 70:262–273

Zhao Y, He PF, Zhang YF, Wang CL (2019) A new criterion for a toughness-dominated hydraulic fracture crossing a natural frictional interface. Rock Mech Rock Eng 52(8):2617–2629

Zimmerman RW, Chen DW, Cook NGW (1992) The effect of contact area on the permeability of fractures. Hydrogeol J 139(1–4):79–96

Zolfaghari A, Bidar AS, Javan MRM, Haftani M, Mehinrad A (2015) Evaluation of rock mass improvement due to cement grouting by Q-system at Bakhtiary Dam site. Int J Rock Mech Min Sci 74:38–44
Acknowledgements
The authors express their sincere thanks to the reviewers for their helpful comments and suggestions for improving this paper.
Funding information
This work is supported by the National Key R&D Program of China (Grant No. 2017YFC1503101), National Natural Science Foundation of China (Grant No. 51879041, U1710253), the Fundamental Research Funds for the Central Universities (grant No. N180105029) and Anhui Province Science and Technology Project of China (Grant No. 17030901023).
Appendix
Appendix
About this article
Cite this article
Mu, W., Li, L., Yang, T. et al. Numerical calculation and multi-factor analysis of slurry diffusion in an inclined geological fracture. Hydrogeol J (2020). https://doi.org/10.1007/s10040-019-02103-y
Received:

Accepted:

Published:
Keywords
Fractured rocks

Diffusion

Hydraulic properties

Variable viscosity slurry